A soft, moist banana bread with chewy bits of walnut and a slight warmth of cinnamon that can be ready to be taken out of your oven in 1 hour. Made with whole grains and natural sweeteners, you can eat feel good munching down a few slices of this slathered with nut butter for breakfast and any other time of the day. Vegan, refined sugar-free, and oil-free.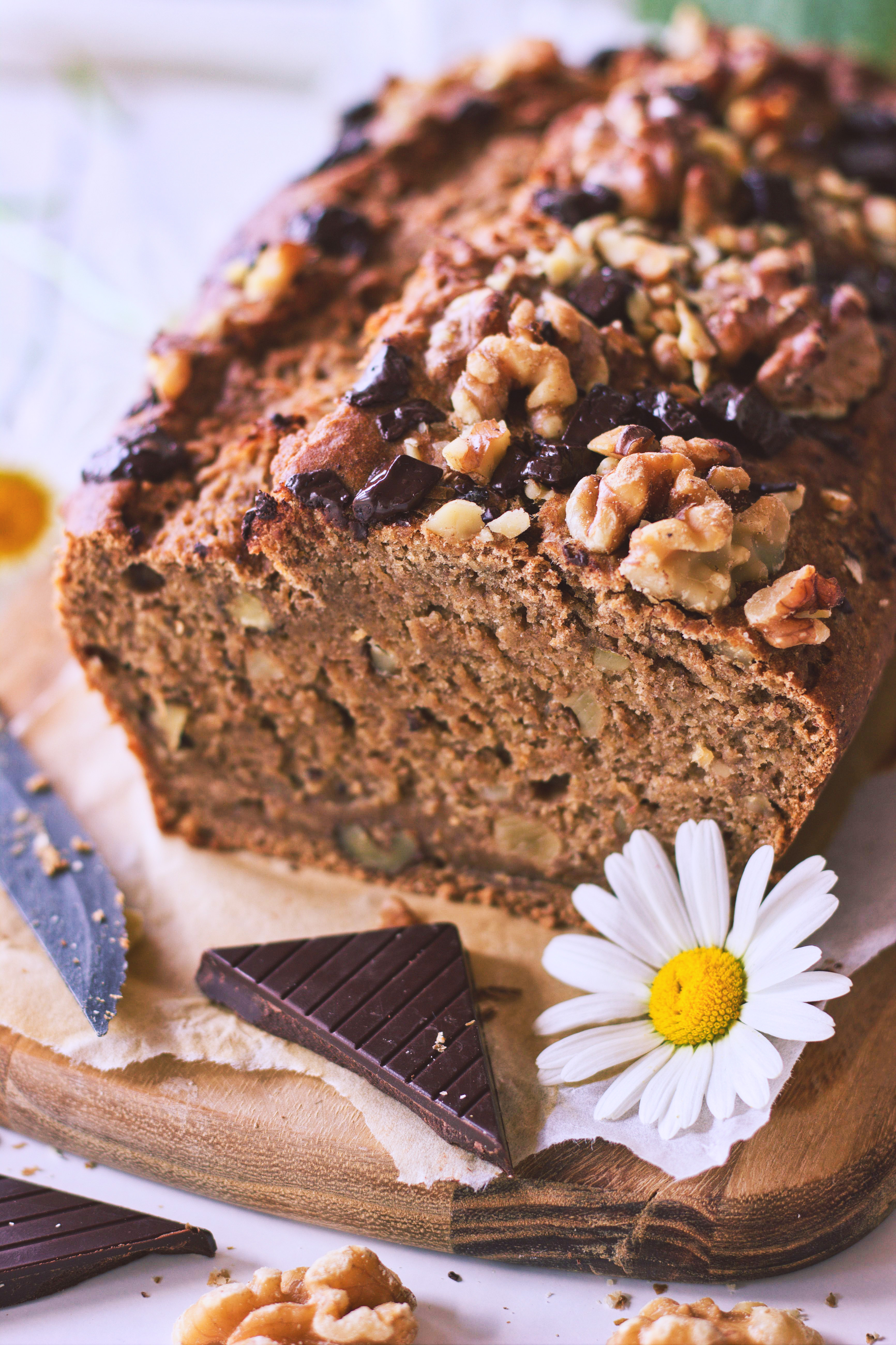 This is an important milestone in my career (let's just call it that) of blogging – I'm putting my first banana bread recipe out there, among all those millions of other banana bread recipes! But can you really call yourself a true food blogger (especially a vegan one) if not at least one of them is yours?
I've come to really love banana bread, it's just so lovely, and you can make so many variations of it. This banana bread is quite simple, but I decided to make it a little healthier by using whole grains and no refined sugar or oil. I also added some walnuts to break up the cakey texture and add some healthy omega-3 fatty acids. I love the little chewy bits in this.
Before I baked my banana bread, I topped it with some more walnuts and dark chocolate – totally optional, but it really adds something extra and just looks so pretty. I was so happy when it poofed up and the walnuts turned golden and the chocolate melted. It also adds a chunky monkey "vibe".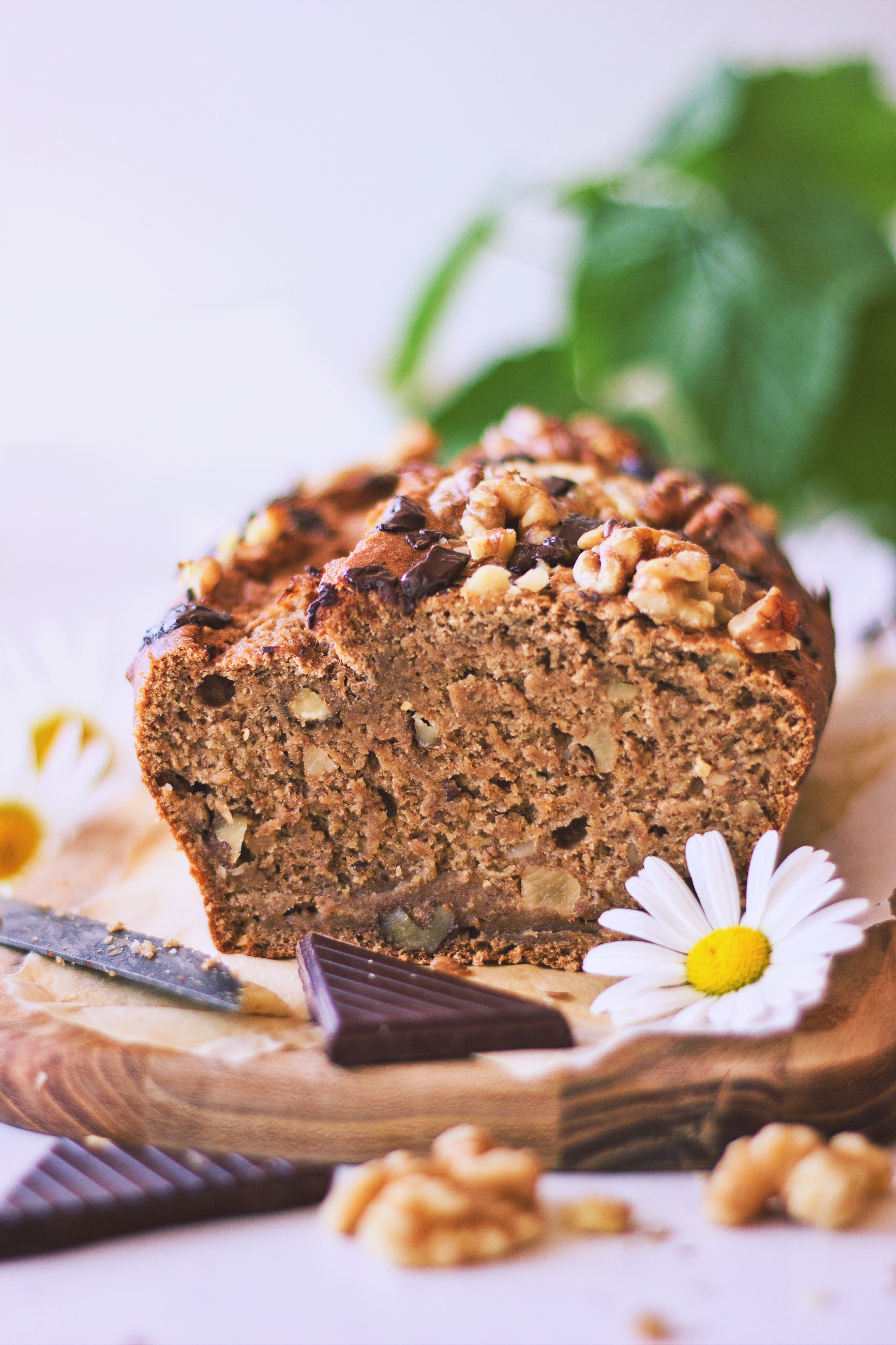 Even if you won't be able to eat an entire banana bread before it goes bad, make a whole loaf anyway and freeze leftovers for later. One of my favourite breakfasts is reheated banana bread with nut butter and fresh fruits. It's delicious, takes less than 5 minutes to reheat and start chowing down, and will keep you full and well for a long time. In fact, I just had it this morning, and it reminded me just how lovely this banana bread is.
Looking for more healthy baked goods you can definitely eat for breakfast? Check out my Banana Cupcakes with Sweet Potato Chocolate Frosting!
If you try this recipe, let me know what you think about it. Rate it, leave a comment below, and take a picture of your banana bread and tag me on Instagram. My profile name is @spirendeveganer. I'd love to hear your thoughts and see your creations!
Love, Lea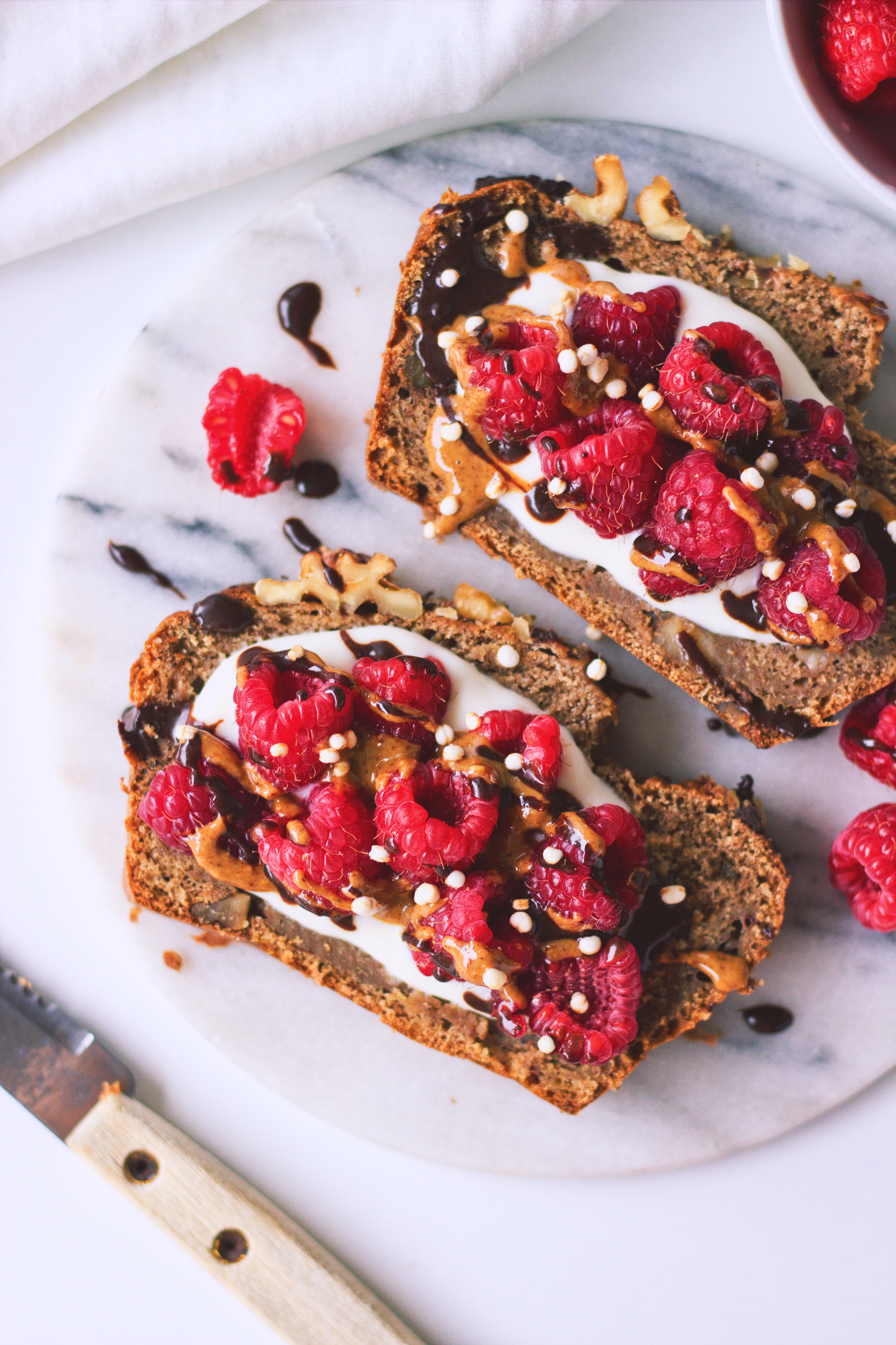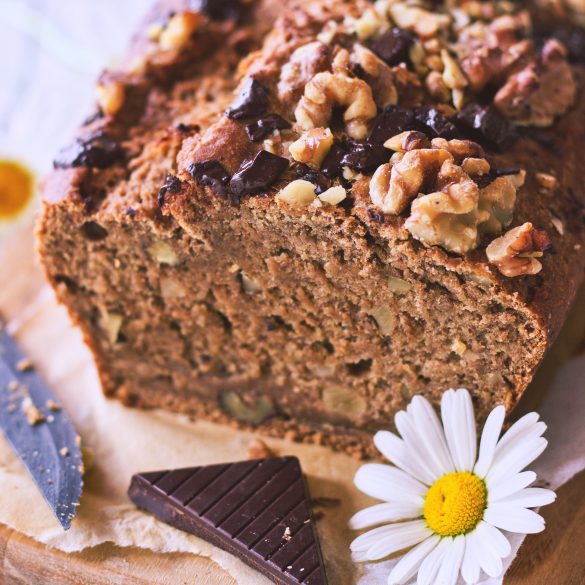 Ingredients
For the Wet Ingredients:
~400 g mashed very ripe banana, about 3 medium, ~1 1/3 cups

50 g coconut blossom sugar, 1/3 cup
2 tbsp ground flax seeds
2 tsp baking powder
1 tsp baking soda
1 tsp ground cinnamon (optional)
1/2 tsp fine salt
2 tbsp maple syrup
60 ml aquafaba (from a can of low-sodium chickpeas), 1/4 cup 

(see notes)

125 ml non-dairy milk, 1/2 cup
For the Dry Ingredients:
50 g oat flour, ~1/2 cup

200 g white wheat flour, ~1 1/2 cups

(see notes)

100 g walnuts, roughly chopped, ~3/4 cup
vegan chocolate, chopped, for topping (optional)
Method
Preheat your oven to 175°C (350°F), fan setting, and line a loaf pan with parchment paper and cut off excess paper.
In a large bowl, mash the bananas with a potato masher (I found that to be the easiest method) or a fork. Add the rest of the wet ingredients and mix well, then add the oat flour and mix until all the flour is incorporated. Gradually add the white whole wheat flour and mix until you have a smooth banana bread batter. Fold in the walnuts. You can reserve some of the walnuts to use for topping if you'd like.
Pour the batter into the lined loaf pan and even out the top with your mixing spoon. Top with reserverved walnuts and chocolate, if using. Bake in the oven uncovered for 35 minutes until golden and expanded, then cover with aluminum foil and bake for another 15 minutes or until a toothpick inserted into the center comes out clean. Allow to cool for 5 minutes, then remove from the loaf pan. You can now slice and serve warm right away or transfer to a wire rack and allow to cool for longer.
Serve as is or with nut butter or vegan butter.
Allow to cool completely before storing leftovers in an airtight container in the fridge for up to 3-4 days or in the freezer. Eat banana bread either cold or warm it with a toaster. To reheat frozen banana bread, microwave a slice for 1-2 minutes.
Notes
If you can't find white whole wheat flour, you can use regular all-purpose flour. You can also substitute aquafaba for coconut oil or rapeseed oil, and it'll work just as well.