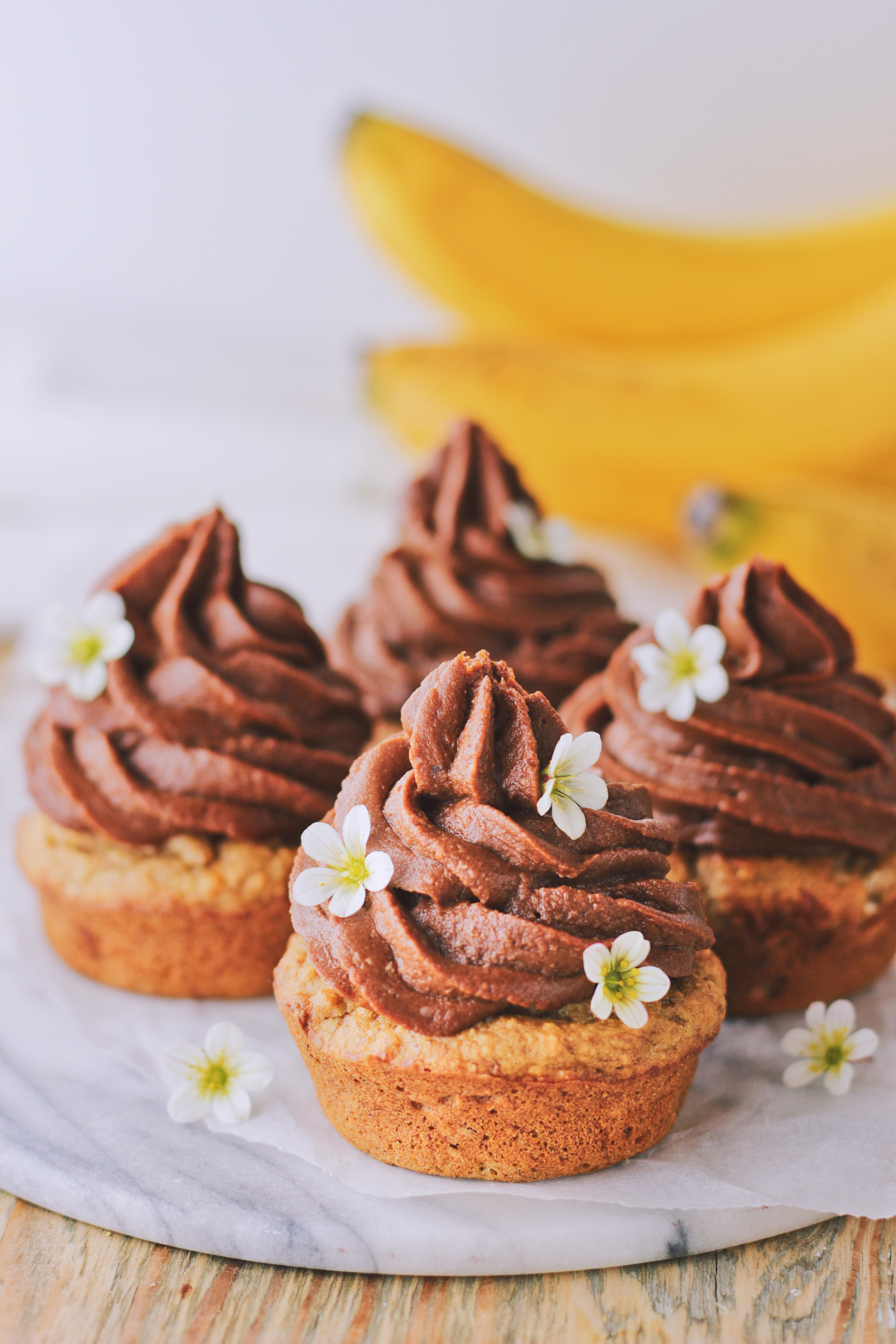 Sprouts, this recipe is dangerous. Like, literally dangerous. The danger being that you end up devouring it long before ever reaching the final step because everything about these cupcakes is so deliriously delicious – I can't even. You will be licking fingers, spoons, bowls, blenders, and everything in between with this one. It's like a sweet, sweet curse.
Can we just take a moment to appreciate my piping skills? I was sure I was going to mess this photoshoot up since I was working with a only a decent piping tip, a plastic bag, a rubber band, and some tape. Yeah, you don't even want to picture how I turned that into a "piping bag". The tape popped midway through. It was messy. That's all I'm saying.
The cupcakes themselves are completely gluten-free, refined sugar-free, and even oil-free. They're made with a base of oat and almond flour and sweetened mainly with ripe banana. So basically what I'm saying is: this is baked oatmeal. Meaning you can have it for breakfast. And you can eat 3 in one afternoon. If you'd like.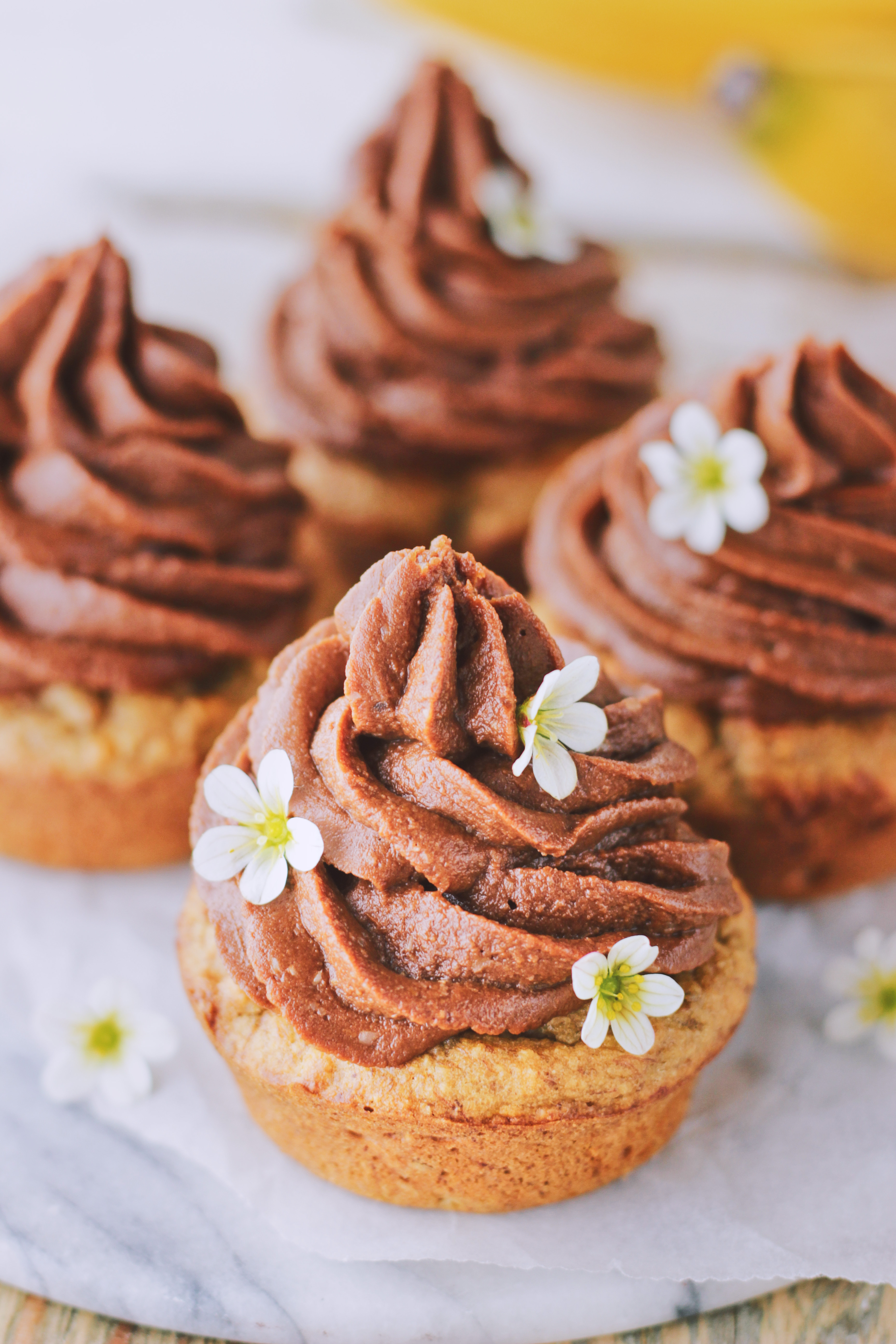 Cupcakes are an upgrade from muffins, and what makes them even better than their little siblings is the frosting, of course. Because I've cut down on my refined sugar and oil intake, and am on a committed mission to create sweet recipes without the as much added crap, I was determined to make a healthier frosting that'll hold its shape. And that's where sweet potato comes into the picture.
Sweet potato, cashew nuts, cocoa powder, and coconut oil makes the perfect recipe for a healthier frosting that you can pipe on in an aesthetically pleasing way and will hold its shape if you keep it in the fridge. You can prepare these cupcakes with the frosting hours before you're having guests over for a dinner party, or are just planning to enjoy them by yourself while watching Netflix in the evening (#selfcare), and they will still look and, most importantly, taste absolutely incredible!
The frosting is so light and airy that it honestly qualifies more for chocolate mousse than frosting. I wouldn't blame you for only making that part and just spooning it in, because it's so ridiculously luscious! As it cools, it will get more thick and fudge-like, so it's best not to refrigerate for too long before piping it on the cupcakes, but it still tastes lovely!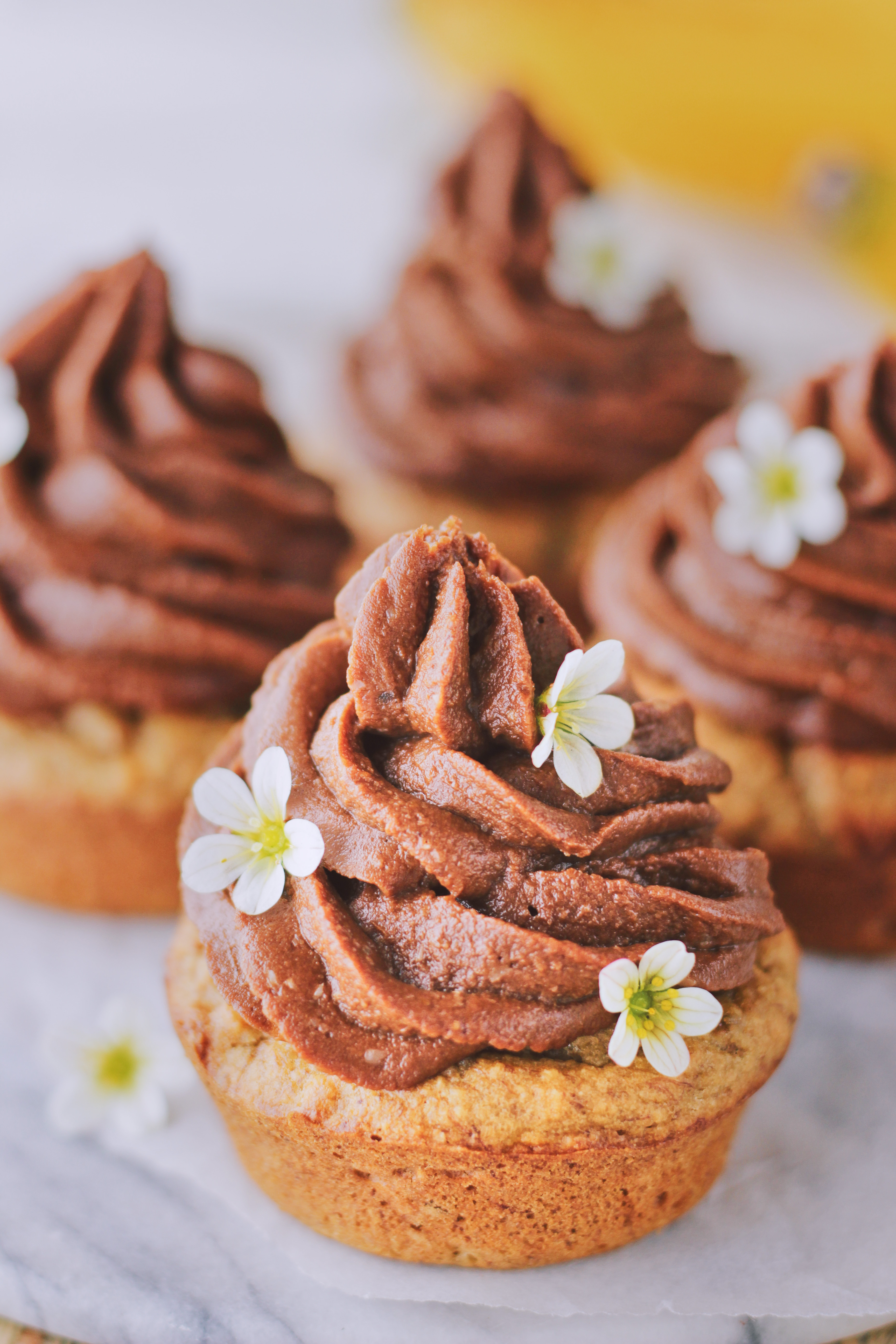 If you decide to make this recipe, let me know what you think about it. Rate it, leave a comment below, and take a picture of your cupcakes and tag me on Instagram. My profile name is @spirendeveganer. I'd love to hear your thoughts and see your creations!
Love, Lea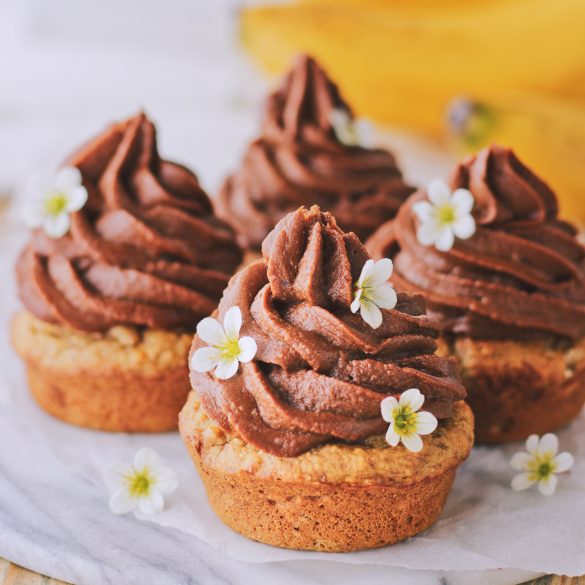 Ingredients
For the Cupcakes:
1 flax egg (1 tbsp ground flax seeds + 2.5 tbsp water)

100 g oat flour, 1 cup

25 g almond flour, 1/4 cup
1 tsp baking powder
1/4 tsp baking soda
a pinch of salt
125 g banana, 1/2 cup mashed (about 1.5 small bananas)
25 g coconut blossom sugar, 2 tbsp
2 tbsp maple syrup
75 ml non-dairy milk, 1/3 cup
For the Frosting:
150 g sweet potato
50 g raw cashew nuts, soaked overnight
15 g unsweetened cocoa powder, 2 tbsp
a pinch of salt
2-3 tbsp maple syrup
2 tbsp coconut oil, melted
3-4 tbsp non-dairy milk
Method
Start by preparing the frosting: place all the ingredients in a blender and blend until smooth, pausing and scraping down the sides as needed. Transfer to an airtight container and place in the fridge for at least 1 hour to set before using.
Preheat your oven to 175°C (350°F) and grease a cupcake tray with coconut oil or line it with cupcake liners.
Prepare the flax egg: in a small bowl, combine the flax seeds and water and set aside for 5 minutes to set.
Place the oat flour, almond meal, baking powder, baking soda, and salt in a bowl and mix well. In a separate shallow bowl, mash the banana with a fork. Add the coconut blossom sugar and maple syrup and mix until combined. Add to the dry ingredients along with the flax egg and non-dairy milk and mix until all the flour is just incorporated, being careful not to overmix.
Divide the batter between the cupcake cups and bake in the oven for 20-25 minutes until golden and a toothpick inserted into the center comes out clean. Remove from the oven and allow to cool for 5 minutes before transferring to a wire wrack and allowing to cool completely.
Transfer the frosting to a piping bag with your preferred piping tip or plastic bag with the tip cut off and pipe on the cupcakes. If the frosting has been in the fridge for longer than 1 hour, you might want to allow it to sit for 5-10 minutes before using. If you don't want to go through the trouble of piping it on, you can always simply just spread it on with a butter knife.
Store leftovers in an airtight container in the fridge for up to 2-3 days. The frosting will hold its shape, but harden as it cools, so it might not be as soft and light on the second day, but both that and the cupcake itself will still taste delicious.
Notes
You can make both the oat flour and almond meal yourself by grinding oats and almonds in a blender. If you've bought them, and they seem a little coarse, you might want to grind them beforehand for a finer texture, too. If you forgot to soak the cashew nuts overnight, you can speed up the process by soaking them in warm water for 30 minutes or, if you have a powerful blender, don't soak them at all. Use refined coconut oil if you don't want the frosting to have a hint of coconut.