With the sensational flavour combo of sweet apple, aromatic cinnamon, and crunchy hazelnuts, these muffins are a delicious refined sugar-free treat!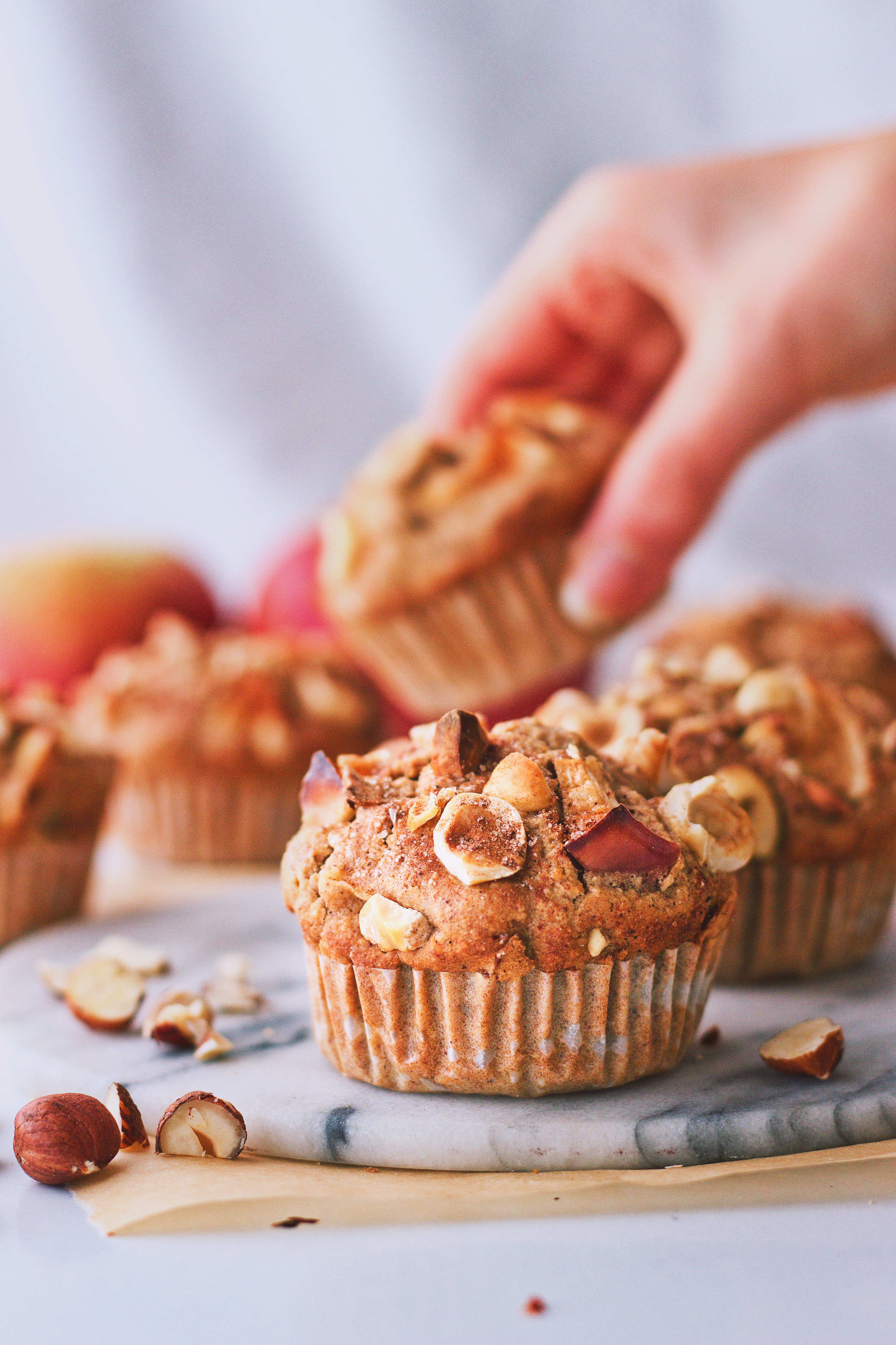 If you're in need of some sustaining energy one gloomy autumn afternoon, these will pick you right back up. These muffins are soft and perfectly moist with sweet tender pieces of apple throughout and crunchy hazelnuts on top. They don't taste healthy, but they are definitely better for you than whatever else you might reach for when you're in a sugar crash.
I promise this will be the last apple recipe for a while, but I'm glad I finally have some good recipes I can reach for when apple season comes around again. Now I'm going to put all my energy into December and the recipes I'm planning to create, shoot, and share during that jolly time of year. My christmas spirit is definitely high, and I've already tested some things I think you're going to love!
Reasons to make Hazelnut & Cinnamon Apple Muffins
Before I go full Christmas mode, though, you should totally make these muffins because they are:
vegan and refined sugar-free.
made with mostly wholesome ingredients.
a flavour combo match made in heaven.
perfectly soft and moist.
a lovely treat or dessert.
freezer-friendly for up to 2-3 months.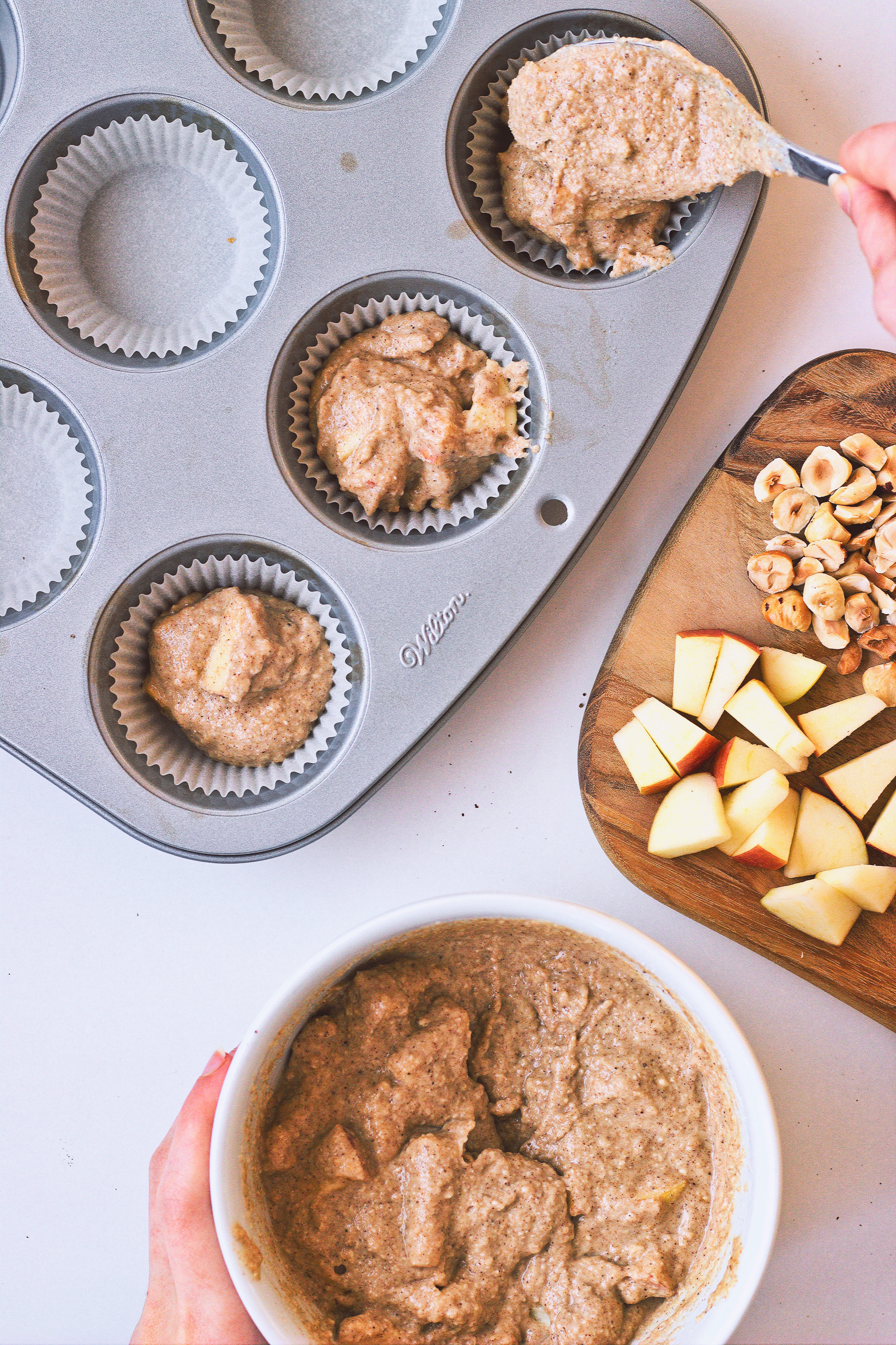 Hazelnut & Cinnamon Apple Muffins ingredients and substitutions
These muffins are made with simple and mostly wholesome ingredients you might already have on hand.
Spelt flour: You can always substitute all-purpose flour, just keep in mind that you might need to adjust the amount of non-dairy milk.
Oat flour: You can buy this at most grocery stores these days or easily make it yourself by grinding oats in a blender or food processor. This helps absorb some of the moisture that the apples release as they cook, so the muffins don't get soggy.
Coconut sugar: Non-refined sugar. Adds a darker colour and richer flavour that goes perfect with the cinnamon and apple. You can always substitute granulated white sugar.
Cinnamon: Adds a lovely spicy warmth.
Applesauce: Adds a little natural sweetness and acts in the same way as oil and makes the muffin more moist.
Coconut oil: I mostly use coconut oil in my baking, but you can also use vegan butter.
Non-dairy milk: Use whatever kind you'd like.
Apple: This wouldn't be apple muffins without any actual apple… although I'm sure this would be lovely with pear, too.
Hazelnuts: These are added on top of the muffins for crunch and nuttiness and go perfect with the pair apple and cinnamon, but if you'd prefer another nut (I'd recommend walnuts or pecan nuts), you can substitute that. If you have a nut allergy, you can substitute pumpkin seeds or skip it altogether, the muffins will still taste delicious.
Looking for more healthy baking recipes?
I love to treat myself to a large slice of pear pie as much as the next person, but I honestly also love experimenting with and (of course) eating healthier baked goods, such as my:
I'd love to hear from you!
If you try these muffins, let me know what you think about them. Rate the recipe, leave a comment below, and take a picture of your muffins and tag me on Instagram. My profile name is @spirendeveganer. I'd love to hear your thoughts and see your creations!
Love, Lea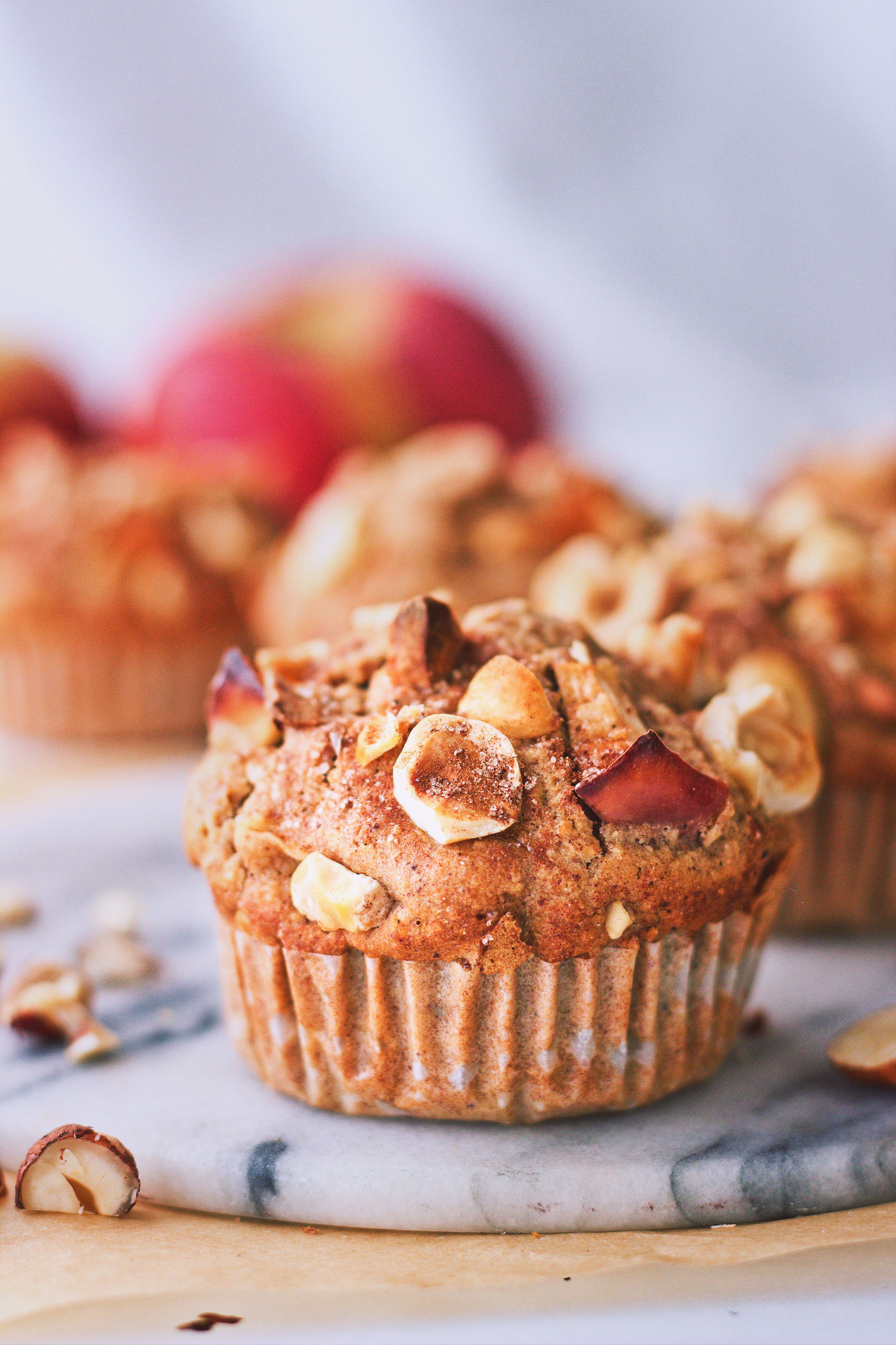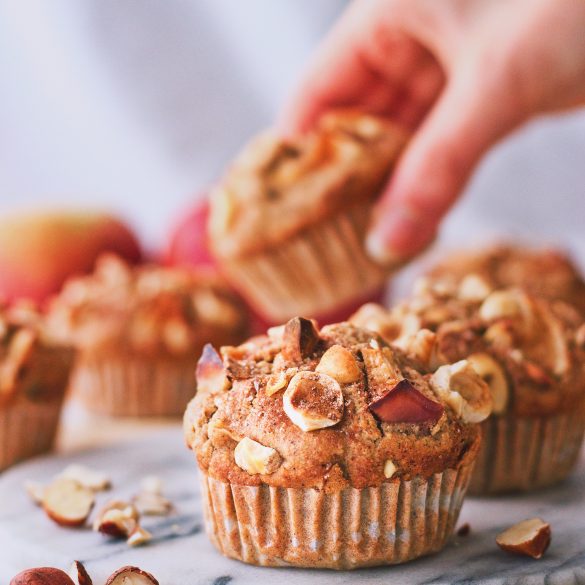 Ingredients
Batter:
75 g light spelt flour, 3/4 cup
50 g oat flour (see notes), 1/2 cup
30 g coconut sugar, 1/4 cup
1 tsp ground cinnamon
1 tsp baking powder
1/4 tsp baking soda
a pinch of salt
50 g unsweetened applesauce, 1/4 cup
2 tbsp melted coconut oil or vegan butter
125 ml non-dairy milk, 1/2 cup
75 g apple, finely chopped, ~1/2 cup
Toppings:
a handful of hazelnuts
1 tsp coconut sugar
1/4 tsp ground cinnamon
Method
Preheat your oven to 200°C (400°F), fan setting, and line a muffin tin with muffin liners or grease with coconut oil. 
Place the hazelnuts in a baking dish and bake for 10 minutes until the skin has cracked. Once done, transfer to a clean kitchen towel and rub with your hands to remove the skins.
In the meantime, mix together the spelt flour, oat flour, coconut sugar, cinnamon, baking powder, baking soda, and salt in a bowl. Add the applesauce, coconut oil, and non-dairy milk and mix until you have a smooth batter. Fold in the apple. If you'd like, reserve some of the apple pieces for topping. 
Roughly chop the hazelnuts. Place the coconut sugar and cinnamon (for the toppings) in a small bowl and combine.
Divide the batter between the muffin cups evenly. Top each muffin with a few apple pieces, some hazelnuts, and a sprinkle of cinnamon sugar. Place in the oven, reduce the temperature to 175° (350°F), and bake for 20-25 minutes or until a toothpick inserted into the centre of a muffin comes out clean.
Once completely cooled, store in an airtight container at room temperature for up to 2-3 days or in the freezer for up to 2-3 months.