Apple Ring Pancakes – a fun weekend breakfast! Apple rings are coated in a whole-grain batter and cooked into nice, thick pancakes that have minimal ingredients and are refined sugar-free and oil-free!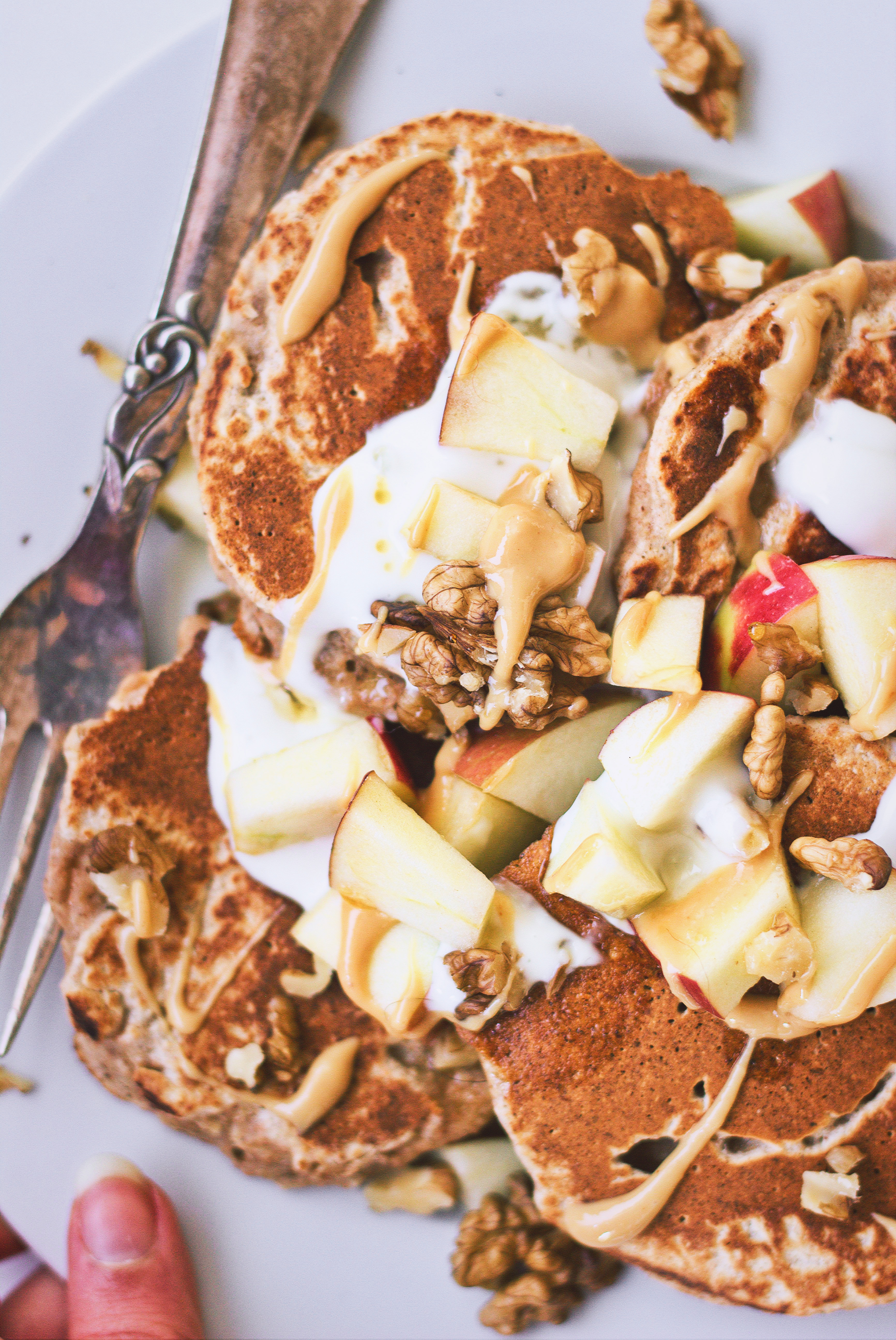 Get ready for some apple recipes! Today we've got some super easy pancakes that taste absolutely lovely served with lots and lots of pure maple syrup!! Next, I'm sharing a Baked Apple & Pear Quinoa Porridge and some Hazelnut & Cinnamon Muffins!!!
I've been cooking a lot with apples lately (my whole family can attest to that) and loving it. Autumn, when apples are in full season and are big and crispy and sweet, is the only time of the year that I eat them, so I try to make the most of it. These pancakes have easily become one of my favourite weekend breakfasts at the moment!
Speaking of weekend, this Sunday I'm going to VeggieWorld in Copenhagen – it's the first completely vegan trade fair in all of Scandinavia, and I'm super excited to be a part of it. I'll talk about my experience in my next recipe. But, for now, let's focus on this delicious goodness!
Reasons to make Apple Ring Pancakes
I really hope you try these pancakes because they are:
vegan, refined sugar-free, and oil-free.
whole-grain and made with 6 simple ingredients.
easy and fun to make!
very thick and naturally sweet with tender apple inside!
a perfect weekend autumn breakfast.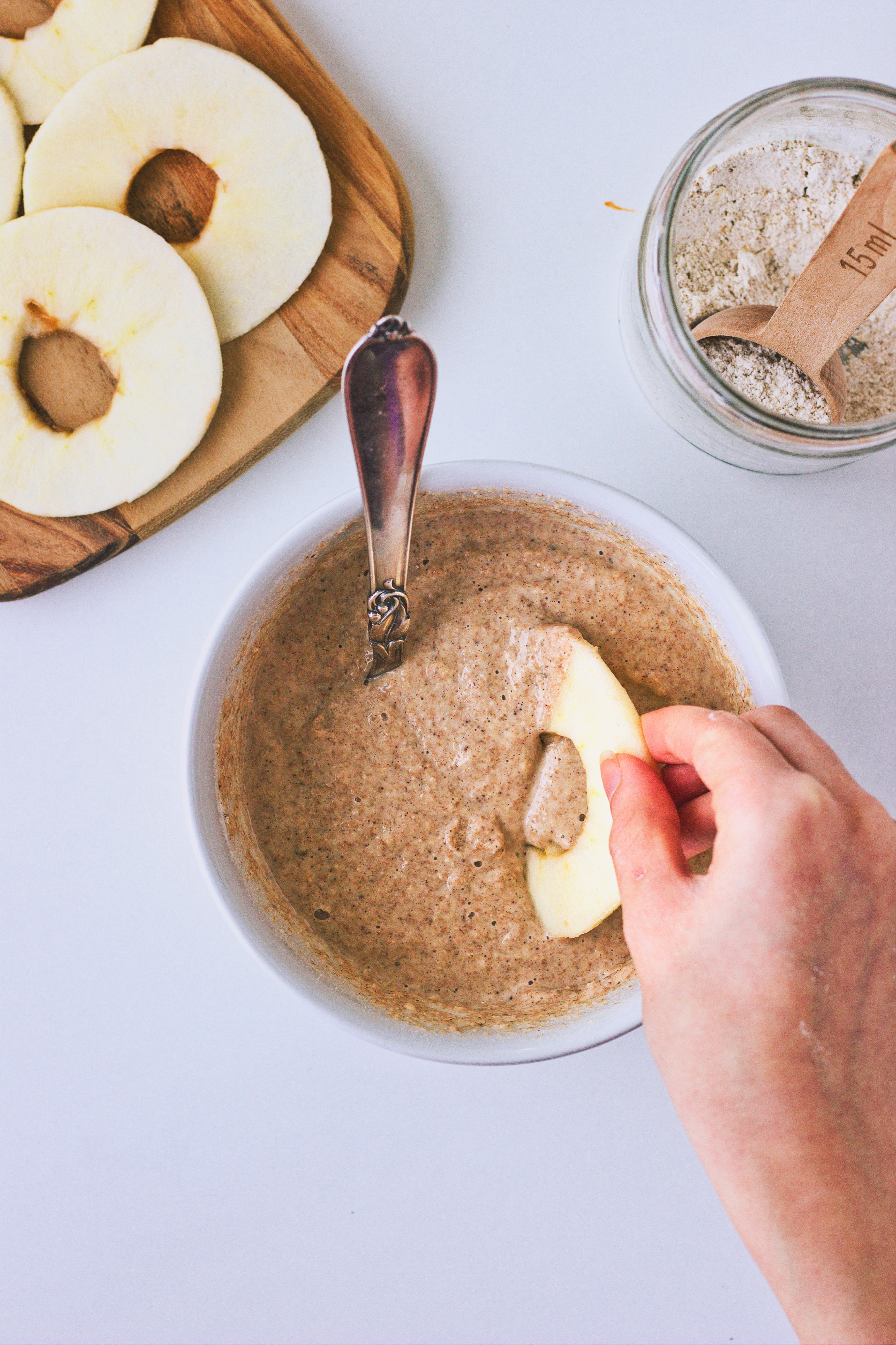 Apple Ring Pancakes ingredients and substitutions
Apple: is essential for hopefully obvious reasons.
Spelt flour: is the flour of choice for this recipe. You can replace some of the spelt flour with oat flour. I've used up to 45 g (1/2 cup) oat flour, adding a little more milk, too, because oat flour tends to absorbs more liquid than spelt.
Baking powder and soda: both make sure these pancakes rise to their fullest potential!
Cinnamon and maple syrup: are optional add-ins. In my opinion, cinnamon always pairs well with apple, so add it. If you'd like a sweeter batter, you can add maple syrup. I usually just serve the pancakes with a generous drizzle.
Apple cider vinegar: activates the baking soda.
Non-dairy milk: thins the pancake batter. Use whatever kind you'd like.
Tips to make Apple Ring Pancakes
Make sure that the pan is actually hot before cooking the first pancake, but obviously also be careful not to overheat it. I usually heat my pan over high heat for 2-3 minutes, then turn it down to medium heat. This will prevent you from making that bad first pancake.
Dip an apple ring in the pancake batter by dropping it into it, turning it over with a spoon, and making sure it's completely coated, with the help of two spoons. Then lift it up with one spoon and use the other spoon to scrape off any excess batter. Now you can place it on the hot pan and cook the pancake.
If the sides of a pancake aren't completely cooked, place it upward against the side of the pan and cook it for about half a minute, turning and cooking another sides as needed. Since these pancakes are thicker because of the apple inside them, they might need some more help to cook all the way through.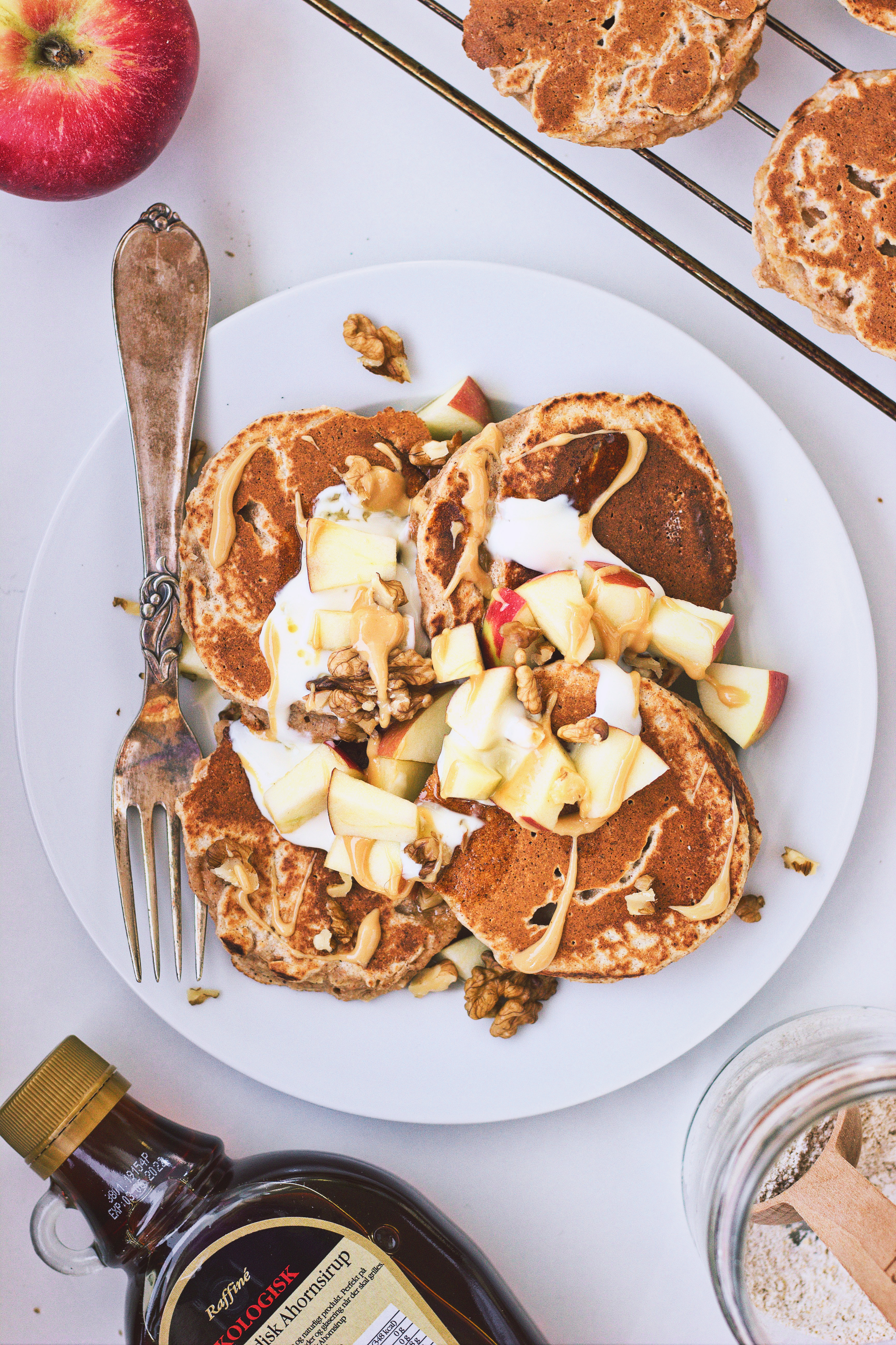 I'd love to hear from you!
If you try these Apple Ring Pancakes, let me know what you think about them. Rate the recipe, leave a comment below, and take a picture of your pancakes and tag me on Instagram. My profile name is @spirendeveganer. I'd love to hear your thoughts and see your creations!
Love, Lea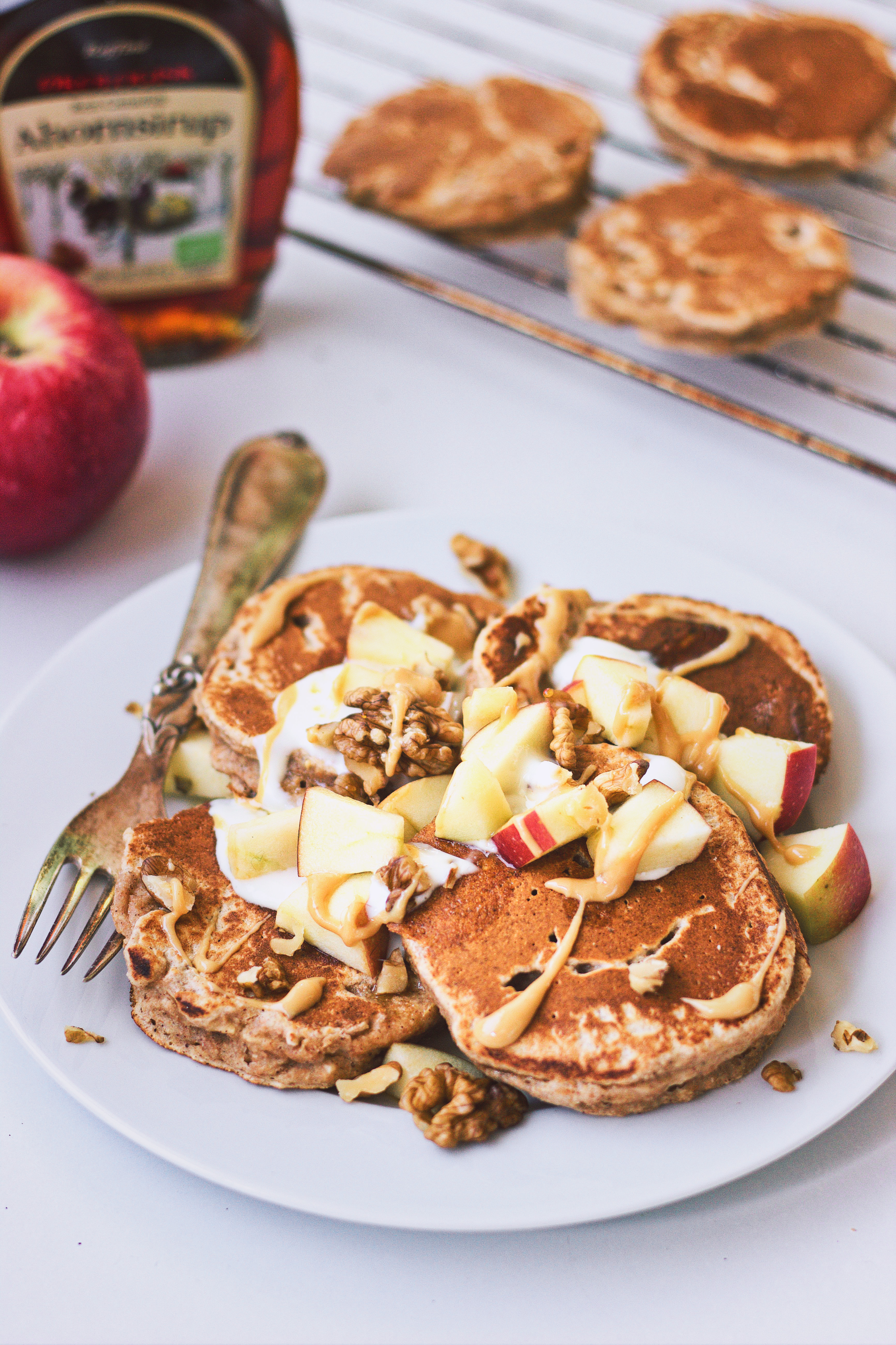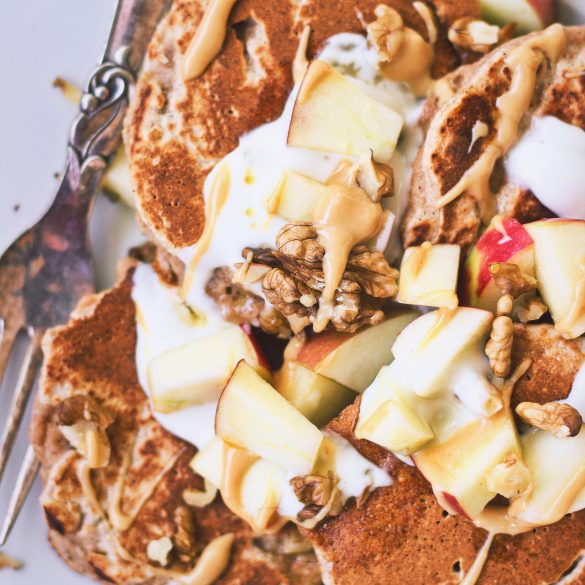 Ingredients
1 apple
125 g whole spelt flour, 1 cup (see notes)
1/2 tsp ground cinnamon (optional)
1 tsp baking soda
1/4 tsp baking soda
a pinch of salt
1 tbsp maple syrup or other sweetener (optional)
1 tsp apple cider vinegar
175 ml non-dairy milk, 3/4 cup
Method
Peel the apple, cut into 3-4 mm/0.12-0.16 inch thin circles, and remove the core part from each with a small knife. If you have an apple corer, you can use that to remove the core before cutting the apple.
Place the flour, cinnamon, baking powder, baking soda, and salt in a bowl and mix. Add the maple syrup, apple cider vinegar, and non-dairy milk and mix again just until combined. It's okay if there are some lumps of flour left.
Heat a large non-stick frying pan to medium heat. If not non-stick, grease with coconut oil or vegan butter.
Coat an apple ring completely in the pancake batter with the help of two spoons. Place on the hot pan and cook on the first side for 2-3 minutes until air bubbles have formed around the edges and they seem firm, then flip and cook on the other side for another minute until golden. If the sides aren't completely cooked, place the pancake upward against the side of the pan for about half a minute, turning and cooking another side as needed. Repeat until you've used all the batter.
Serve with, for example, vegan yoghurt, apple, walnuts, peanut butter, and maple syrup, or enjoy as is.
Store leftovers in the fridge for up to 3-4 days or in the freezer for up to 1-2 months. To reheat from frozen, toast with a toaster or microwave for 30-60 seconds until thawed.
Notes
You can replace up to 45 g (1/2 cup) of the spelt flour with oat flour, but if you do, you might need to adjust the amount of milk.