Hot Chocolate – with a secret ingredient! This drink is unbelievably creamy and foamy, the most decadent and warming treat for when you're feeling in need!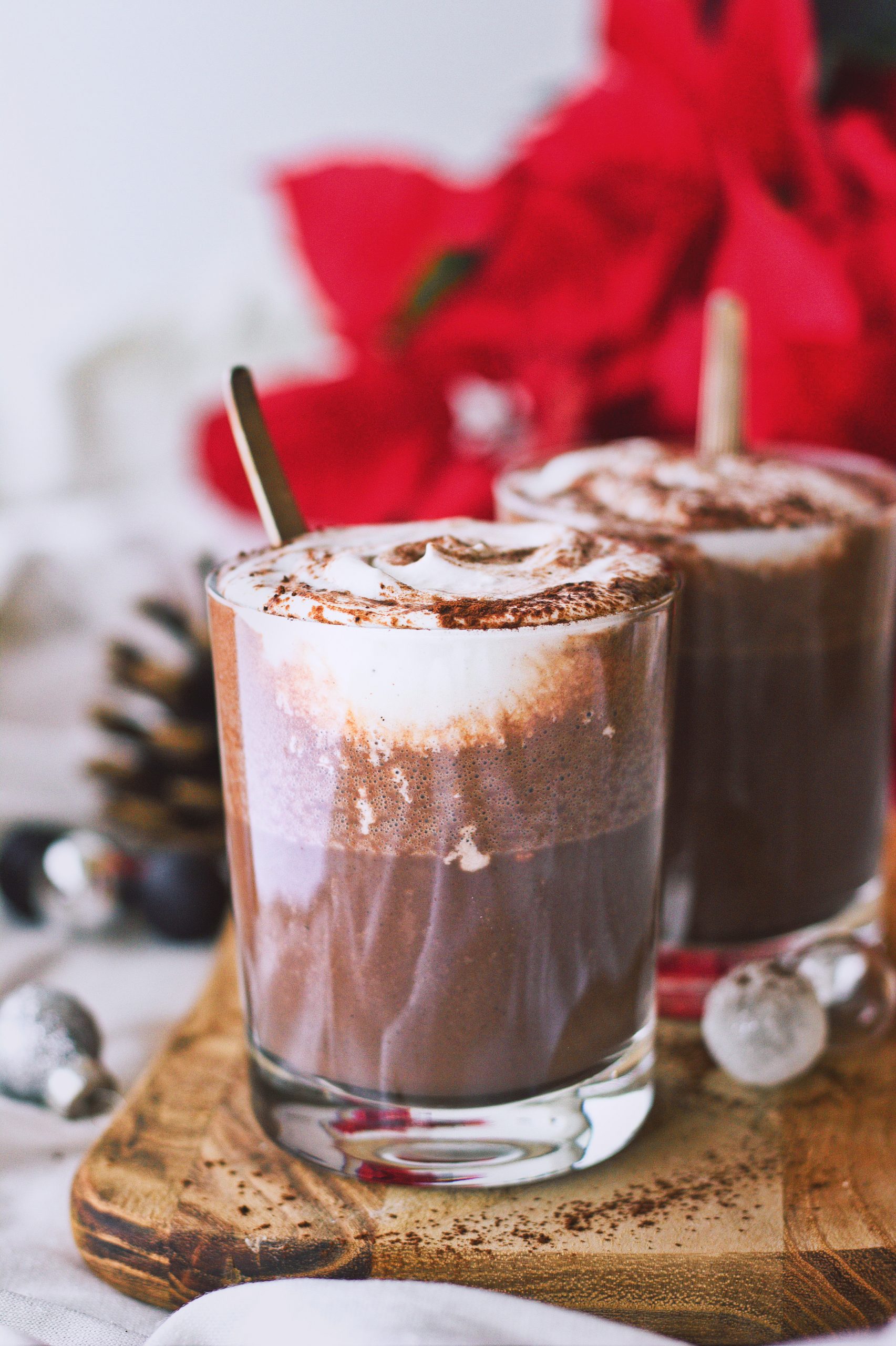 Sprouts. It. Is. December. I can still hardly believe it – and it's already the 8th! I had lots of plans for the start of this month (which I started preparing over 2 weeks ago), but what do you know, on the one and only 1st of December I got sick (are you kidding me?) and fell into one of my Pits of Dispair and ended up feeling like shit all week, physically and mentally.
Now I'm trying to get back into the motions after I found myself sitting at the dining table yesterday morning and feeling awful thinking about what a shit day I had the day before and like I didn't want to do anything at all. I know I'm sounding like the biggest killjoy right now, but what I'm trying to say is: I'm pulling myself together and actually actively trying to feel better.
So, let's start with some hot chocolate.
Reasons to make Hot Chocolate
I really hope you try this hot chocolate because this recipe is:
dairy-free and refined sugar-free.
made with just 5 ingredients.
super easy and quick.
unbelievably foamy, creamy, and decadent.
actually good for you!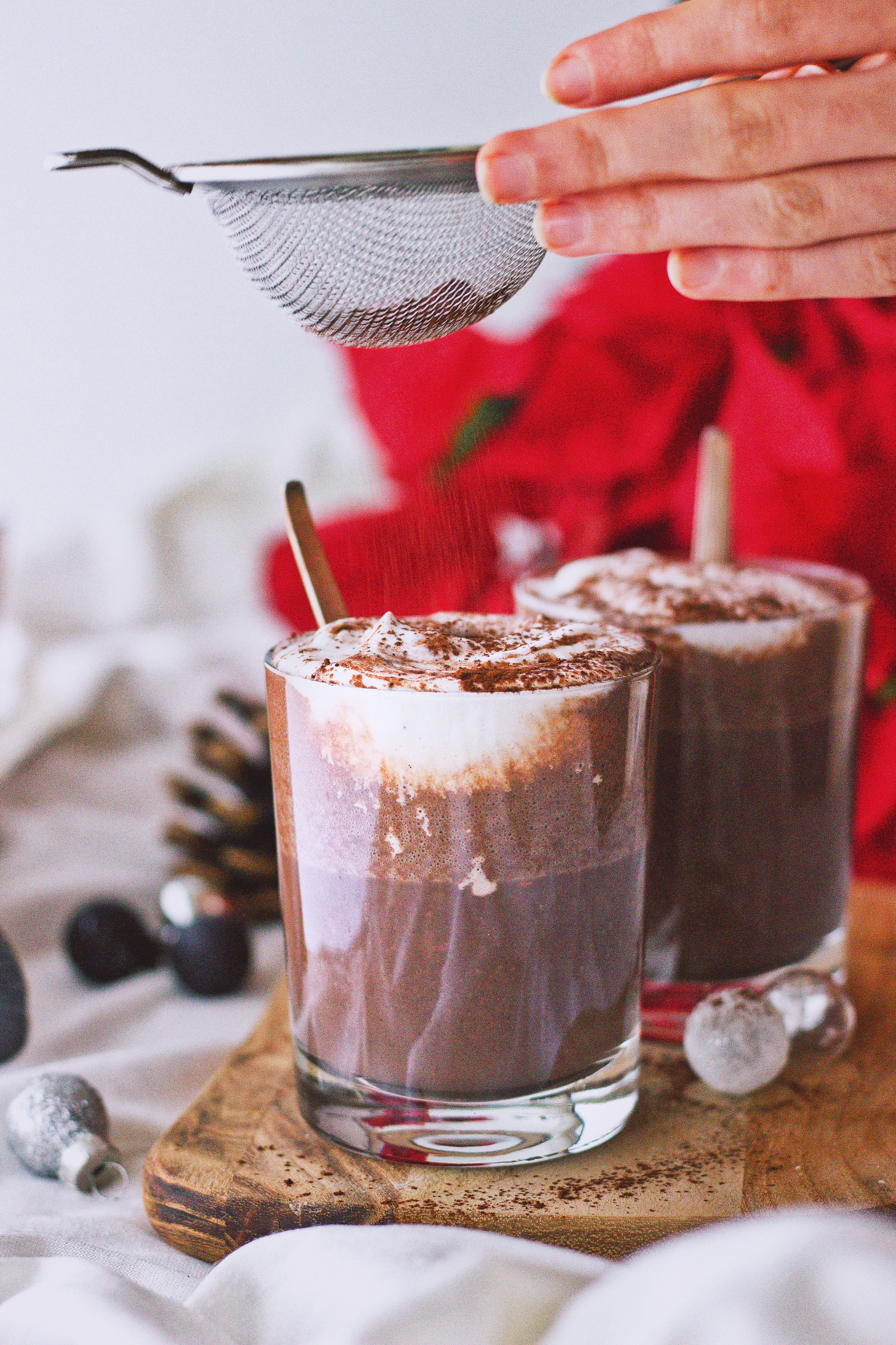 Hot Chocolate ingredients and substitutions
This hot chocolate is unlike any other I've ever tried because of one secret ingredient: silken tofu! I know it seems weird, but blending and then warming tofu gives it a super foamy and creamy texture. Here's everything you need to make this special hot chocolate:
Silken tofu: is essential for the texture. Only use tofu with silken texture, not firm. It can be found in most well-stocked and Asian grocery stores.
Dates: add natural sweetness.
Cocoa powder: Use unsweetened.
Vanilla bean powder or cinnamon: is optional. Add one of them or both if you want a hint of vanilla and/or cinnamon in your hot chocolate.
Non-dairy milk: Use whatever kind you'd like.
Maple syrup: is optional. If the hot chocolate isn't sweet enough for you, add 2-3 tbsp to taste. You substitute this for any other sweetener you'd like.
Tips to make Hot Chocolate
Serve it with vegan whipped cream for the ultimate hot chocolate treat, seriously. I very rarely eat whipped cream anymore, but I happened to have some leftover from testing vegan risalamande, so I squeezed in this photoshoot to use it for styling, and it was so freaking good!
Make it into a chocolate milkshake by adding 1-2 frozen bananas and obviously skipping the whole "warming it up" step. This is so delicious cold, too, so if you want to enjoy this on a hot day, you totally should!
I'd love to hear from you!
If you try this hot chocolate, let me know what you think about it. Rate the recipe, leave a comment below, and take a picture of your drink and tag me on Instagram. My profile name is @spirendeveganer. I'd love to hear your thoughts and see your creations!
Love, Lea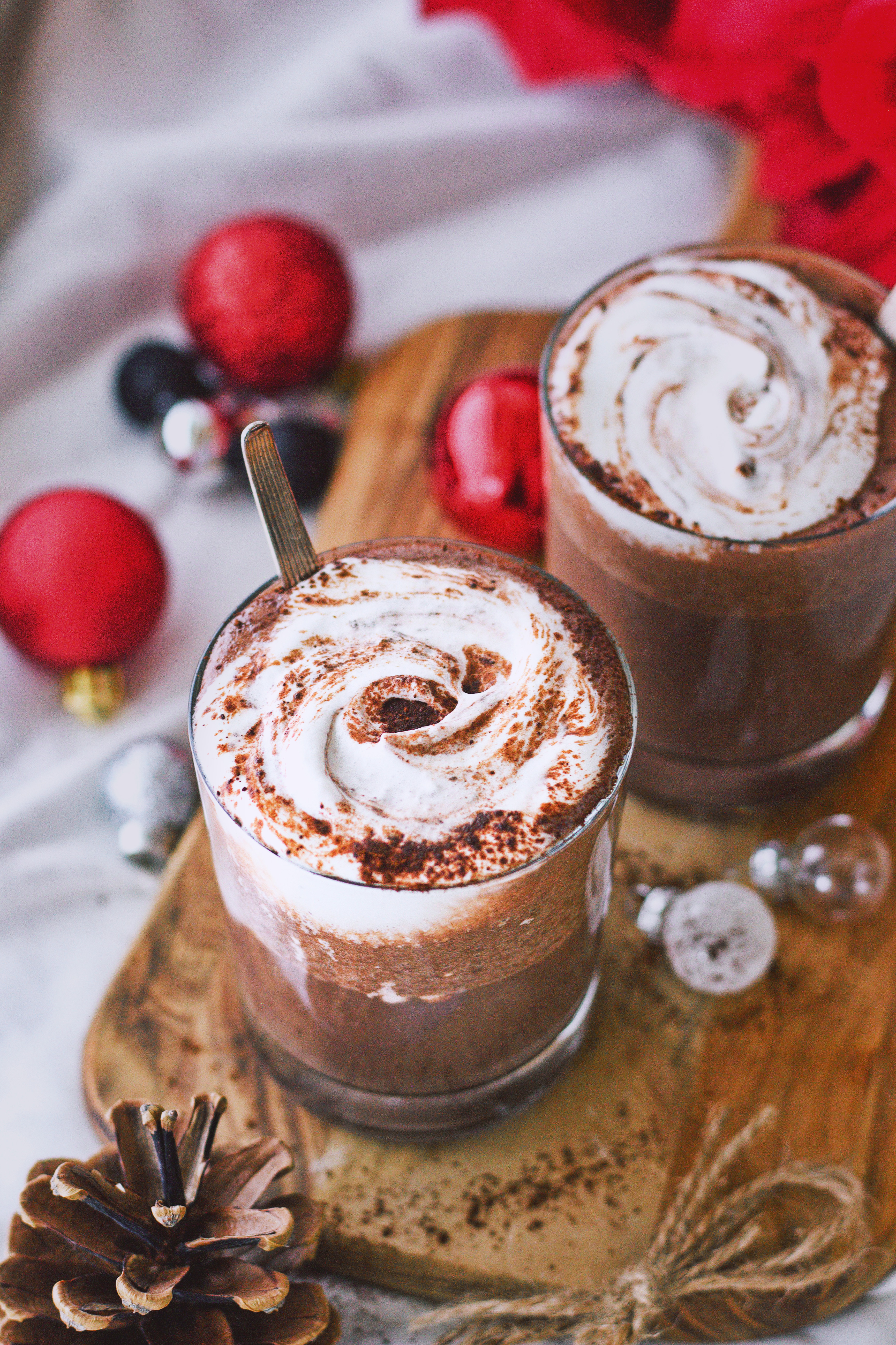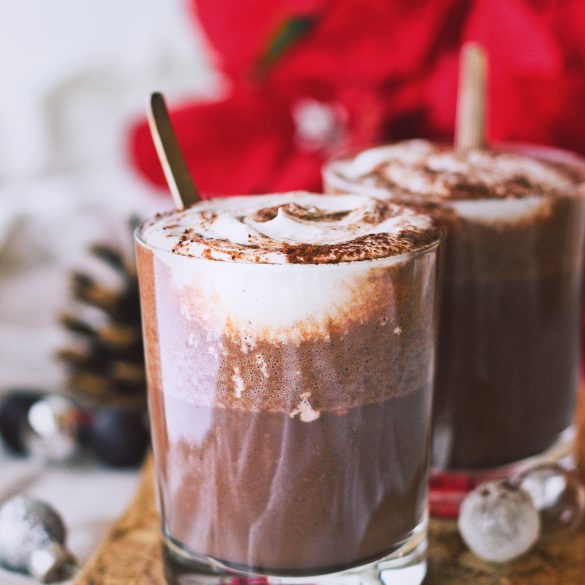 Ingredients
100 g silken tofu, ~1/2 cup
5-6 pitted dates, 60-75 g/~1/2 cup
1 tbsp + 2-3 tsp unsweetened cocoa powder
1/4 tsp vanilla bean powder or ground cinnamon (optional)
a pinch of salt
250 ml non-dairy milk, 1 cup
2-3 tsp maple syrup (optional)
Method
Place all the ingredients (except maple syrup) in a blender and blend until completely smooth. If it isn't sweet enough, add maple syrup to taste. Transfer to a small pot over medium-high heat and heat until just starting bubbling, whisking vigorously to foam.
Serve immediately with vegan whipped cream or enjoy as is.