Change up your usual oatmeal with this gluten-free baked porridge made with superfood quinoa and tender pieces of apple and pear, a super warming and nourishing breakfast!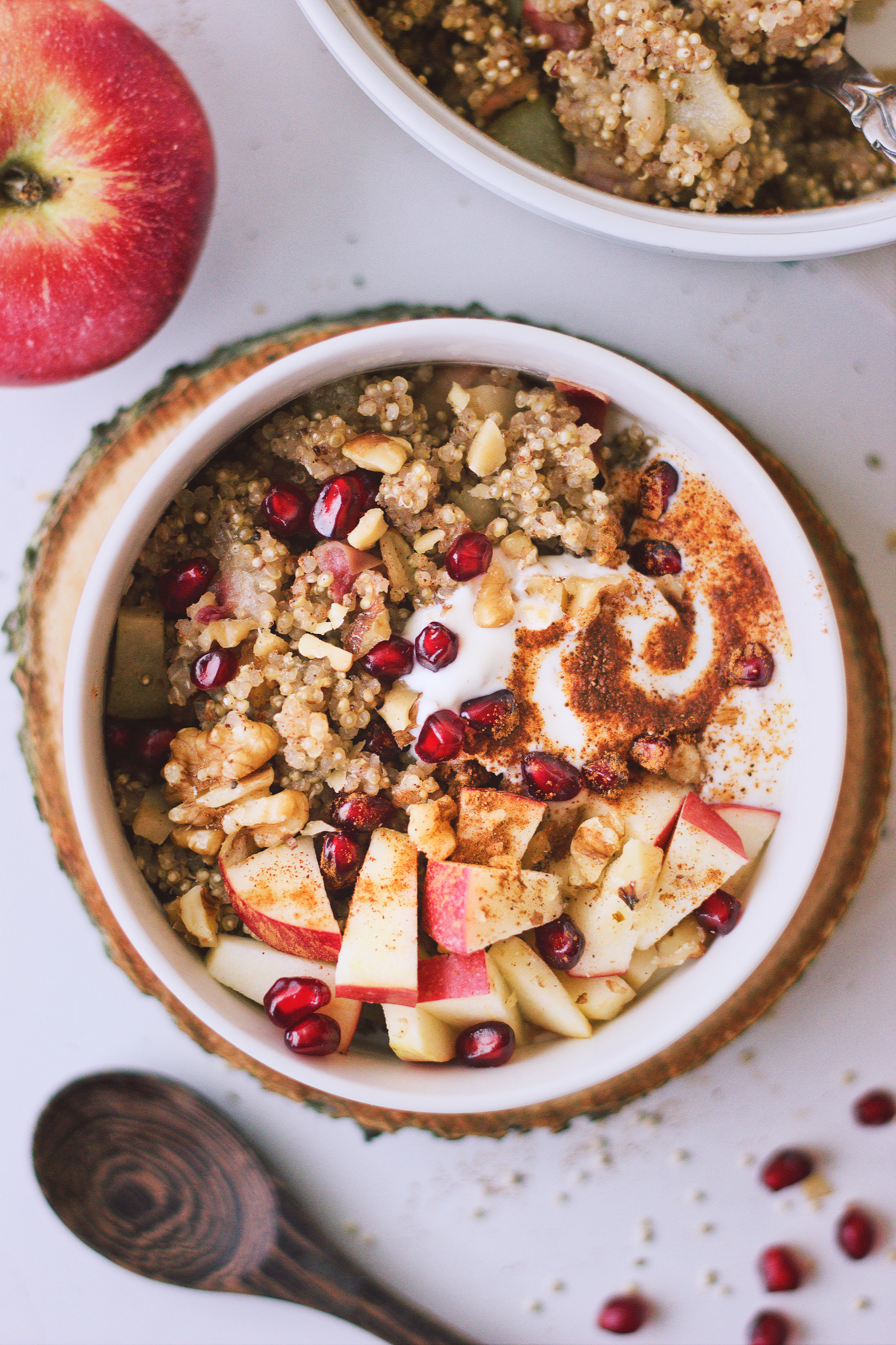 Last Sunday I went to VeggieWorld in Copenhagen! The 1ST completely vegan trade fair in all of Scandinavia!!! I was really excited to go because I'd never been to anything like that before, and it's not often I'm surrounded by people who are actually interested in my passions, which you should know are veganism, the welfare of animals, planet Earth, and health in general.
There were already so many people at the exhibition when my parents and I arrived at 10:30 a.m., and they kept comin' as the day went on. I was surprised and happy to see such an interest and enthusiasm as that probably means this won't be the last vegan trade fair around here, but it also stressed me quite a lot, and it took a while before I felt ready to approach any of the stands.
I tried many exciting vegan foods and products I honestly might have never picked up otherwise.
Some of the highlights included:
ice cream from Nice Cream (I had their cardamom & ginger bread ice cream with salted caramel, so yum!),
classic "liver" paté from Hanegal (I'm not going to buy or eat this again, I'm only mentioning it because it tasted exactly like the real thing),
camembert cheese made from cashew nuts (this was jaw-dropping-ly realistic),
dill patties from Planteslagterne (might actually buy these, tasted like the fish patties I grew up eating!), and
"chicken" products from Hänsals Kitchen.
While I was impressed by how much more realistic vegan "animal products" are getting by the year, most of it is not for me. But I will be going to Nice Cream's ice cream shop as soon as possible for a scoop (or two… or maybe even three…).
I don't have much space left to talk about today's recipe, but today I'm sharing a super easy and delicious baked porridge – made with superfood quinoa! Quinoa is such a great (pseudo) grain because it's both gluten-free and higher in protein which makes it a perfect part of any meal, including breakfast!
Reasons to make Baked Apple & Pear Quinoa Porridge
I really hope you try this recipe because it is:
vegan, gluten-free, and refined sugar-free.
super easy and comes together in 1 bowl.
made with 7 healthy ingredients.
naturally sweetened with apple and pear.
a delicious, warming, and nourishing breakfast.
Baked Apple & Pear Quinoa Porridge ingredients and substitutions
Quinoa: is gluten-free and high in protein and fibre. You can't substitute it in this recipe.
Apple and pear: add natural sweetness and flavour. You can use a combo of both, like I do, or use all apple or all pear if you'd like.
Flax seeds: contains essential omega-3 fatty acids.
Cinnamon and cardamom: adds lovely, warm spice, but cardamom is optional.
Maple syrup: adds natural sweetness.
Non-dairy milk: You can use whatever kind you'd like
No tips needed to make this porridge because it's literally so easy!
Looking for more healthy porridge recipes?
Yesterday I had to admit to myself I might've had my last smoothie bowl of the year because they just leave me shivering, wrapped in a blanket, with a runny nose and chattering teeth. Porridge is definitely a more weather appropriate choice now! So, if you're looking for some inspiration, here's my current collection of porridge recipes:
I'd love to hear from you!
If you try this quinoa porridge, let me know what you think about it. Rate the recipe, leave a comment below, and take a picture of your porridge and tag me on Instagram. My profile name is @spirendeveganer. I'd love to hear your thoughts and see your creations!
Love, Lea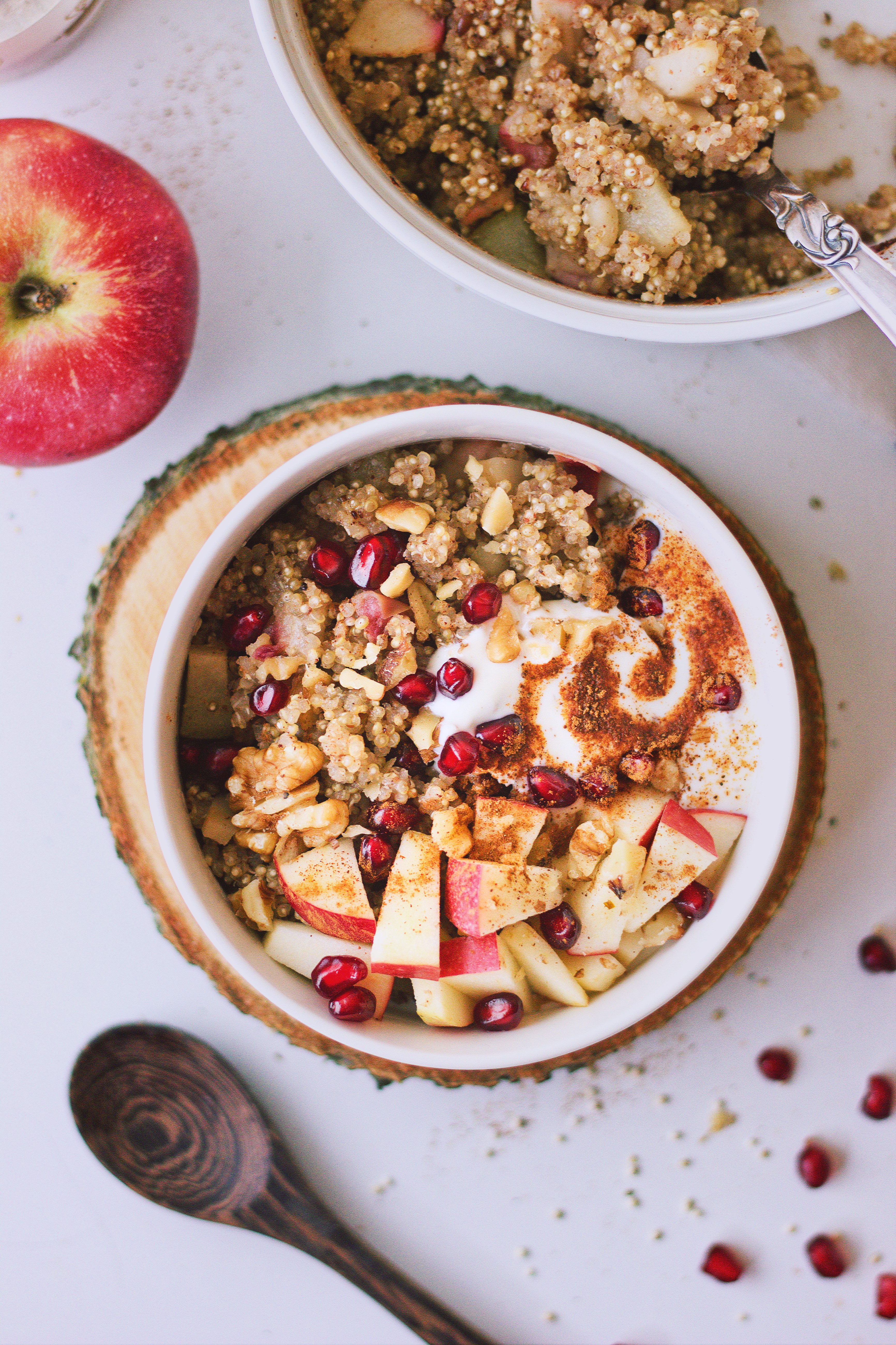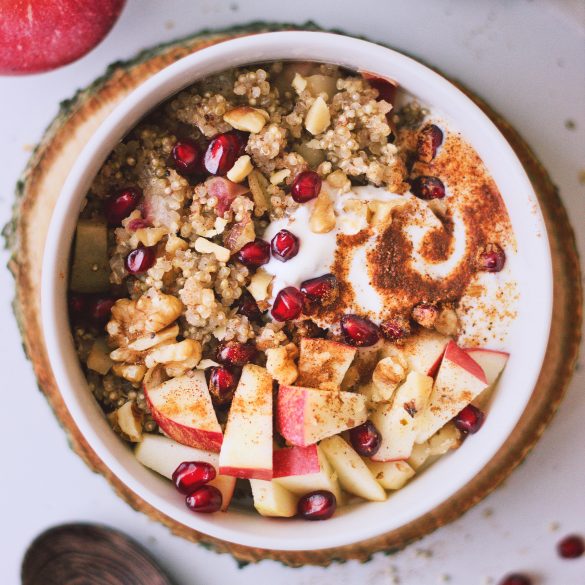 Ingredients
85 g uncooked white quinoa, 1/2 cup

75 g apple, cut into small pieces, ~1/2 cup

75 g pear, cut into small pieces, ~1/2 cup

2 tbsp ground flax seeds

1/2 tsp ground cinnamon

1/4 tsp ground cardamom (optional)

a pinch of salt

2 tbsp maple syrup or other sweetener

250 ml non-dairy milk, 1 cup
Method
Preheat the oven to 200°C (400°F), fan setting.
Place all the ingredients in a baking dish and mix well. Cover with aluminium foil. Bake in the oven for about 30 minutes or until the quinoa is cooked, stirring once halfway through. Let it sit, still covered, for 5-10 minutes before serving to completely soften the quinoa.
Serve warm with, for example, vegan yoghurt, apple, walnuts, and maple syrup, or enjoy as is.
Store leftovers in the fridge for up to 2-3 days. The porridge will dry out in the fridge, so before reheating, rehydrate with non-dairy milk. To reheat, microwave for 1-2 minutes.