A green, nutritious and immune boosting start to your day in the cold winter months ahead.
Can you believe it? I'm already back with another recipe!
This morning was, as usual, very cold, so I decided to make oatmeal to warm myself up. It ended up being really delicious, and I didn't even have to fight with my tripod when I took these photos! Some days are just better than others, I guess.
Oats are one of my favourite breakfast ingredients. They're so satisfying to eat, and very versatile. I eat oatmeal often, and sometimes I even enjoy my oats cold.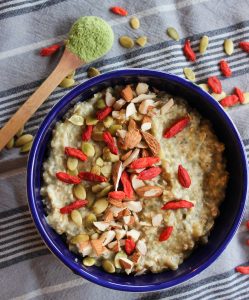 This oatmeal is green because I added wheat grass powder to it. You could use another kind of powder, or none at all, if you prefer. Superfood powders contain lots of beneficial nutrients and antioxidants. I'm very interested in them, and I have 3 different powder I use regularly. At the moment I'm writing a post about maca, but I really want to write about wheat grass powder, too.
I call this oatmeal "Green Immunity Oatmeal" because it has vitamins and minerals that are essential for a well functioning immune system. It's:
» high in iron, copper, manganese, selenium and zink
» rich in B-vitamins as well as vitamin K
» hearty and warming
» naturally sweetened
» very filling
» easy to make
Oatmeal is quick to make and rich in fiber, which makes it really filling, so it's perfect to make on a school day for example. You can come up with lots of different flavours for your oatmeal, you can sweeten it with whatever you want, and top it with anything!
It's totally up to you, but I've already talked too much, so let's just get into the recipe.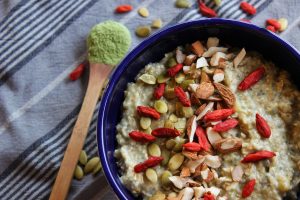 Green Immunity Oatmeal
Yield: 1 serving
Hearty and nourishing oatmeal that you can make quickly on extra cold, or lazy, days!
Prep time: 5 minutes
Cook time: 5 minutes
Total time: 10 minutes
Ingredients:
» 150 ml oats or spelt flakes (55 g ~ 3/5 cup)
» 250 ml water (1 cup)
» 1 banana, mashed (100 g)
» 1 handful of almonds, crushed
» 1 tbsp chia seeds
» 1 tbsp pumpkin seeds
» 1 tbsp goji berries
» 1 tsp greens powder (I used wheat grass)
» 1/4 tsp vanilla powder
» a pinch of salt
Method:
1. Add the oats, chia seeds, vanilla powder, salt and water to a small saucepan on high heat.
2. Once the mixture starts simmering, turn to low heat, add the mashed banana, and keep stirring until the oatmeal has thickened and reached the consistency you like.
3. Take the oatmeal off the heat and stir in 1 tsp greens powder of your choice.*
4. Serve in a bowl and top with crushed almonds, pumpkin seeds and goji berries. If you find it to be not sweet enough, you can add a drizzle of maple syrup.
Author's note:
*If you don't have a/want to use greens powder, that's fine. Leaving it out won't change the taste, using it won't either.