Crunchy granola with cashew nuts and coconut that will make your house smell like a dream. Best part is that it's completely refined sugar and oil free!
Granola was never something I used to eat a lot. Actually, since becoming vegan, I've been trying a lot of new things and really experimenting with different recipes. And they tell you a vegan diet is so restrictive.
I really wanted to get a good and tasty granola. You probably already know I'm a big fan of smoothie bowls, and granola and smoothies go so well together! The only problem is that store bought granolas tend to contain a lot of added crap.
So I decided to challenge myself to come up with my own healthy granola recipe. I focused on cashew nuts, coconut flakes and chia seeds for this recipe, but granola is so versatile, and you can add literally anything you'd like. Don't like cashews? That's fine, you can swap it for almonds, peanuts or a completely different nut. That's what's great about making your granola at home.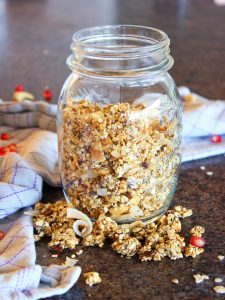 The first batch I made didn't come out very well. The granola kept burning without ever really getting crispy. But I was determined to succeed. The next time I made it I got this delicious, naturally sweetened, crunchy granola. I found the key to crunchy granola: Bake it at a low temperature. This way your granola gets time to crisp up before it burns.
I really love how this recipe has a nice, subtle taste without being overpowering. And toasted cashew nuts and coconut flakes taste delicious plus they bring a little extra sweetness.
This recipe contains:
» lots of selenium and zink
» omega-3 fatty acid ALA
» copper
» delicious granola clumps
» sweetness without refined sugar
» crunch without oil
I tried using my tripod for my camera for the first time today. It was a little… hard. I might need to practise some more. But I was still able to get some pretty good photos. I am a perfectionist, so sometimes it's hard when thing don't come out exactly the way I want them to. I have to remind myself that it's okay, I don't need to rush, and I'm still learning.
I ate my granola with unsweetened vegan yoghurt from alpro. Quick yoghurt rewiev: It tasted okay. It reminded me of regular natural yoghurt. The texture was good, taste was kind of bland. It became delicious, however, when I paired it with blueberry compote and my delicious granola.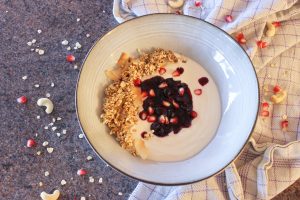 When I mixed it up everything became purple, haha, it was so pretty. You can really eat it with anything you'd want, or simply on it's own. I could picture myself snacking on it, too.
And I'm counting down the days because in 3 weeks I'm actually going to Paris. I haven't told you this on my blog yet, but I'm going there with my mom and I'm super excited. I'm hoping I can take my dad's camera with me (that's the one I use to take pictures with), so I can share some delicious vegan food and review restaurants for you.
But if you try this recipe please share your photo with me, and tell me what you thought. I will definitely be making granola more often now. And just for your information my instagram name is @spirendeveganer!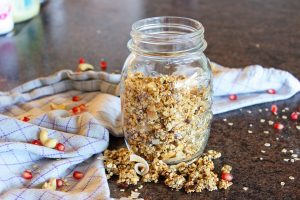 Crunchy Cashew Granola
Yield: 3 cups
Simple, naturally sweetened granola with delicious tasted cashew nuts and coconut flakes.
Prep time: 5 minutes
Cook time: 25 minutes
Total time: 30 minutes
Ingredients:
Dry:
» 250 ml oats (120 g ~ 1 + 1/4 cup)
» 100 ml puffed quinoa (15 g ~ 2/5 cup)
» 30 g cashew nuts (15-25 nuts), chopped
» 20 g coconut flakes (3-4 tbsp)
» 1 tbsp chia seeds (5 g)
» 1/4 tsp vanilla powder
» a pinch of salt
Wet:
» 1 chia egg (1 tbsp chia seeds + 3 tbsp water)
» 1/2 small banana, mashed (40-50 g ~ 1/5 cup)
» 2 dates, mashed with 1 tbsp water (15 ml)
» 1 tbsp maple syrup (15 ml)
Directions:
1. Preheat your oven to 150 C (300 F).
2. Start by making the chia egg, mixing together the chia seeds and water. Let it sit while preparing the other ingredients.
3. Mix all the dry ingredients, except for coconut flakes, in a bowl.
4. In a separate bowl, mix all the wet ingredients, then pour the wet into the dry ingredients and stir, making sure everything is evenly coated.
5. Spread the mixture onto a baking sheet lined with parchment paper and bake for 15 minutes.
6. Take the granola out of the oven and stir in the coconut flakes.
7. Bake again for 5 minutes, stir it, and bake for another 5 minutes or until the granola has become nicely golden-brown and crunchy (it will crisp up more as it cools).
8. Let it cool, then store in an airtight container and enjoy as topping for smoothie bowls, vegan yoghurt or simply on it's own.