My all-time favourite Christmas cookies, vanilla wreaths are easy to make and super crispy, with the most delicious sweet flavour of pure vanilla.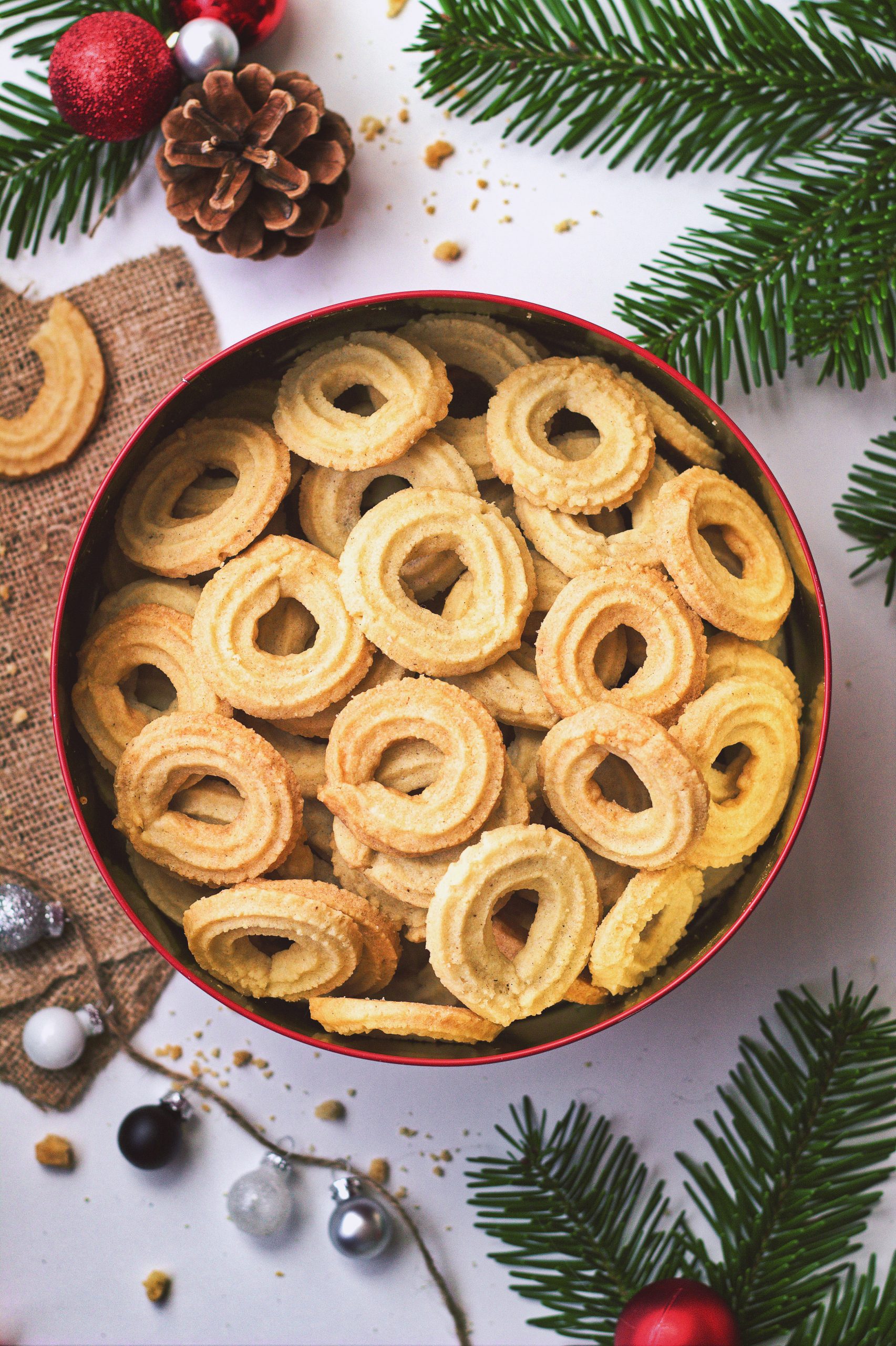 Let's get Christmas baking!
I've spent a good few afternoons just cooking hundreds of cookies and getting my Christmas spirits high over the past few weeks. This year's cookie to-do list (yes, you need one of those) is now complete: brunkager (brown cookies), jødekager (Jewish cookies), and, of course, vaniljekranse (vanilla wreaths). Each of them turned out wonderful, but I'm only sharing the recipe for my vanilla wreaths today!
What are Vaniljekranse (Vanilla Wreaths)?
Vanilla wreaths are a traditional Danish Christmas cookie with vanilla flavour that are shaped in a circular wreath with a star cross-section. They're made with mainly flour, sugar, butter, vanilla, and sometimes chopped almonds and/or almond flour. The wreaths are made by pressing the dough through a mincer with a star attachment or piping bag with a star tip and creating long strips, cutting them into about 10 cm/4 inch pieces, and pressing the ends of each piece together to create a wreath.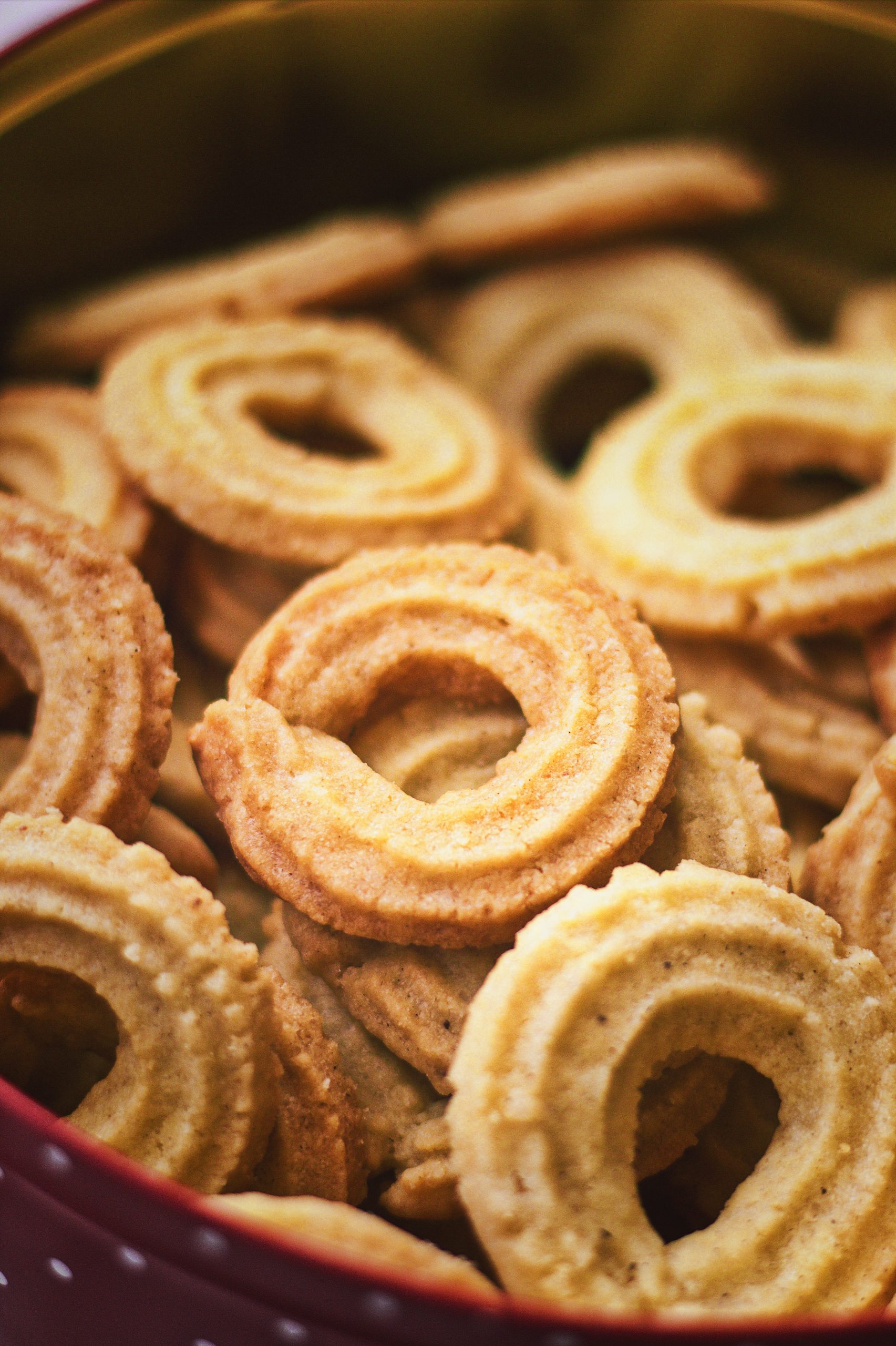 Reasons to make Vaniljekranse
I hope you try this recipe because these vanilla wreaths are:
vegan and dairy-free.
made with 6 simple ingredients.
easier to make than they might seem!
perfectly crispy!
flavoured with the forever iconic flavour, vanilla.
so addictive they might not actually last until Christmas Eve!
Tips to make Vaniljekranse
Use "hard" vegan butter. I've used Naturli' Vegan Spreadable (Smørbar) in a lot of recipes, but the texture is a lot softer than Naturli's other vegan butter product, their Vegan Block (Smørbar Blok), so that's what I use for this recipe. I recommend using a vegan butter you know isn't super soft as it makes the dough easier to work with and ultimately better cookies!
Place the dough in the fridge for at least 1 hour. The dough is easiest to work with when it isn't super soft, or hard, for that matter. After kneading it together, place it in the fridge to harden, and then work with it for a few seconds before shaping and baking your cookies.
Preferably use a mincer with a star attachment to shape the wreaths. We have one, but I didn't know where it was when I made my cookies, so I ended up pressing ALL THE DOUGH through a star tip WITH MY BARE FINGERS (because we don't have a piping bag), and it was borderline torture. If you have a mincer with a star attachment, for God's sake USE IT. Otherwise, my torture method did work quite impressively as you can see, or you can use a piping bag with a star tip (requires strength) or shape them into any other shape you'd like (though I suppose you couldn't call them vanilla "wreaths" then), keeping in mind the baking time might vary if you do.
Looking for more Christmas desserts and treats?
More Christmas recipes to come! Until then, check out the tag Christmas and these recipes:
I'd love to hear from you!
If you try these vanilla wreaths, let me know what you think about them. Rate the recipe, leave a comment below, and take a picture of your vanilla wreaths and tag me on Instagram. My profile name is @spirendeveganer. I'd love to hear your thoughts and see your creations!
Love, Lea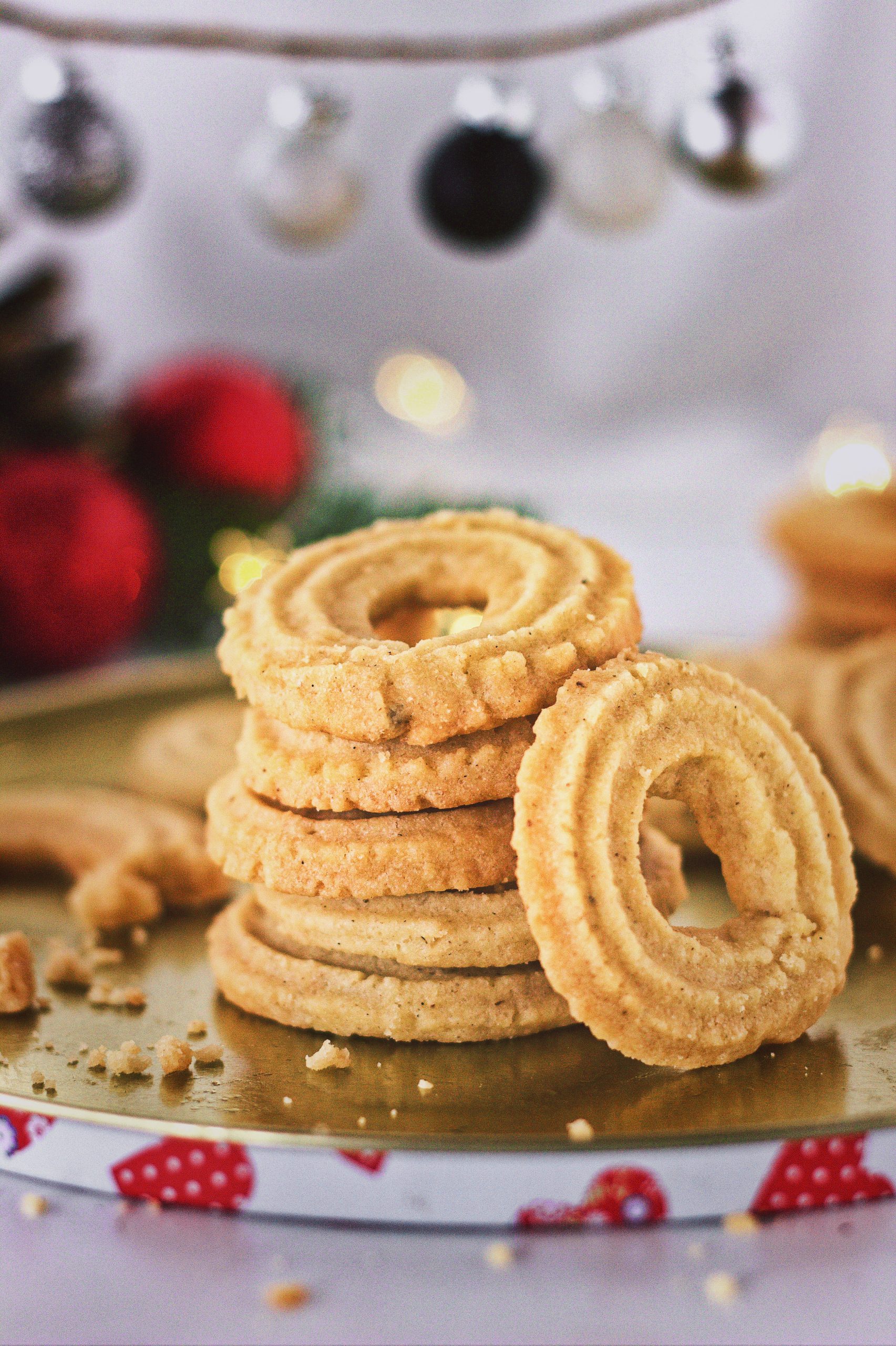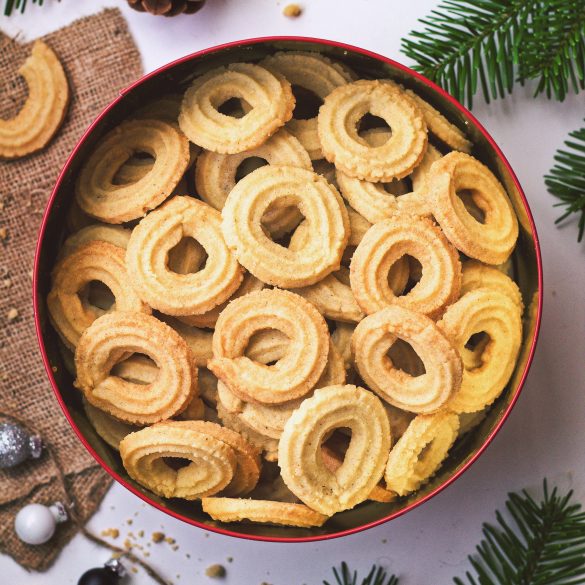 Ingredients
425 g all-purpose flour, 3 1/2 cups

75 g almond flour or more all-purpose flour, 3/4 cup

250 g white sugar, 1 1/4 cups

4 tsp vanilla sugar

1/4 tsp ammonium bicarbonate (på dansk: hjortetaksalt)

a pinch of salt

325 g cold vegan butter, cubed, ~1 1/4 cups (I use Naturli' Vegan Block)

non-dairy milk (if needed)
Method
Place the all-purpose flour, almond flour, white sugar, vanilla sugar, ammonium bicarbonate, and salt in a bowl and mix well. Add the butter and knead it into the flour mixture with your hands until you have a smooth dough. If needed, add 1 tbsp non-dairy milk at a time to help the dough come together. Place in the fridge for at least 1 hour before using.
When you're ready to bake the cookies, preheat your oven to 175°C (350°F), fan setting, and line a baking tray with baking paper.
Press the dough through a mincer with a star attachment or a piping bag with a star tip and create long strips. Cut into ~10 cm/4 inch pieces and press the ends of each piece together to create a wreath. Place the wreaths on the baking tray. Bake for 9-10 minutes until golden and the edges are crispy. The cookies will crisp up more as they cool.
Store completely cooled cookies in a cookie tin at room temperature for up to 1-2 months.