A simple creamy strawberry smoothie, perfect for a light breakfast or snack!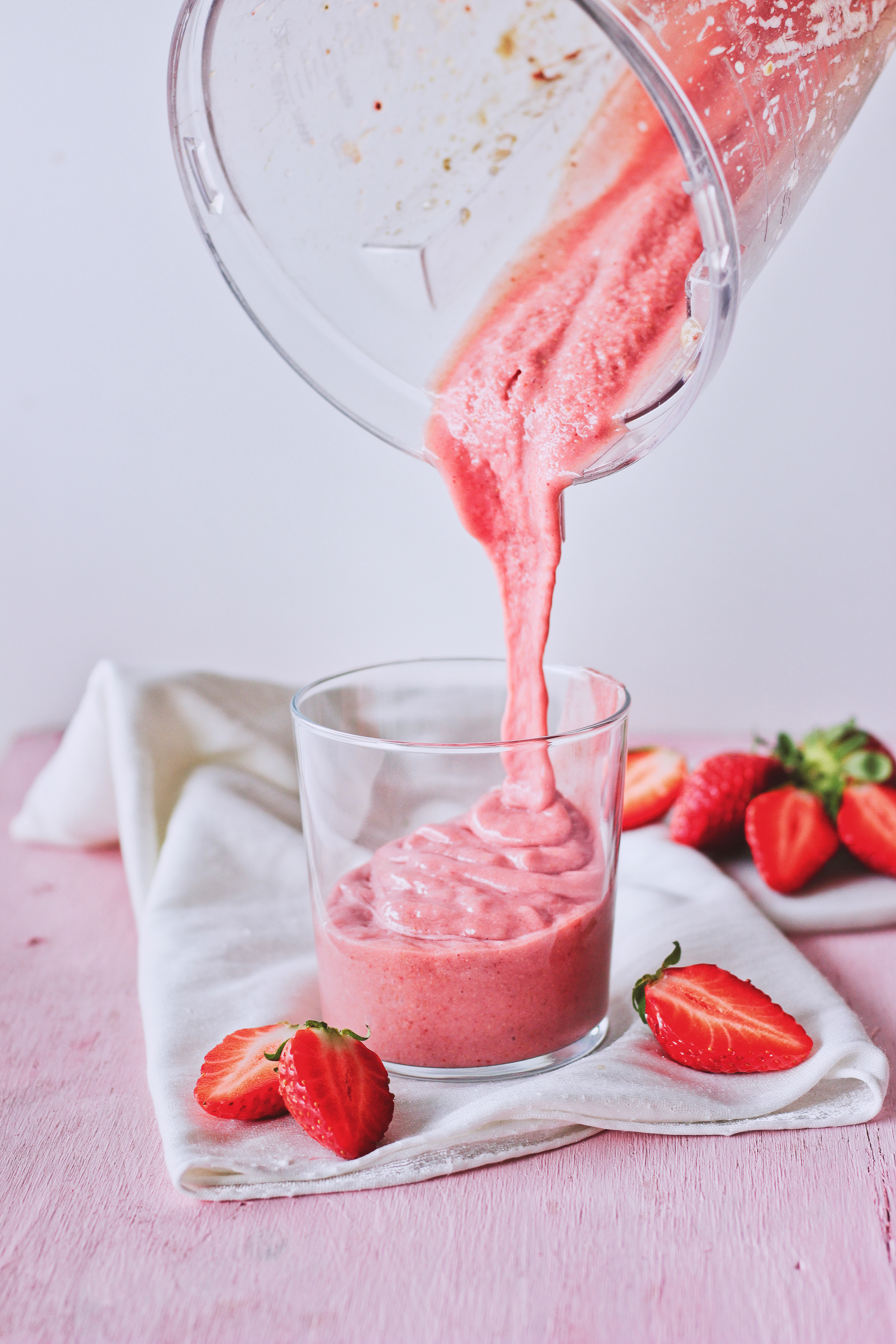 I was so close to scrapping the photoshoot for this recipe because the light was off in almost all the pictures. But then I found two I fell in love with, particularly the action shot above. Simple can be just as beautiful. And it goes perfectly with this recipe since it's simply a creamy strawberry smoothie made with just 6 ingredients. A super quick, light breakfast or refreshing snack.
If you're having this for breakfast, you can always make a little more or add some oats to make it more filling. I think I'm going to be making this a lot this summer: the strawberry flavour is so nice! And I'm sure if you froze som big, sweet loal strawberries, it'll taste even lovelier!
I can't wait to go strawberry-picking. A farm near us are opening this weekend, actually, and I know our family will be one of the first standing there, knocking on the door. We took a huge advantage of living so close to it last year. Local berries are truly the best you'll ever have!
Looking for more smoothie recipes to enjoy this summer? Check out my Tropical Green Queen, Blackberry and Sea Buckthorn Smoothie Bowl, and Very Green Smoothie Bowl!
If you decide to try this recipe, don't forget to rate it, leave a comment below, and take a picture of your smoothie and tag me on Instagram. My profile name is @spirendeveganer. I'd love to hear your thoughts and see your recreation!
Have a lovely weekend!
Love, Lea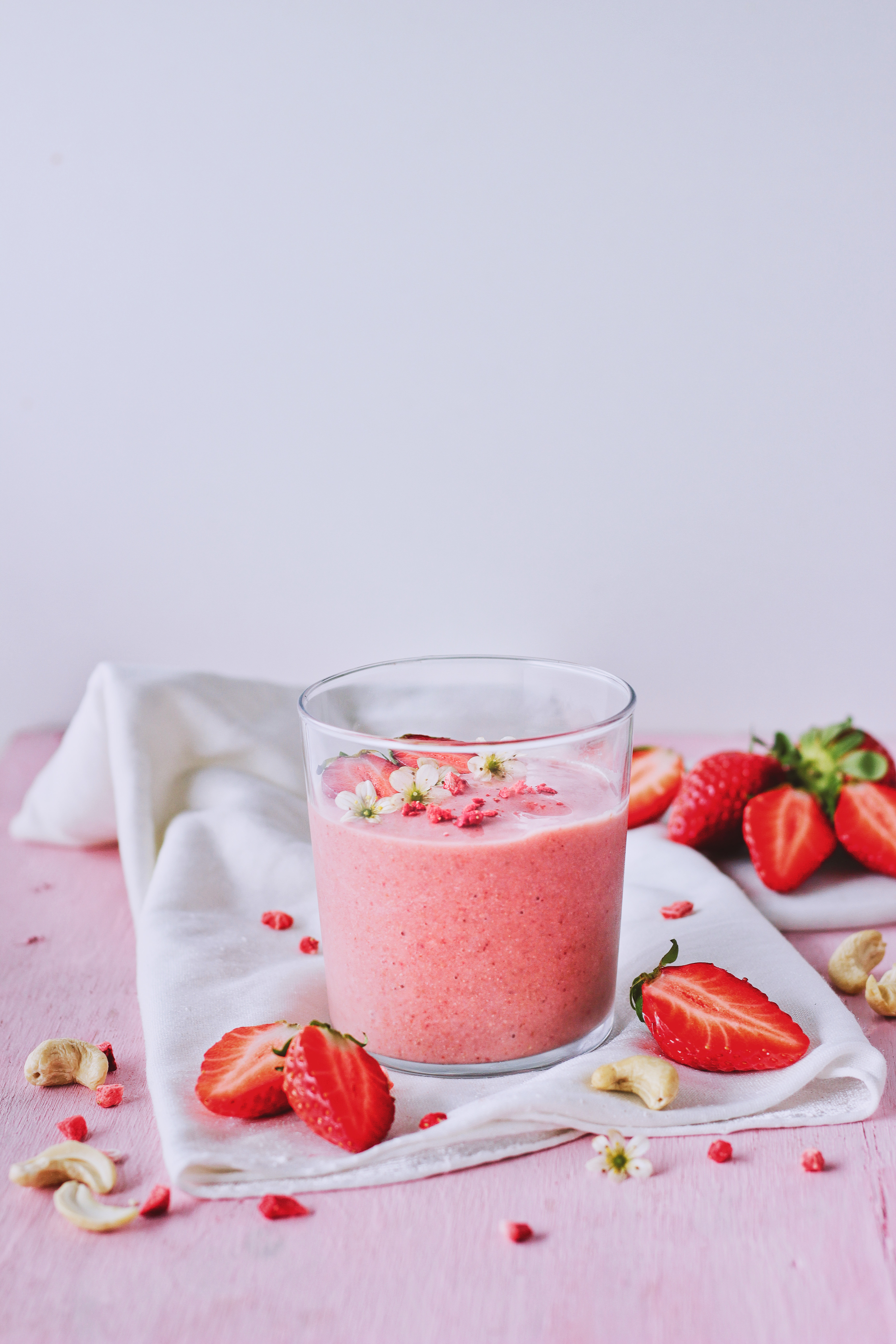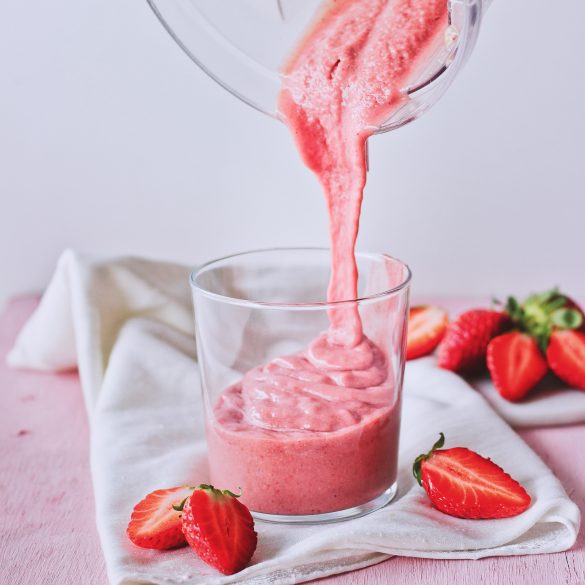 Ingredients
1 ripe banana
100 g frozen strawberries, 3/4 cup
1-2 soft dates, optional
1 tbsp cashew butter
2 tsp freeze-dried strawberries
1 tsp maca powder, optional
80-120 ml non-dairy milk, 1/3-1/2 cup
Method
Place all the ingredients in a blender and blend until smooth. Pour into a glass and serve.