Oatmeal – a timeless breakfast classic! Learn how to make it delicious and keep it interesting, with 5 different flavour and topping ideas!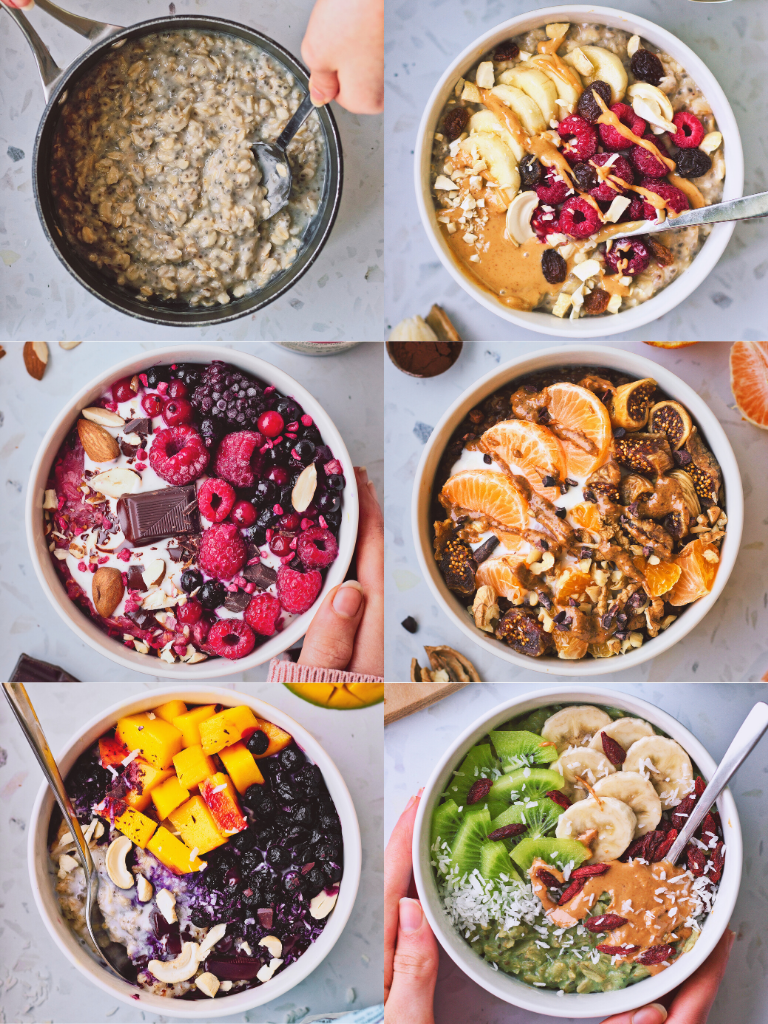 Hi, Sprouts. I'm back from my little break with my first recipe(s) of 2020. I hope you had a merry Christmas and a very happy new year. I've certainly enjoyed my 2-week Christmas break. We're now truly at the first pages of a new chapter, or maybe even a completely new book. It's a new decade, a new year, month, week, and day.
I know many people use January to set a new year's resolution, the most common one probably being something along the lines of: I want to lose weight or I want to get healthier or I want to become stronger. Increasingly more people each year also set a resolution to reduce their meat consumption, start eating more plant-based, or maybe even go full on vegan, like we've seen with the challenge Veganuary.
If you are working on any of those things, I hope this post can help you. I think oatmeal is one of the best breakfasts for living a happy, healthy, and active lifestyle. It's ready in less than 10 minutes, filling, healthy, and can be very delicious. Today I'm sharing how I make oatmeal as well as 5 flavour (and topping) ideas to keep it interesting and inspire you to create your own Instagram-worthy oatmeal bowls.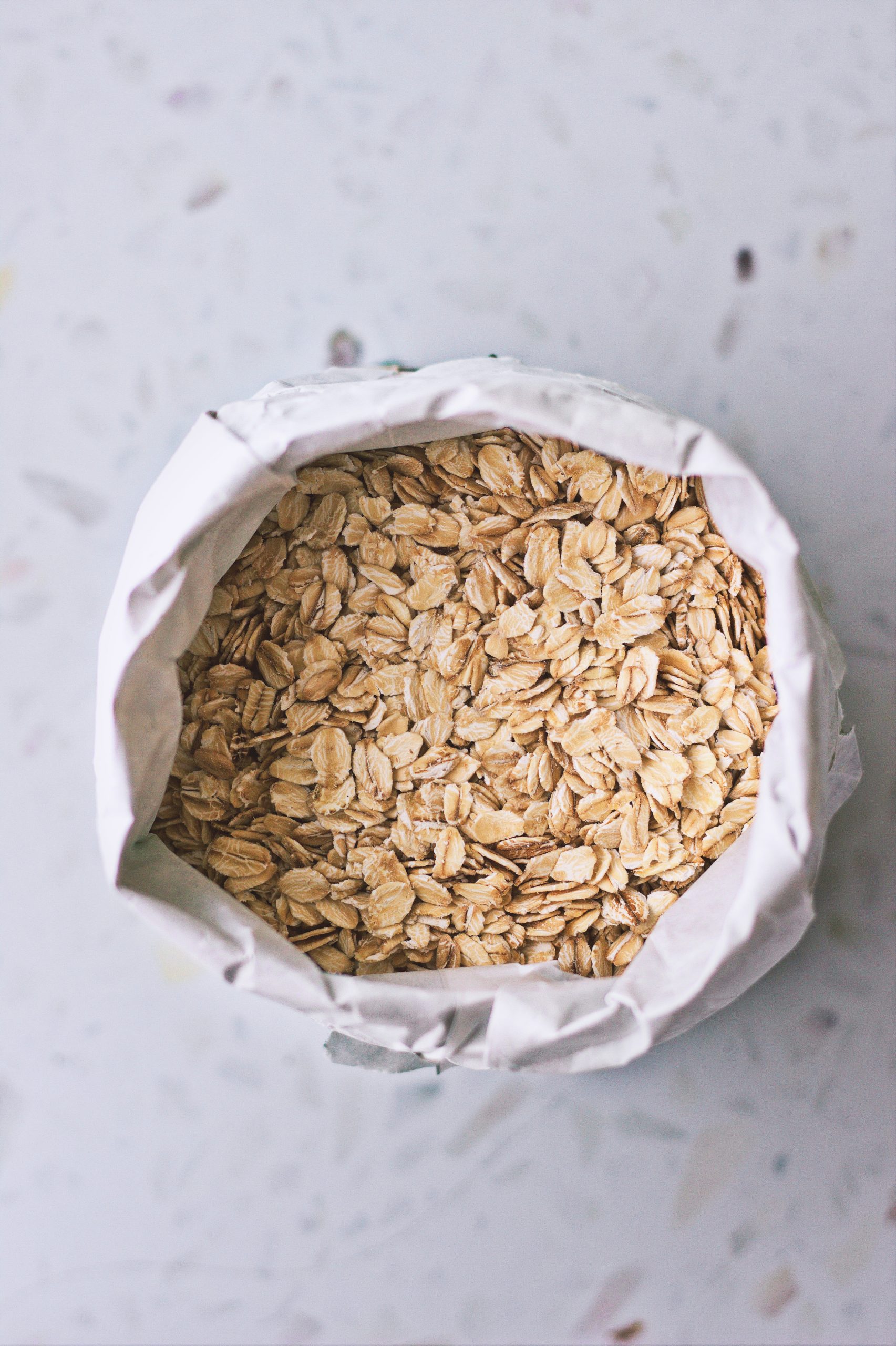 Reasons to eat oatmeal
If you're not already regularly eating oatmeal for breakfast, I hope these reasons will convince you try it out. Oatmeal is:
one of the most affordable meals.
easily made vegan, GF, and refined sugar-free.
super quick and easy.
customisable and versatile.
filling and healthy.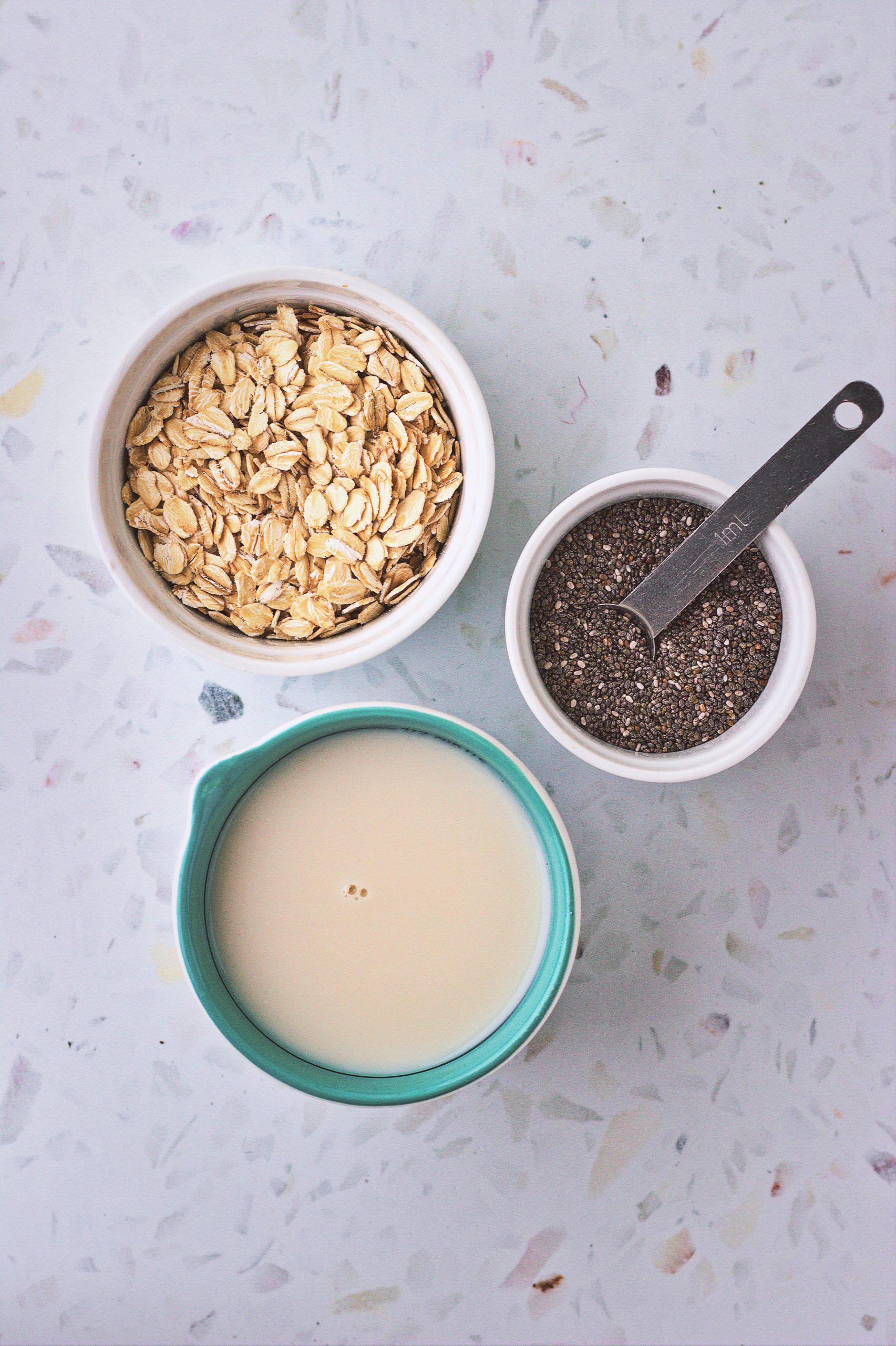 How to make oatmeal
Oatmeal is literally one of the easiest things to make. All you really need is oats and liquid, cook them together, and in less than 5 minutes it's ready. Below are some of my tips for you if you're a complete oatmeal-beginner.
INGREDIENTS AND SUBSTITUTIONS
Rolled or quick oats: both work for this recipe, but give a different texture. Rolled oats are more chewy and take about 4-5 minutes to cook, whereas quick oats are more creamy and take a little less time to cook, about 2-3 minutes. Use certified GF oats if needed.
Chia or flax seeds: contain essential omega-3 fatty acids. I add them to my breakfast almost every single day, and I would highly encourage you to do so yourself.
Salt: enhance the flavour of the oats themselves and any flavour you add to your oatmeal. I think that even the tiniest pinch does make a tremendous difference.
Water and/or non-dairy milk: determines how thick or creamy your oatmeal is. You can use all water, all non-dairy milk, or a mix of both and, depending on the consistency you'd like, add more or less than I do. Cooking in milk makes oatmeal even creamier.
TIPS
Cook oatmeal on the stovetop for the best results. You can make it in a microwave, but the key to creamy oatmeal is to cook it on the stove top and stir it continuously.
Stir oatmeal continuously to prevent it from burning. Oatmeal burns extremely fast, so remember to keep a constant eye on it and keep stirring.
The toppings make the oatmeal. Even plain oatmeal can be tasty AF if you add your favourite toppings and pile them on high. #moreismore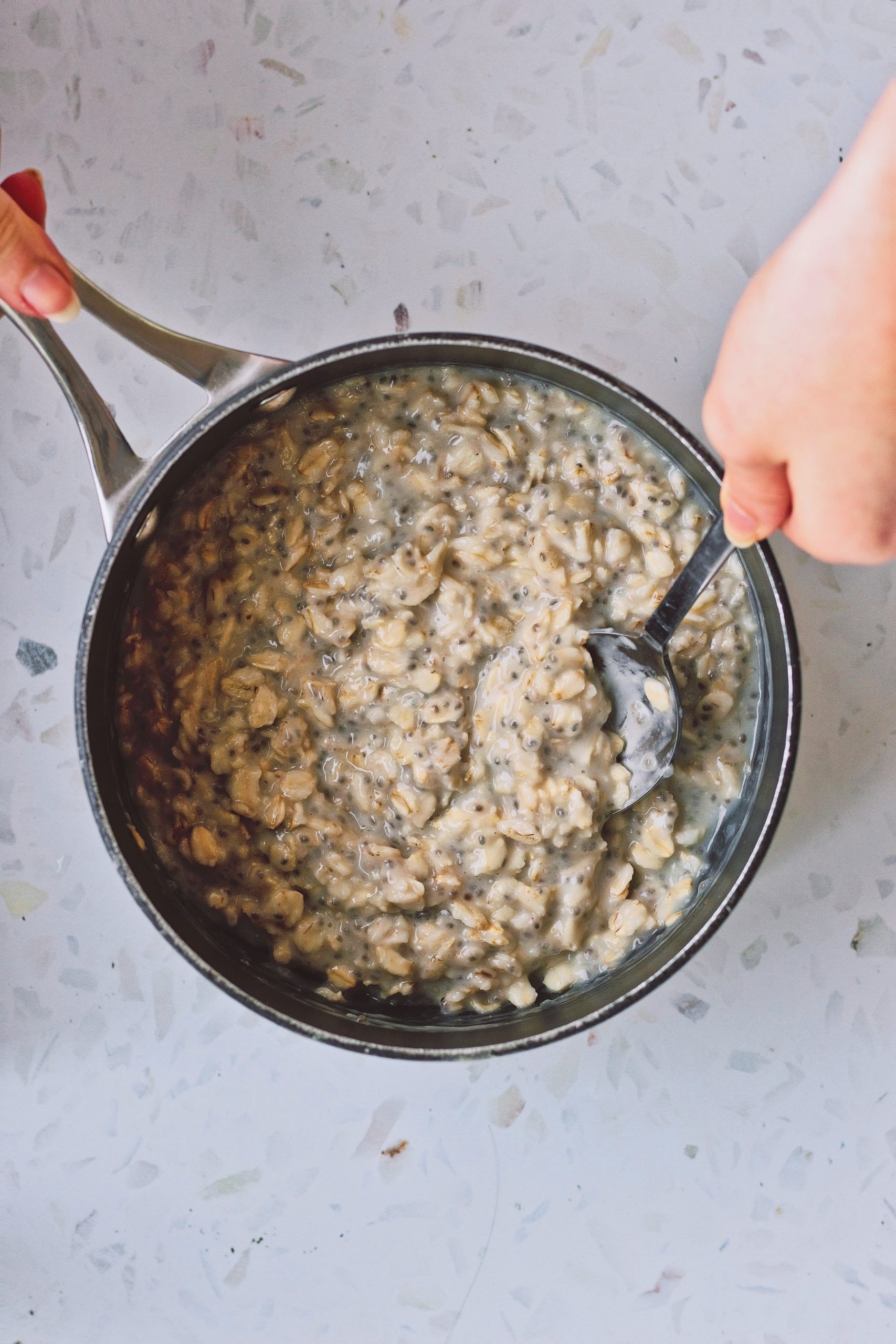 Oatmeal flavour and topping ideas
Oatmeal can be delicious plain topped with whatever you'd like, but there is also an endless amount of flavours you can add to your oatmeal to make it even better. Get creative and find your favourites. Below are some of mine to get you started. Mix and match the flavours and toppings and come up with your own ideas.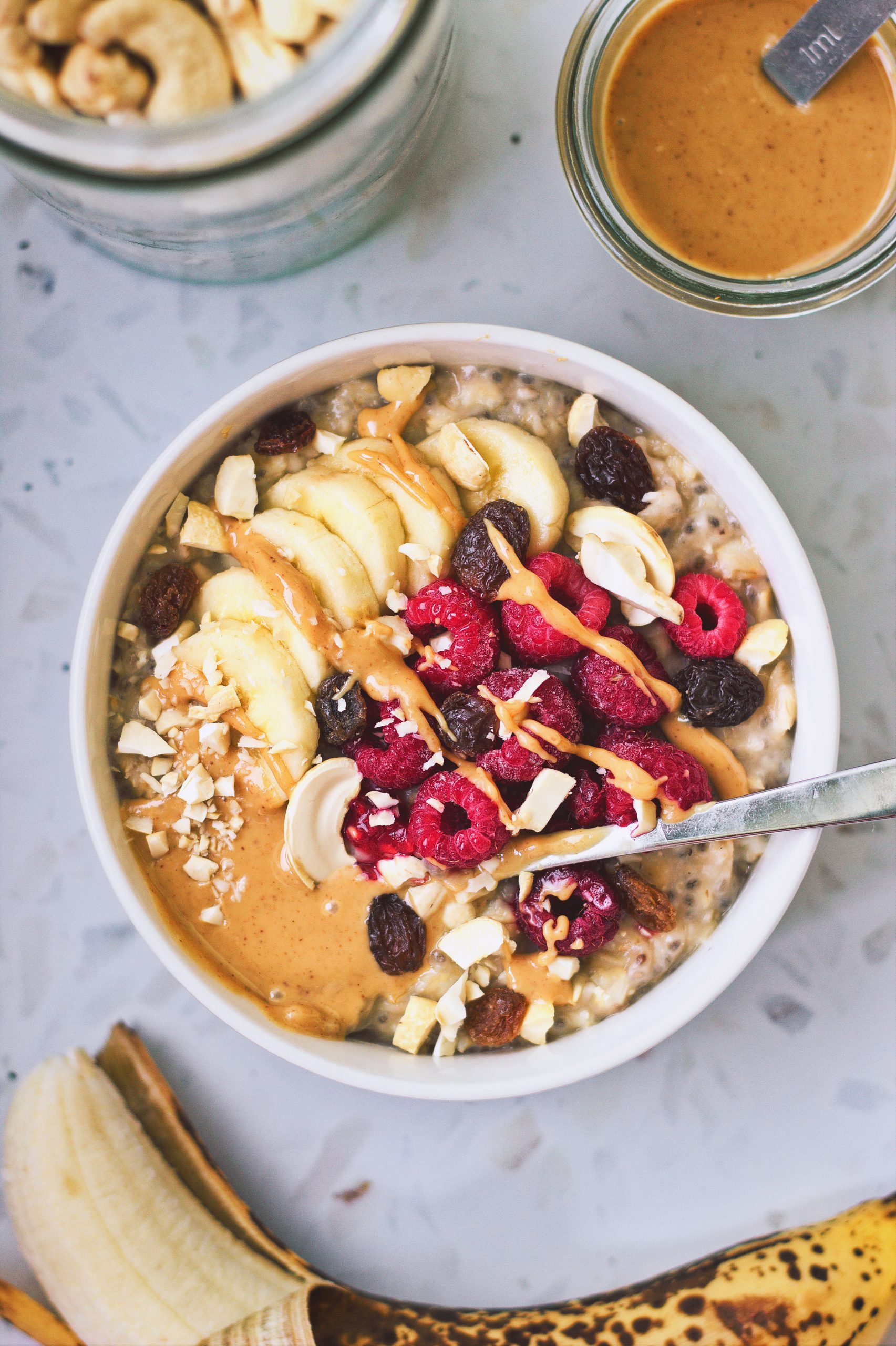 BANANA
Banana oatmeal is probably the most delicious simple oatmeal flavour you can make. To make this flavour, you only need 1 ingredient: a very ripe banana – the more spotty and brown (maybe even black), the better. It tastes kind of like banana bread in oatmeal form, but it's much easier to make (though if you want actual banana bread for breakfast, check out my Whole-Grain Walnut Banana Bread).
Topping ideas:
banana
raspberries
peanut butter
cashew nuts
raisins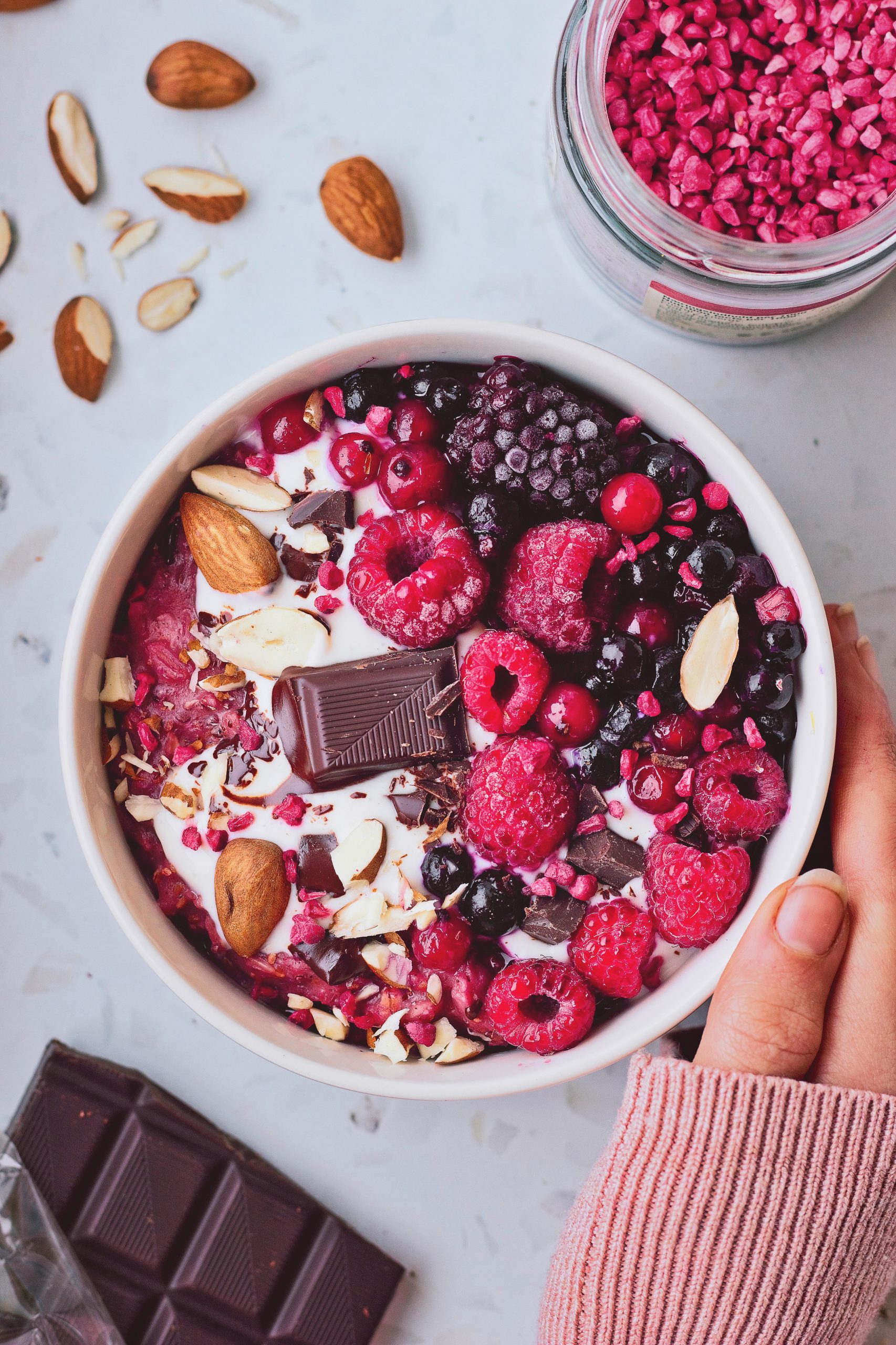 RASPBERRY
Raspberry oatmeal has the most beautiful pink colour (I mean, just LOOK at it) and is my current favourite flavour of oatmeal. To make this flavour, you also only really need 1 ingredient (raspberries, of course), but I recommend adding at least a touch of natural sweetness as otherwise frozen raspberries can be a little too tangy. Definitely give this one a try!
Topping ideas:
vegan yoghurt
mixed berries
dark chocolate
almonds
freeze-dried raspberries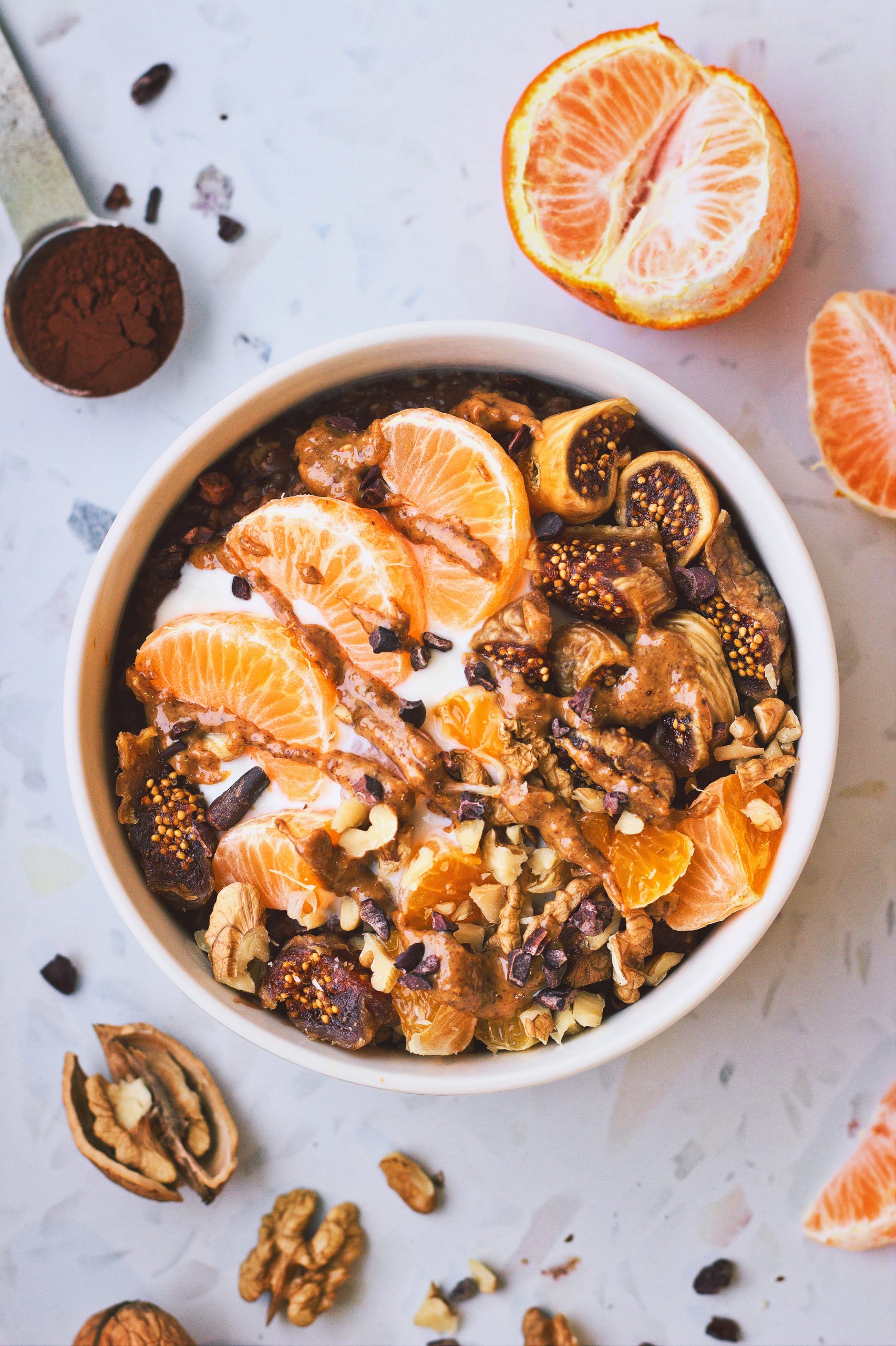 CHOCOLATE
Chocolate oatmeal is a perfect healthy breakfast for all the chocolate-lovers out there. To make this flavour, you only need cocoa powder and a natural sweetener, but using non-dairy chocolate milk for the liquid definitely takes this to the next level. It's decadent, rich and feels indulgent and goodful at the same time.
Topping ideas:
vegan yoghurt
mandarin
dried figs
walnuts
almond butter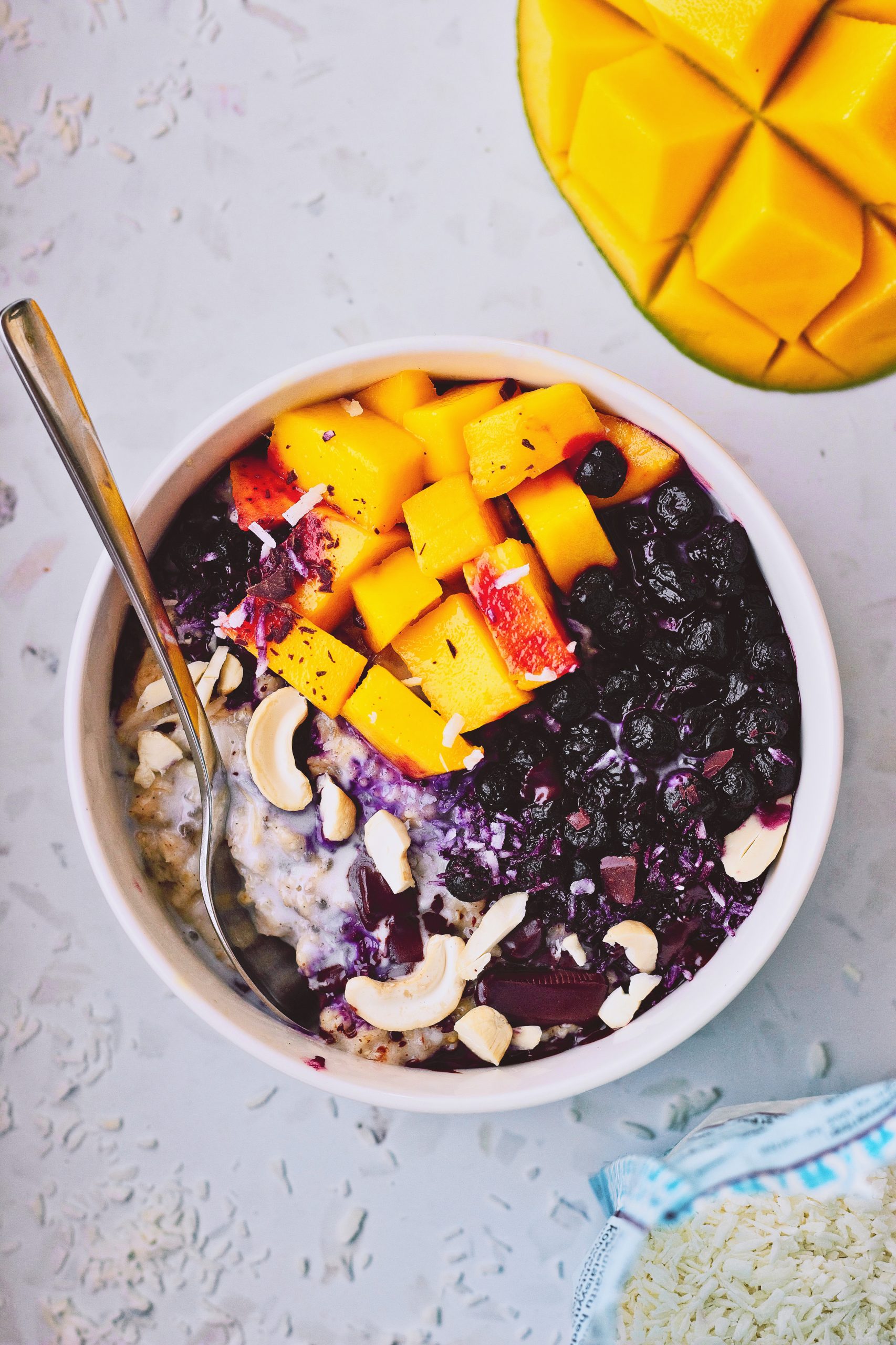 COCONUT
Coconut oatmeal is unbelievably creamy and full of healthy fats. To make this flavour, you need shredded coconut and coconut cream, and optional vanilla and natural sweetness. I also really recommend you give this one a try, it's super nice and soothing, like a warm hug in oatmeal form!
Topping ideas:
mango
blueberries
cashew butter
dark chocolate
coconut flakes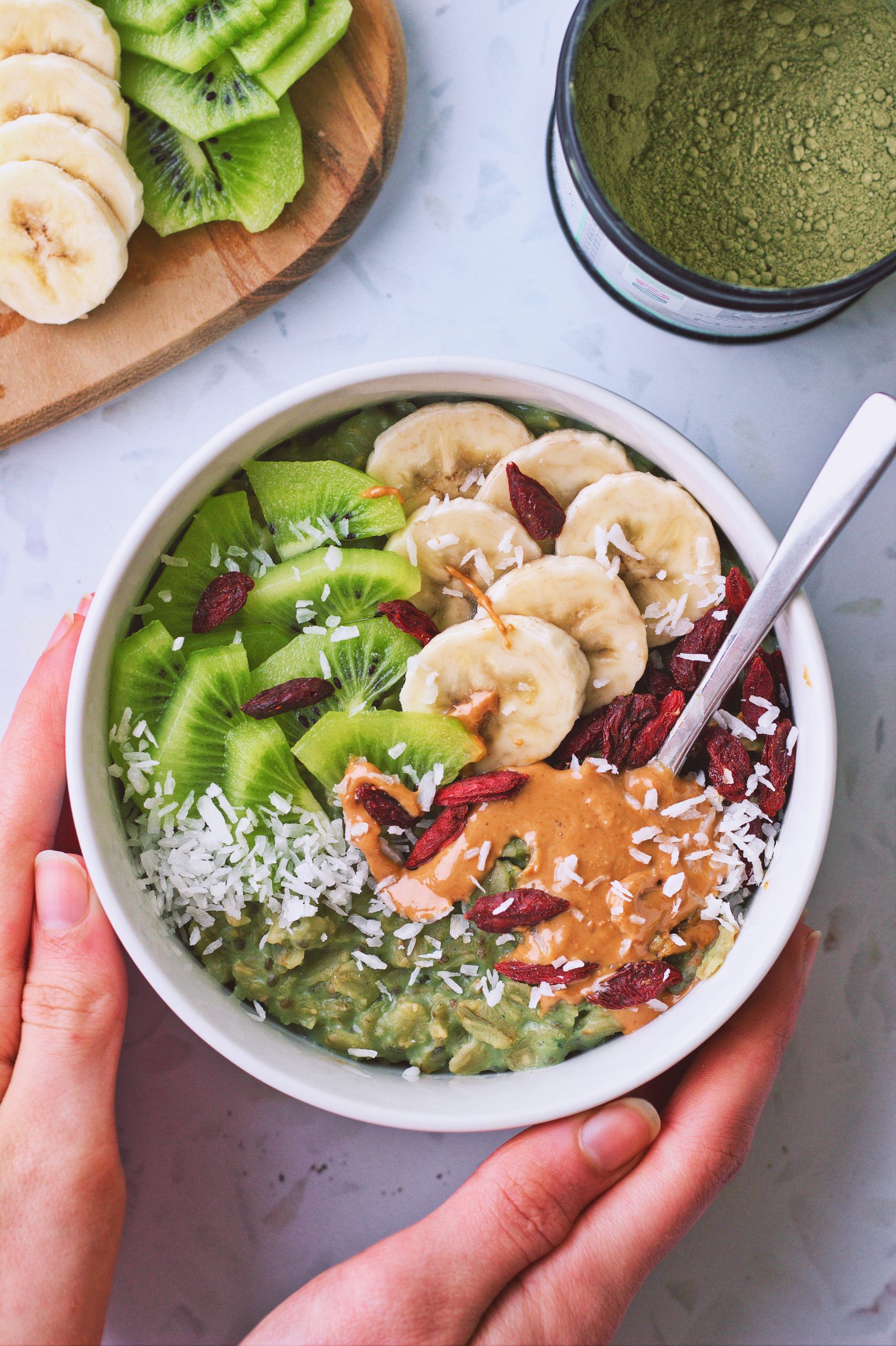 MATCHA
Matcha oatmeal is a different and delicious way to use matcha in something other than lattes. Matcha adds even more health benefits to your oatmeal, with a little energy-boost of caffeine and lots of antioxidants. To make this flavour, you only need matcha powder and a natural sweetener. It's has a lovely muted green colour and is earthy in a comforting way.
Topping ideas:
banana
kiwi
cashew butter
dried goji berries
shredded coconut
Looking for more healthy breakfast ideas?
If you're looking for more healthy breakfast ideas, check out the category breakfasts and these recipes:
I'd love to hear from you!
If you this oatmeal recipe, let me know what you think about it. Rate the recipe, leave a comment below, and take a picture of your oatmeal and tag me on Instagram (@spirendeveganer). I'd love to hear your thoughts and see your creations!
Love, Lea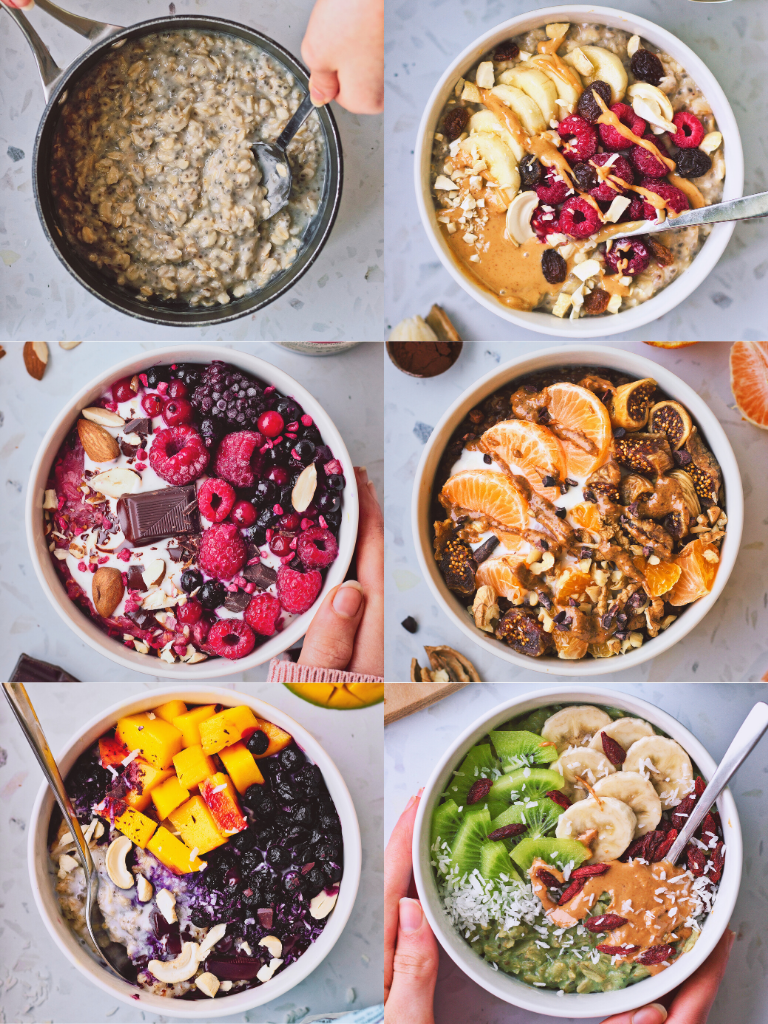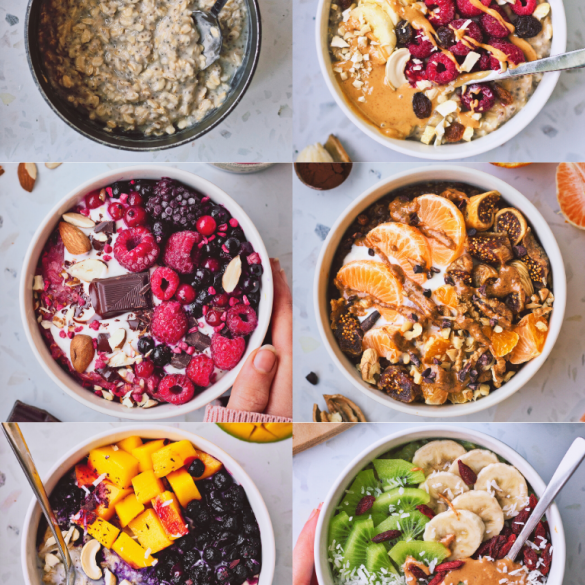 Ingredients
50 g rolled or quick oats, 1/2 cup
2 tsp chia seeds or ground flax seeds (optional)
a pinch of salt
250 ml water and/or non-dairy milk
For banana flavour:
1 very ripe banana, mashed
1/2 tsp ground cinnamon (optional)
For raspberry flavour:
125 g frozen raspberries, 1/2 cup*

2-3 tsp maple or agave sirup (optional)

1/2 tsp vanilla bean powder (optional)
For chocolate flavour:
1 tbsp unsweetened cocoa powder

2-3 tsp maple or agave sirup

non-dairy chocolate milk for liquid (optional)
For coconut flavour:
1 tbsp shredded coconut

1/2 tsp vanilla bean powder (optional)

1-2 tbsp coconut cream (from the thick top layer from a can of full-fat coconut milk)

2-3 tsp maple or agave syrup (optional)

coconut milk (from a carton) for liquid (optional)
For matcha flavour:
1-2 tsp matcha powder

2-3 tsp maple or agave syrup

non-dairy vanilla-flavoured or coconut milk (from a carton) for liquid (optional)
Method
Place the oats, seeds, salt, and liquid (and the ingredients for the flavour you're making) in a small pot over high heat. Once it just starts bubbling, reduce the heat to medium and cook until thick and creamy, about 4-5 minutes, stirring continuously.
Serve immediately with the topping ideas for the flavour you've made, or any other toppings you'd like, and enjoy.
Notes
*Blend with the liquid for the oatmeal until smooth before adding.