The Danish Christmas dessert – made vegan, two ways! Despite being completely dairy-free, this risalamande is non-vegan approved and still just as delicious as it was made traditionally!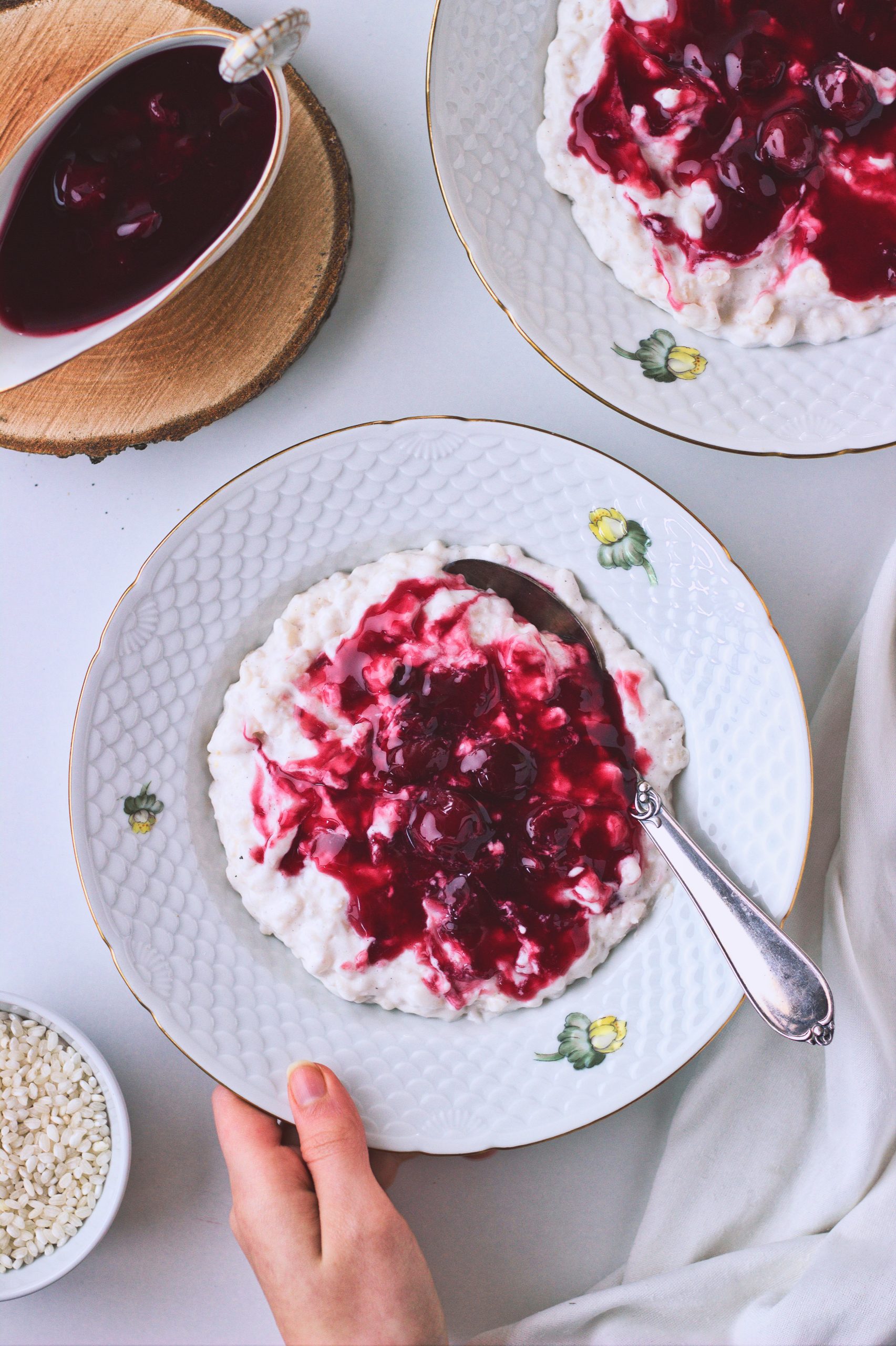 Today I'm bringing you another Danish Christmas favourite. It isn't truly Christmas without cream-heavy, dreamy, and delicious risalamande, but how do you make a convincing version without any dairy? Risalamande might not seem like the easiest dish to veganise, but because of the wide access to amazing vegan products in today's day and age, it's actually really easy to make a vegan risalamande that could fool any non-vegan.
For the whipped cream element, I have two options for you: whippable vegan cream or coconut cream from a can of full-fat coconut milk. You can pick whatever suits you best. The vegan cream undoubtedly makes the most realistic risalamande, but I also really like the coconut option. It's also delicious, with a slight hint of coconut, more accessible, less processed, and palm oil-free, but if you're a risalamande-traditionalist, vegan cream is definitely the choice for you.
I'm planning to squeeze in one more Christmas recipe before I settle in for my Christmas break, so hopefully that'll happen before the 24th of December. My little guinea pig, Sally, had to visit the doctor this weekend because of an eye injury, but now she's getting the treatment she needs, all the Christmas baking and meal planning is done, we got our Christmas tree all set up and decorated in the living room, and it's really beginning to look a lot like Christmas.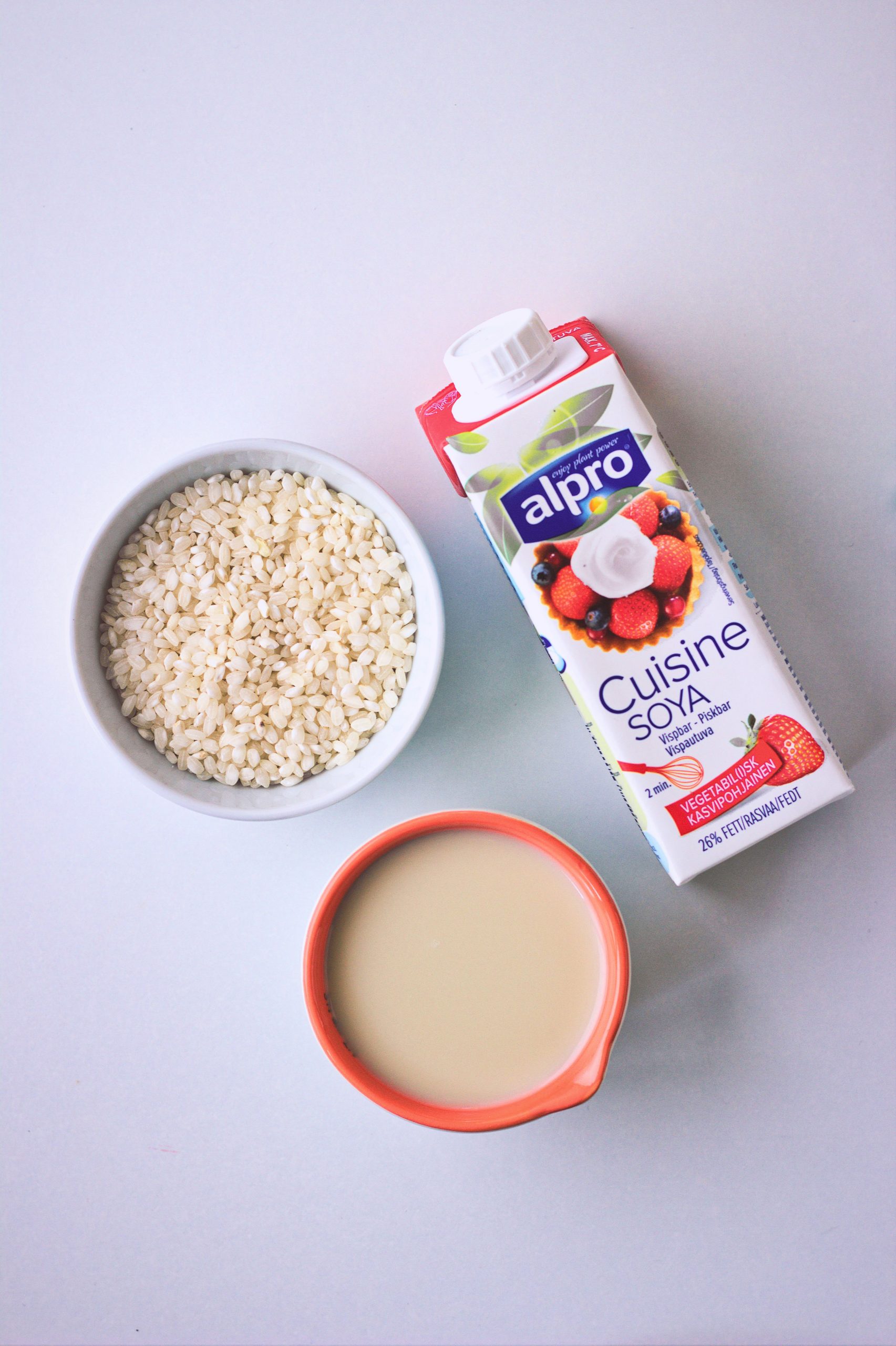 What is Risalamande?
The name Risalamande is pseudo-French, meaning rice with almond. Another extremely common Danish Christmas dish, risengrød (rice porridge), which is often eaten for dinner during december, is used, once cold, to make risalamande by mixing it with whipped cream, sugar, vanilla, and almonds.
Before World War II, risengrød was the most common Christmas dessert in Denmark, but because of the lack of imported rice and cinnamon during that time, people started adding whipped cream to the porridge make the expensive rice last longer, and so now risalamande is eaten for dessert in most Danish homes on Christmas Eve.
As a Christmas tradition, one whole almond is hidden in the dessert, and whoever finds it gets a small present. Part of the fun of the tradition is that the person who has found it tries to conceal it for as long as possible, forcing the rest of the company to eat all of the risalamande while exchanging suspicious looks.
Reasons to make Risalamande
I really hope you try this recipe because this risalamande is:
vegan and dairy-free, with a nut-free option.
made with just 5 ingredients.
extremely easy to make.
super creamy and delicious.
non-vegan approved.
Tips to make Risalamande
Make the risengrød (rice porridge) the night before and place it in the fridge overnight, so, the next day, it only takes 10 minutes to throw together your risalamande!
If you're using coconut cream, pick a can of full-fat coconut milk which is separated, with a thick coconut layer on top and the water at the bottom. I can recommend the brand Asian Kitchen. You need the coconut cream without the water for the best whipped cream texture. If you open your can and it isn't separated, it might do so if you place it in the fridge overnight.
Serve with cherry sauce for the full experience. Risalamande is really not complete without the cherry on top. (See what I did there?) My dad and I thanked the Christmas spirits when we found pureed cherry sauce in our local grocery store because we both don't like the whole pieces of cherry which is quite irrelevant to you but the fact that it exists is a Christmas miracle nonetheless.
Looking for more Christmas treats and desserts?
Check out the tag Christmas and these recipes:
I'd love to hear from you!
If you try this risalamande, let me know what you think about it. Rate the recipe, leave a comment below, and take a picture of your dessert and tag me on Instagram (@spirendeveganer). I'd love to hear your thoughts and see your creations!
Love, Lea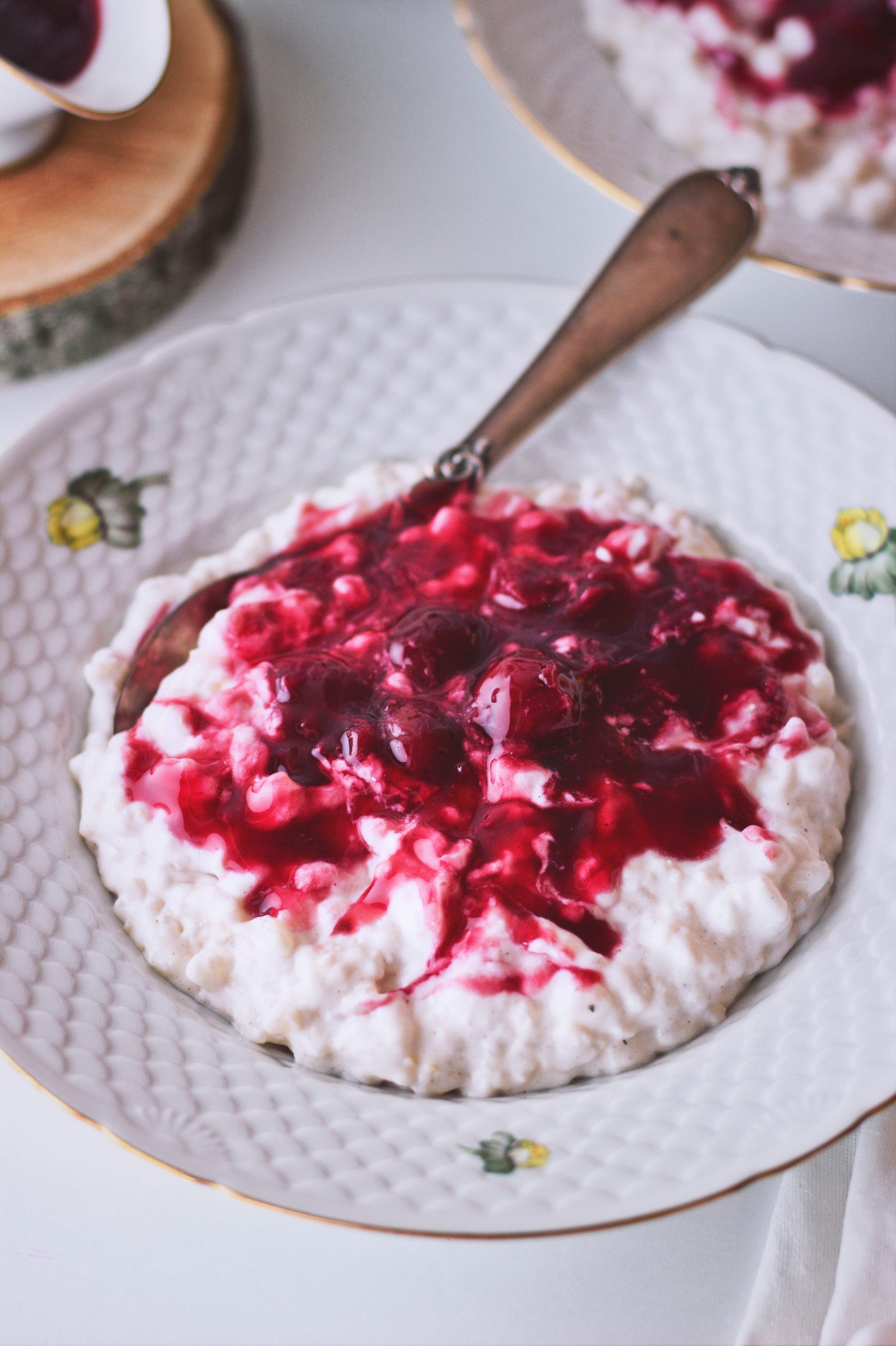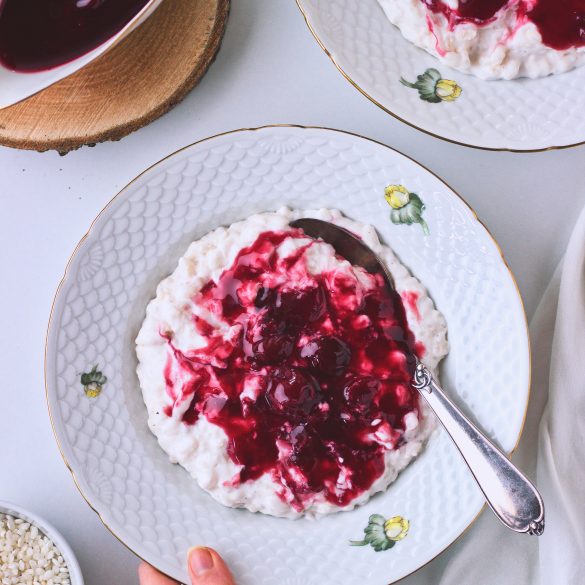 Ingredients
RISALAMANDE
250 ml short-grain white rice (porridge rice), 1 cup 
250 ml water, 1 cup
a pinch of salt
1 L non-dairy milk (preferably rice), 4 cups
1 (250 ml/8 oz) brick whippable vegan cream (I use Alpro Soya Cuisine) or the coconut cream from 2 (400 g/14 oz) cans full-fat coconut milk (the thick top layer)
2 tbsp white sugar (optional)
4-5 tsp vanilla sugar or powder
100 g almonds, 3/4 cup, skin removed and chopped (optional)
FOR SERVING
(warm or cold) cherry sauce
Method
Place the rice, water, and salt in a medium pot,  bring it to a boil, and let it bubble away for 2-3 minutes. Add the non-dairy milk and bring it to a gentle simmer. Once simmering, reduce the heat to low and let it cook  until the rice is cooked and creamy, about 40-50 minutes, stirring about every 5 minutes to make sure the rice doesn't burn. Once done, place in the fridge at least overnight to cool.
When you're ready to make your risalamande, whip the cream with a handheld mixer for 2-3 minutes until light, airy and stiff peaks have formed. Mix into the completely cool rice porridge along with the white sugar, vanilla sugar, and almonds, adding more or less whipped cream depending on the consistency you'd like.
Serve cold with cherry sauce and enjoy.
Store leftovers in an airtight container the fridge for up to 2-3 days.