Start your morning off right with delicious, healthy Bircher muesli featuring autumn's star crisp, sweet apples. The ULTIMATE overnight oats, Bircher muesli is a perfect make-ahead breakfast for busy people and will keep you full for hours. It's customizable, only takes 5 minutes to throw together, and super creamy without any dairy!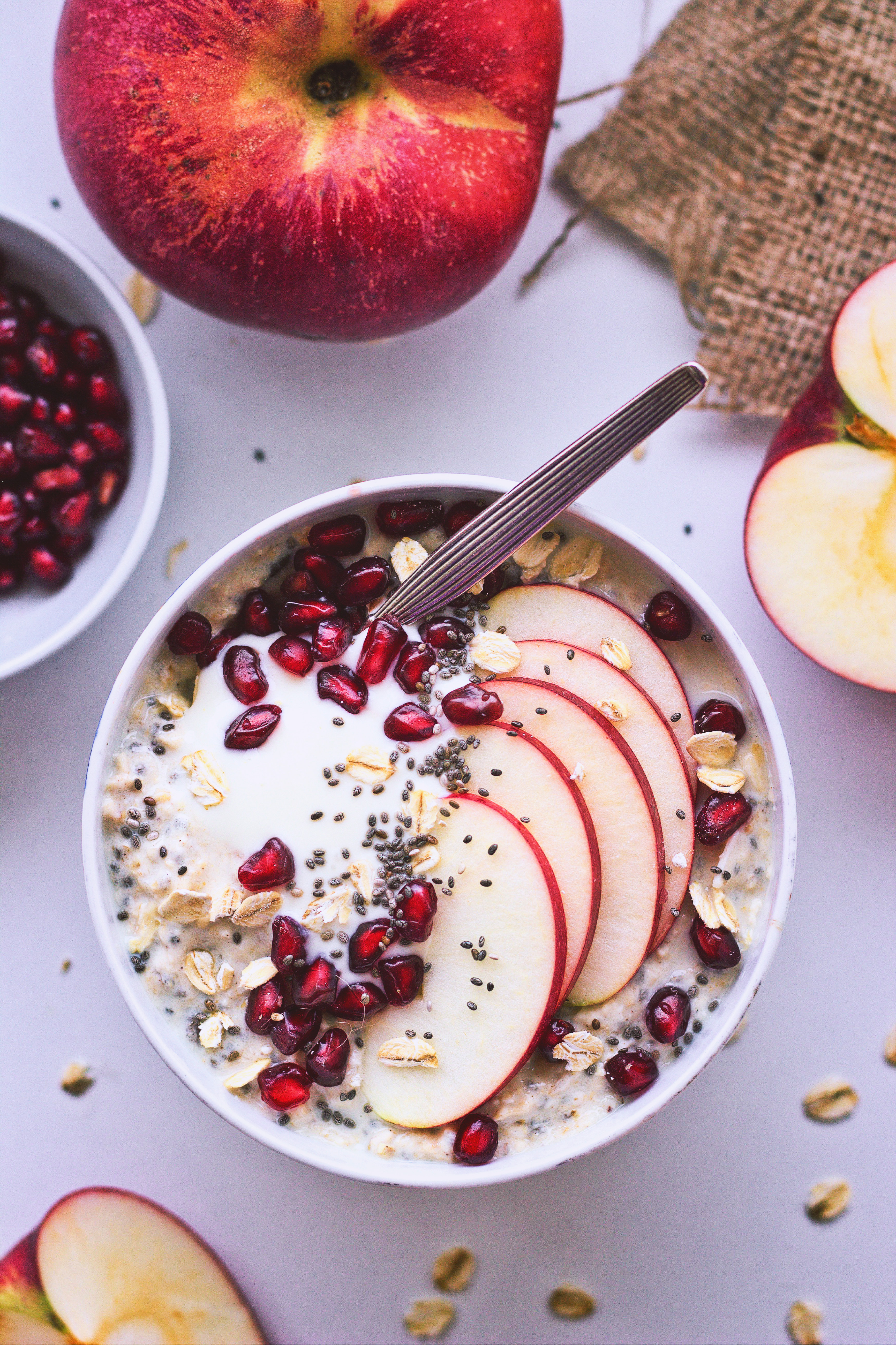 Recently, when I was out grocery shopping, I found a bag of big, beautiful local aroma apples – the BEST kind (and you could never convince me otherwise). Aroma apples are deep red on the outside and crisp white on the inside, and they're the absolute perfect balance between sweet and sour. I've been enjoying them with my breakfast ever since.
Bircher muesli is a lovely make-ahead breakfast featuring apple. What is Bircher muesli, you ask? Well, honestly, I'm a bit confused, too! It seems like Bircher muesli was invented in the 1990's by Swiss physician Maximillian Bircher-Benner for a healthier breakfast option at hospitals. The difference between that and ~all other~ muesli is blurred though. Who really invented muesli? I think that's a question that requires a much more thorough answer that I'm willing to research.
However, Bircher muesli is typically made with oats, seeds, dried fruits, apple, cinnamon, honey, and yoghurt, so it does kind of have a flavour profile, and it's super easy to veganise. It's often soaked overnight before serving to make it thick and creamy, like overnight oats. If you want to be able to make Bircher muesli even quicker, you can keep a jar of the dry muesli, so you don't have to get out each individual ingredient every time.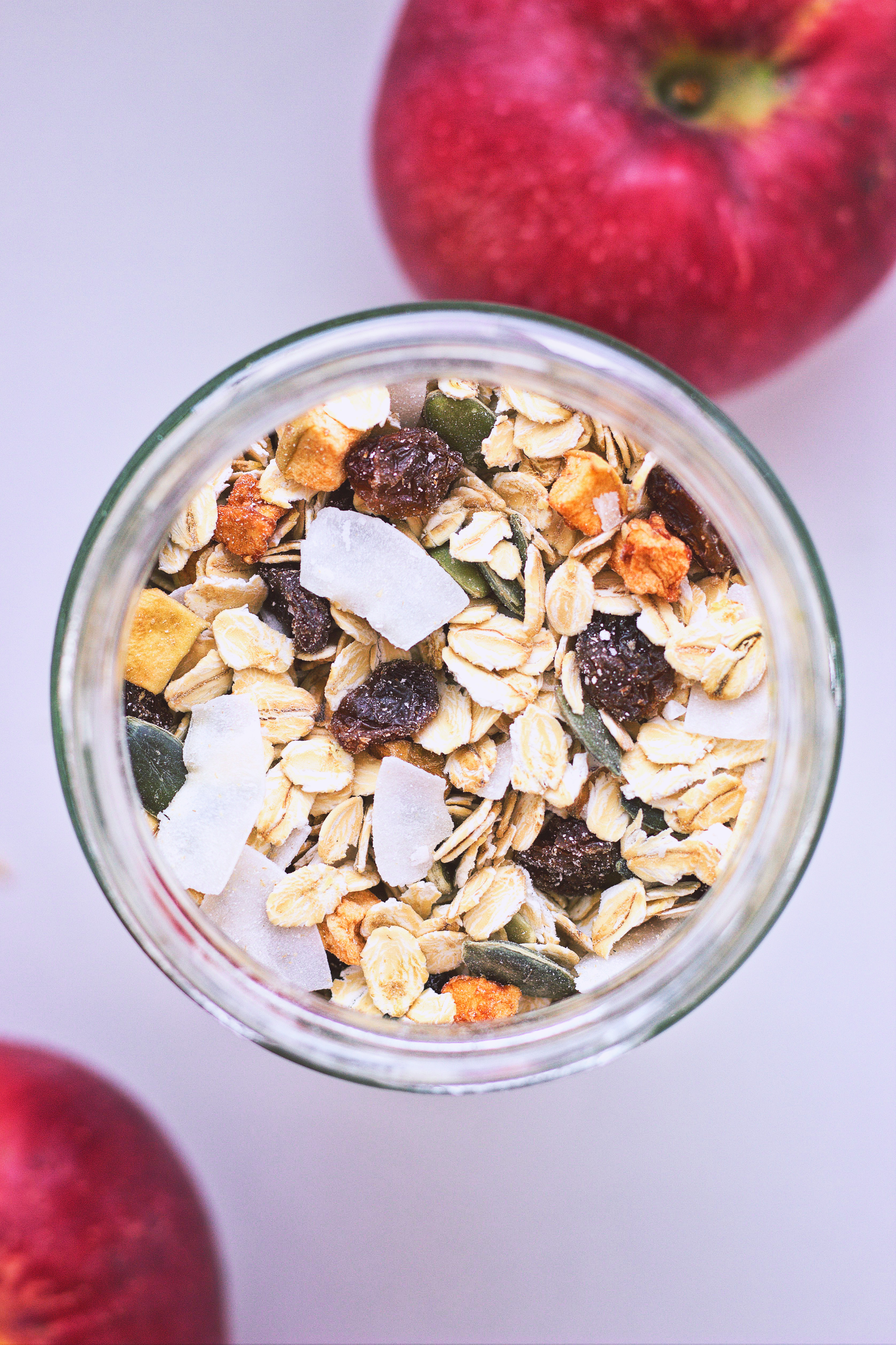 You can use Bircher muesli in more than one ways: you can cook it into oatmeal, use it as a topping for smoothie bowls or yoghurt (like un-crispy granola), eat it "raw" like cereal with fresh fruits and milk, and you can obviously soak it, which is what it was first intended for. I love the soaked method which is what I'm sharing how I do with you today! It's simple, delicious, and super healthy with lots of good fats!!
Looking for more make-ahead healthy breakfasts? Check out my creamy Sweet Potato Pudding, Whole-Grain Banana Bread for a more indulgent feel, while still being healthy, and lastly my delicious Orange & Almond Overnight Oats!!!
If you try this Bircher muesli, let me know what you think about it. Rate the recipe, leave a comment below, and take a picture of your muesli and tag me on Instagram. My profile name is @spirendeveganer. I'd love to hear your thoughts and see your creations!
Love, Lea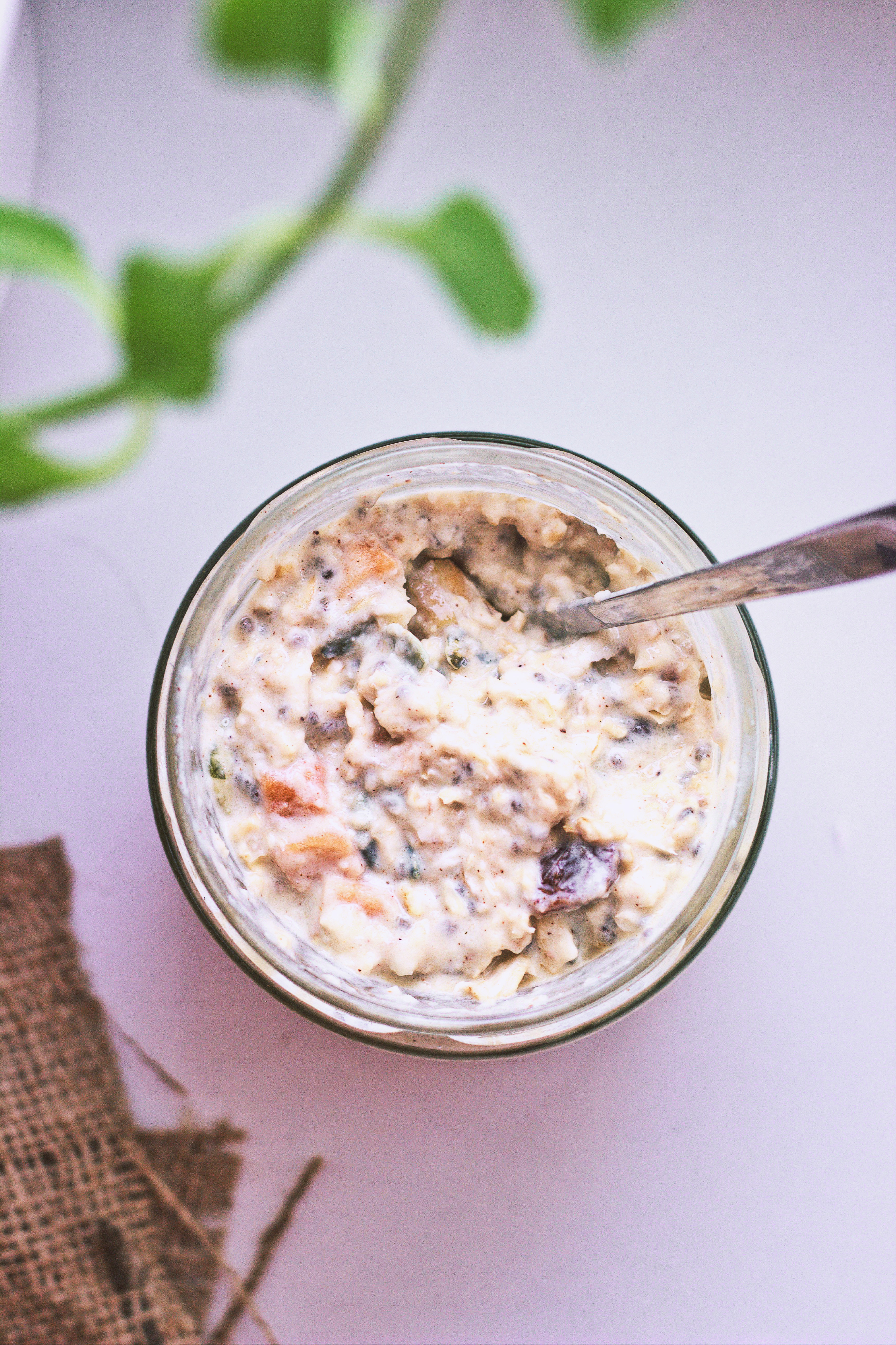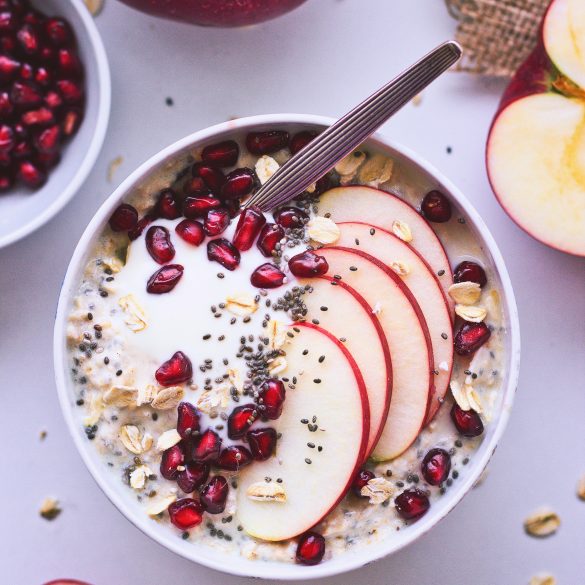 Ingredients
45 g rolled or small-cut oats, 1/2 cup
1 tbsp pumpkin seeds
1 tbsp desiccated coconut
2 tsp chia seeds
1 tbsp chopped dried apple (optional)
1 tbsp sultana raisins
1/4 tsp ground cinnamon (optional)
a pinch of salt
2-3 tbsp vegan yoghurt (I use soya)
2-3 tbsp unsweetened applesauce
125 ml non-dairy milk, 1/2 cup, plus more if needed
Method
Place the oats, pumpkin seeds, desiccated coconut, chia seeds, dried apple, raisins, cinnamon, and salt in a sealable jar or container and mix well. Add the yoghurt, applesauce, and milk and mix again until combined. Close the lid on the jar and place in the fridge overnight or for at least 1-2 hours until thick and creamy.
When you're ready to eat, give it a stir. Add more milk if needed to reach the consistency you'd like. Serve with, for example, more yoghurt, fresh apple, and pomegranate seeds, or enjoy as is.
Keeps in the fridge for up to 2-3 days.