Creamy, rich 4-ingredient chia pudding, naturally sweetened with ripe banana and coconut cream, that can be made in advance for quick and easy breakfasts throughout the week. Filled with energy from healthy fats that will keep you full for hours. Gluten-free and nut-free.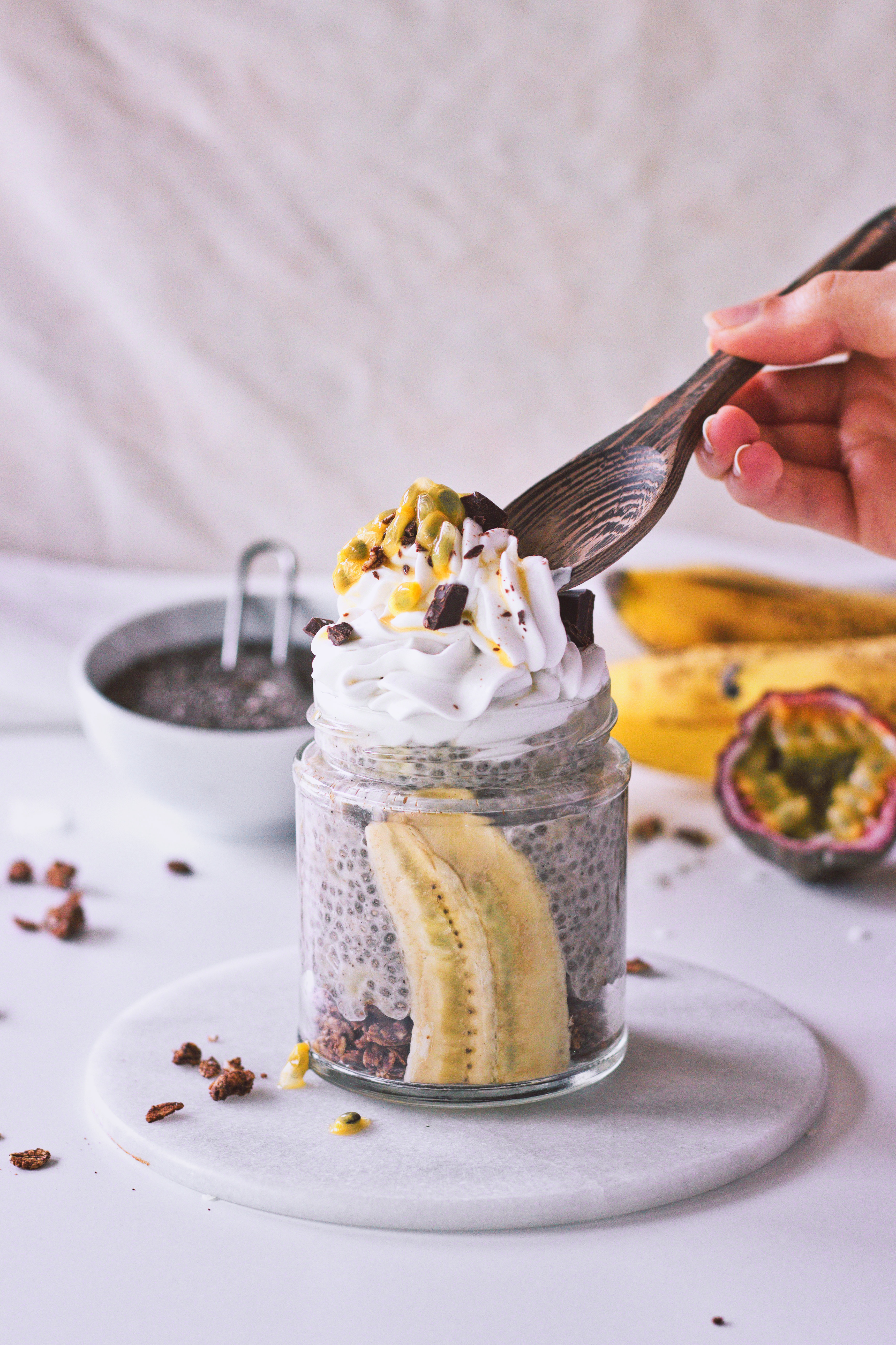 Sprouts, I shot, edited, and wrote this recipe 3 HOURS before publishing it. I've been meaning to photograph it all week, but then I went for brunch @ Kaf in Copenhagen yesterday (when I'd planned my already very late photoshoot), and then I had to shoot it this morning instead. A little stressful, but luckily I didn't butcher the photoshoot with my nerves.
After I came home from Croatia, I took some time to get used to cooking and photographing again. I have about a month left of my summer break, so lots of time to cook and develop new recipes, but I haven't shot any lately which is why I suddenly found myself on such short timeline. This week, I shared a picture of a coconut sweet potato red lentil curry on my Instagram asking if you wanted the recipe, and a lot of people said yes (surprisingly many), so I'm planning on shooting that as soon as possible.
Other recipes I'm currently working on is a pie and a chili with oil-free (!) cornbread, I'm going to get my non-vegan parents approval soon!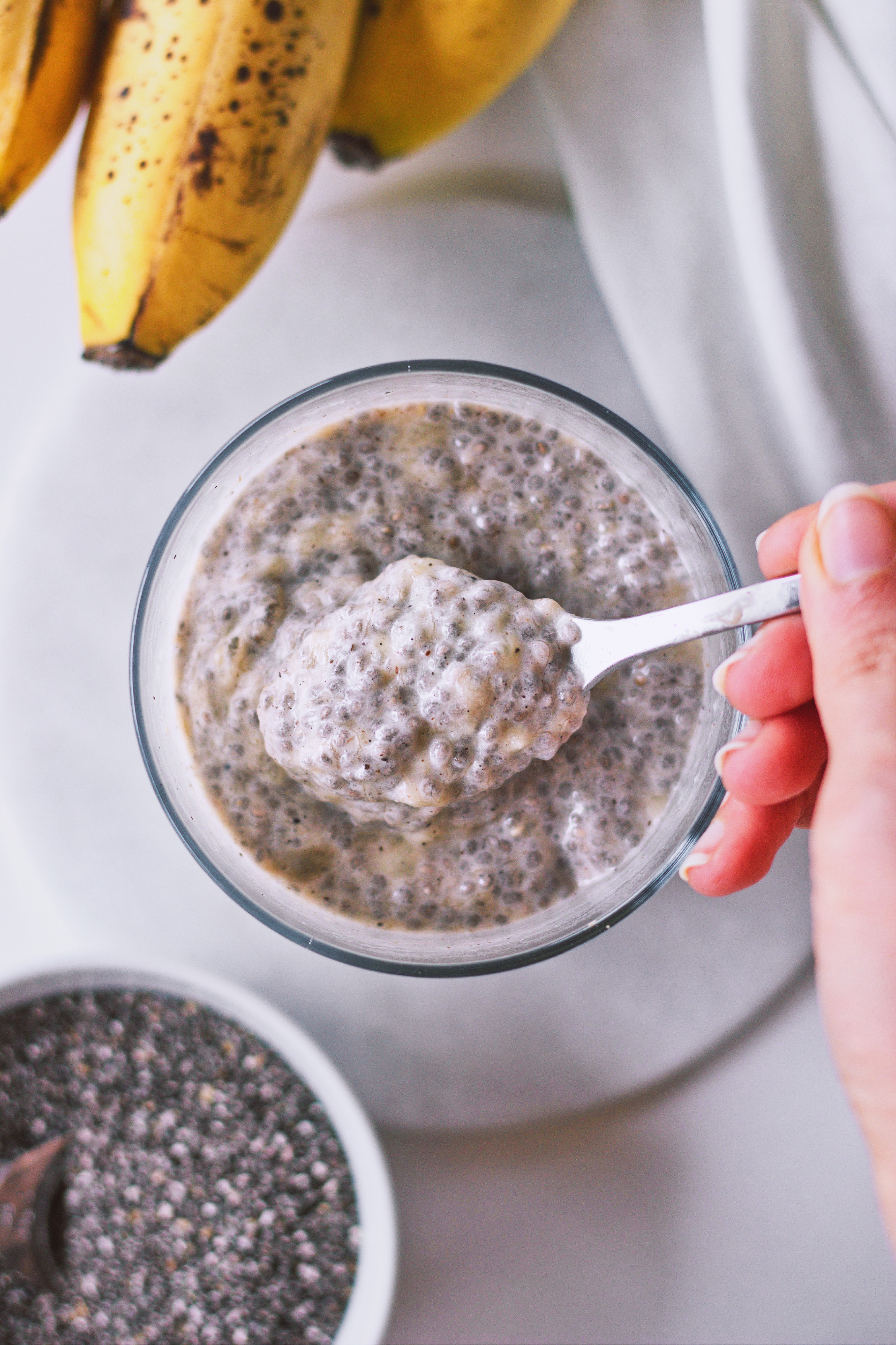 Anyway, back to this Coconut Banana Chia Pudding. I've always loved the combination of banana and coconut, so I thought they'd go great together in a chia pudding since coconut also makes for a very creamy base. I only sweetened this with a ripe banana, and that was enough sweetness for me, but you can add some syrup if you'd like.
I found the chia pudding to be very rich and creamy, sweet and banana-y, and filled with energy from the healthy fats from both the chia seeds and coconut. It's a very satiating breakfast that will definitely keep you full for hours, so it's perfect for a school or work morning since it also keeps well in the fridge and is easy to bring with you on the go in a jar.
For my toppings, I went a little fancy with the leftover coconut cream and piped it onto my jar in one of the best swirls I've ever made, but you can just chug everything into the container you're eating it in. I also added some more banana, chocolate granola, and passionfruit which was a very tasty and tropical combo.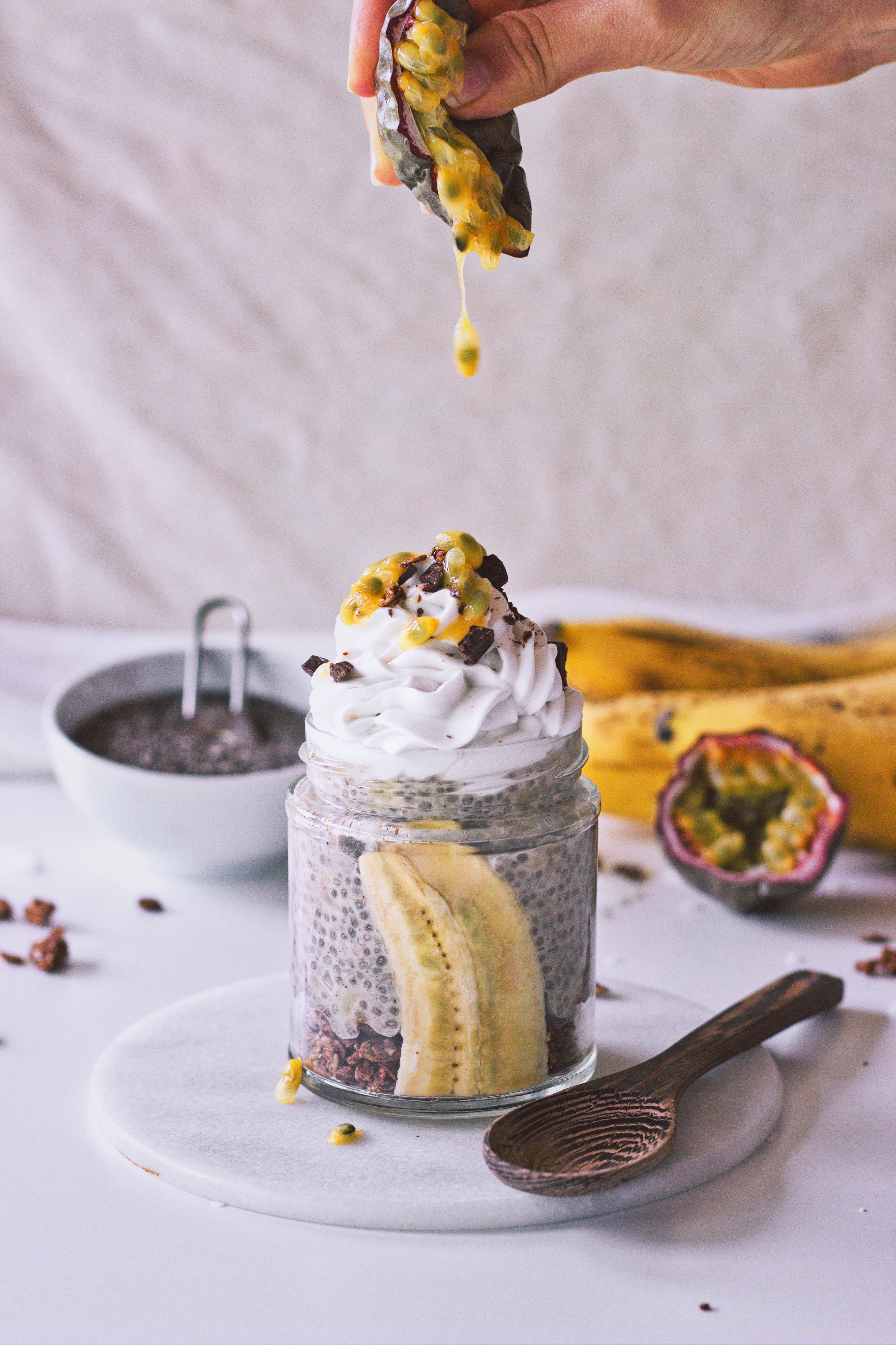 If you do add a lot of toppings, this might be enough for two servings. I couldn't finish all mine today, so I'm saving some for tomorrow. But I really enjoyed my breakfast – whipped coconut cream tastes amazing with fresh fruits and chocolate!
Looking for more healthy and filling breakfasts? Check out my Very Green Smoothie Bowl, Orange Chocolate Oatmeal, and Whole-Grain Spelt Pancakes!
If you decide to try this chia pudding, let me know what you think about it. Rate the recipe, leave a comment below, and take picture of your creation and tag me on Instagram. My profile name is @spirendeveganer. I'd love to hear your thoughts and see your recreations!
Love, Lea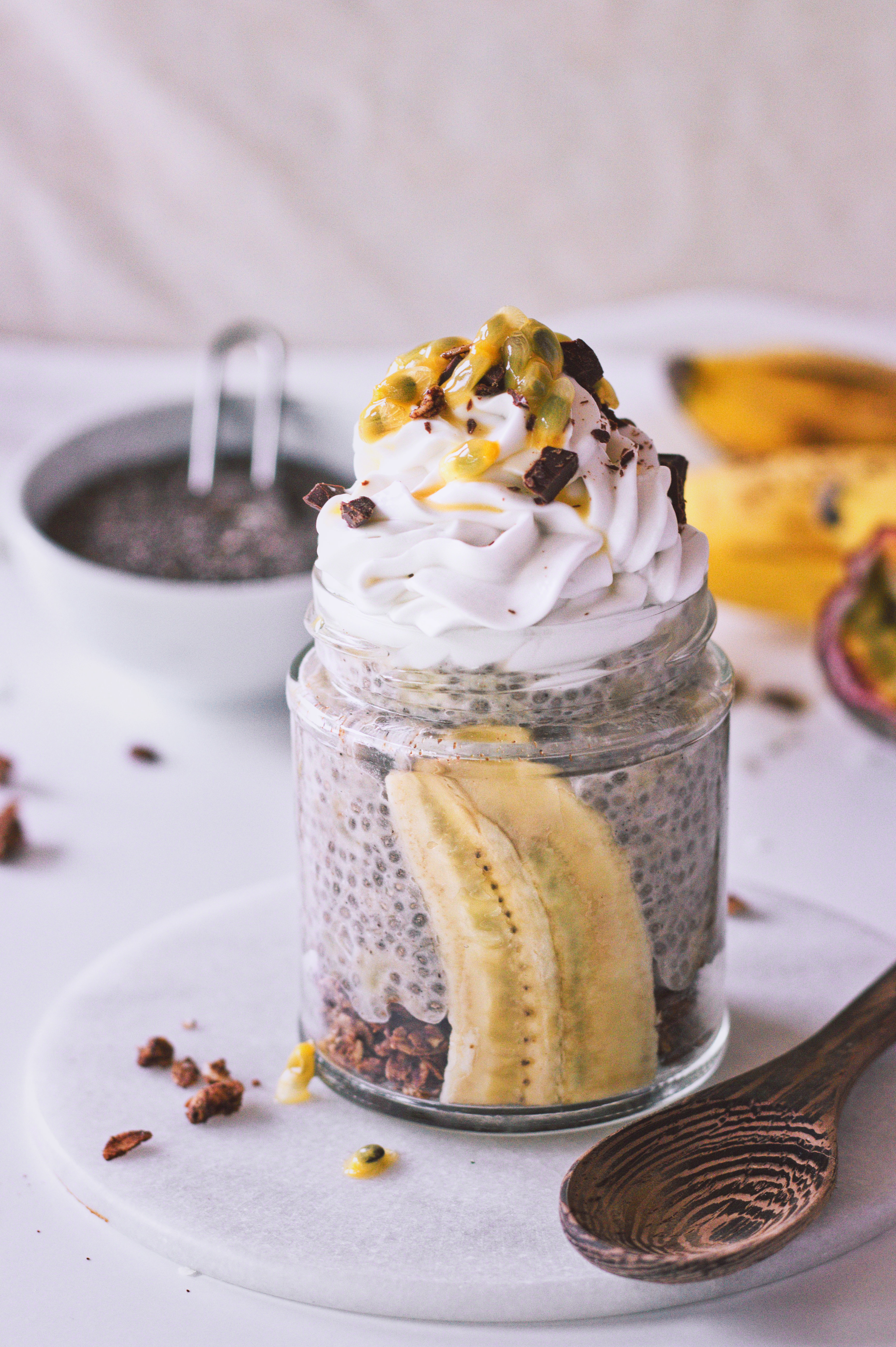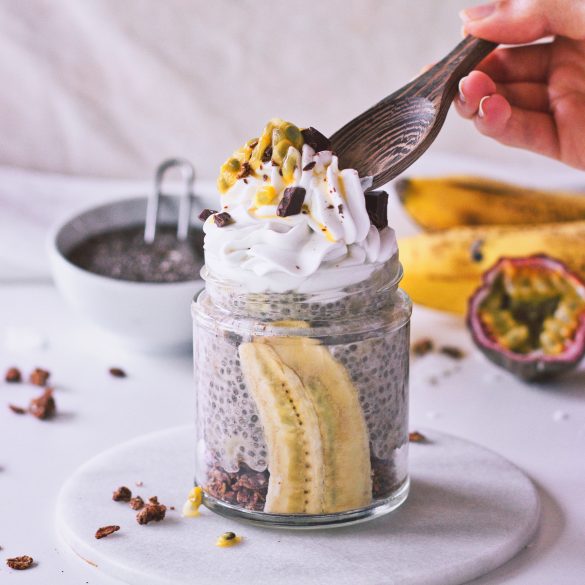 Ingredients
20 g chia seeds, 2 tbsp
1 ripe banana, mashed
30 g coconut cream (the thick top layer of a can of full-fat coconut milk), 2 tbsp
2 tsp maple syrup, optional
1/4 tsp vanilla bean powder, optional
125 ml coconut milk (from a carton), 1/2 cup, or more
Method
In a jar or airtight container, mix together all the ingredients. If you have time, allow to sit on the counter for 5 minutes, then give it another stir to ensure the chia seeds don't just clump together at the bottom. Place in the fridge overnight to set.
The next day, give it another stir and add an extra splash of coconut milk if needed. Serve as is or with any topping you'd like. In the pictures, I served mine with whipped coconut cream, sliced banana, chocolate granola, dark chocolate, and passionfruit.
Keeps in the fridge for up to 3-4 days, so if you want to have this for breakfast throughout the week, you can make a big batch in advance as meal-prep.