A 25-minute simple green summer salad with tasty crispy potatoes, zesty pea purée, roasted asparagus, and creamy avocado chunks. Gluten-free and tree nut-free.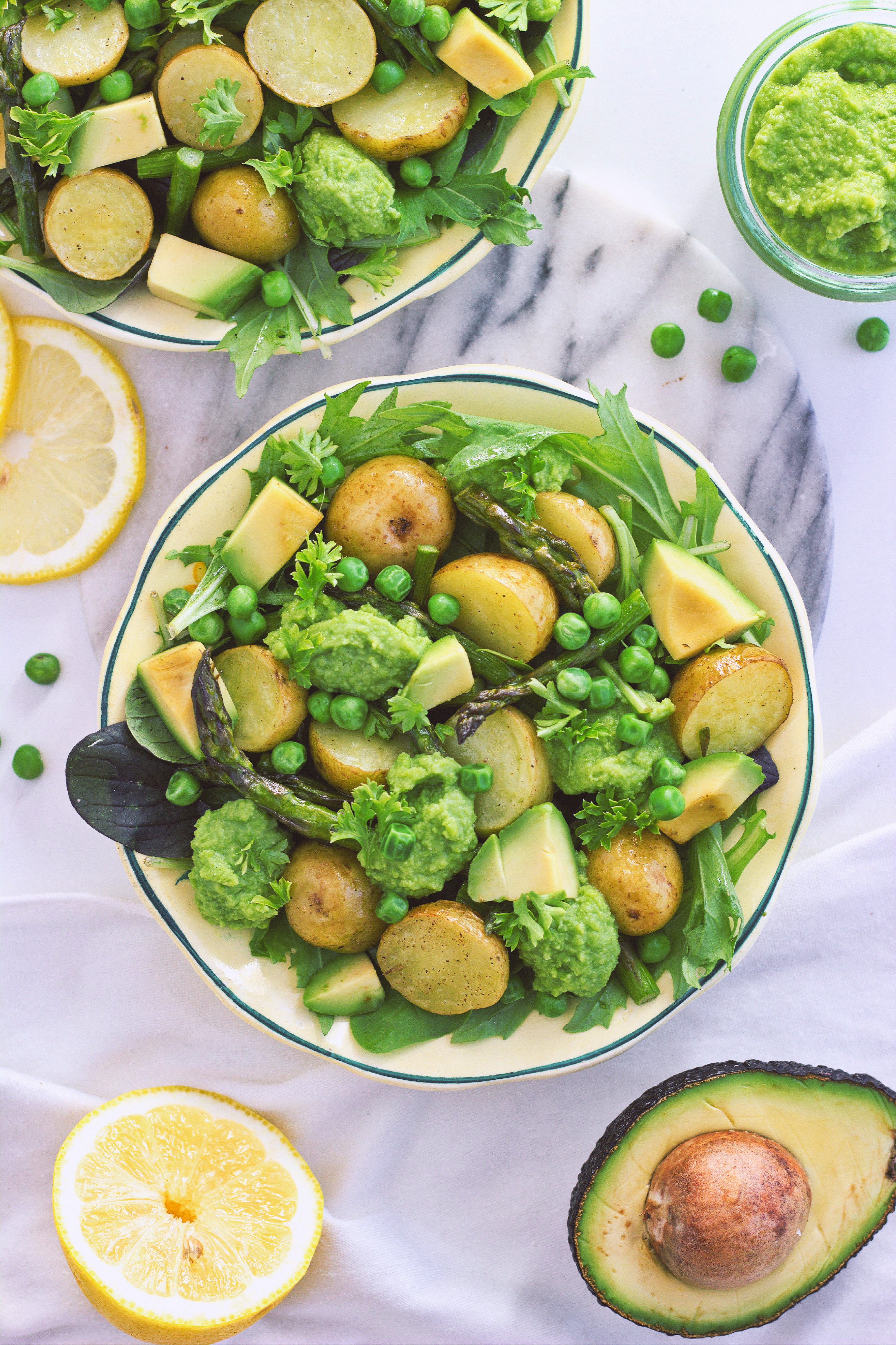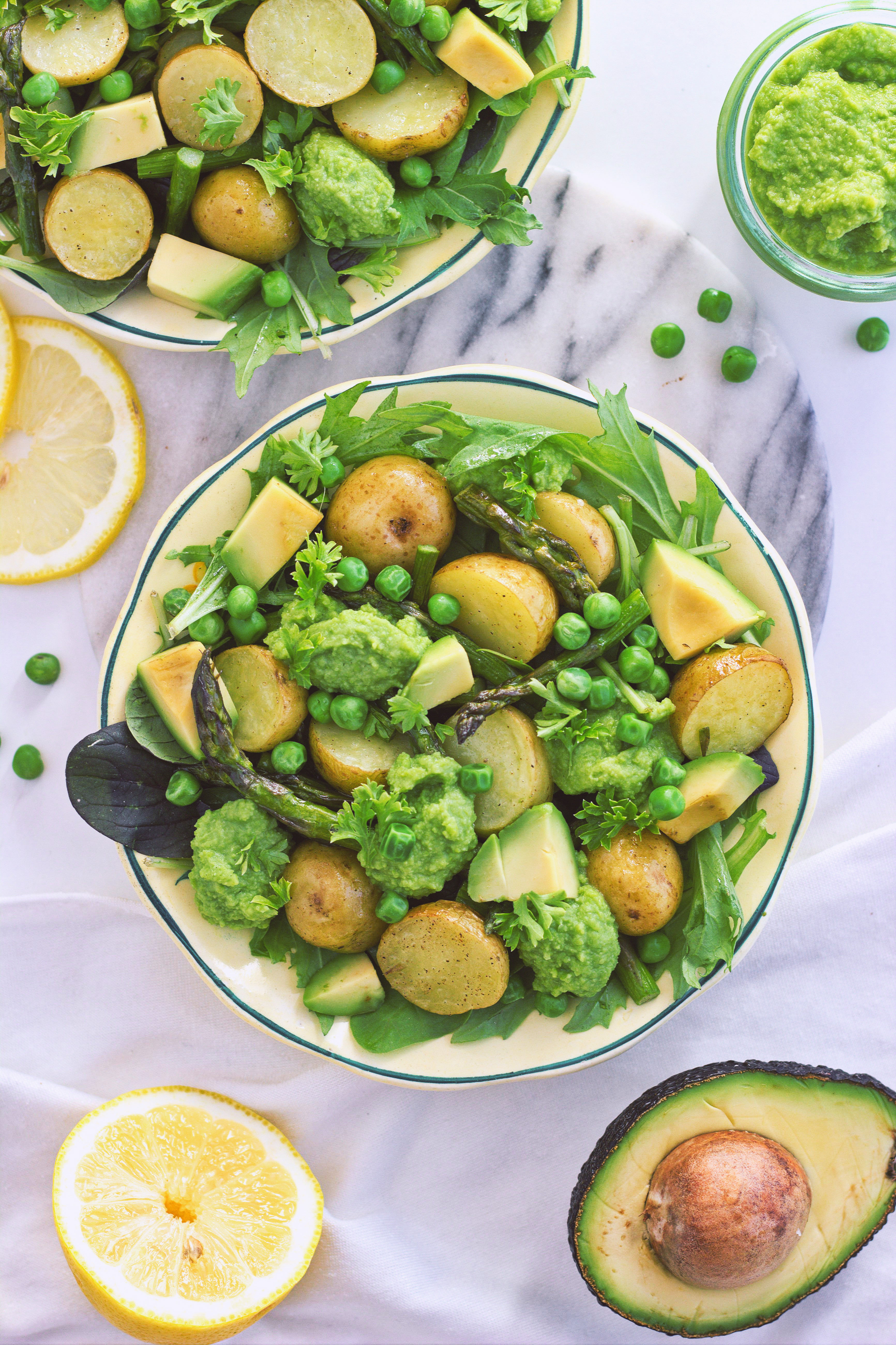 I'm writing this blog post and scheduling it before I've even gone on our family vacation to ensure I can fully relax while on a beach somewhere in Croatia, but the day this is scheduled to go up, is the day we're coming home to Denmark again. I hope we've had another adventurous vacation, but I'll know more about that in a few weeks. Look at me, being all organised and ahead of my game.
For now, let's just focus on today's recipe: a fresh, but filling salad with all the components you need to make a hella tasty salad: veggies, of course, crispiness, creaminess, and lots of flavours. This salad has some of my favourite vegetables: potatoes, asparagus, and avocado. It's weird, because I normally don't eat a whole lot of regular potatoes (as my Instagram bio says, I'm obsessed with sweet potatoes), but lately I've been scarfing them down. I love roasting just a whole tray of potatoes and vegetables.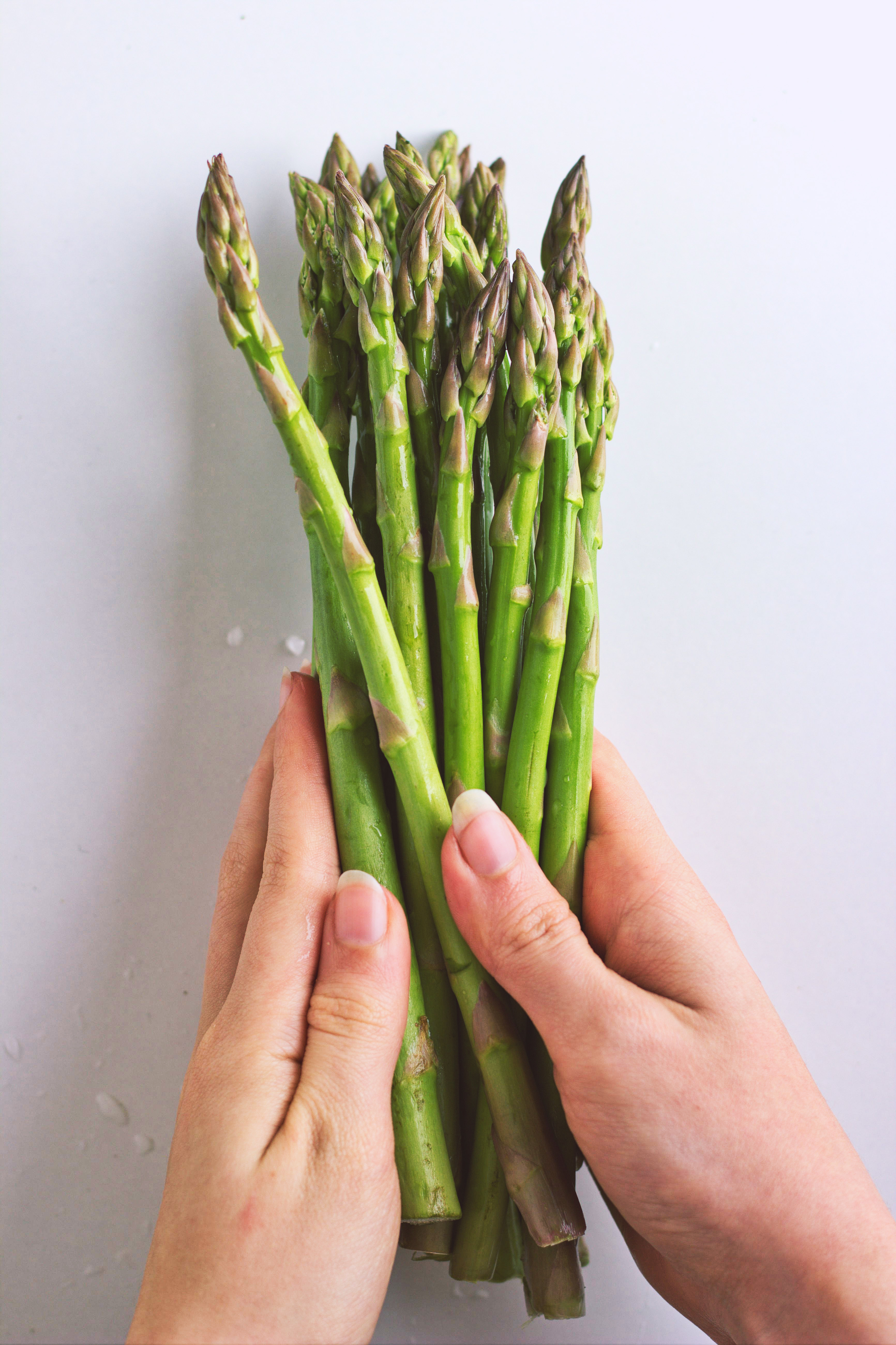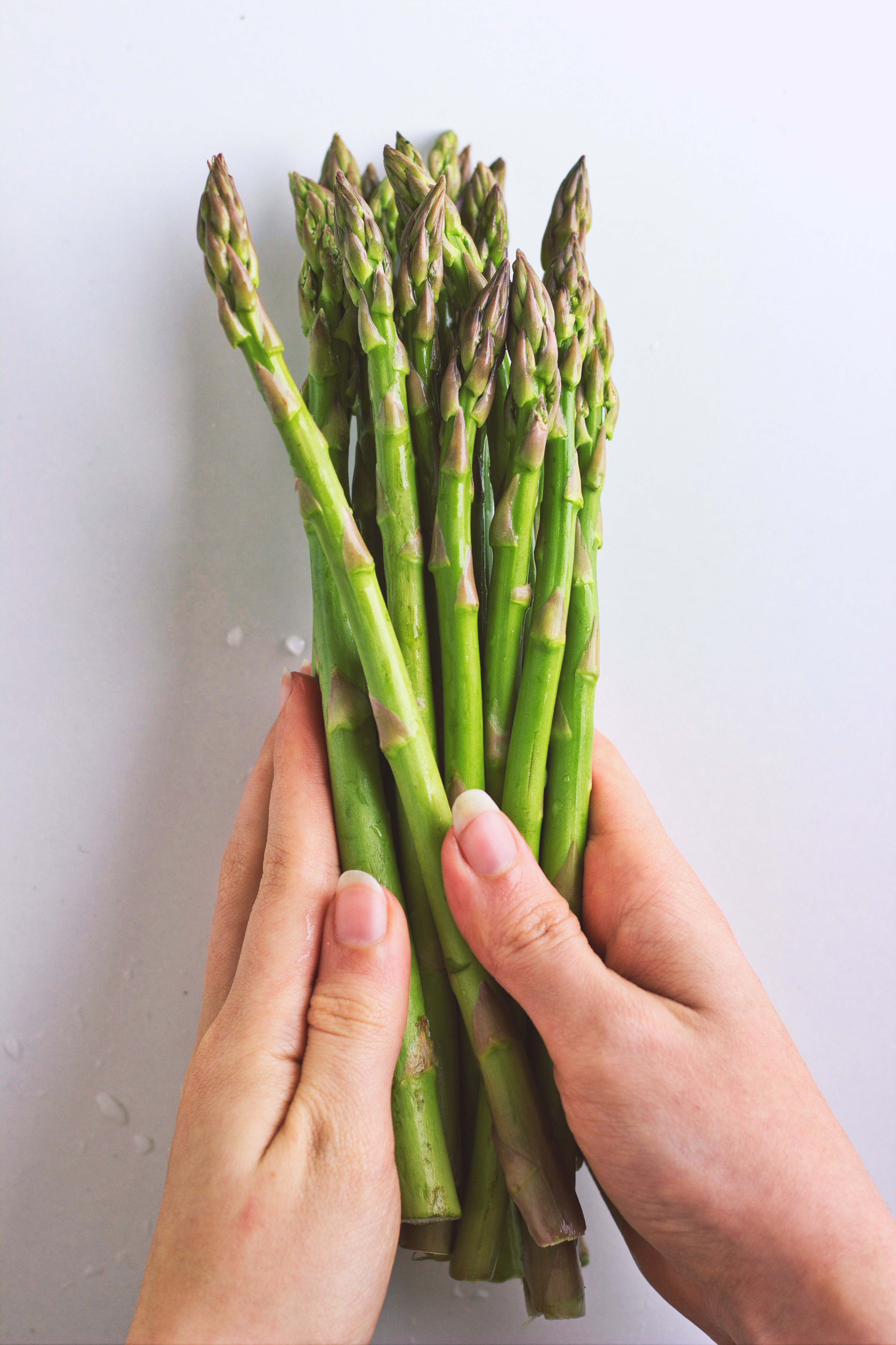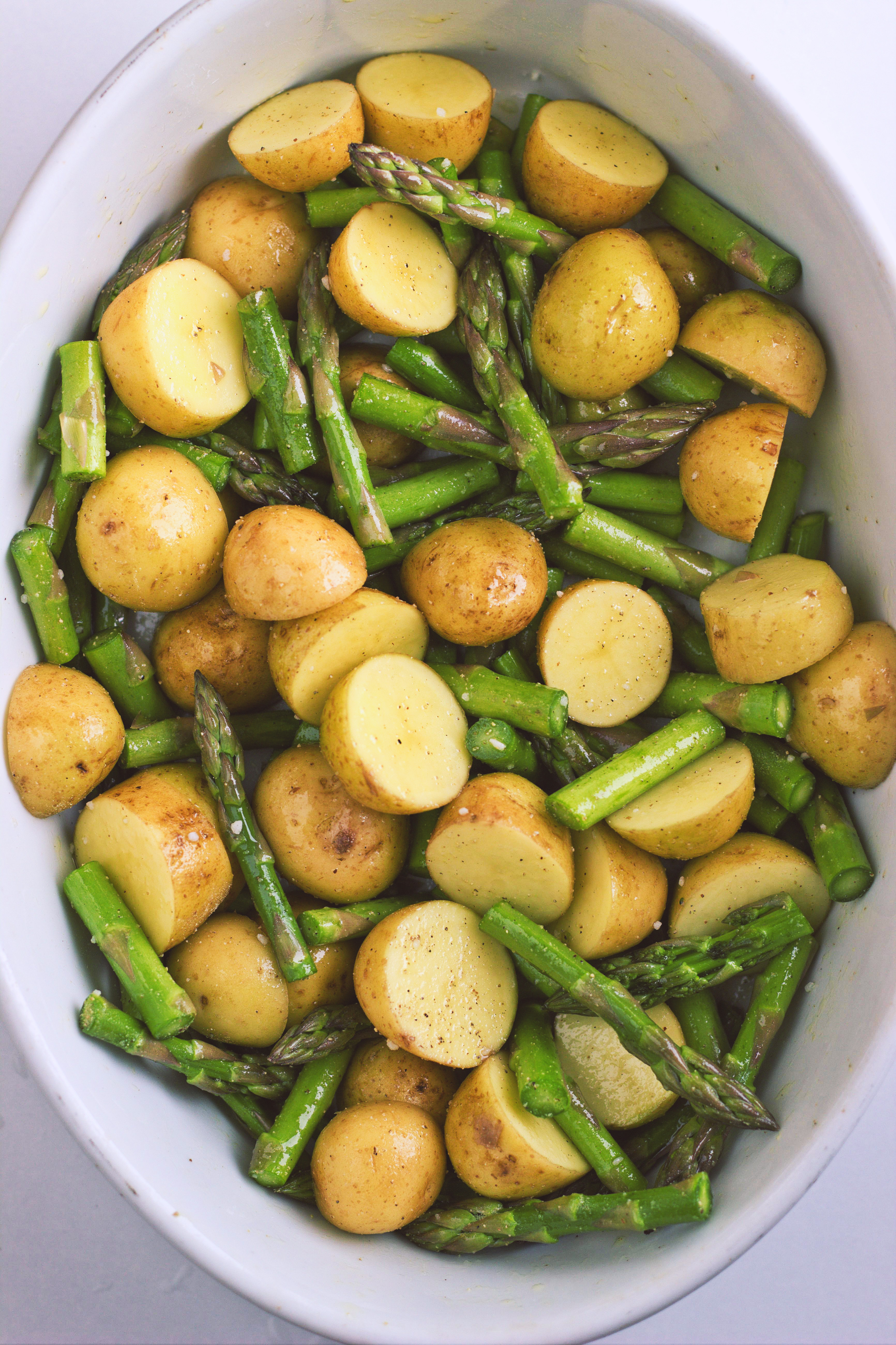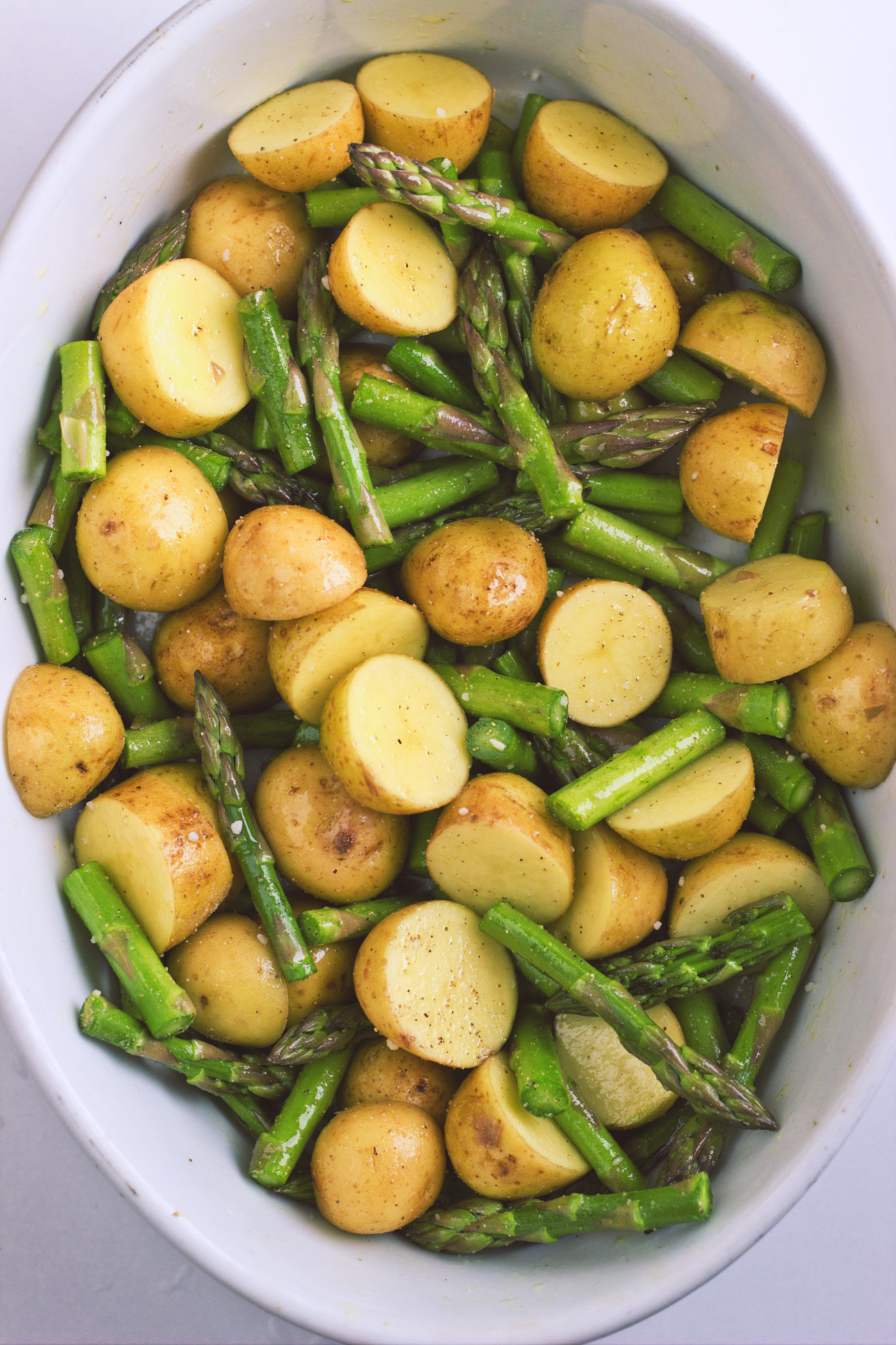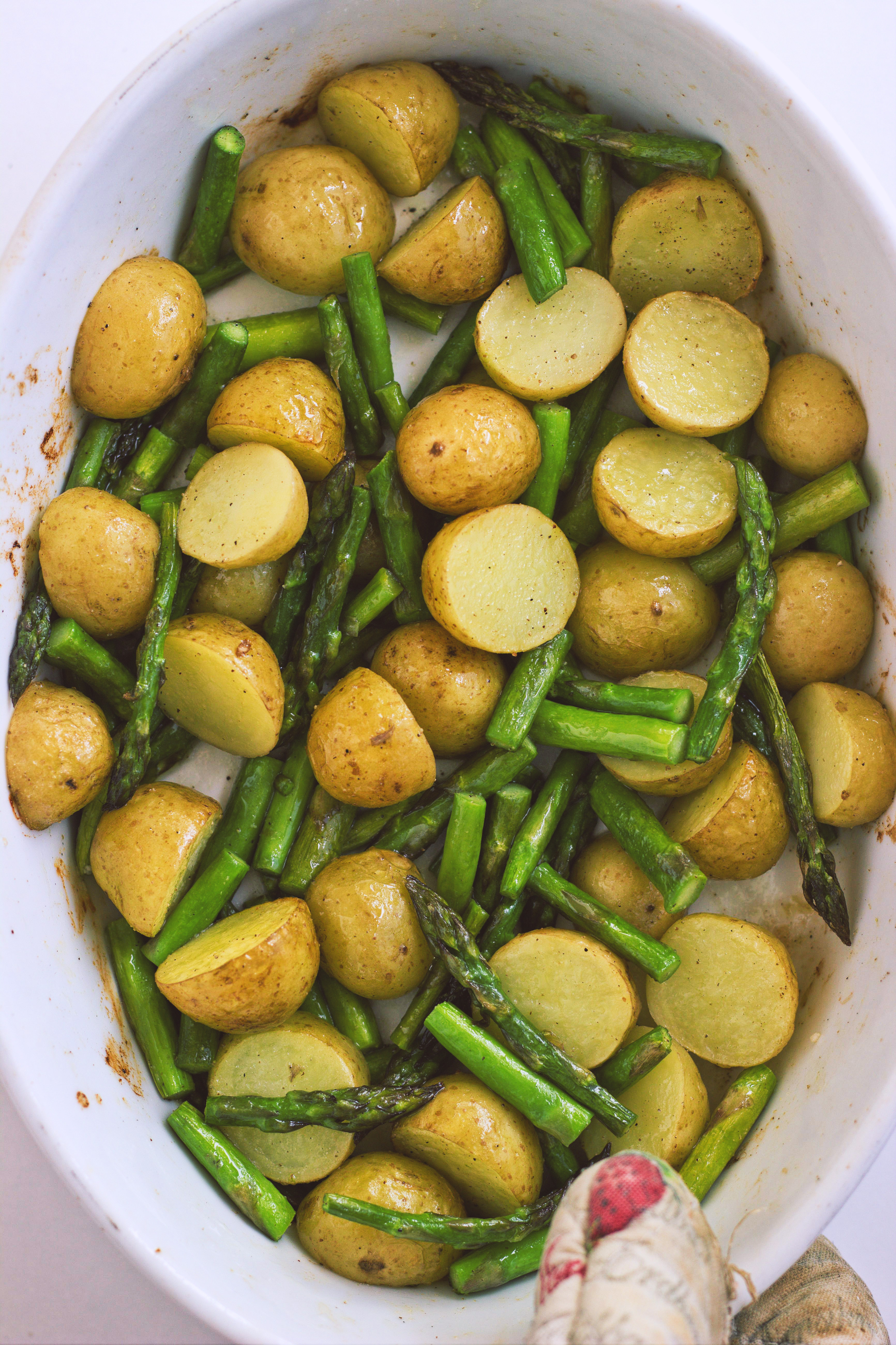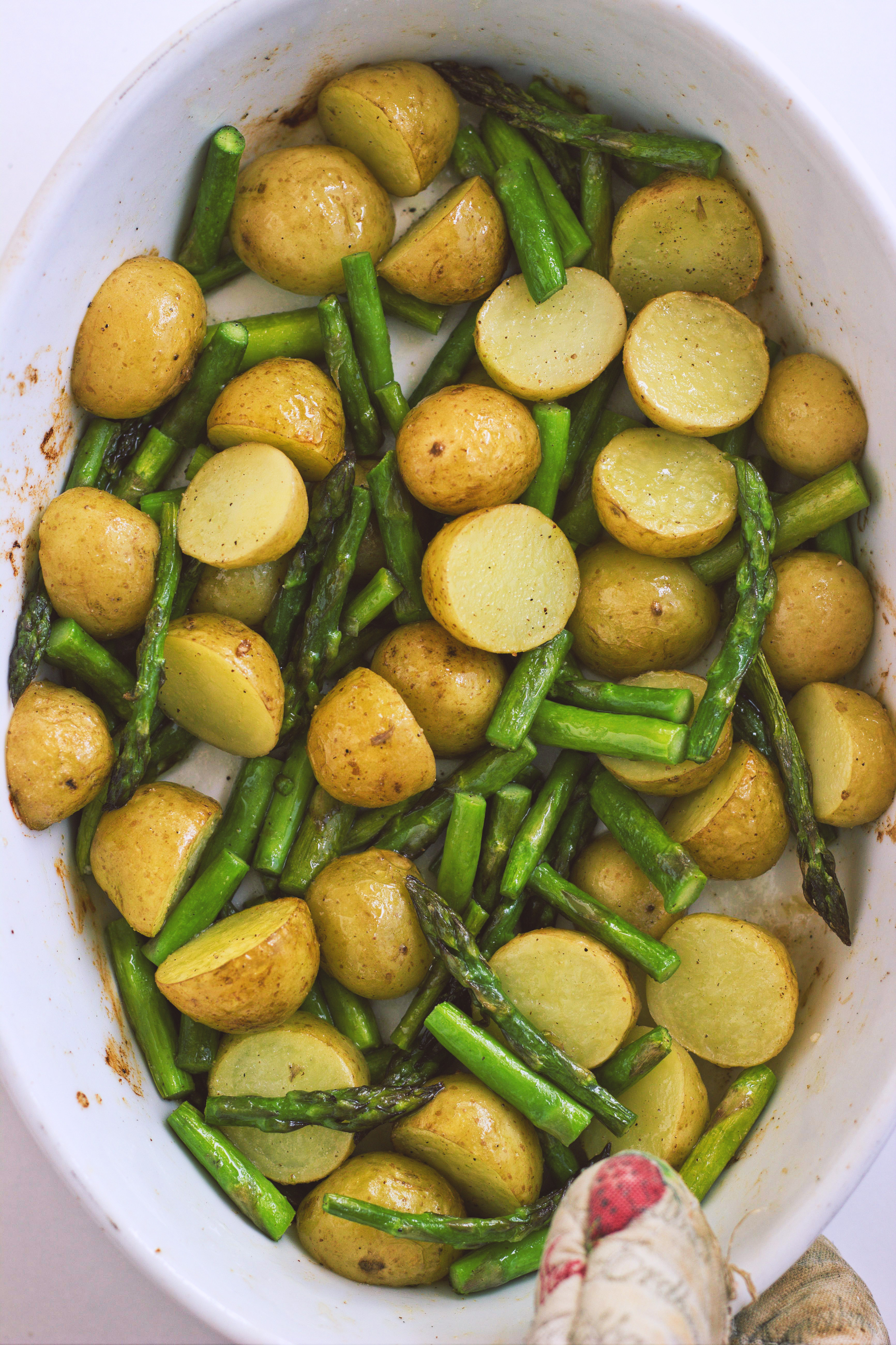 This salad is super easy to make with only 7 ingredients: you start by roasting the potatoes and asparagus, in the meantime, you blend up the pea purée, and then you just put everything together. Simple. I could definitely see myself making this a ton, especially when asparagus are in season, and I don't really know what to make with them. This salad is perfect for the spring and summer weather, being satiating while still not too heavy. It also makes for great leftovers to take with you to school or work since it tastes great both warm and cold.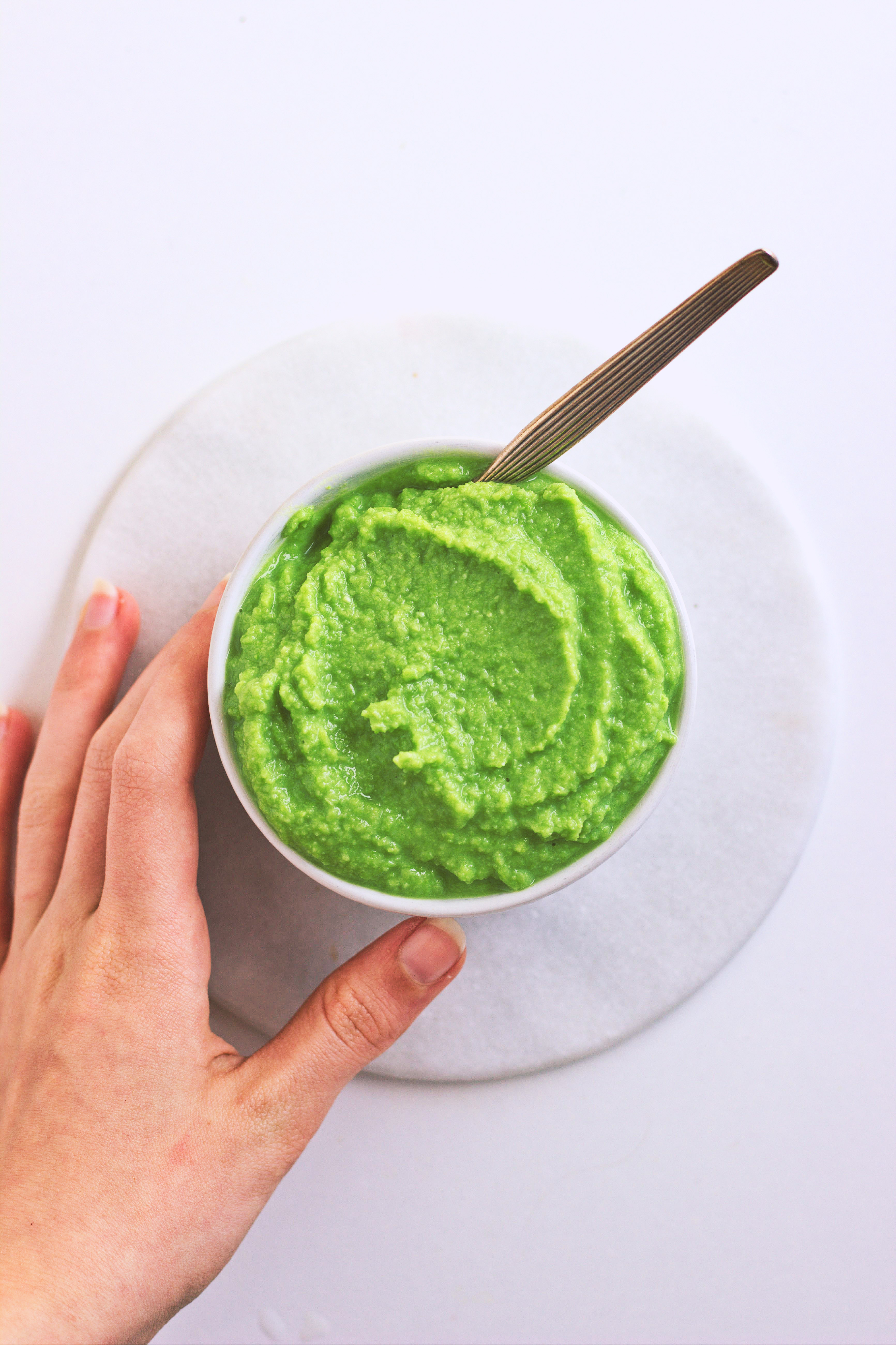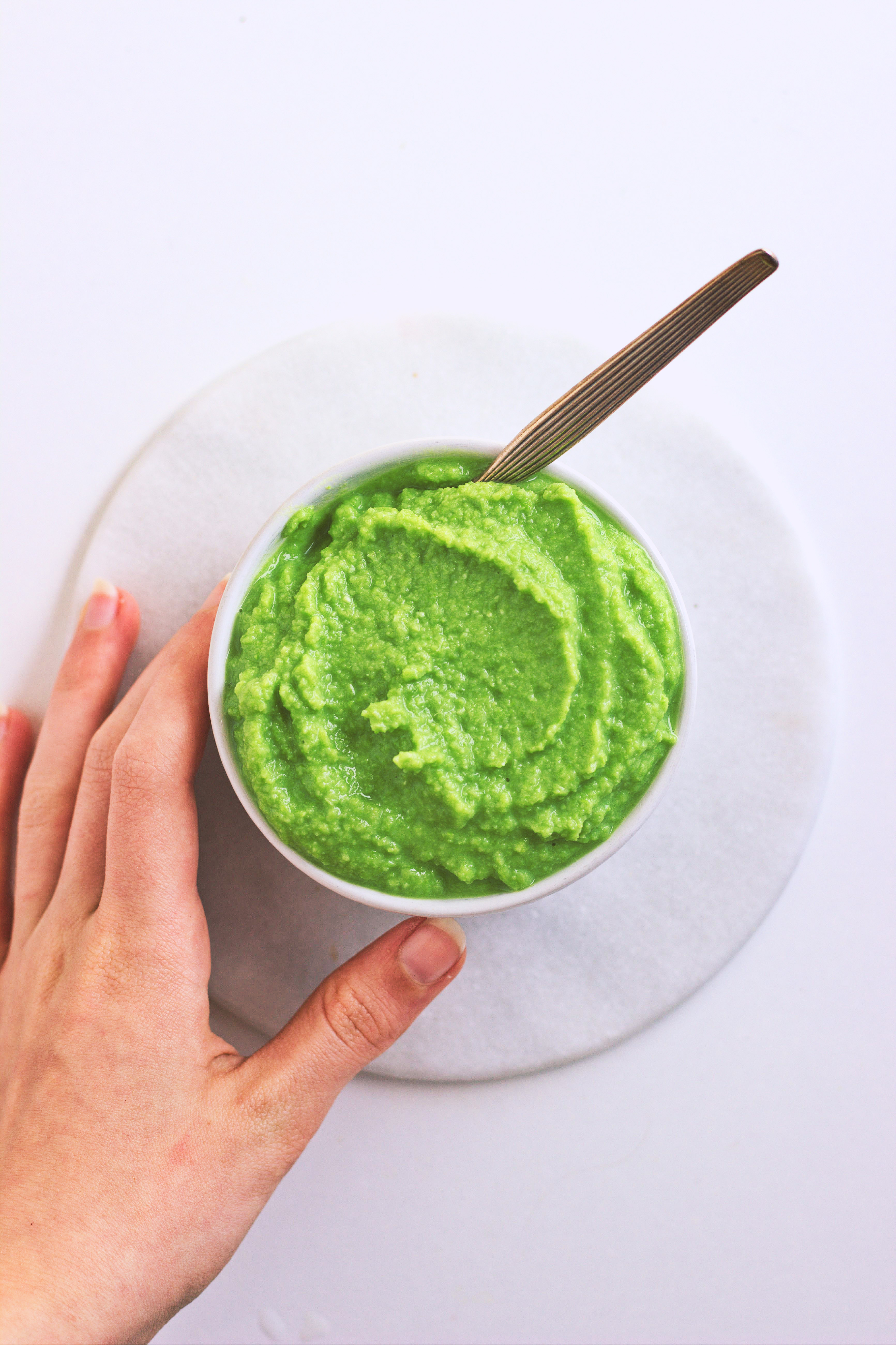 Looking for more fresh dinner and lunch ideas? Check out my Jackfruit and Chickpea "Tuna" Salad and Chopped Soba Noodle Salad with Sesame Orange Tahini Dressing!
I hope you'll love this recipe as much as I do. If you try this recipe, don't forget to rate it, leave a comment below, and take a picture of your salad and tag me on Instagram. My profile name is @spirendeveganer. I'd love to hear your thoughts and see your recreation!
Love, Lea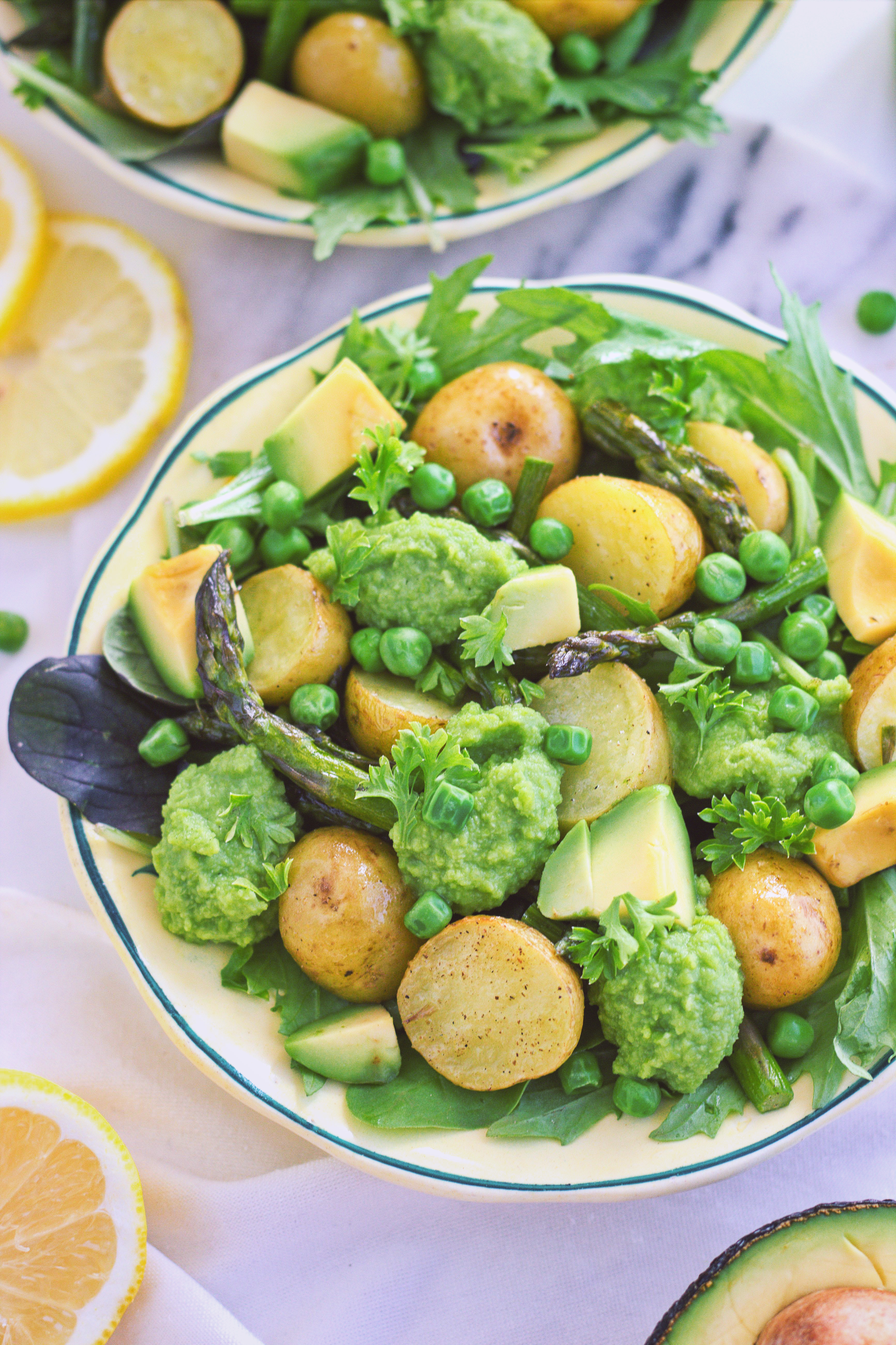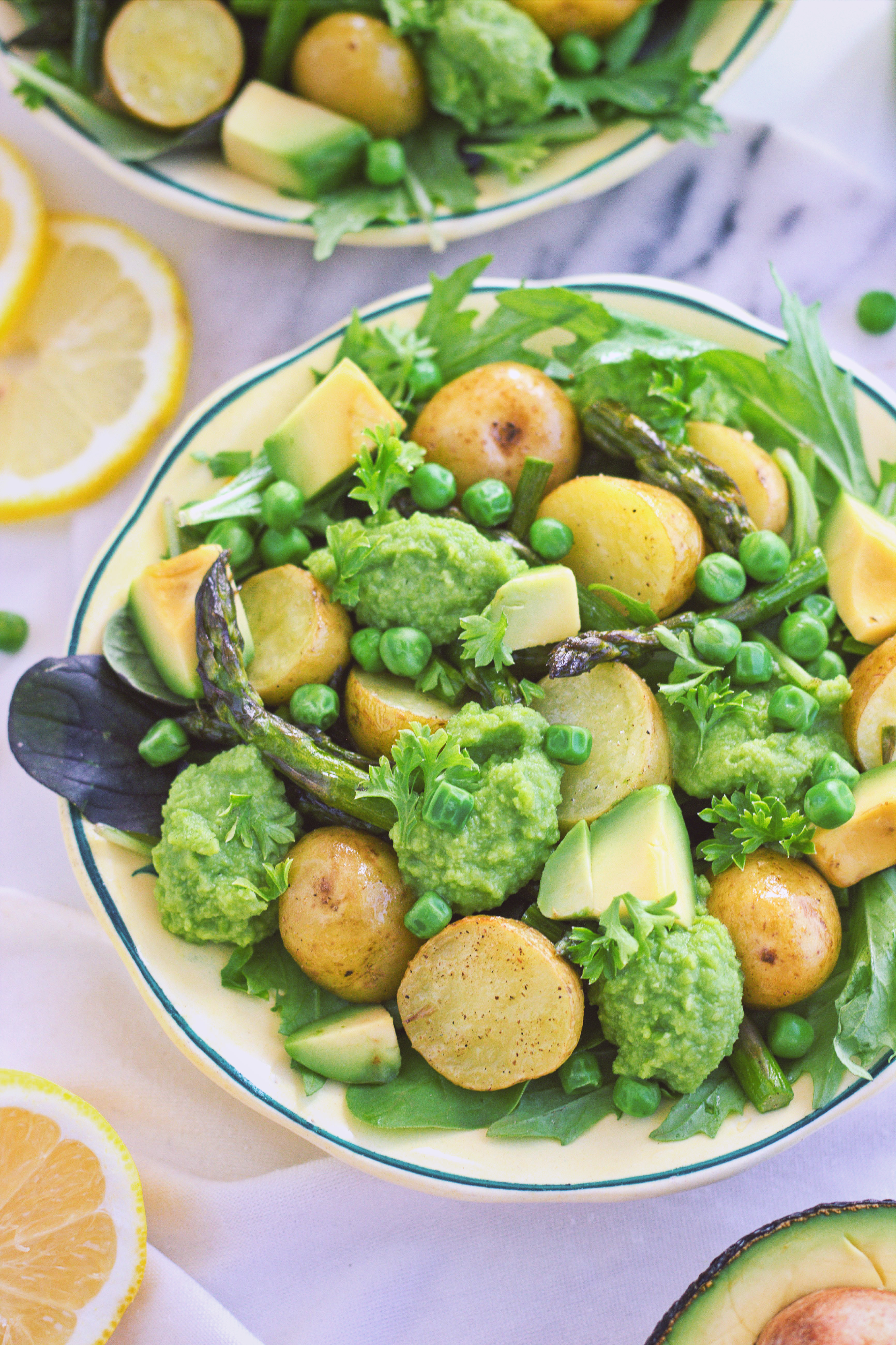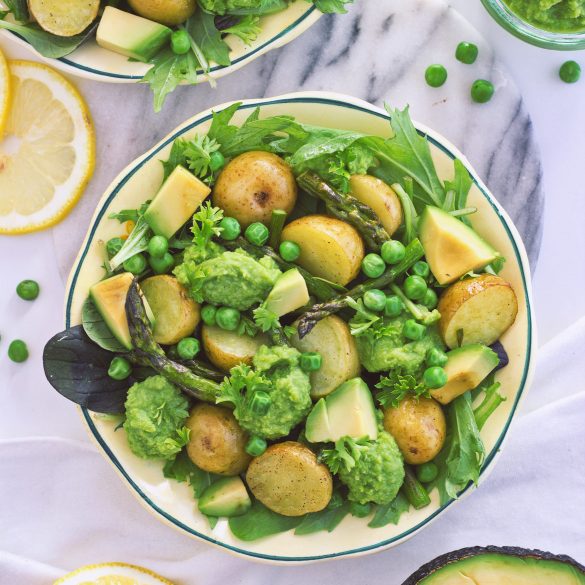 Ingredients
For the Salad:
300 g baby potatoes, halved

250 g asparagus, ends removed and chopped
1 tbsp olive oil
salt and pepper, to taste
mixed leafy greens, for serving
1 avocado, chopped
For the Pea Purée:
125 g frozen peas, cooked

60 ml water, 1/4 cup
the juice of 1/2 lemon
salt and pepper, to taste
Method
Preheat your oven to 200°C (400°F).
Place the potatoes and asparagus in a baking dish, add olive oil, salt, and pepper, and mix well to coat. Bake in the oven for about 20 minutes or until golden and crispy, giving everything a good mix halfway through.
In the meantime, make the pea purée: place all the ingredients in a blender and blend until smooth. Transfer to an airtight container or jar and place in the refrigerator.
When you're ready to eat, assemble the salad with mixed leafy greens, the roasted potatoes and asparagus, pea purée, and avocado.
Store leftovers in an airtight container in the fridge for up to 3-4 days. Keep the ingredients separate and assemble the salad just before eating or going to school or work.