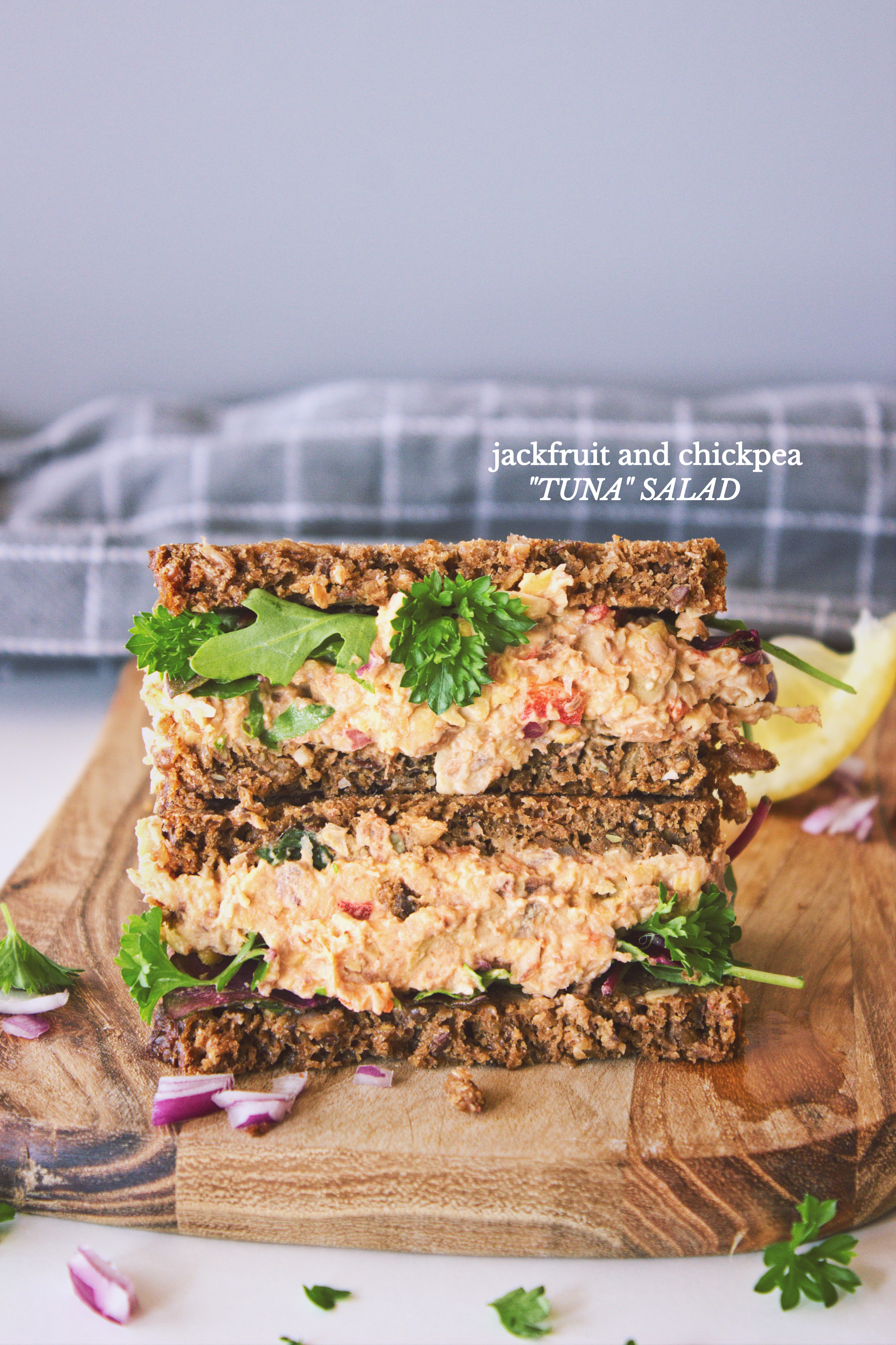 I'm going to be completely honest and say that I can't really remember what tuna salad tastes like. I didn't eat it much before going vegan. But this vegan version is pretty dang tasty, so I don't care! Great texture, nice flavour, and no animal cruelty involved, I'd say that makes for a pretty great tuna salad–even if it doesn't contain any actual tuna.
I got the idea to use a mix of chickpeas and jackfruit for this since I find jackfruit has a very meaty texture. It's definitely a new ingredient in my kitchen, but I'm excited to explore the possibilities of it further. Jackfruit is a fruit, as the name suggests, but the canned (or packaged) jackfruit you can find in grocery stores doesn't taste sweet at all and can be flavoured in any way you'd like. It's still not stocked in all regular grocery stores, but it's becoming more available–and if you really can't find it, you can always just leave it out or add more chickpeas!
The red pepper and red onion adds a nice pink tint when you pulse it into the tuna salad and make it look pretty convincing if I might say so myself. They also add a nice textural change from the creamy tuna and a little pop of sweetness and sourness when you bite into it. You don't have to put the tuna salad into a sandwich, I've also used it in a salad with leafy greens and other veggies. It really bulks it up, adds a nice amount of protein, and also acts as sort of a dressing. You can also put it into a wrap or a baked potato or use it as a topping for your buddha bowl!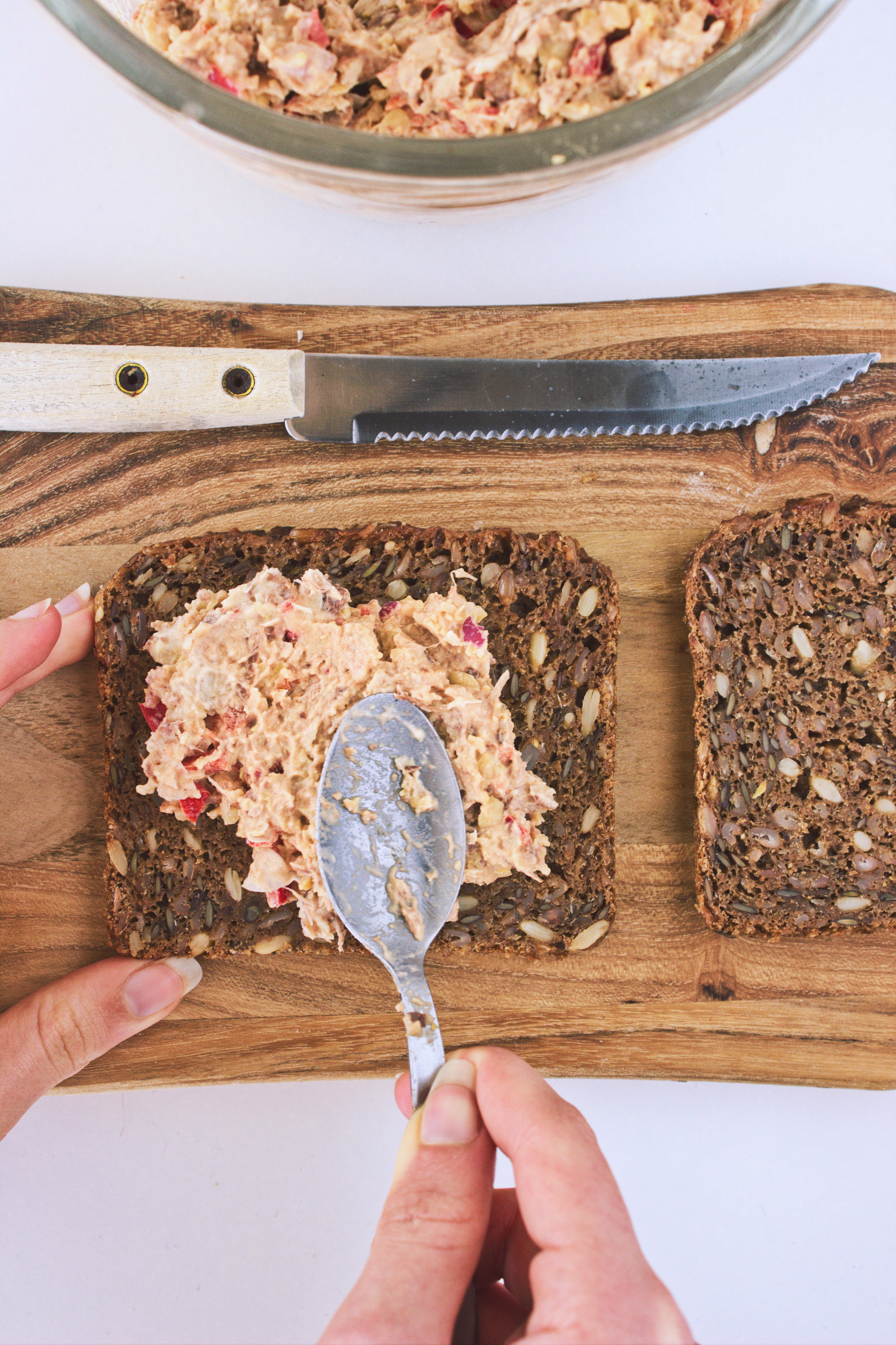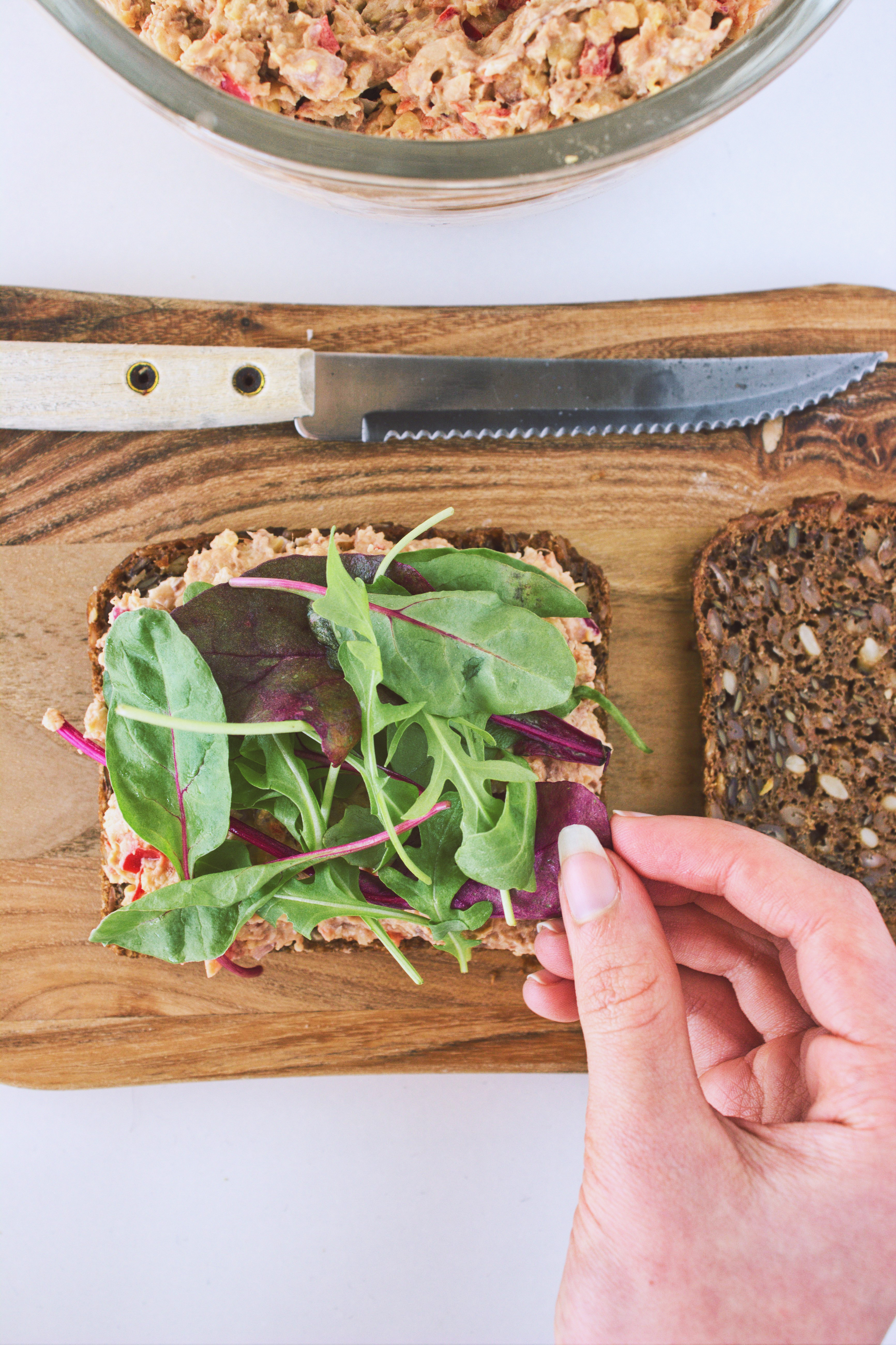 I usually eat my sandwiches open-faced, but I'll admit a stacked sandwich looks quite impressive in a picture. I'm baffled at how well I managed to secure the sandwiches on top of each other, using two toothpicks. The stack was surprisingly easy to work with–I've done photoshoots in the past where everything was falling apart while I was rushing to take my pictures before the gates of hell opened and unleashed its flames… like, no pressure!
If you're from Denmark like I am, where the definition of lunch is almost "rye bread", this is definitely a great suggestion for an exciting vegan topping idea for your typical daily rye bread. It can be hard to come up with vegan toppings that aren't fruit (although strawberries are still lovely, haha), but you've just got to get a little creative! Which is not everyone's strong suit, so I'm here to help you out!
And if you're looking for even more lunch ideas to break out of the rye bread routine, check out my Chopped Soba Noodle Salad with Orange Tahini Dressing, Sun-Dried Tomato Roasted Red Pepper Pasta, and Egg-Free-Salad which are all great for taking with you to school or work!
However, if you decide to try this Jackfruit and Chickpea "Tuna" Salad, let me know what you think about it! Rate the recipe, leave a comment below, and take a picture of your tuna salad and tag me on Instagram. My profile name is @spirendeveganer. I'd love to hear your thoughts and see your creations! I'll see you next week for another wonderful lunch idea!
Love, Lea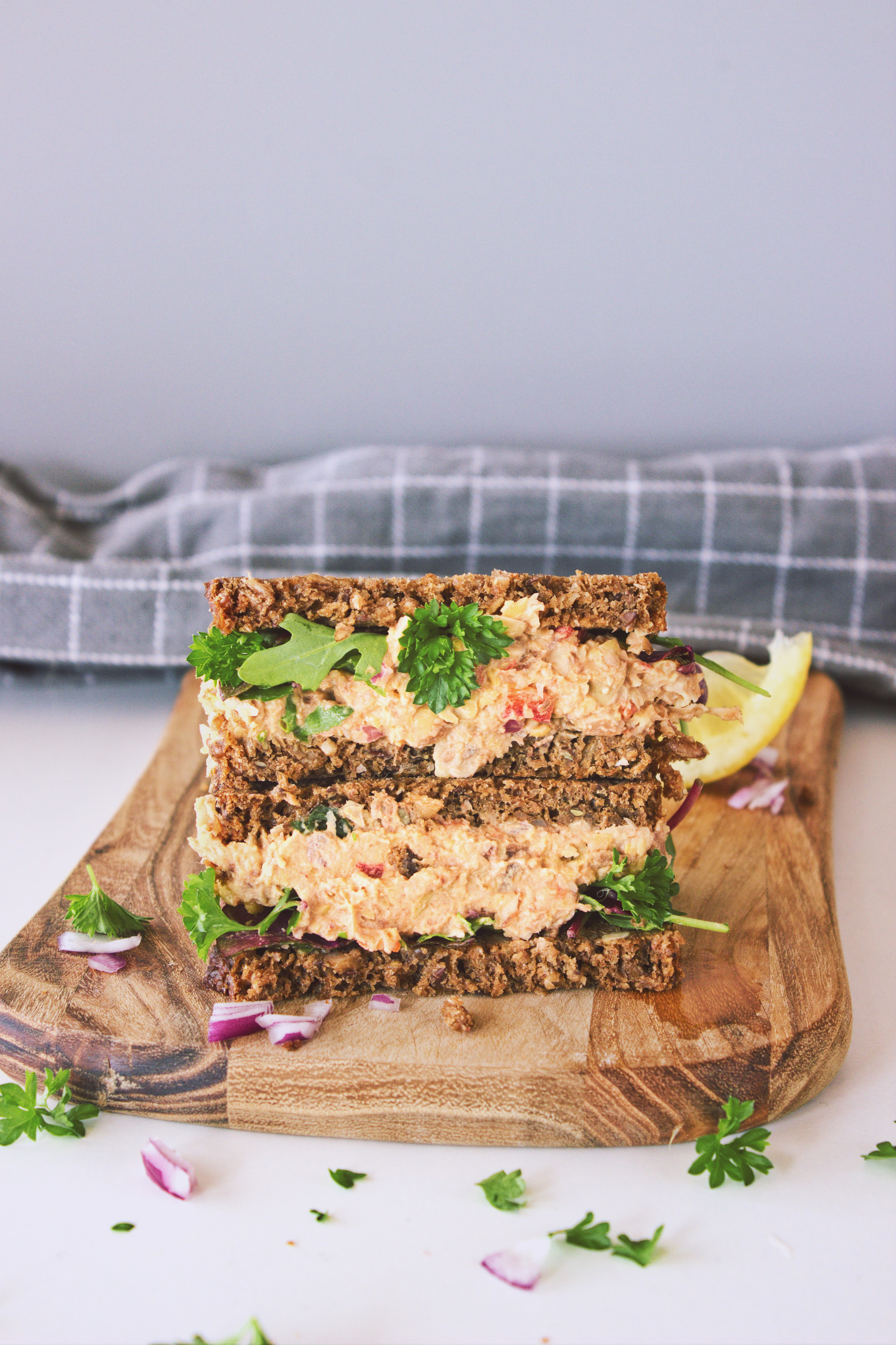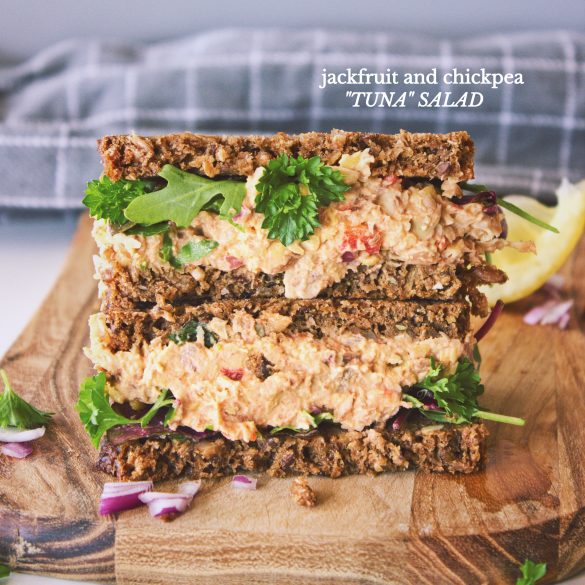 Ingredients
1 400 g/14 oz can chickpeas, drained and rinsed
100 g jackfruit, 3/4 cup
3-4 tbsp vegan mayonnaise, I use Hellmann's Vegan Mayo
2 tsp dijon mustard
1 tbsp lemon juice
1/2 tsp garlic powder
salt and pepper, to taste
1 small red onion, finely chopped
1/2 red pepper, finely chopped
Method
In a food processor, process the chickpeas, jackfruit, mayonnaise, mustard, lemon juice, garlic powder, and salt and pepper until it resembles tuna. You can process it more or less depending on how chunky or smooth you want it. Add the onion and pepper and pulse until just combined.
Use in, for example, a sandwich, wrap, or baked potato or on a salad.
Store in an airtight container in the fridge for up to 3-4 days.