Sprouts, I'm beyond excited about these babes. I call them my babes because I'm seriously so proud of these. I watched them grow into the beautiful, fluffy caramel buns they have become. Caramel buns, because I wanted to put a little twist on regular cinnamon buns. I mean, obviously this recipe would probably work fab with some sort of cinnamon filling, too, but the pecan and caramel combo is pretty banging.
I made my mum try the date caramel, and she said that it reminded her of Wether's Original Caramel Hard Candies which my brother and I used to shovel in our heads, and now I can't untaste it. Every time I've licked the spoon clean since, I can't help but wonder, how?! I definitely don't think we've used the same ingredients. But the combination of medjoul dates and cashew butter and salty vegan butter really does make for a nice caramel flavour.
The dough is really easy to make and is ready in an hour. It requires minimal effort and only one rise (my kind of baking), but it's so stretchy, soft, and–after coming out of the oven–so. damn. fluffy! I really hit the nail on the head with this one. It felt like I was eating a bun from a bakery. It's so airy and light!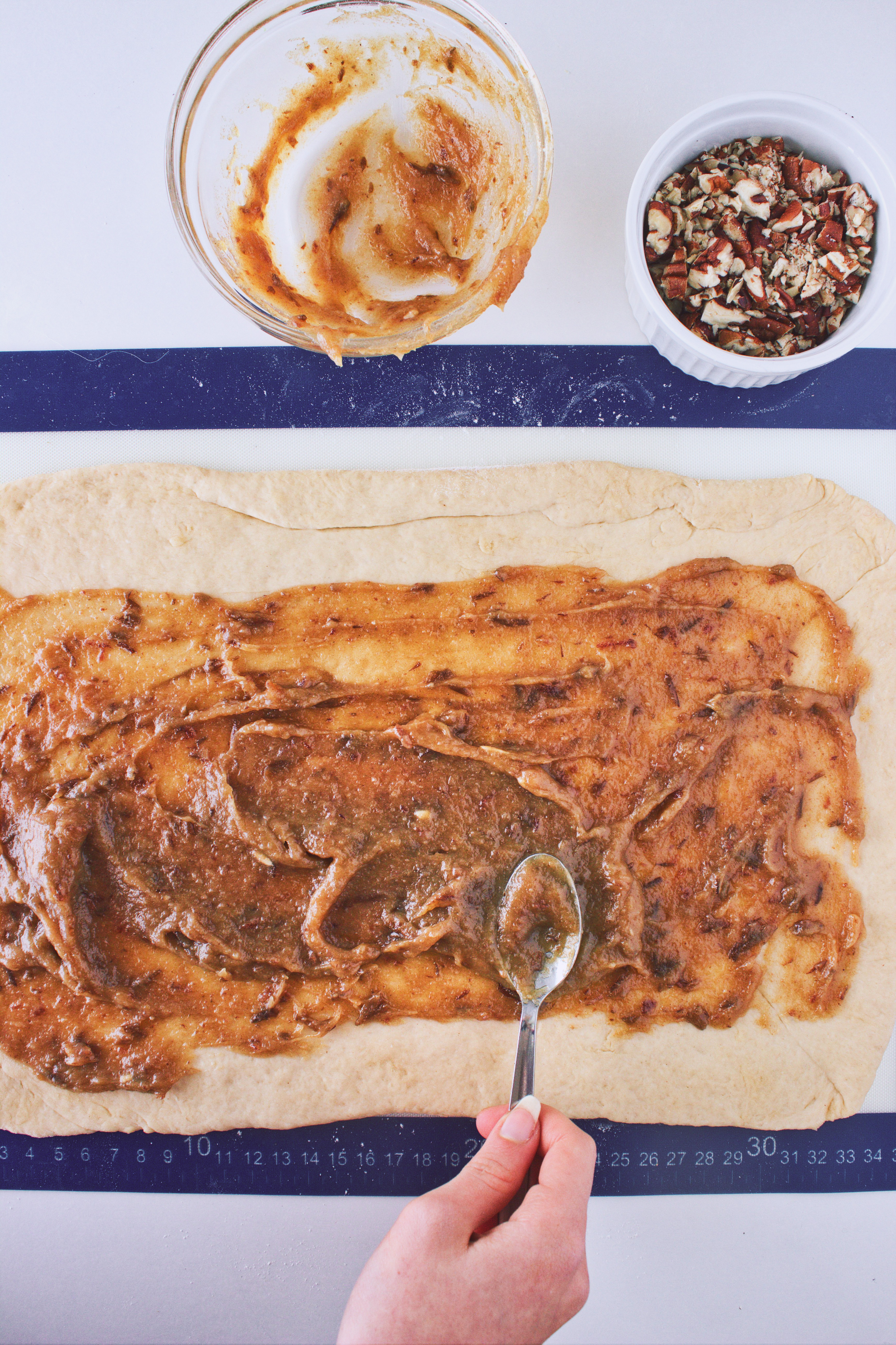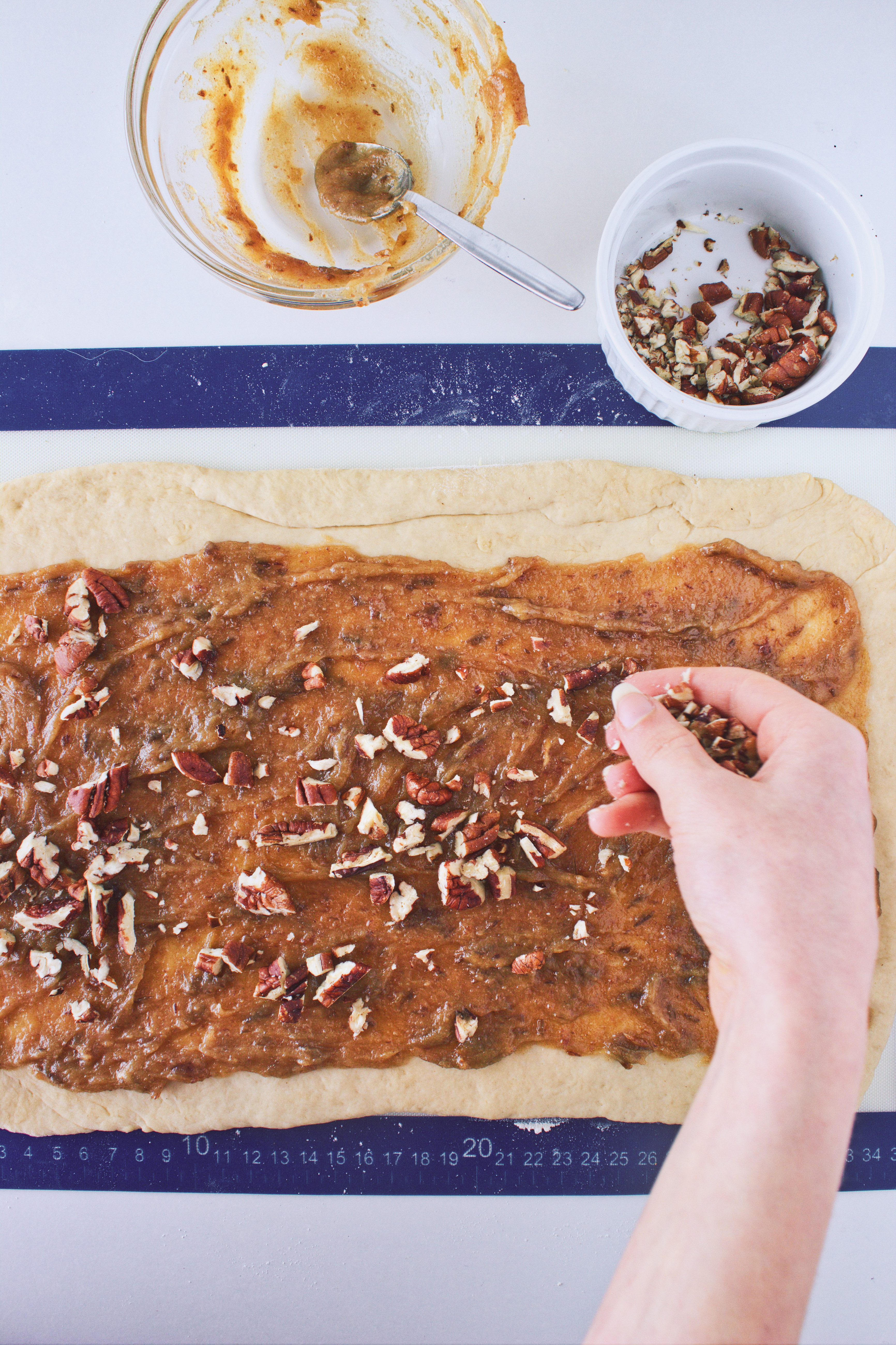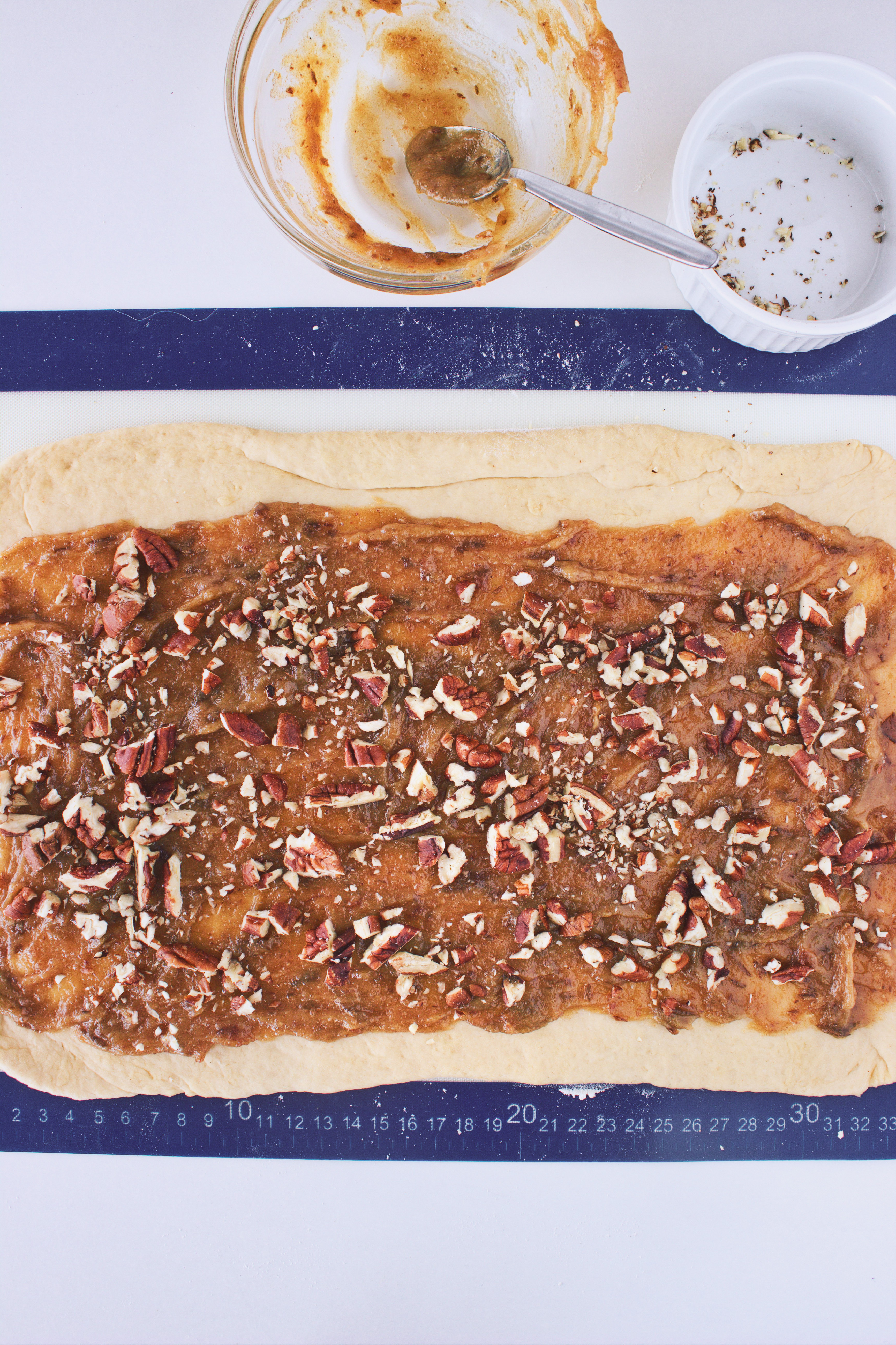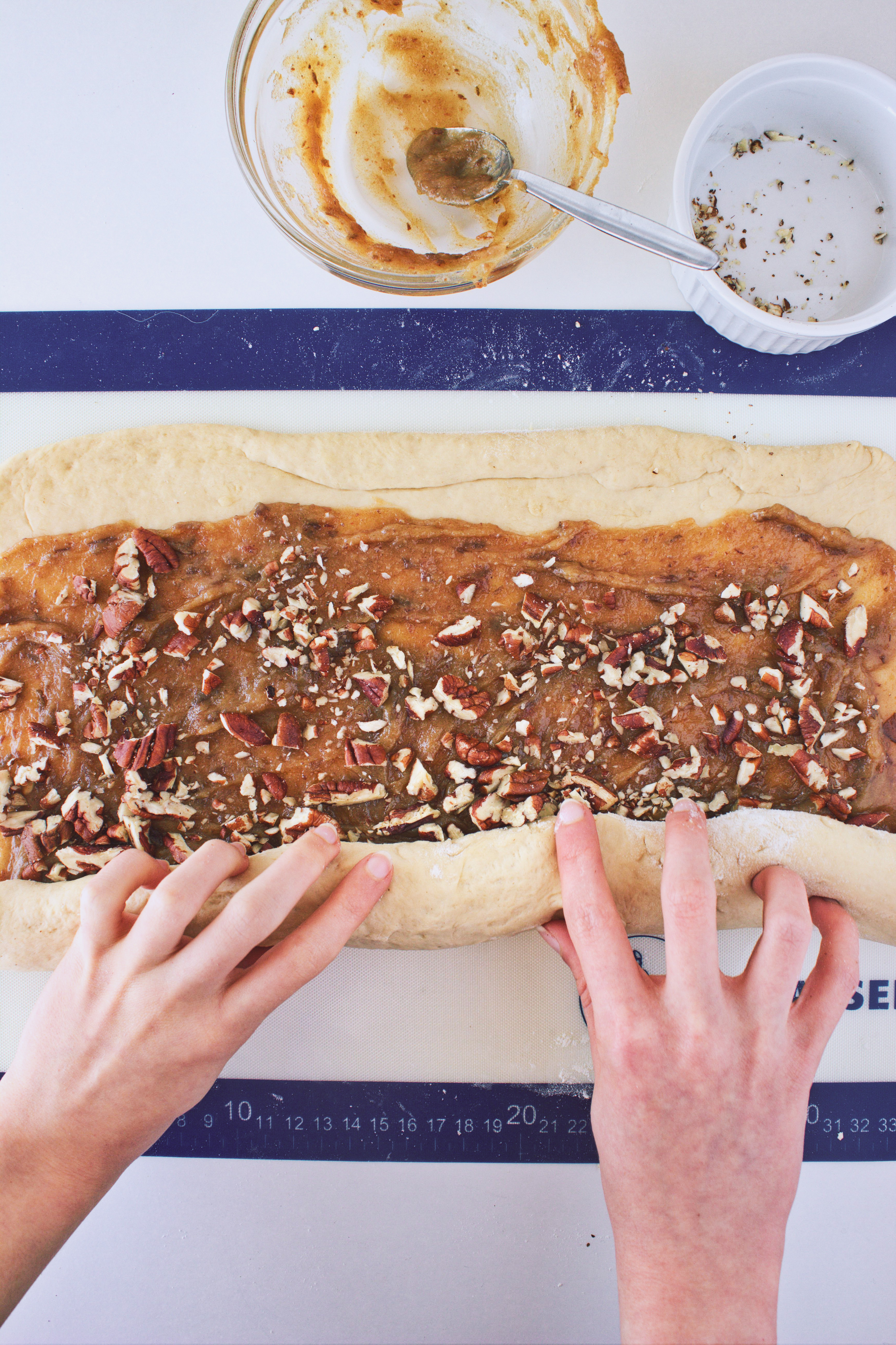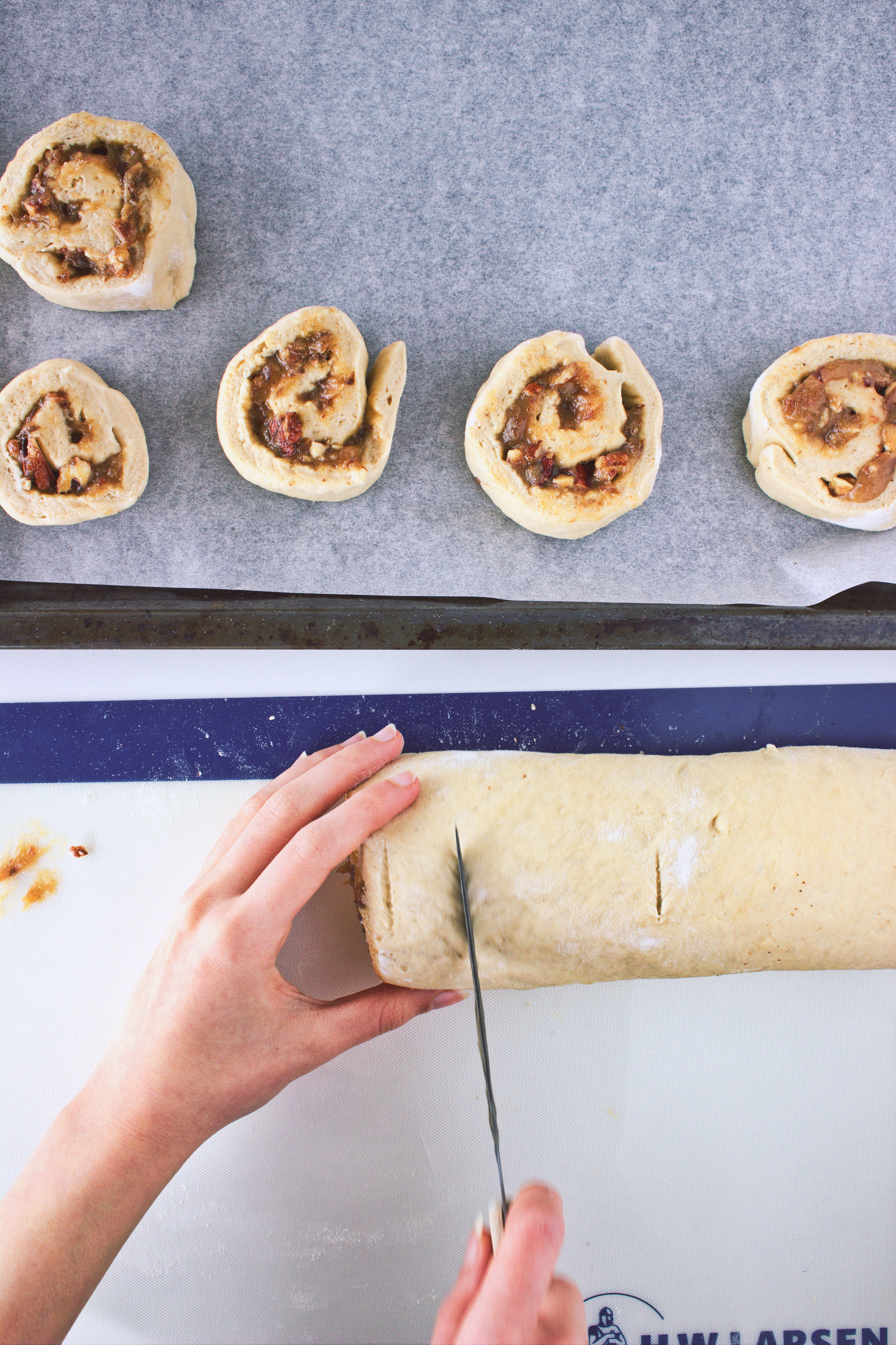 The caramel sauce is optional, but it makes the buns even more caramelly and sweet and messy. It really adds some extra. But you can always go for a regular powdered sugar icing or not use any icing at all if you don't want to.
If you're looking for a little healthier treat with caramel, check out my No-Bake Peanut, Caramel, and Chocolate Slices. I adapted the date caramel from that recipe–they're seriously fabulously luscious!
If you try this recipe, let me know what you think about it. Rate it, leave a comment below, and take a picture of your buns and tag me on Instagram. My profile name is @spirendeveganer. I'd love to hear your thoughts and see your creations!
Love, Lea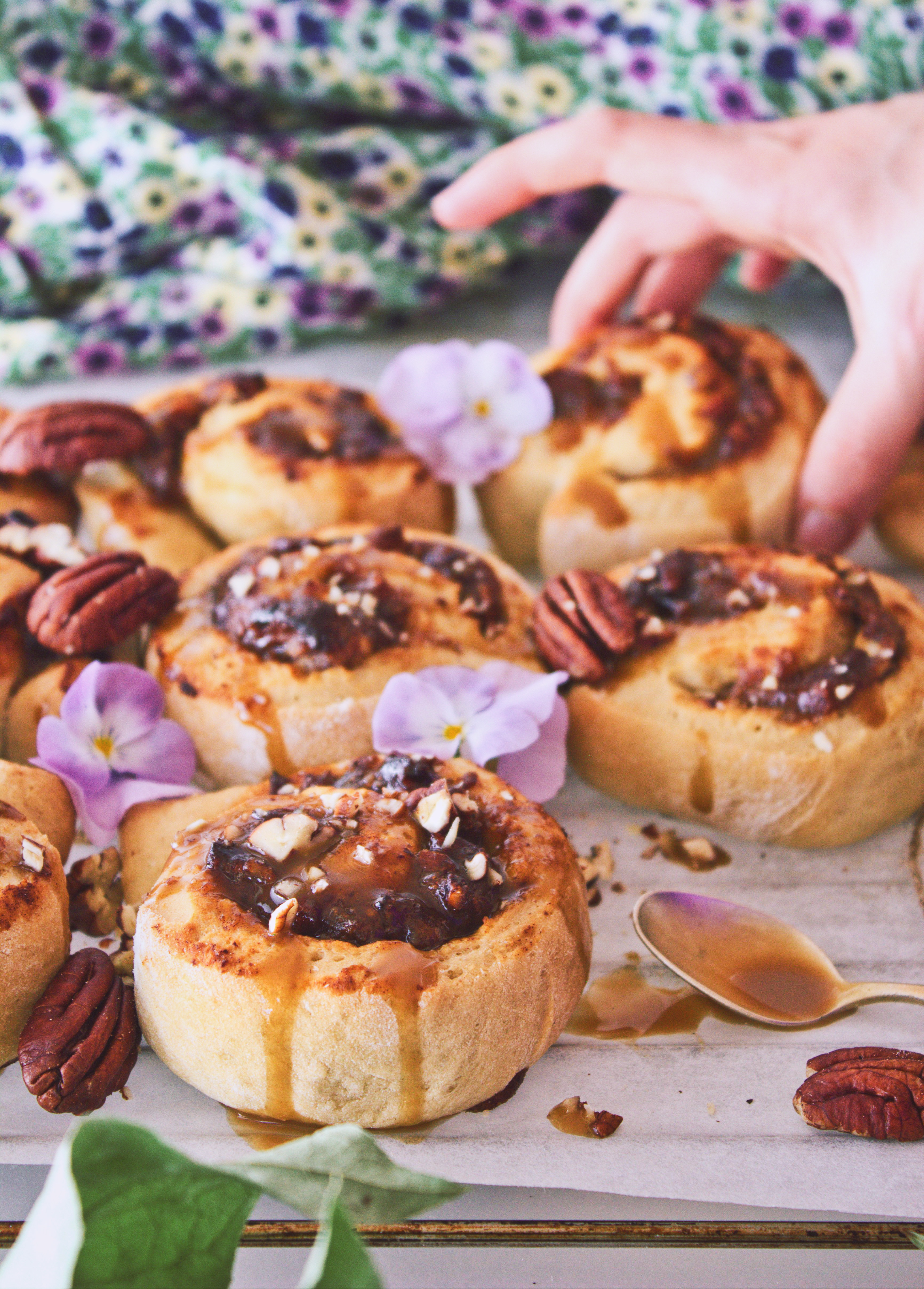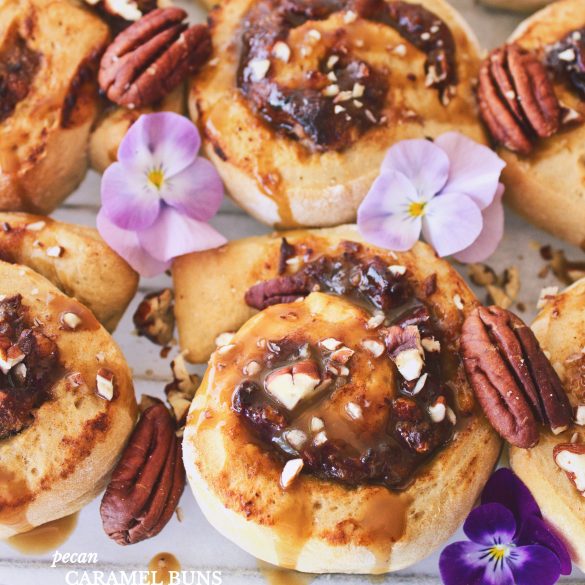 Ingredients
For the Dough:
20 g fresh yeast or 7 g active dry yeast

100 ml non-dairy milk

100 ml water

30 g vegan butter

2 tbsp coconut blossom sugar

1/4 tsp fine salt

350 g all-purpose flour
For the Filling:
5 soft medjoul dates, ~115 g

1.5 tbsp vegan butter

1 tbsp cashew butter

1 tbsp maple syrup

a pinch of salt

75 ml non-dairy milk, 1/3 cup

50 g pecan nuts, chopped
For the Caramel Sauce (optional):
75 ml full-fat coconut milk, 1/3 cup
3 tbsp coconut blossom sugar
a pinch of salt
Method
For the Buns:
Crumble the yeast into a large bowl. Place the milk and water in a small pot and gently warm until hot, but not too hot or it'll kill the yeast. Pour over the yeast and mix until dissolved. Warm the butter in the same pot and pour that into the bowl as well along with the coconut blossom sugar and salt. Gradually add the flour and knead until you have a smooth dough. Cover and allow to rise in a warm place for 1 hour or until doubled in size.
While the dough is rising, make the filling: add all the ingredients, except the pecan nuts, to small pot and and bring to a gentle simmer. Once simmering, reduce heat to low and cook for 10-12 minutes while roughly mashing the dates with a fork, then switch to a whisk and whisk until smooth. It's okay if there are some lumps left, but it should be spreadable.
Transfer the risen dough to a lightly floured surface and roll into a rectangle. Spread the caramel evenly on top and sprinkle with the pecan nuts. Beginning at the long edge of the dough, tightly roll into a log. Be attentive and careful while doing this so you're not just rolling the caramel and pecan nuts along. Cut into 12 slices and place on a lined baking tray or in a baking dish and set aside while preheating your oven to 175°C (350°F).
Bake the buns in the oven for about 20 minutes or until golden and fluffy, then remove to the oven and allow to cool slightly before optional drizzling with caramel sauce (recipe below picture) or regular powdered sugar icing and serving.
Store in an airtight container in the fridge for up to 2-3 days, although they're best when eaten straight out of the oven. To soften the buns again, microwave for 15-20 seconds.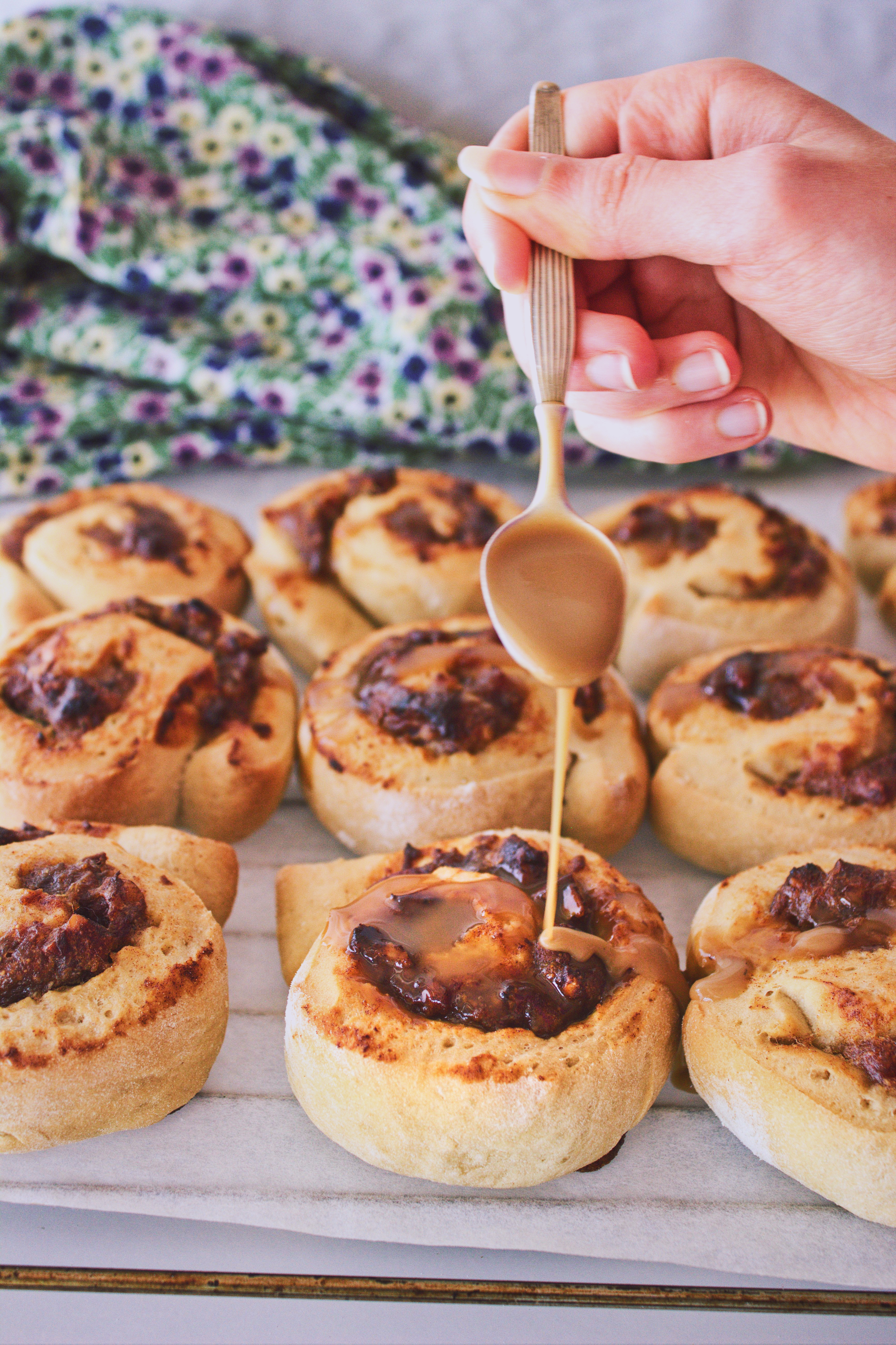 For the Caramel Sauce:
Place all the ingredients in a small saucepan and bring to a gentle simmer. Once simmering, reduce to medium-low heat and let it bubble away for 5-10 minutes, whisking occasionally, then transfer to a jar and refrigerate for 1-2 hours or overnight to set.
Keeps in the fridge for up to 3-4 days.