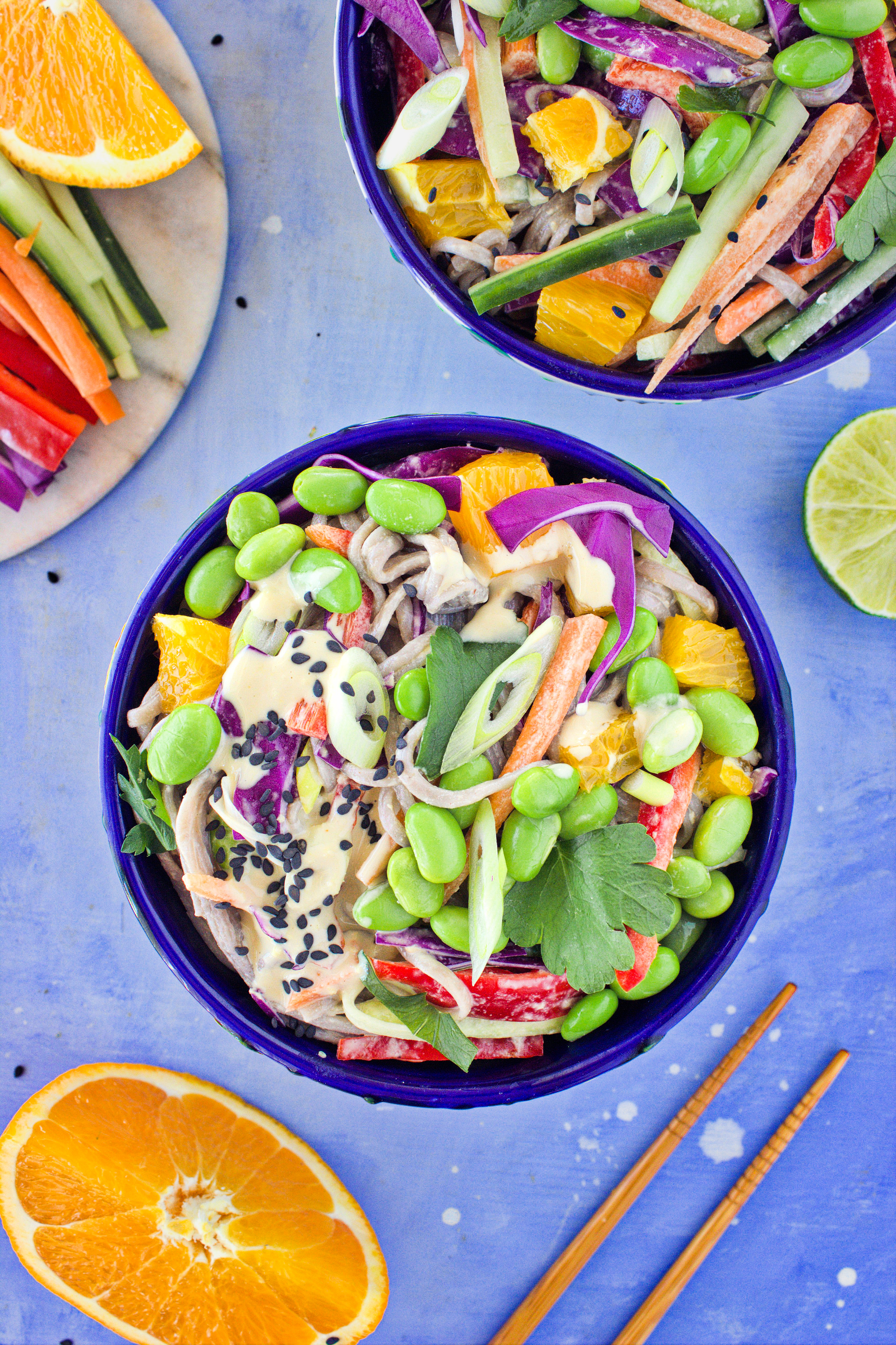 I'm finally getting around to sharing this fresh, amazing veggie-filled soba noodle salad with the best, citrusy Sesame Orange Tahini Dressing. I've had this recipe in my arsenal for quite a few months, so it was about time. And I promise you, you will not be disappointed by the explosion of textures and flavours in your mouth when you bite into this!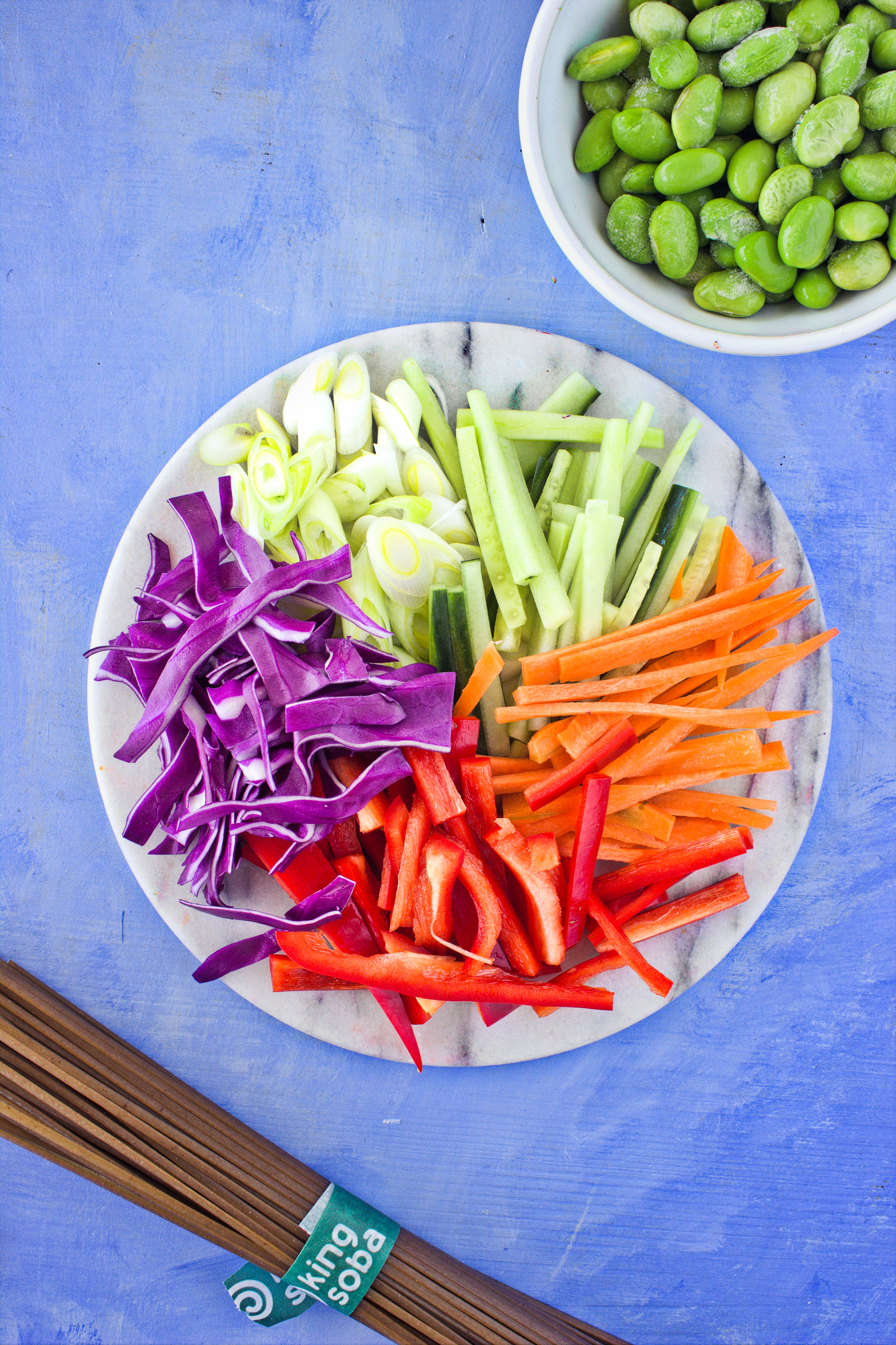 I've had a quite a week. Between my laptop's charger breaking, my family getting into a car accident (no one was badly hurt!), and the horrible bombings in Sri Lanka where we were supposed to be going this summer, I've definitely struggled to put together this blog post for you! I was borrowing my brothers laptop, and the image quality on that thing was not working out! I would edit a picture, only for it to look completely different on my other devices! I'm moderately confident in my editing skills, but I'm not about to edit a full photoshoot blindly using my iPhone as a navigator!
Then today, at 12 o'clock, I got my new charger and plugged it in in an instant. I have so much work to catch up on. But first, this blog post–which is already almost two hours late.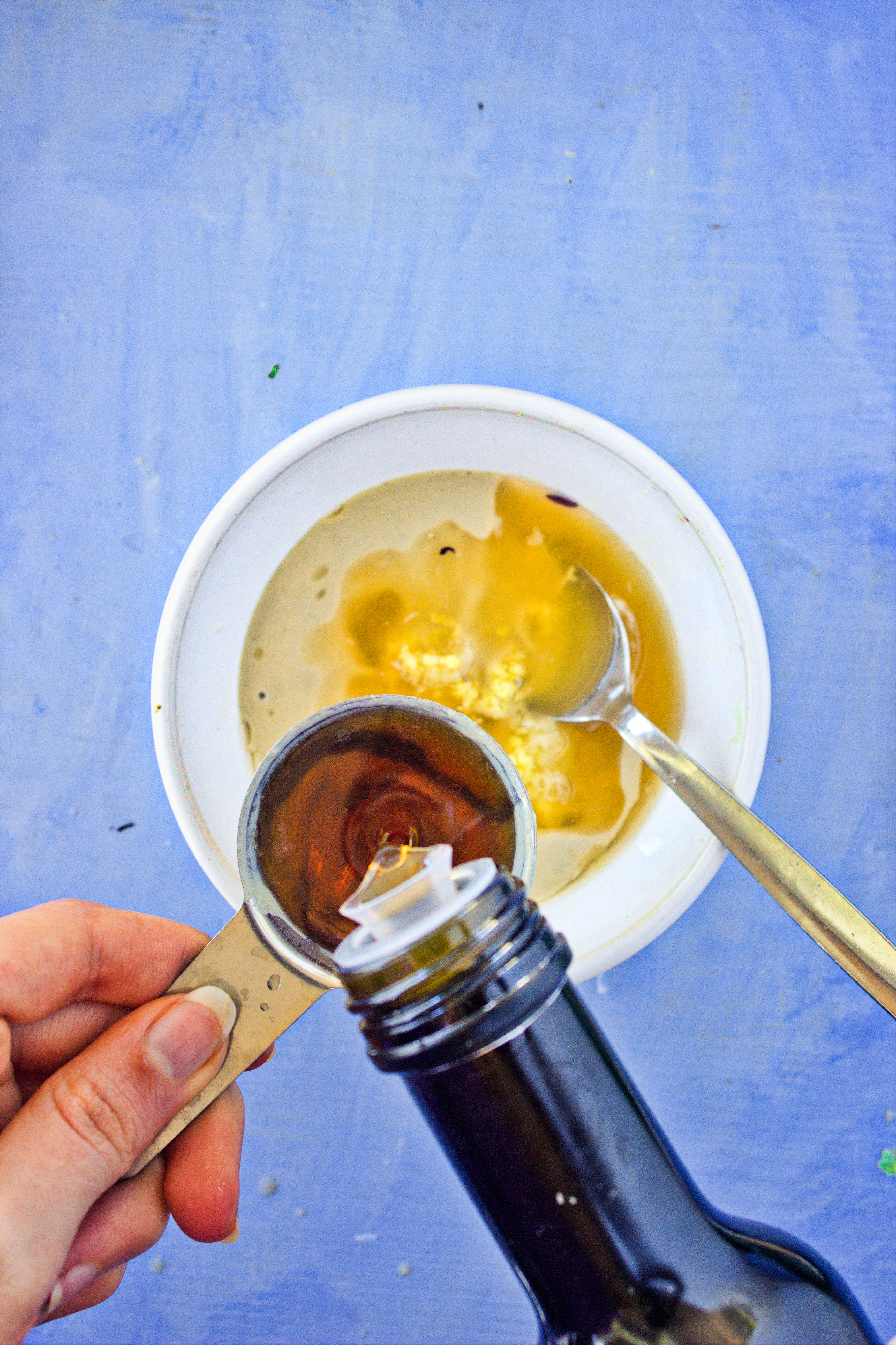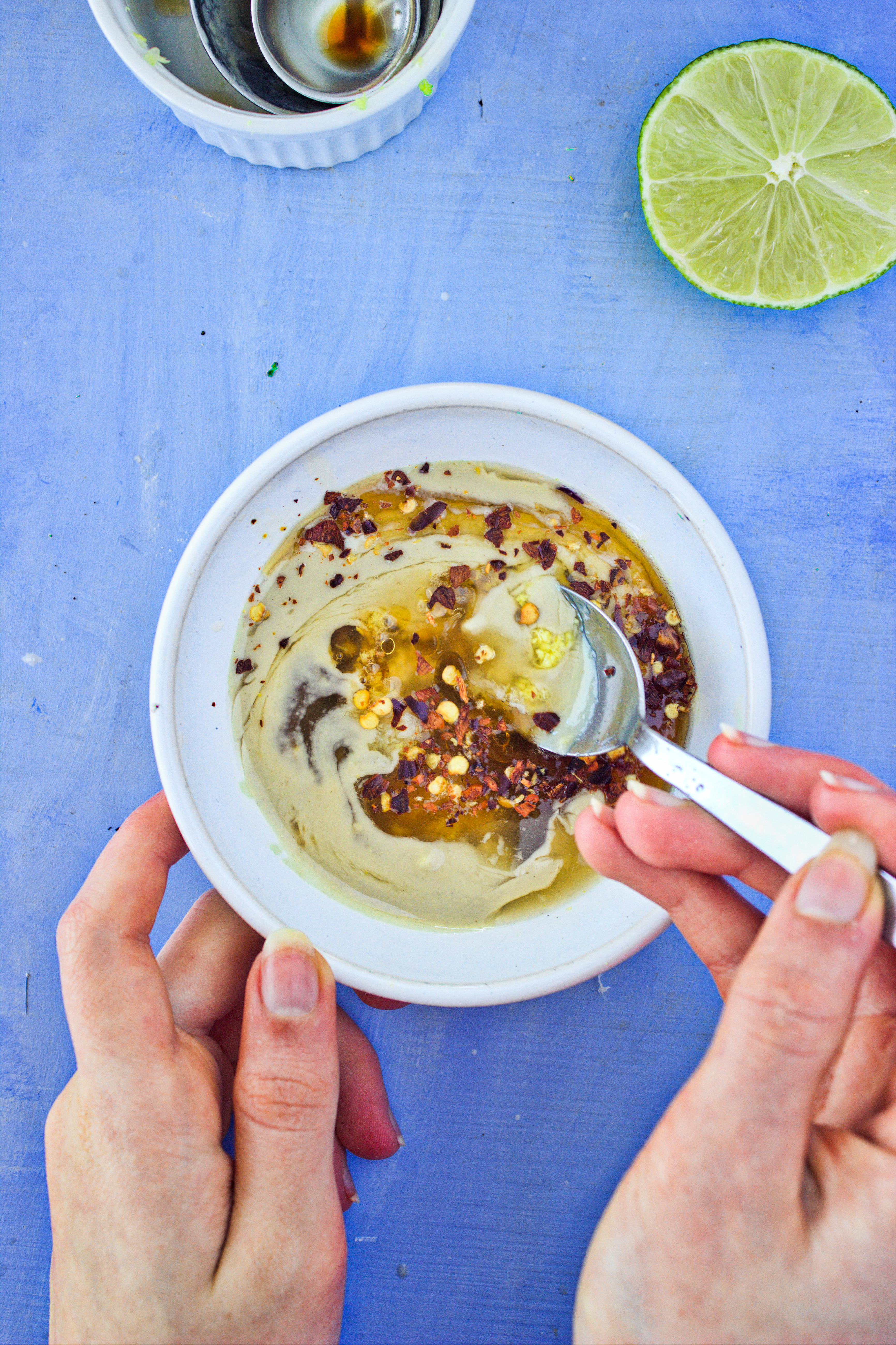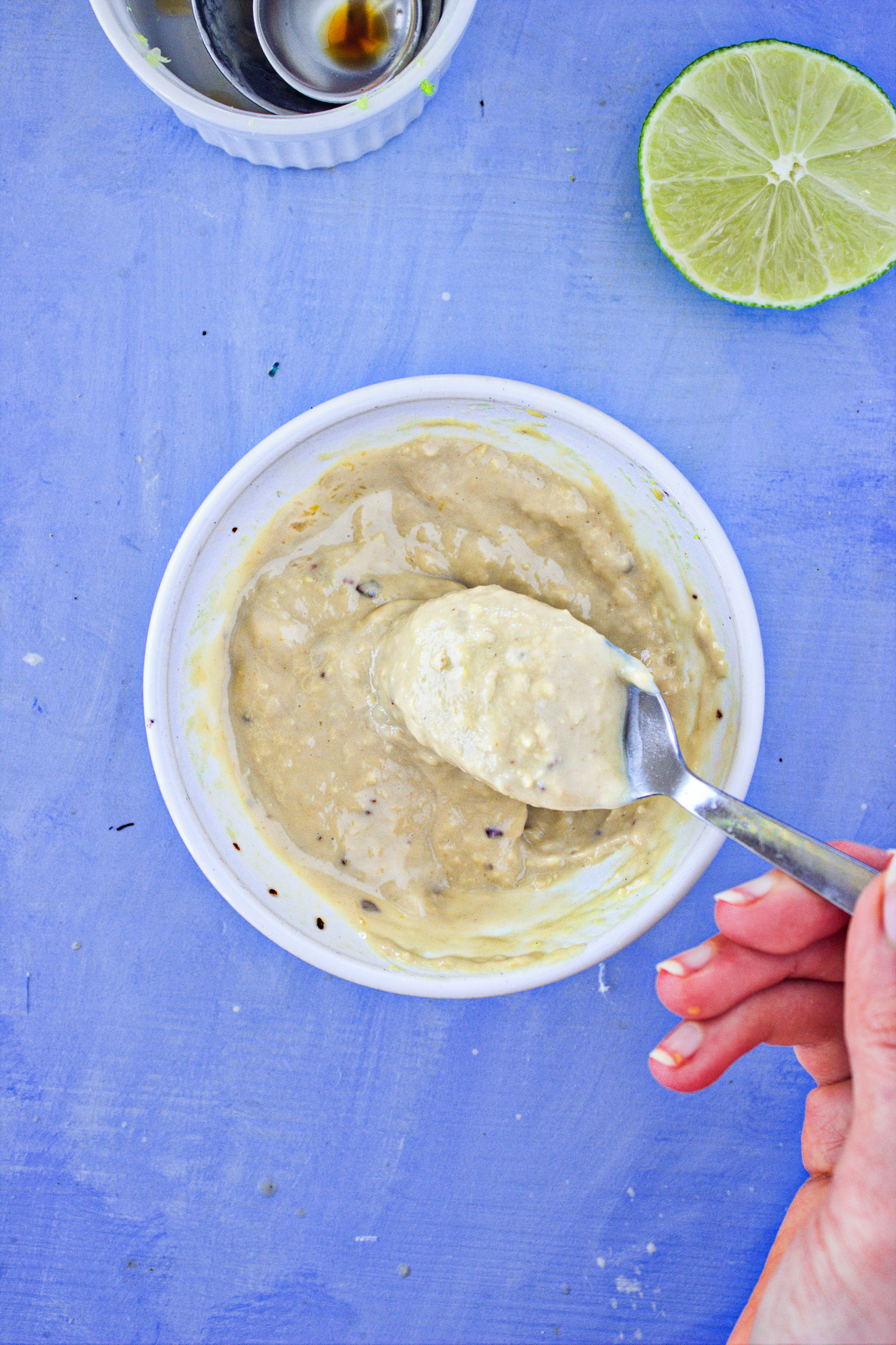 I've decided to start writing allergens with the recipe title because I thought it might be helpful for some of you. I'm not allergic or intolerant to anything myself (at least not to my knowledge), but I know a lot of other people are, especially to gluten, and a good lot of my recipes are actually naturally gluten-free, including these this salad.
Soba noodles are made of buckwheat and have what I feel an "elastic" texture (doesn't sound too appetising, but they're good!) and a slighty nutty flavour. You'd think most of them are gluten-free, but some variaties of soba noodles actually do contain gluten because they're made with a mix of wheat and buckwheat flour. I once picked up a packet from an Asian grocery store, only to come home and realise it was made with 80% white wheat flour. Not cool! So look out for that if you're intolerant to gluten (or are trying to avoid refined flours)!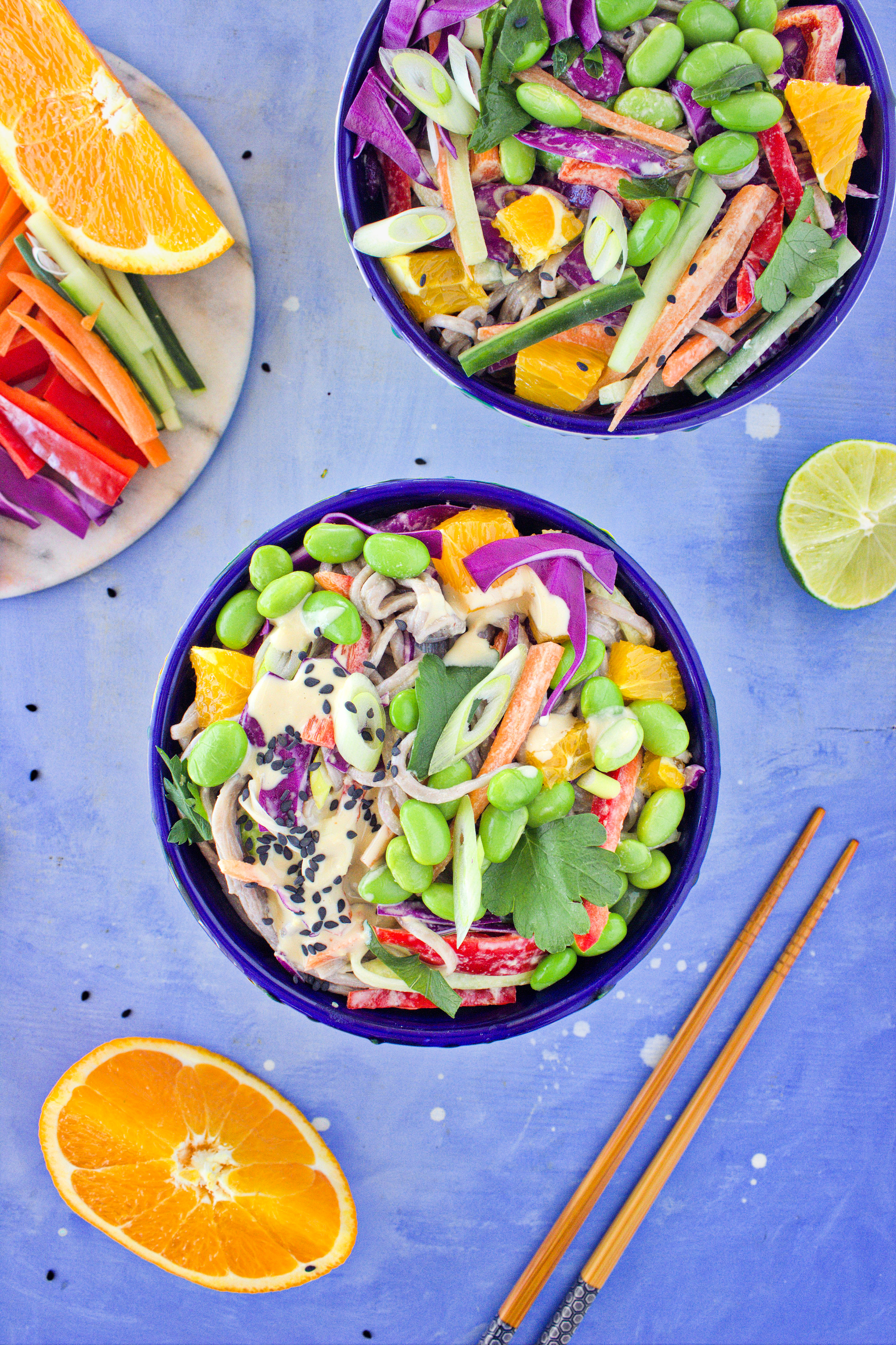 This salad is filled with rainbow veggies, it's so crunchy, tangy, and spicy, but still comforting and satiating, the perfect lighter meal for warmer days where you want something cold with lots of raw vegetables. It involves a lot of chopping (cue the "chopped salad"), but if you're like me, you'll find that quite meditating to do, and if you're not, you can use an attachment on your food processor to speed things up. I have some extra stuff for mine that I haven't used, yet, but I should be able to shred veggies and the like with it.
And the pictures for this recipe are very colourful, like the salad. Not quite sure if I like it. But I discovered a very cool thing in the middle of my photoshoot. I was making a mess (nothing new there) and splattering lime juice all over my background. Before I even had a chance to wipe it off, it had eaten away at the blue paint, leaving white blotches behind. And I was like, this actually looks pretty cool. So then I purposefully sprinkled the background with more lime juice. Just a little DIY hack, I guess.
If you're looking for more lunch or dinner recipes, check out my Lunches/Dinners category!
If you try this Chopped Soba Noodle Salad with Sesame Orange Tahini Dressing, don't forget to rate it, leave a comment below, and take a picture of your salad and tag me on Instagram. My profile name is @spirendeveganer. I'd love to hear your thoughts and see your creation!
Take good care and I'll see you next week!
Love, Lea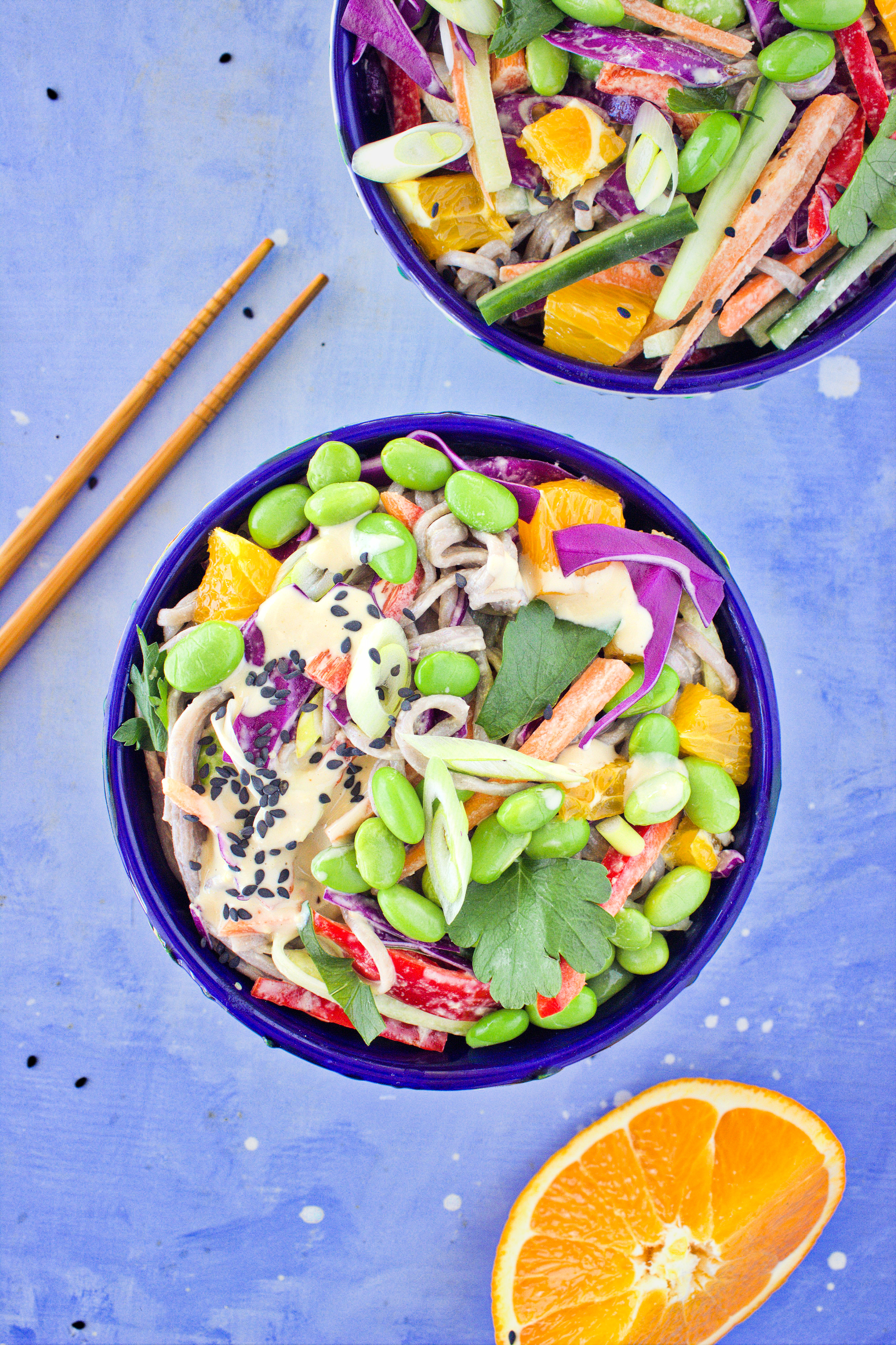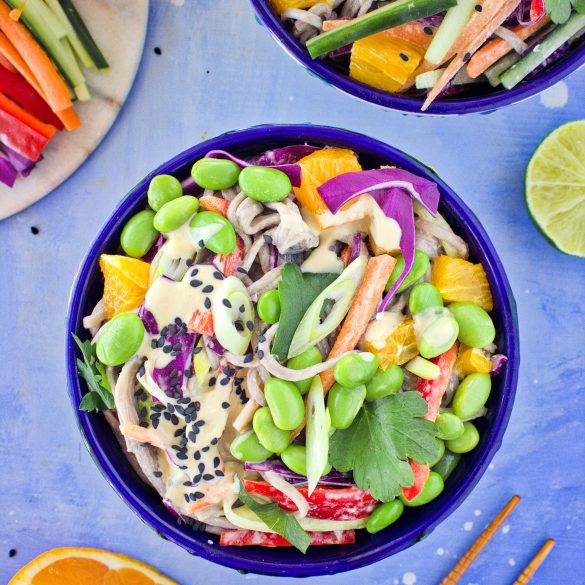 Ingredients
Soba Noodle Salad:
160 g dry soba noodles (GF if needed)
120 g frozen edamame beans, cooked
80 g red cabbage, thinly shredded
80 g red pepper, cut into thin strips
80 g carrot, cut into thin strips
40 g cucumber, cut into thin strips
2-3 green onions, thinly slices
1/2 orange, chopped, optional
Coriander, for serving, optional
Black sesame seeds, for serving, optional
Sesame Orange Tahini Dressing:
3 tbsp tahini
1 tsp finely grated garlic
1 tsp finely grated ginger
3 tbsp freshly squeezed orange juice
2 tsp lemon juice
1/2 tbsp roasted sesame oil
1 tsp soya sauce or tamari
A pinch of dried red chilli flakes, optional
Method
Cook your soba noodles according to package instructions. Once done, drain and rinse well with cold water to cool and prevent from sticking together.
In the meantime, make the dressing: in a small bowl, whisk together all the ingredients until smooth and creamy. It should be on the thicker end because it will thin when you mix it into the salad.
Place the red cabbage, red pepper, carrot, cucumber, and green onions in a large bowl, pour over the dressing, and mix well. Add the cooked soba noodles, edamame beans, and orange, if using, and mix again. Serve with coriander and black sesame seeds.
Store in an airtight container in the fridge for up to 3-4 days.