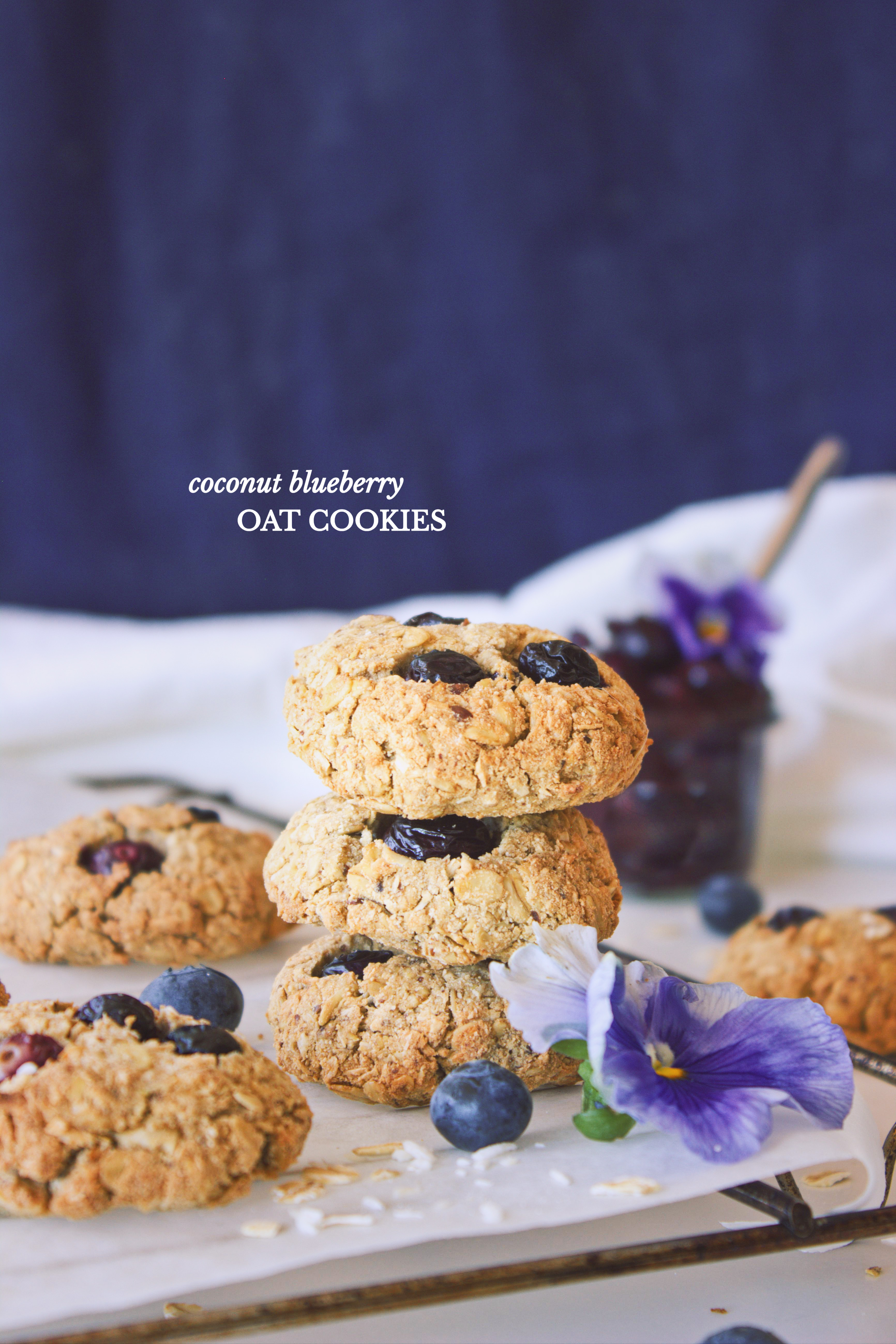 For this recipe, my only mission was to pair the flavours coconut and blueberry, so I put pretty much every single coconut-something ingredient that you can think of into these cookies. You might be thinking, isn't that a little too much? Heck, at times, even I was thinking I might have overdone it with all the coconut, but coconut is a great flavour, and if you like coconut, well, I think you'll like this recipe!
My mission did turn out to be more challenging than first anticipated because I soon entered a lengthy battle with coconut flour. I made several batches of cookies that ended up falling completely apart because it was absorbing all the liquid like a freaking sponge. It was only after doing some much-needed reading about this challenging, but, when used right, quite lovely flour, that I finally nailed it.
The nice, clean coconut flavour and perfect amount of sweetness from the coconut blossom sugar against the tangy burst of blueberries make a wonderful combination. These cookies would be a fabulous, healthy on-the-go snack or a light breakfast with jam and plant milk. For my photoshoot, I made some chia seed jam as a prop, but it was so delicious on the cookies that I'm going to share the recipe for that, too.
Tips and tricks
Use small blueberries. While I was struggling to get the batter right, it didn't exactly help that I was also using the freaking most gigantic blueberries I have ever seen in my life. Smaller is better here. That way the blueberries won't break your cookies and you can fit three inside one.
If the batter is crumbly and breaks when you try to form it into a cookie, add a tablespoon more coconut milk at a time until it's easy to work with. You don't want it to be really wet, just enough to stick together without any without having to fight for it. If they're already falling apart when you put them into the oven, they're not going to stay together once you pull them out.
If you like your cookies a little sweeter, add one or two more tablespoons of maple syrup or serve them with some jam.  If you're looking for an easy, healthy alternative to store-bought jam, my 2-Ingredient Blueberry Chia Seed Jam is coming to the blog next week.
If you're looking for more snack ideas, check out my No-Bake Peanut, Caramel, and Chocolate Slices and Mini Sweet Potato Pizzas!
If you decide to try these Coconut Blueberry Oatmeal Cookies, let me know what you think about them. Rate the recipe, leave a comment below, and take a picture of your cookies and tag me on Instagram. My profile name is @spirendeveganer. I'd love to hear your thoughts and see your creations!
I'll see you next week, Sprouts!
Love, Lea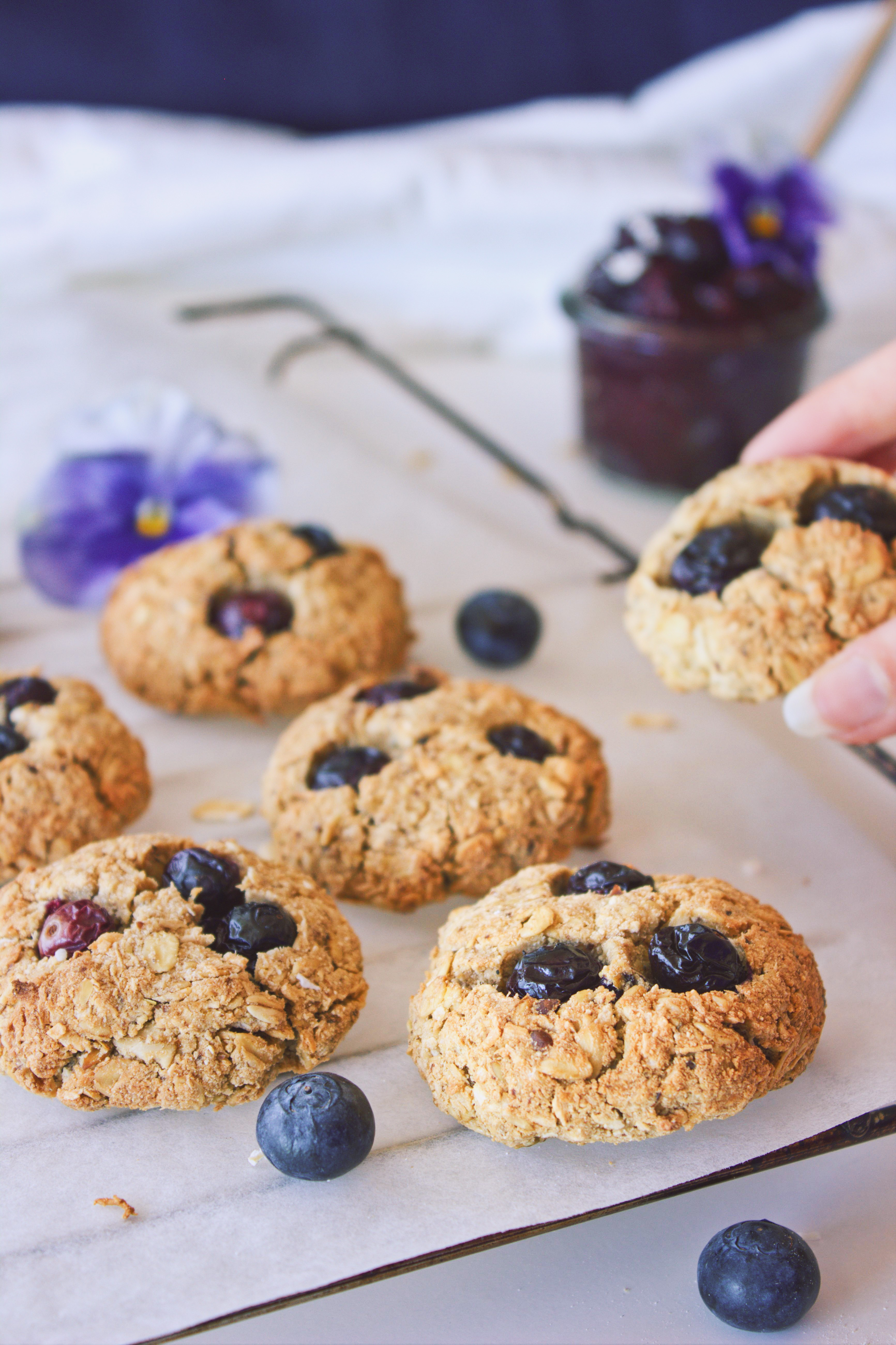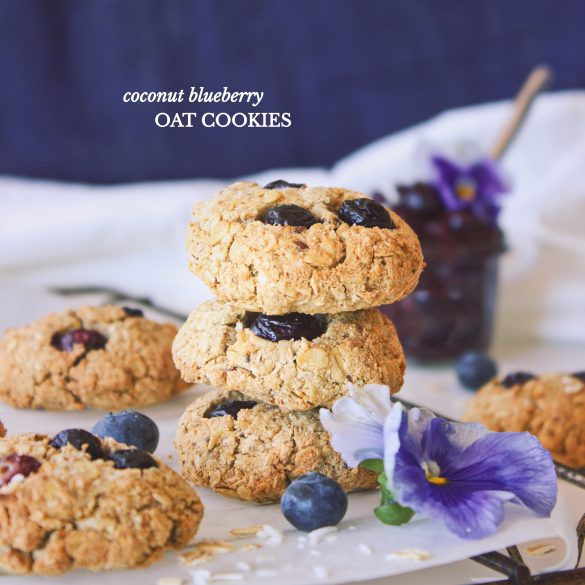 Ingredients
80 g rolled oats, 4/5 cup
30 g coconut flour, 1/4 cup
25 g desiccated coconut, 1/4 cup
1/4 tsp baking soda
A pinch of salt
125-150 ml full-fat coconut milk, 1/2-1/3 cup
30 g coconut blossom sugar, 1/4 cup
1 tbsp unrefined coconut oil
1-2 tbsp maple syrup
1 flax egg (1 tbsp ground flax seeds + 2.5 tbsp water)
50 g freshblueberries, 1/2 cup
Method
Start by making a flax egg: in a small bowl, combine the flax seeds and water and set aside to set while preparing the other ingredients.
Preheat your oven to 175ºC (350ºF), fan setting, and line a baking tray with parchment paper.
In a bowl, mix the oats, coconut flour, desiccated coconut, baking soda, and salt well.
Place the coconut milk, coconut blossom sugar, and coconut oil in a small pot and gently warm over medium-high heat until melted. Pour over the dry ingredients, add the flax egg, and mix until all the oats are incorporated.
Using 2 tbsp batter and 2-3 blueberries per cookie, roll into balls between the palms of your hands and flatten into cookies. Place on the lined baking tray and bake in the oven for about 20-25 minutes or until golden and firm. Remove from the oven and allow to cool for 5-10 minutes before serving. The cookies will be soft at first, but should crisp up as they cool.
Store in an airtight container at room temperature for up to 2-3 days. They will lose their crispiness while sitting, but if you bake them in an oven preheated to 175ºC for 5 minutes, they will be both crispy and warm again.