Here's some extra food inspiration this week! If you often find yourself wondering what to snack on, this is a fun idea that can be customised completely to your liking. Meet the lazy and simple, but oh so tasty, version of pizza: mini sweet potato pizzas – along with five topping ideas!
I would say my obsession with sweet potatoes is almost unhealthy, so I have come up with a way to ~balance~ my meals a little more. Which is mini sweet potato pizzas (or toasts)! I thought it would be such a cute idea to slice a sweet potato and use the slices as mini pizza crusts. Who needs bread? I'm kidding, please, don't kill me for writing that. I'm a bread-lover myself. (Although sweet potato is better. Even if you were to kill me, I wouldn't retract that comment.)
Since it's currently my winter break, I wanted to treat you guys and post an extra recipe this week. I love posting consistently, and according to my blog statistics, you like it as well. I'm so grateful for all your support. I hit 300 followers on Instagram recently which was actually my intention for 2019, and it hasn't even been 2 months. I guess I need to reevaluate my goals…
Get creative with the toppings
When it comes to mini sweet potato pizzas, there is an endless amount of combinations you can put together, both savoury and sweet. I think it's fun to get creative with it and use whatever you have in the fridge at the moment as toppings.
This is not really a recipe, but more an idea or just a general concept that you can customise and make your own in so many ways. It's so easy and fun to make, but so tasty. You can come up with so many different toppings for your mini sweet potato pizzas. In this blog post, I'm sharing five combinations that I really like, but I have so many more. If you wanted it, I could make another blog post with five more ideas in the future!
If I had to pick my favourite from these five, it would be hard… but the sriracha mayo kimchi one actually really surprised me. It was so flavourful, so I definitely recommend you try it!
I'd love to hear from you!
If you decide to try making mini sweet potato pizzas, wether you try my topping ideas or make your own, I'd love to hear your thoughts and see your creations. Leave a comment below, take a picture of your pizzas, and tag me on Instagram: @spirendeveganer. I hope you like this fun snack idea. Otherwise, take care until this Friday's "real" recipe.
Love, Lea

Mini sweet potato crusts
You only need one ingredient for the crust… and if you haven't guessed what ingredient, well, 1) you're not very clever, and 2) it's sweet potato!
Ingredient
Method
Preheat your oven to 200°C and line a baking tray with parchment paper.
While the oven is preheating, cut a sweet potato into 1 cm/0.4″ slices. I recommend using the largest you can find. Cut as many slices as you would like pizzas. If you making enough for a snack, maybe 2-3 slices, and if you're making enough for a meal, 5-6.
Place the sweet potato slices on the prepared baking tray and bake them in the oven for about 25 minutes or until tender.
5 topping ideas
Once you've baked your pizza crusts, you're ready to top your pizzas, or you can let them cool down depending on what toppings you're using. Below I have five topping ideas for you, but I encourage you to get creative and try your own combinations!
Vanilla berry
Ingredients
mini sweet potato pizza crust
jam of your choice, I used raspberry chia seed jam
strawberries or raspberries or blueberries, whole or chopped
vegan vanilla yoghurt (I used my vanilla sauce which is coming to the blog soon!)
freeze-dried strawberries
coconut flakes
Method
Spread some jam on your pizza crust, top it with strawberries, yoghurt, freeze-dried strawberries, and coconut flakes, and enjoy!
Sriracha mayo and kimchi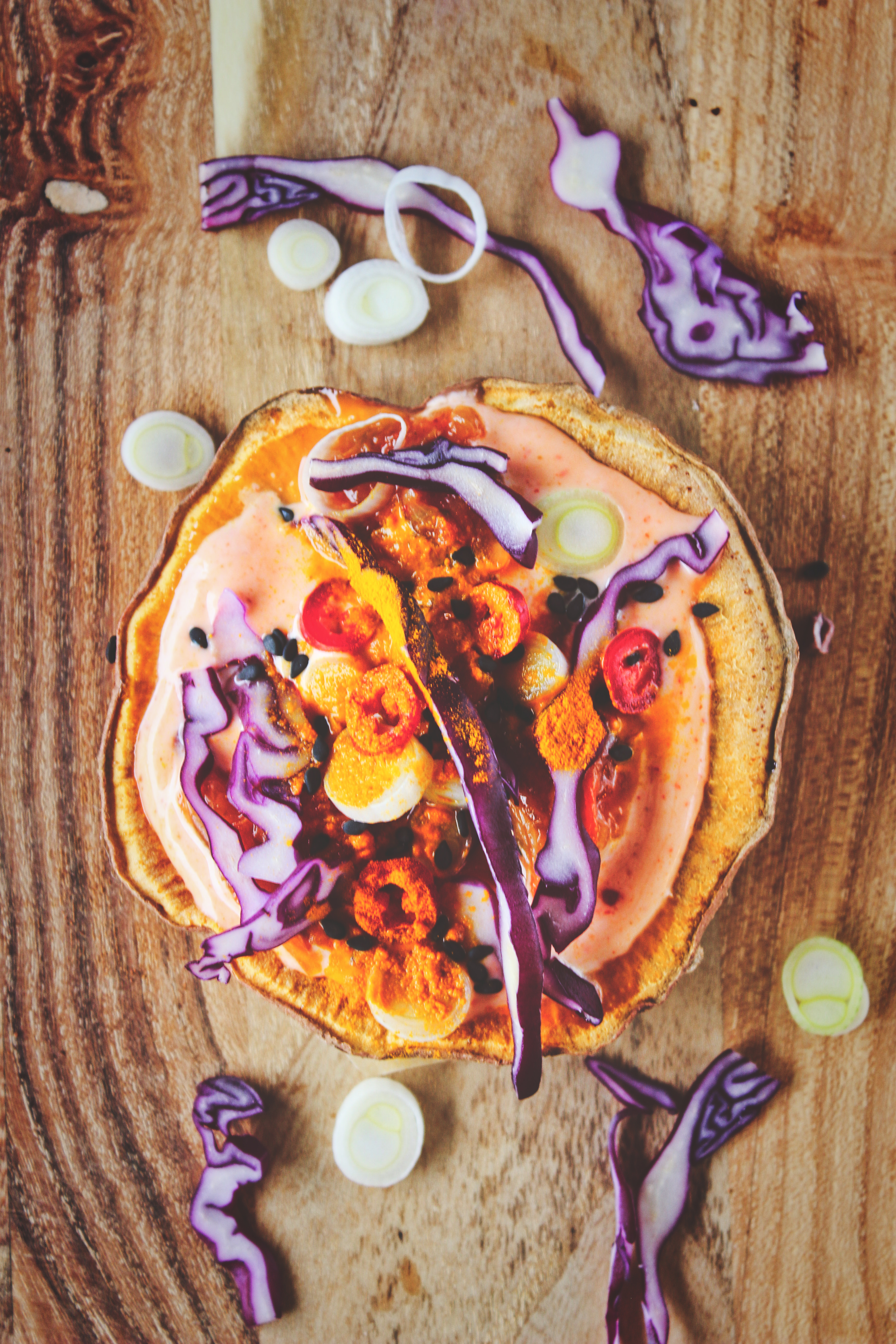 So I accidently put ground turmeric on this pizza even though it was supposed to be dried red chili flakes… Well, we all know how healthy turmeric is, so I guess it's all good!
Ingredients
mini sweet potato pizza crust
sriracha mayo (vegan mayonnaise + sriracha)
vegan kimchi (make sure it doesn't contain fish sauce)
red cabbage, shredded
green onion, thinly sliced
red chili, thinly sliced
sesame seeds
dried red chili flakes (or, you know, just dump some ground turmeric on your pizza for good measure)
Method:
Spread some sriracha mayo on your pizza crust, top it with kimchi, red cabbage, green onion, chili, sesame seeds, and chili flakes, and enjoy!
Mushroom and pepper
Ingredients
mini sweet potato crust
1-2 medium cremini mushrooms, sliced
salt and pepper
tomato paste
red pepper, chopped
vegan cheese, I used Violife, optional
basil
Method
Add the mushrooms to a pan with a splash of water and fry them for a couple of minutes until they're soft and the water has evaporated.
Spread some tomato paste on the pizza crust, top it with the cooked mushrooms, red pepper, and vegan cheese, and place the pizza back in the already warm oven (from baking the mini sweet potato crusts) until the cheese has melted. I actually found that the cheese melted better in the microwave, so you can also microwave it for 30-60 seconds.
Top the pizza with basil and enjoy!
Yoghurt and granola
Ingredients
mini sweet potato pizza crust
vegan yoghurt
store-bought or homemade granola
fruit(s) of your choice, chopped
cacao nibs
Method
Spread some yoghurt on your pizza crust, top it with granola, fruit, and cacao nibs, and enjoy!
Cinnamon peanut butter and banana
Ingredients
mini sweet potato pizza crust
smooth or crunchy peanut butter
banana, sliced
roasted peanuts, chopped
ground cinnamon
Method
Spread some peanut butter on your pizza crust, top it with banana, peanuts, and cinnamon, and enjoy!