This vegan shortcrust pear pie is straightforward, easy to make, and simply delightful. Sweet pears are encased in a buttery soft pastry and baked until perfect tenderness. For pear season, it's the perfect simple dessert that everyone will enjoy, especially served with a dollop of vegan whipped cream or scoop of vanilla ice cream.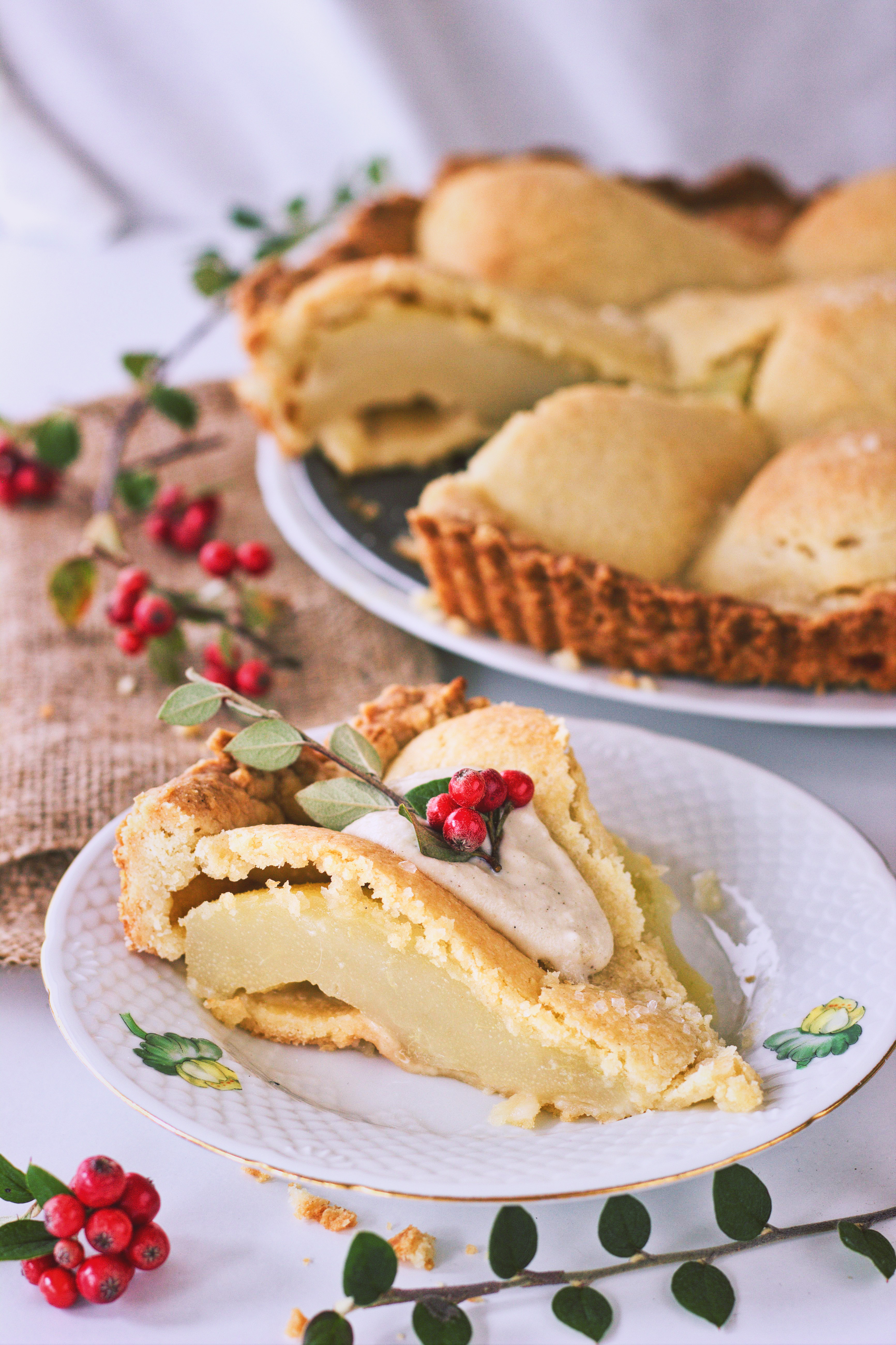 Pears are OK. They're not on my top 5 list of my favourite fruits. But no one can argue that they aren't freaking delicious when they're peak in season, fresh, juicy, ripe, and encased in a soft, and crispy at the same time, VEGAN SHORTCRUST PASTRY. My mum made this pie a few times when I was younger. It wasn't often, but we all enjoyed it when she did. Since then I'd wanted to make it again – but vegan.
It wasn't as hard to veganise as you'd imagine. Yes, the pastry is 30% butter. That's A LOT. But that was solved easily with vegan butter. There's also an egg in the original recipe. I just didn't use it, and it didn't seem to make a difference. The pastry is still just as sugary, buttery, and mouthwatering delicious.
This pear pie is so ridiculously simple to make. It has 5 INGREDIENTS, Sprouts. The first time I made it, the pastry was very hard to roll out and almost broke, but the next time I found a method that made it so much easier. There was no fuss, no broken pastry, and no need for any more than two hands to put it all together.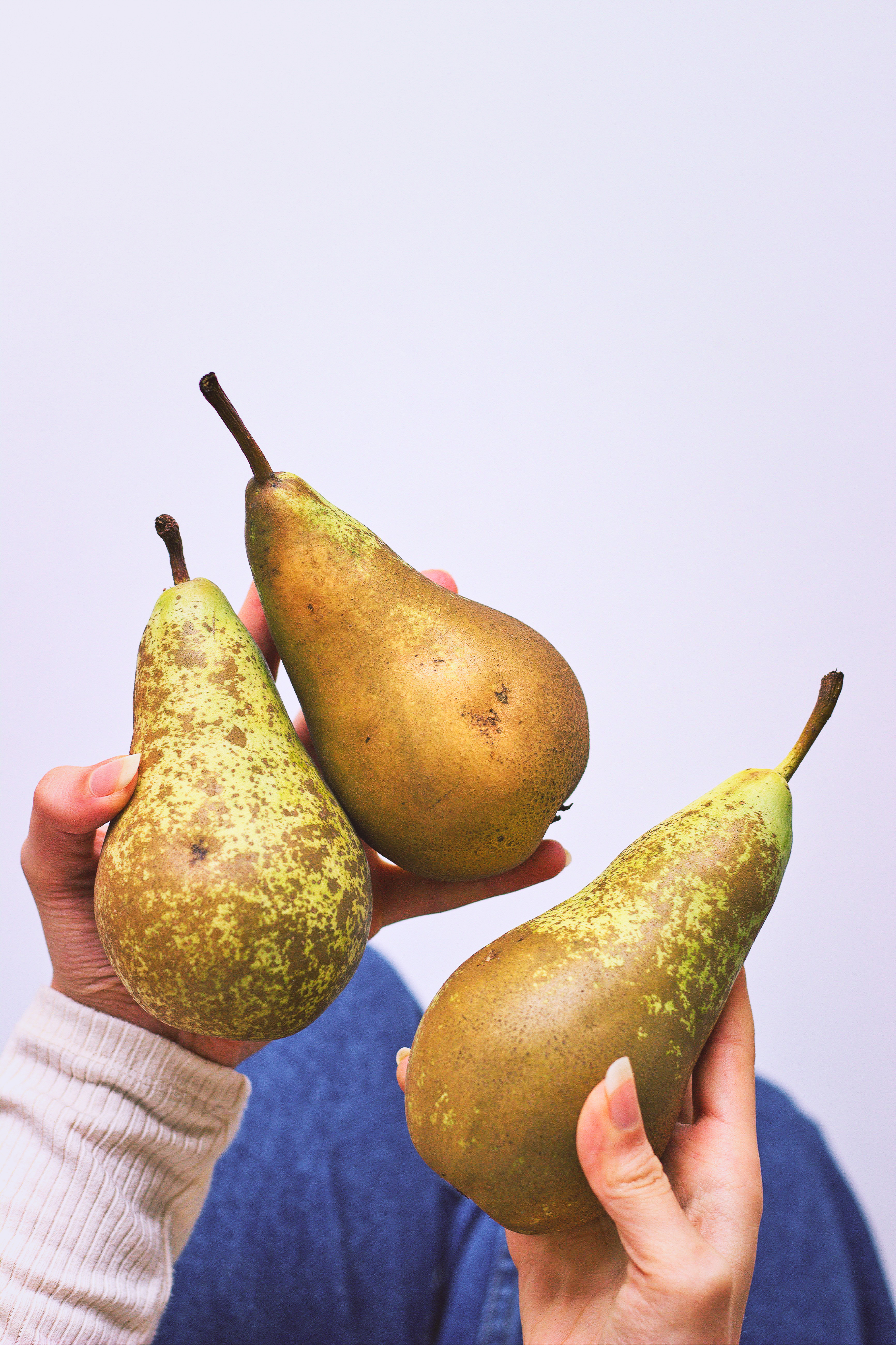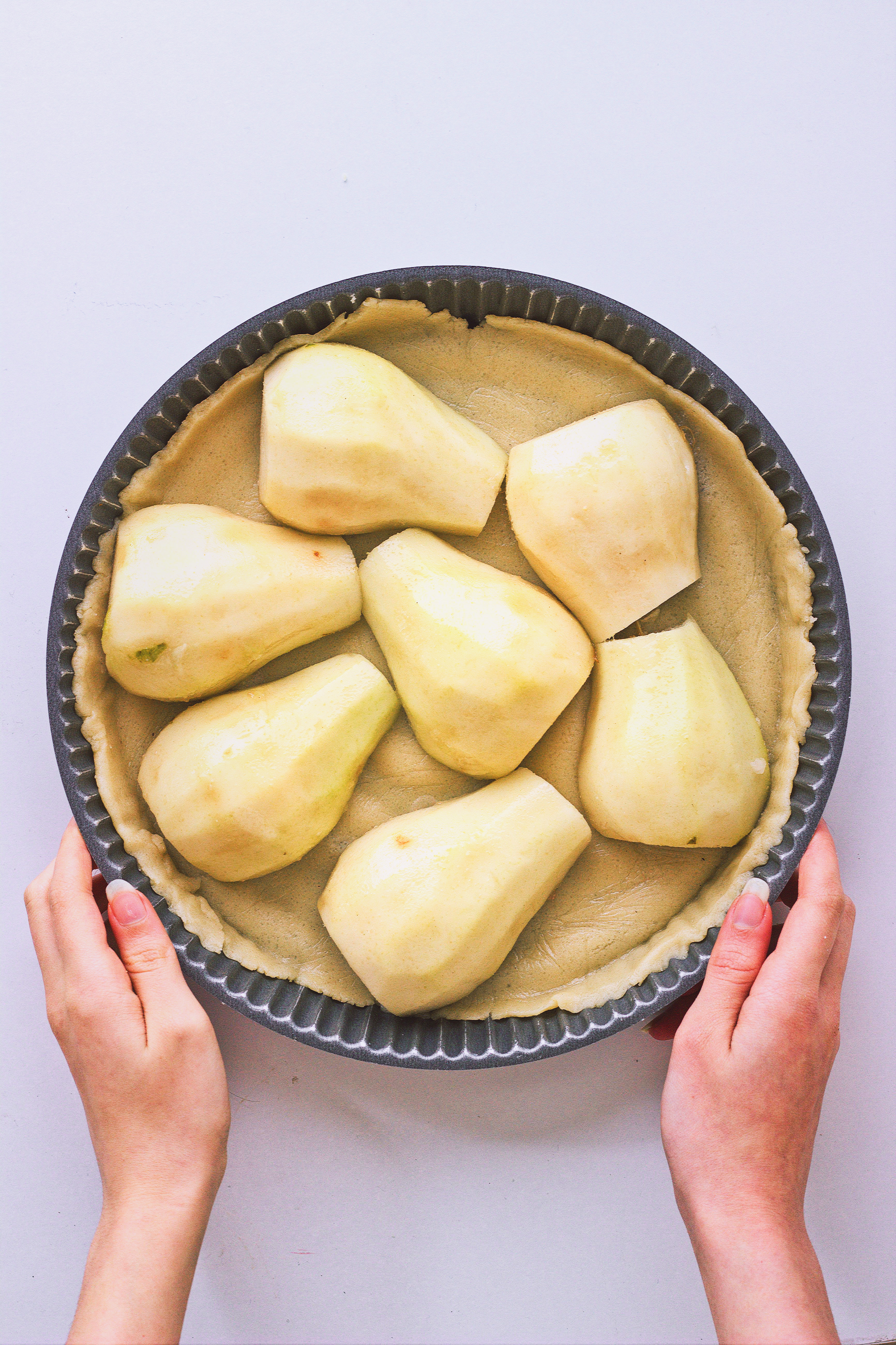 This pie is not the prettiest one you've ever seen. I had to be creative to make this pie look even remotely attractive for the camera, so I cut some random branches from my garden with bright red berries to add a splash of colour. But if you still think the aesthetics aren't quite bringing this pie home, the smell when it's baking in your house will definitely do so.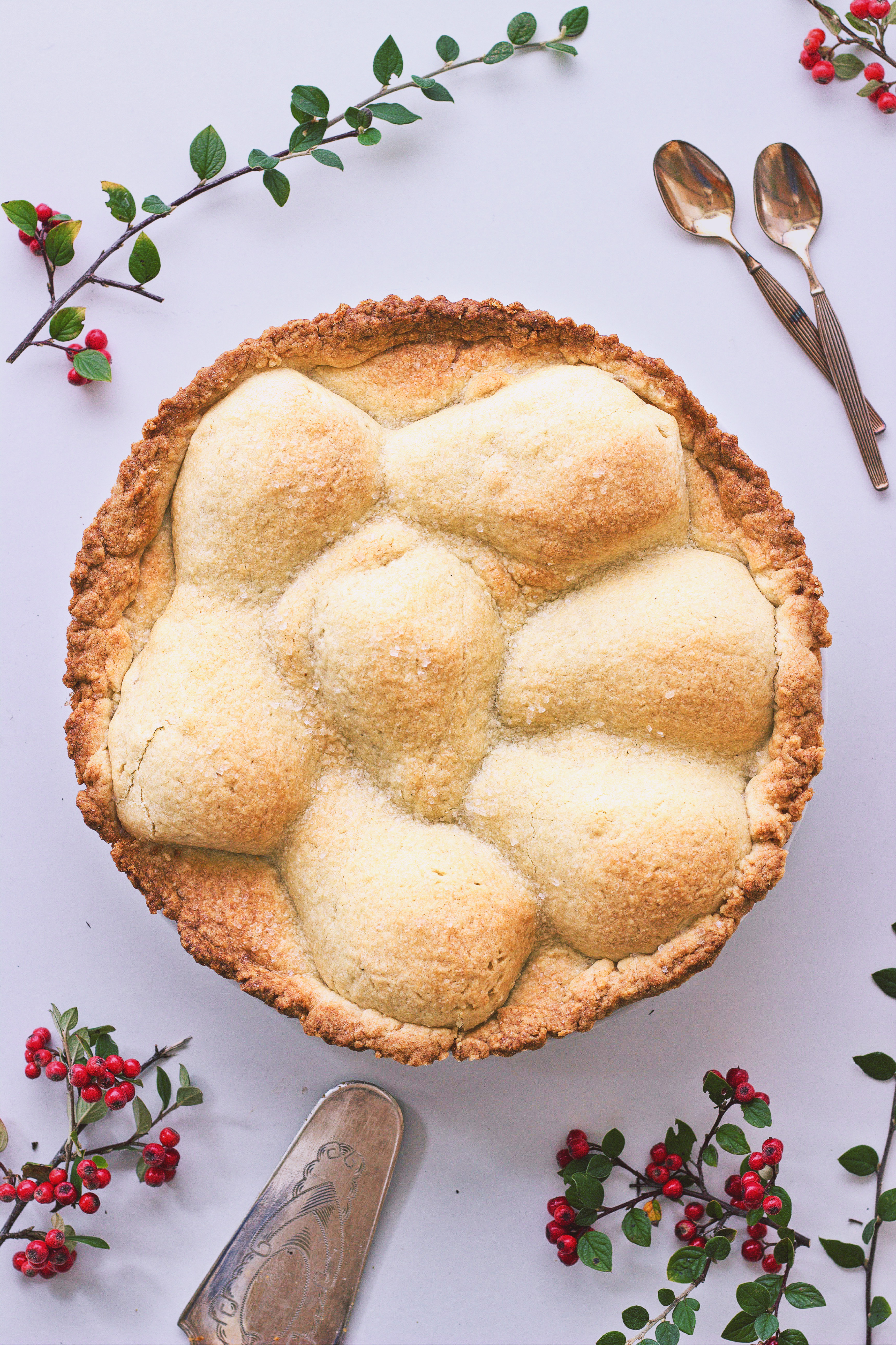 My mum likes to have "something" with this type of dessert, so if you're like her, you can serve this pie with whipped coconut cream, store-bought vegan whipped cream, vanilla ice cream, or even just vegan yoghurt. I, however, enjoy it perfectly well on its own. The vegan pastry is freakin' phenomenal, Sprouts!!!
Looking for more simple desserts or treats? Check out my extremely delicious Pecan Date Caramel Bun with Caramel Sauce and other veganised favourite Cinnamon Cake with Cocoa Icing!
If you try this recipe, let me know what you think about it. Rate it, leave a comment below, and take a picture of your pie and tag me on Instagram. My profile name is @spirendeveganer. I'd love to hear your thoughts and see your creations!
Love, Lea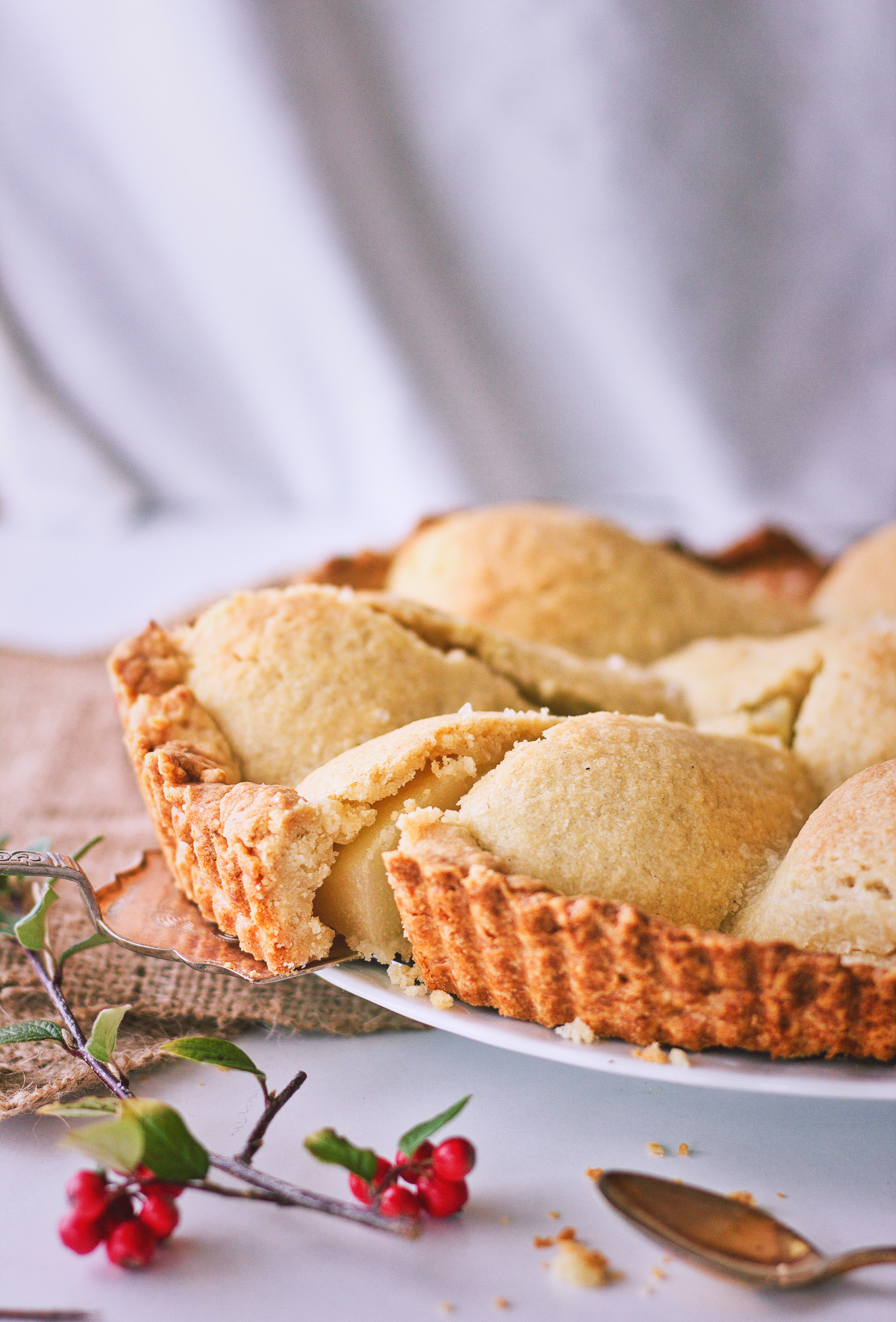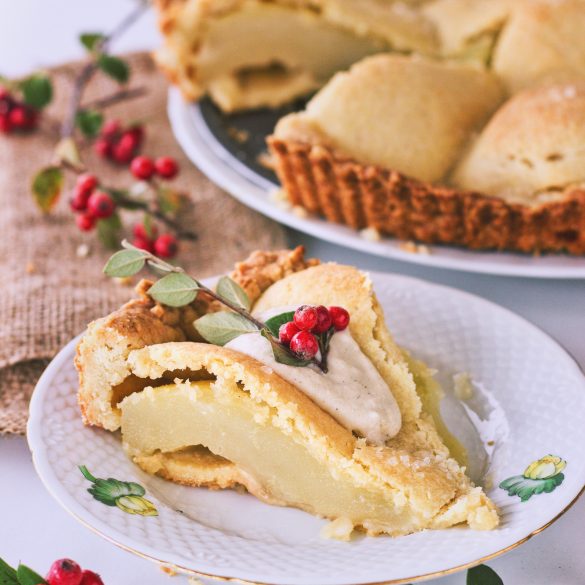 Ingredients
250 g all-purpose flour, 2 cups
100 g granulated sugar, 1/2 cup
1 tsp vanilla sugar
150 g cold vegan butter, cut into cubes, ~2/3 cup
4 pears, peeled, halved, and core removed
pearl sugar (optional)
Method
Combine the flour, granulated sugar, and vanilla sugar in a large bowl. Add the butter and knead it into the flour-sugar mixture until you have a smooth pastry. If needed, add 1 tbsp cold water at a time and knead again to help the dough come together. Place in the fridge for at least 1 hour before using.
When you're ready to assemble and bake the pie, preheat the oven to 180°C (360°F), fan setting, and grease a 26 cm/~10 inches pie pan with vegan butter or coconut oil.
Divide the pastry into 2 portions, one slightly larger than the other, and shape into balls. Place a sheet of plastic wrap on a flat, solid surface, the slightly smaller portion pastry on top, and another sheet of plastic wrap over the pastry. Roll out into an about 0.5 cm/0.2 inch thick, large circle with a rolling pin. The plastic wrap will prevent the pastry from sticking to the rolling pin and make it easier to roll it out without breaking it. If it isn't a perfect circle, it's OK.
Remove the top plastic wrap and flip the pastry into the greased pie pan. I took the ends of the baking mat I'd rolled it out on and flipped it over the pie pan, letting the pastry fall into the bottom of it. Remove the remaining sheet of plastic wrap. Press the pastry into the sides to shape the crust, trying to get it as even as possible. Arrange the pears core side down on top.
Roll out the slightly larger portion pastry the same way you did before, flipping it over the pears. Press the edges down to meet the bottom pastry. If you'd like, sprinkle over some pearl sugar. Bake in the oven for about 35 minutes or until slightly golden and the edges are crispy. Let it cool for 5 minutes before serving.
Serve warm with, for example, vegan yoghurt, whipped cream, vanilla ice cream, or enjoy as is.
Store leftovers in the fridge for up to 2-3 days, although it's best eaten immediately.