Look no further for your new go-to autumn breakfast – this less-than-5-ingredient Sweet Potato Pudding made in 5 MINUTES is creamy, sweet, nourishing, and will make you ~glow~ for the colder months to come, plus it has the most BEAUTIFUL orange colour, perfectly matching the outdoor scenery. Vegan, GF, and refined sugar-free.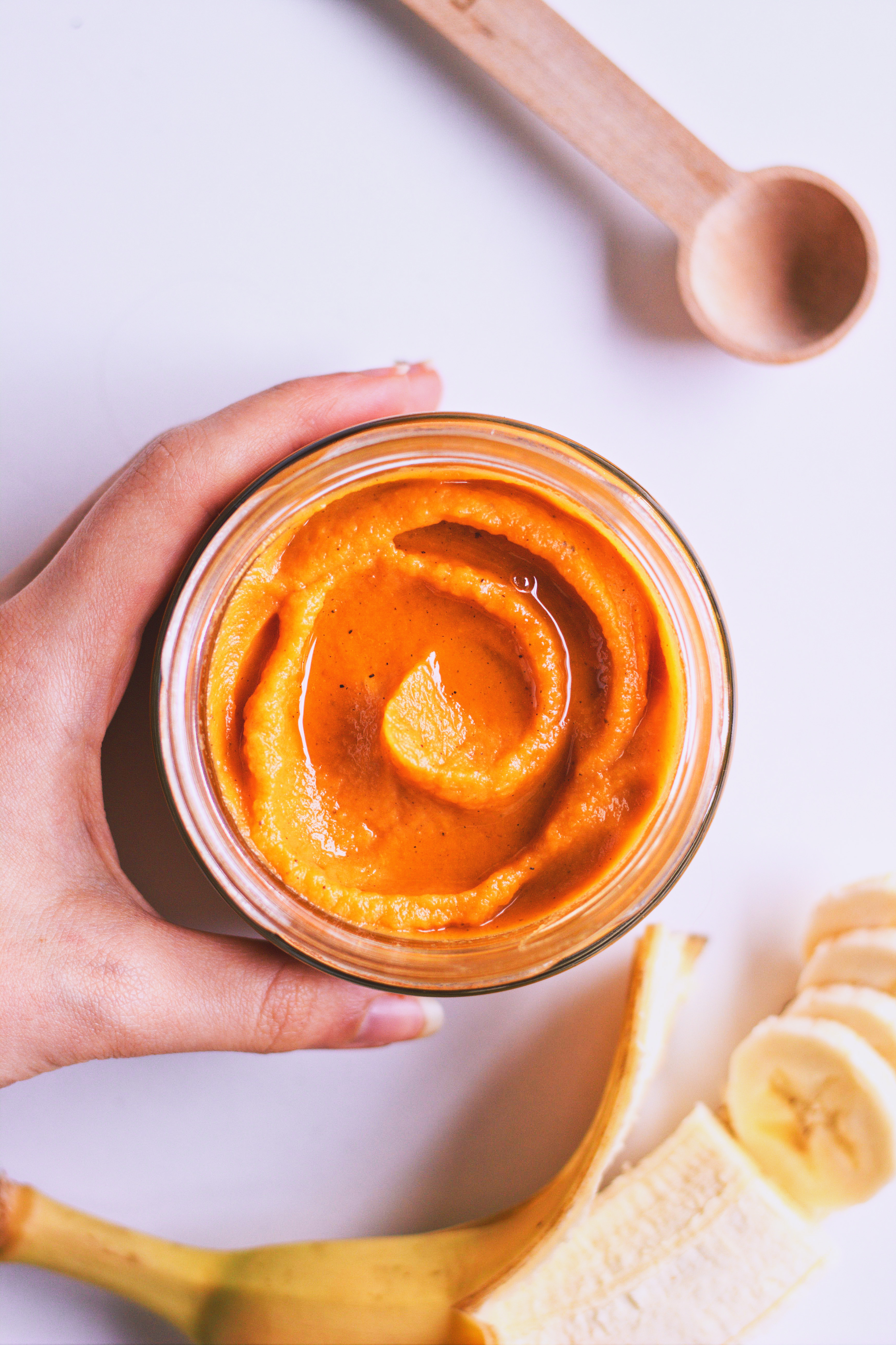 Oatmeal is out. Smoothie bowls are out. Avocado toast, overnight oats, chia pudding, and all other ~trendy~ breakfast you can think of are out. Sweet Potato Pudding is IN! Sweet potato pudding is a delicious concept I started dabbling in a while back, and you need to get in on it, too. Healthy and filling creamy, decadent, and luscious pudding made with sweet potato for breakfast?? Can I get a "Yes, please"!!!
We have now entered autumn, and I can't wait to eat and share all the comfort food with you. I have BIG plans for autumn 2019, Sprouts. It's apples, pears, sweet potatoes, and pumpkins', among others, time to SHINE, and I'm sure lots of people are excited. I know I am.
My autumn breakfast rotation is definitely going to be: sweet potato pudding, apple pie oatmeal, Bircher muesli, pumpkin pie shakes (a recipe idea I'm gonna test and then get back to you!), Spiced Pumpkin Granola, and CINNAMON (yes, cinnamon itself is actually an individual part of my breakfast rotation, totally deserving of its spot).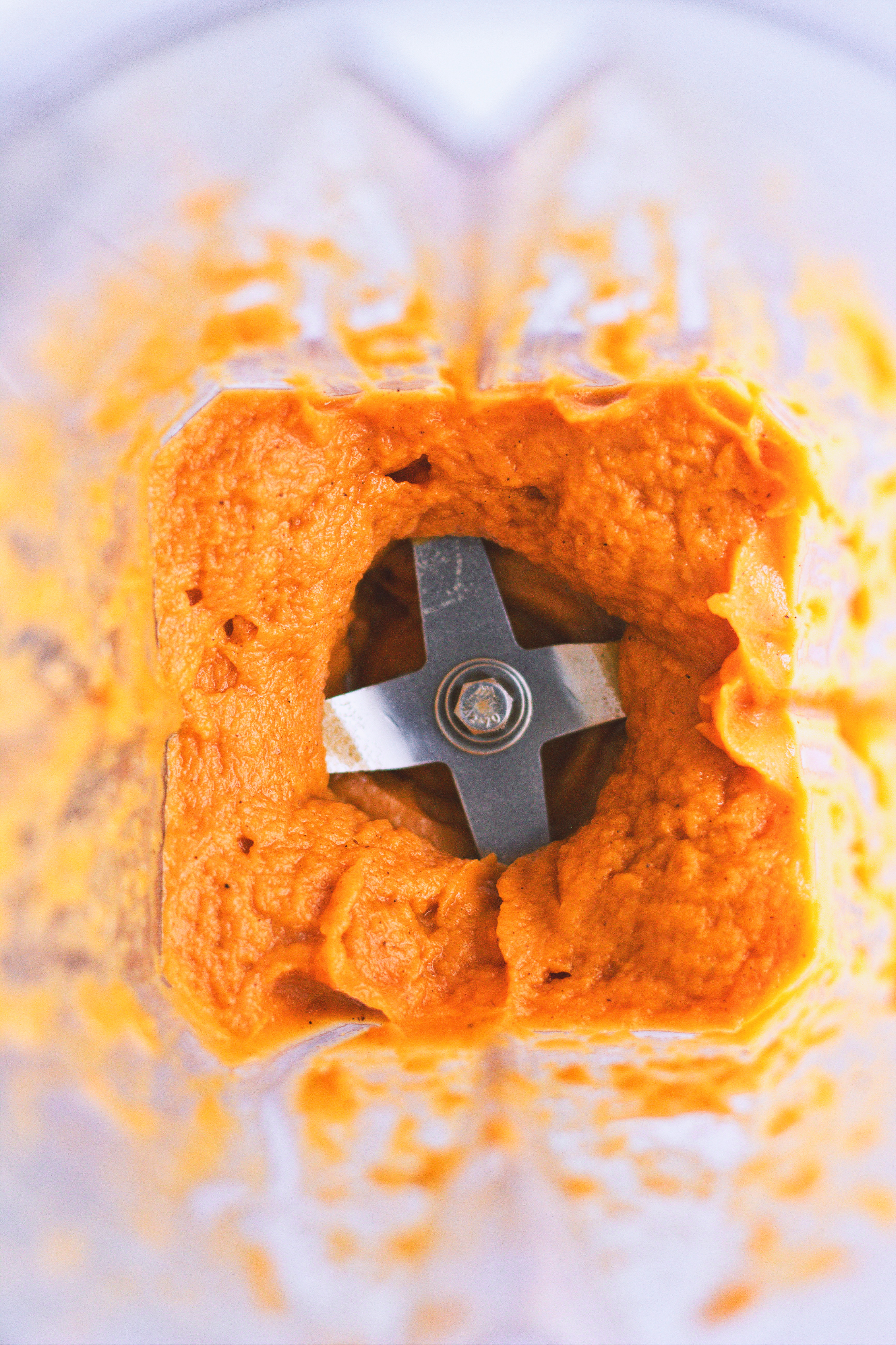 Absolutely crushing the happy autumn vibe for a moment, autumn didn't exactly start out on the best note for me. On September 2, my guinea pig, Beauty, took her last breath. I came home to find her, just moments after she had passed away. It was such a shock. She was only 2 years old. She hadn't been eating the day before, and of course I was worried, thinking about taking her to a vet, but I hadn't expected her to die in 24 hours. She had been perfectly happy and healthy just 2 days before that.
We bought 2 flower bushes and buried her between them, so that we'll always remember her beauty – which she carried inside and out. I'm still mourning her, but I also understand there's nothing I could've done that would have changed what has happened. Now I'm focusing on spending even more time with Chloé, my other guinea pig, who is now, for the time being, alone.
Beauty, even though we only got one year together, I came to love you so very much. Sweet dreams, baby.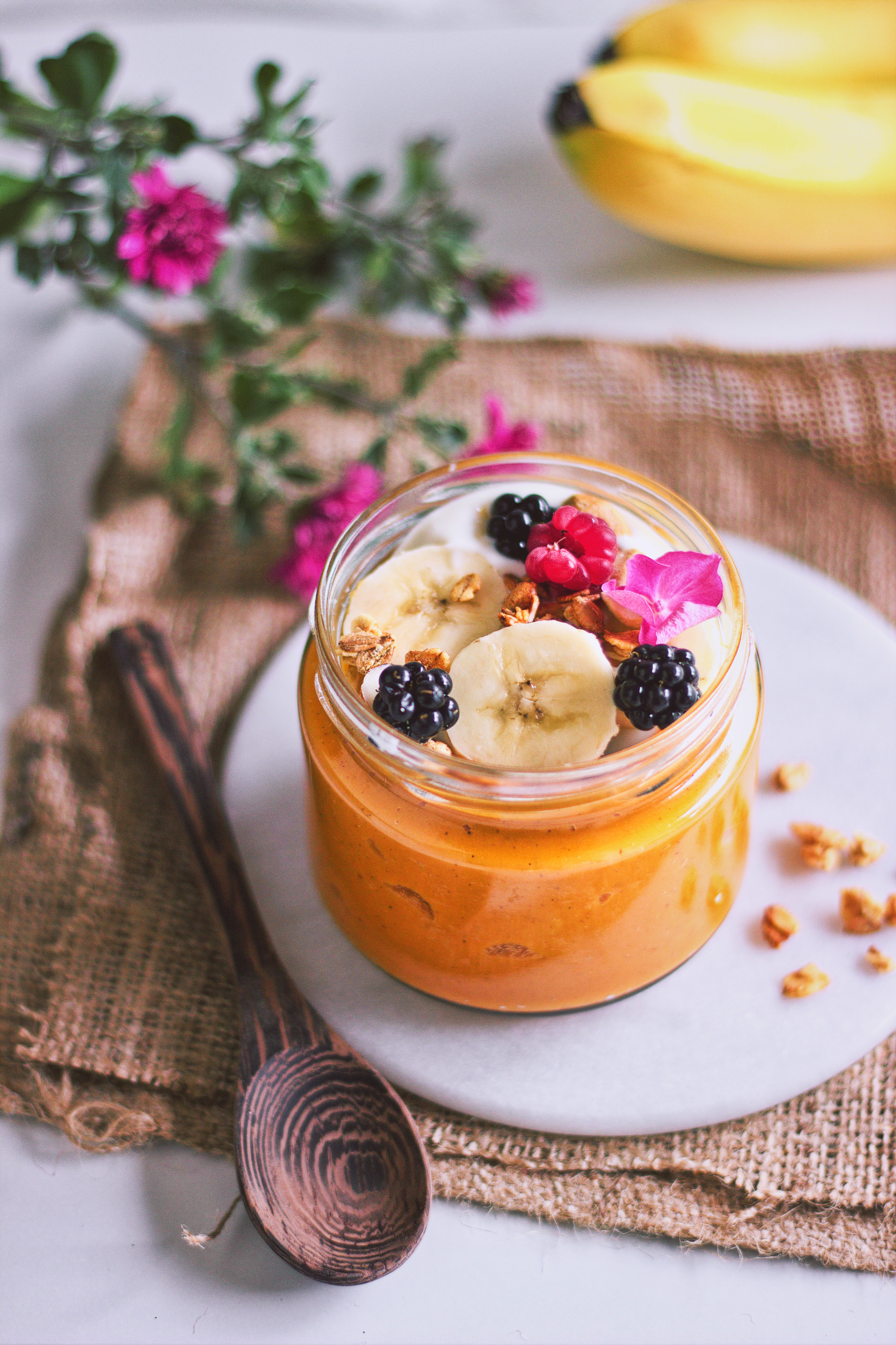 Anyway, enough about the sad stuff. This pudding is radiating autumn, beautiful orange colour, and vitamin A, and I hope you're willing to try it even though potatoes in a sweet breakfast might seem weird. Topped with crunchy granola and fresh fruits, this really is an absolutely lovely autumn breakfast!
And if you're looking for more healthy perfect-for-autumn breakfast ideas, check out my decadent Whole-Grain Walnut Banana Bread, warming Orange Chocolate Oatmeal, and zesty Orange Almond Overnight Oats!!
I hope you love this sweet potato pudding as much as I do. If you try it, let me know what you think about it. Rate the recipe, leave a comment below, and take a picture of your pudding and tag me on Instagram. My profile name is @spirendeveganer. I'd love to hear your thoughts and see your creations!
Love, Lea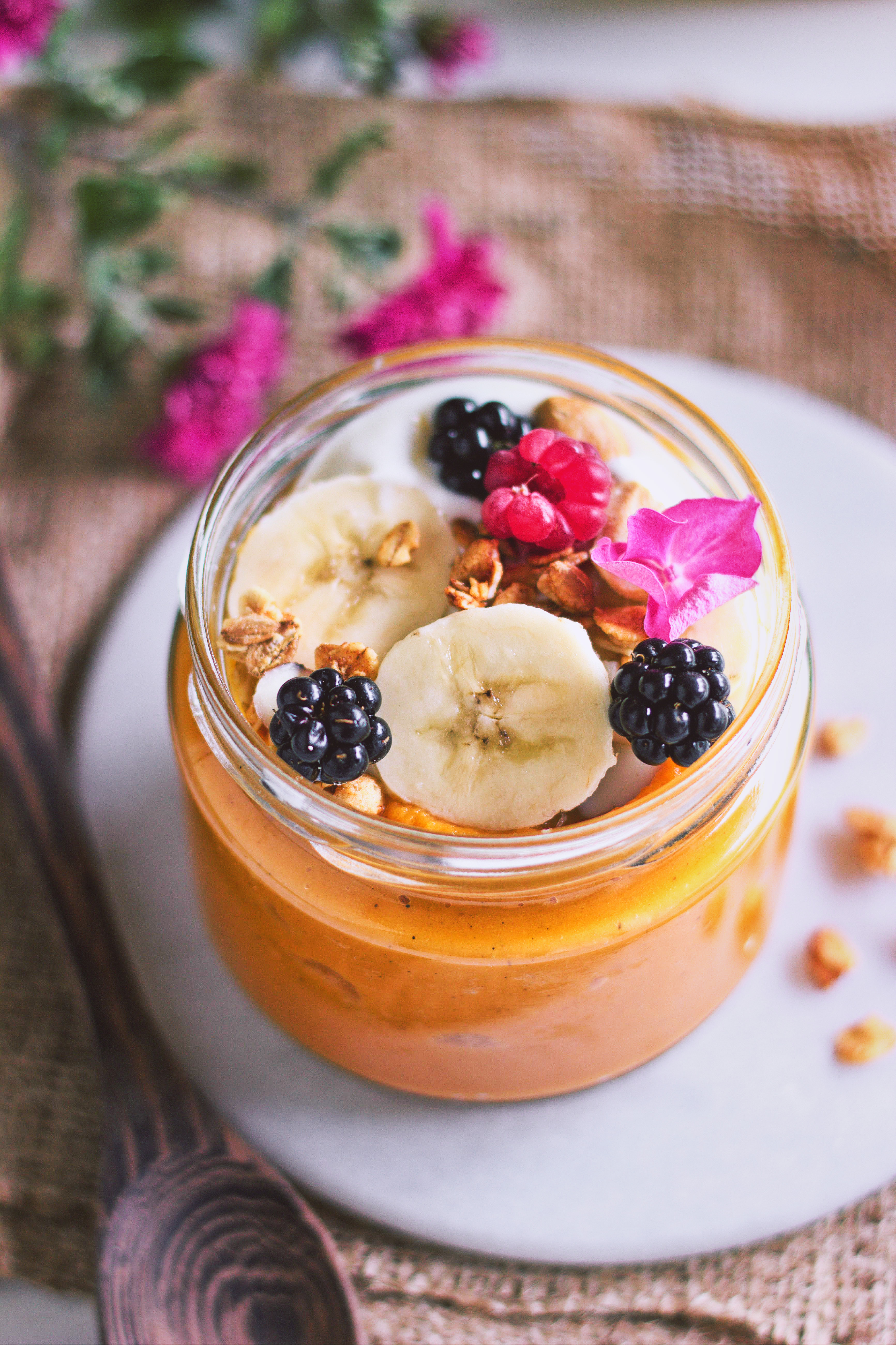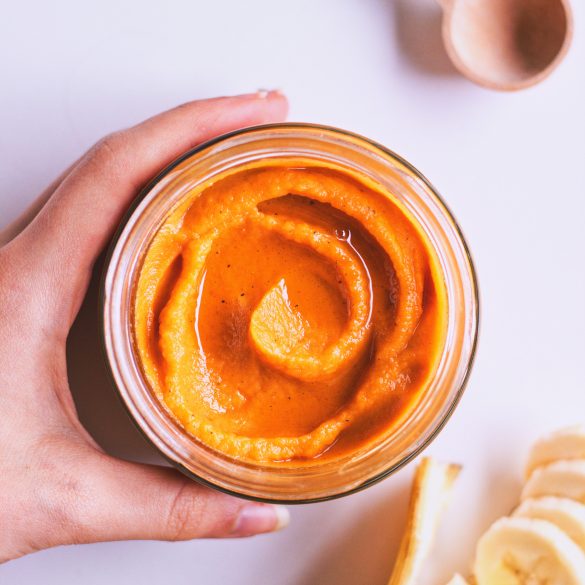 Ingredients
200 g baked peeled sweet potato, 1 cup

(see notes)

1/4 tsp vanilla bean powder or ground cinnamon

(optional)

a pinch of salt
75-100 ml non-dairy milk, 1/3-2/5 cup
2-3 tsp liquid sweetener, such as maple syrup

(optional)
Method
Place all the ingredients in a blender and blend until smooth and creamy, pausing and scraping down the sides as needed. Place the pudding in the fridge overnight or serve immediately. Refrigerating will make it an even quicker creamier breakfast, but it's quick, easy to make, and delicious either way.
Serve with, for example, vegan yoghurt, granola, and fruits.
Keeps in the fridge for up to 2-3 days.
Notes
I peel my sweet potatoes, cut them into about 2 cm/0.8 inch thick slices, and bake them in an oven preheated to 200°C (400°) for about 30 minutes or until caramelised and tender. If you're baking sweet potato for dinner the night before, you can just save how much you need, or bake them for the direct purpose of making this pudding. You can also make this pudding the night before and refrigerate it overnight for an even quicker and creamier breakfast.