Simple summer upside-down cake with a soft, moist vanilla sponge and tard rhubarb layer, perfect for an afternoon treat served with whipped vegan cream.
At the time this recipe goes live, my family and I have just arrived in Split, Croatia, and my summer break has officially started. I'm going to be staying in an all-inclusive hotel on the Adriatic coast where I'll be soaking up some sun, dipping my toes in the ocean, and (hopefully) eating some good food. My blog schedule will continue as usual, with this new recipe today and another next Friday where we're coming home from our vacation. I'm hoping to capture many our adventures and share them with you in a few weeks, but otherwise I'll be trying to spend as little energy on social media as possible while I'm overseas.
Since it's the absolute end of rhubarb season, I'm squeezing in this incredibly lovely Upside-Down Rhubarb Cake with a simple, sweet vanilla sponge cake and a tard rhubarb layer for today's recipe. My grandpa grows rhubarb in his garden, so that's where I got my produce and inspiration from.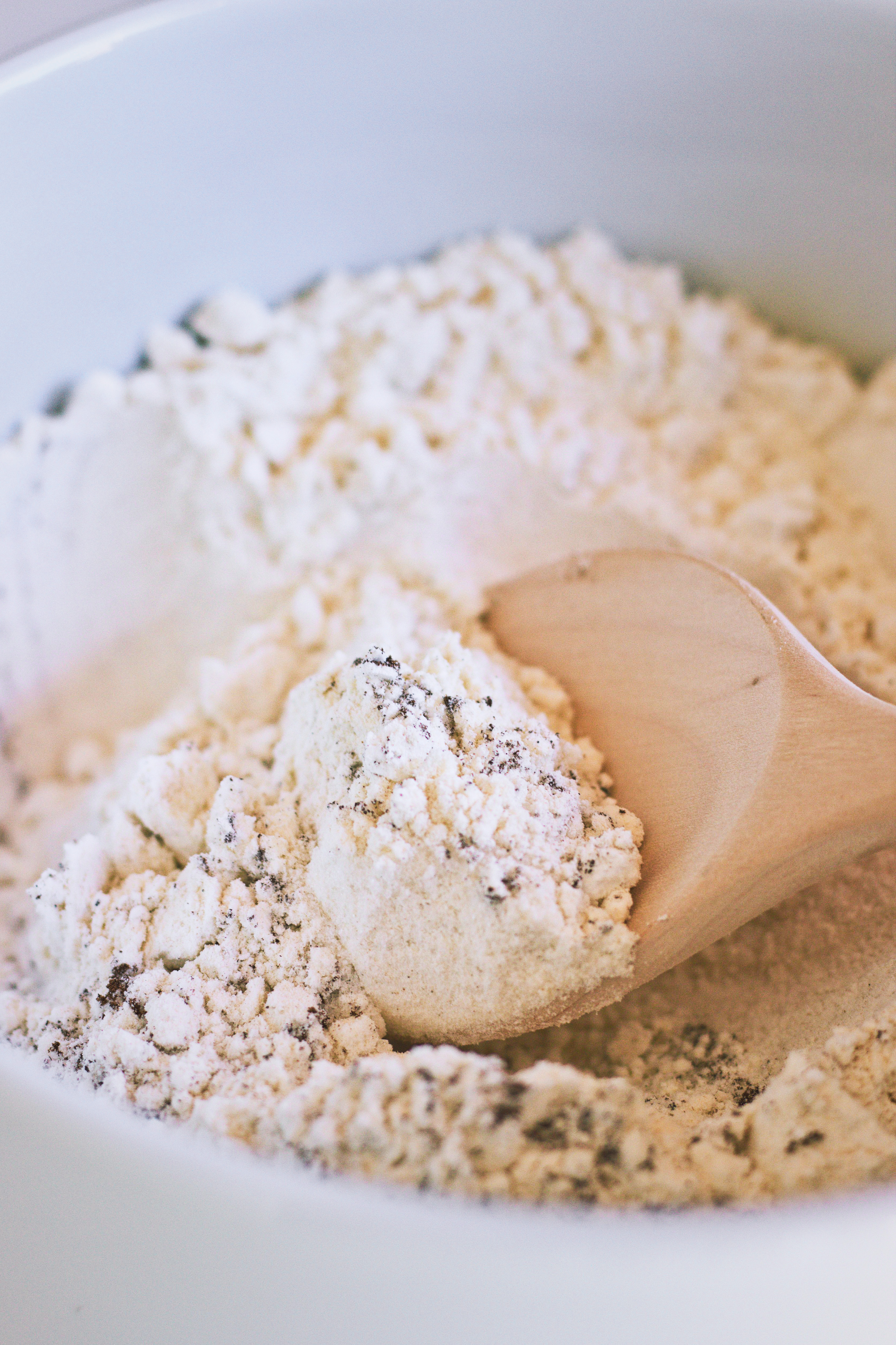 I'd never made an upside-down cake before, so the first time I tried it, I was really just having fun and experimenting. I didn't realise we didn't have any sugar in our house, so I had to improvise and used all my precious coconut blossom sugar in one go, haha. The coconut blossom sugar turned the cake dark brown and deepened the flavour with slight "caramelly" undertones, but I really liked it, so I've left a note if you want to try this cake with coconut sugar and at the same time make it completely refined sugar-free.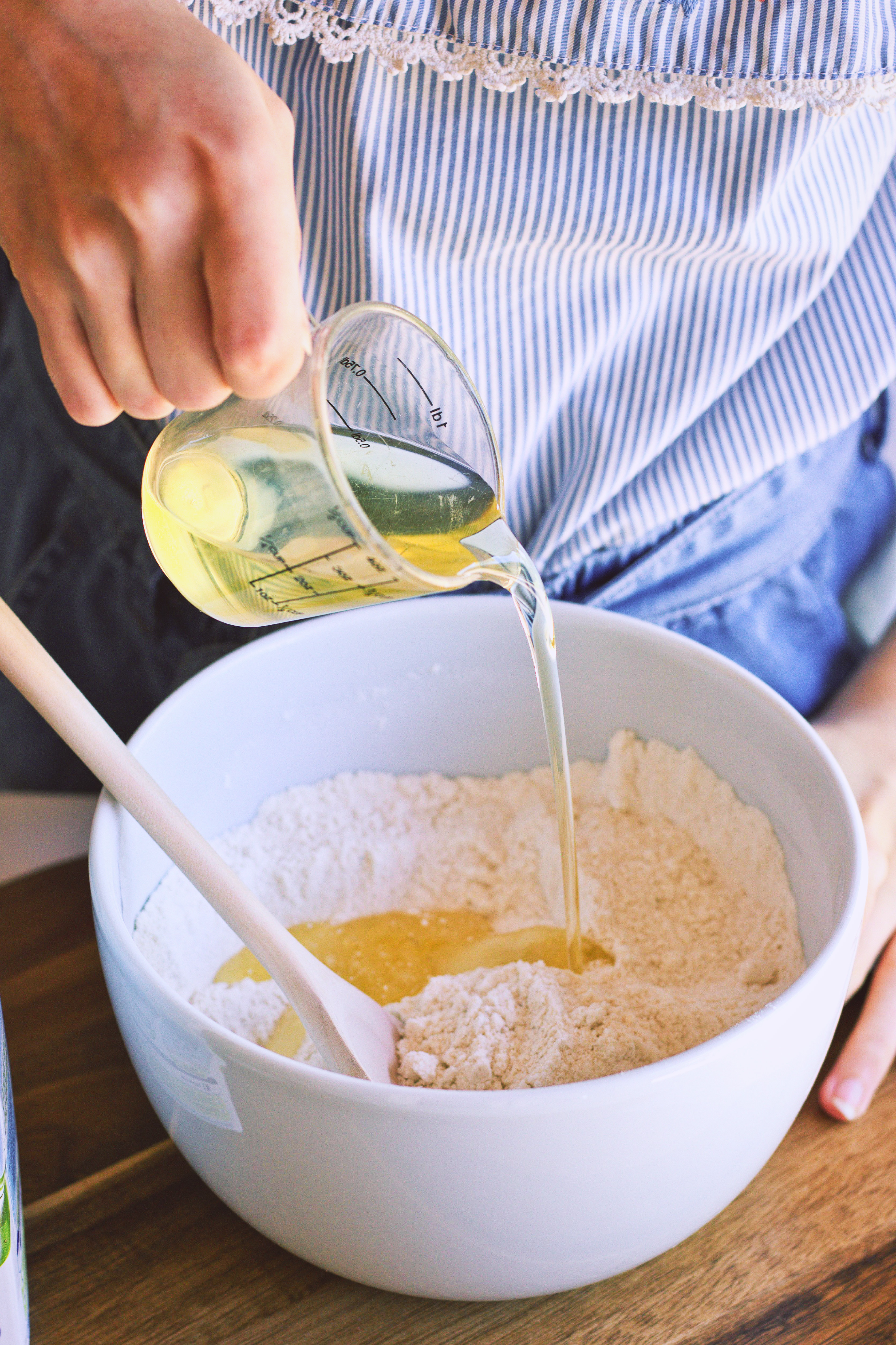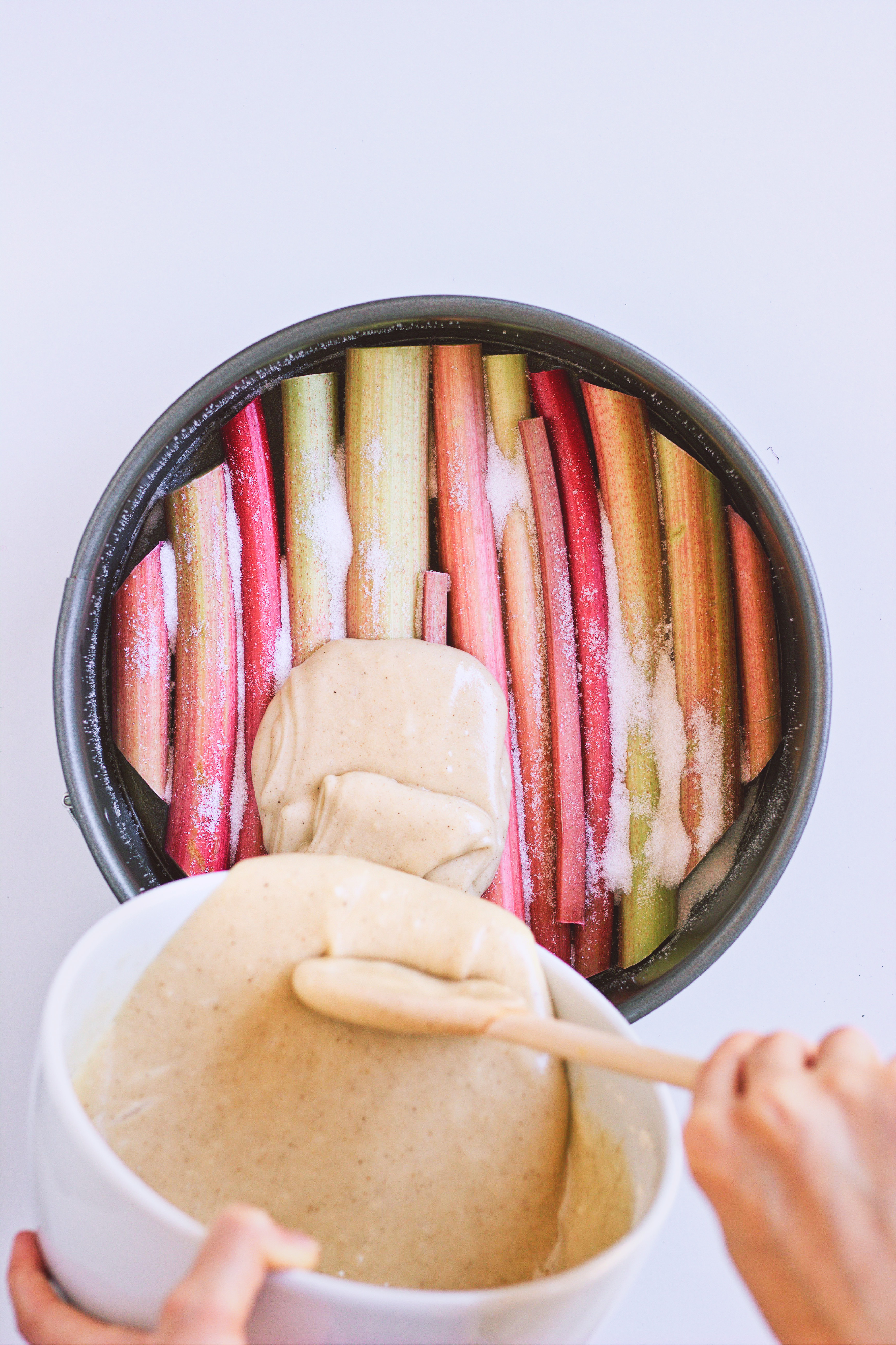 Now for the photoshoot part… I was feeling excited because I'd made whipped coconut cream for the first time succesfully, and I thought it would look and go well with the cake, so once I thought (keyword: thought) it had cooled appropriately, I decorated it all nice and pretty, and then my nightmare began…
The whipped coconut cream started melting immediately, and I could literally feel the life drain out of my body as it slowly smeared the entire cake, creating a complete mess. I was ready go lie face-down on my bed, but when I looked through my pictures, I found some good ones in between all the bad and decided I'd rather use those than make an entire new cake and do the whole thing again (look, I like rhubarb cake, but I'd made it 3 times over the course of a few weeks).
Anyway, this is an accurate illustration of my face as I was watching the scene unfold: (⊙<_⊙)
At least I got this picture before everything went South: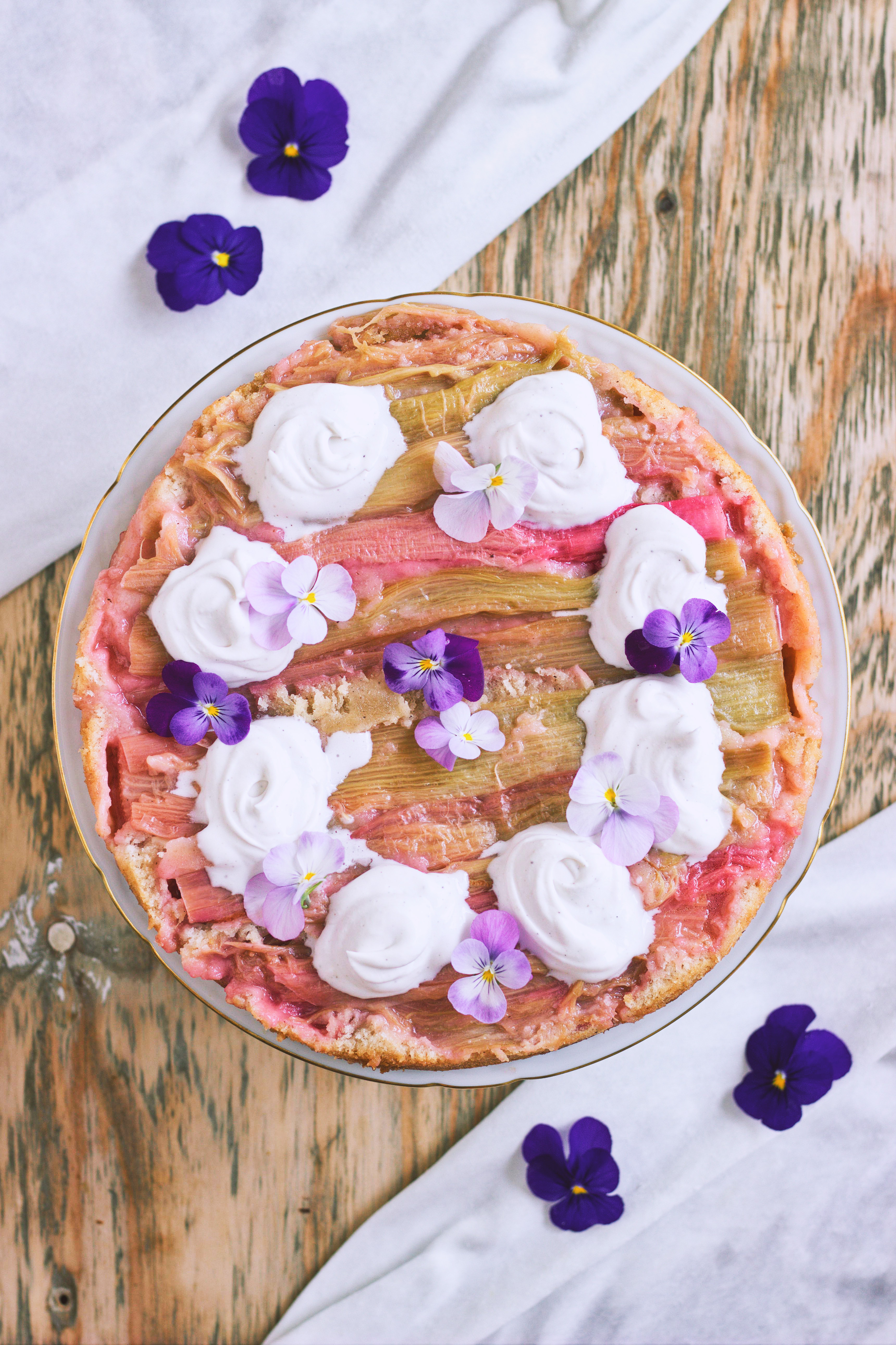 And I do think it would've tasted nicely if only it hadn't melted, so if you want to, you can serve your cake with whipped coconut cream on the side or just plain whipped vegan cream – you can get it both in can form or cream to whip yourself. It's lovely how many options there are these days!
My disastrous fail aside, the cake itself absolutely fine and would be a great summer cake to enjoy with friends and fresh fruits in the afternoon (also something whipped coconut cream pairs amazingly with!). The tard juice from the rhubarb balances out the sweetness of the sponge cake and makes everything nicely moist. It's definitely my basic rhubarb cake now, and we all need one of those.
If you're looking for another vegan cake creation, check out my family's all-time fave: my Cinnamon Cake with Cocoa Icing, or if you're looking for something healthier, my Banana Cupcakes with Sweet Potato Chocolate Frosting which are gluten-free and refined sugar-free!
But if you try this recipe, don't forget to rate it, leave a comment below, and take a picture of your cake and tag me on Instagram. My profile name is @spirendeveganer. I'd love to hear your thoughts and see your recreation!
Have a lovely summer break!
Love, (a hopefully very relaxed) Lea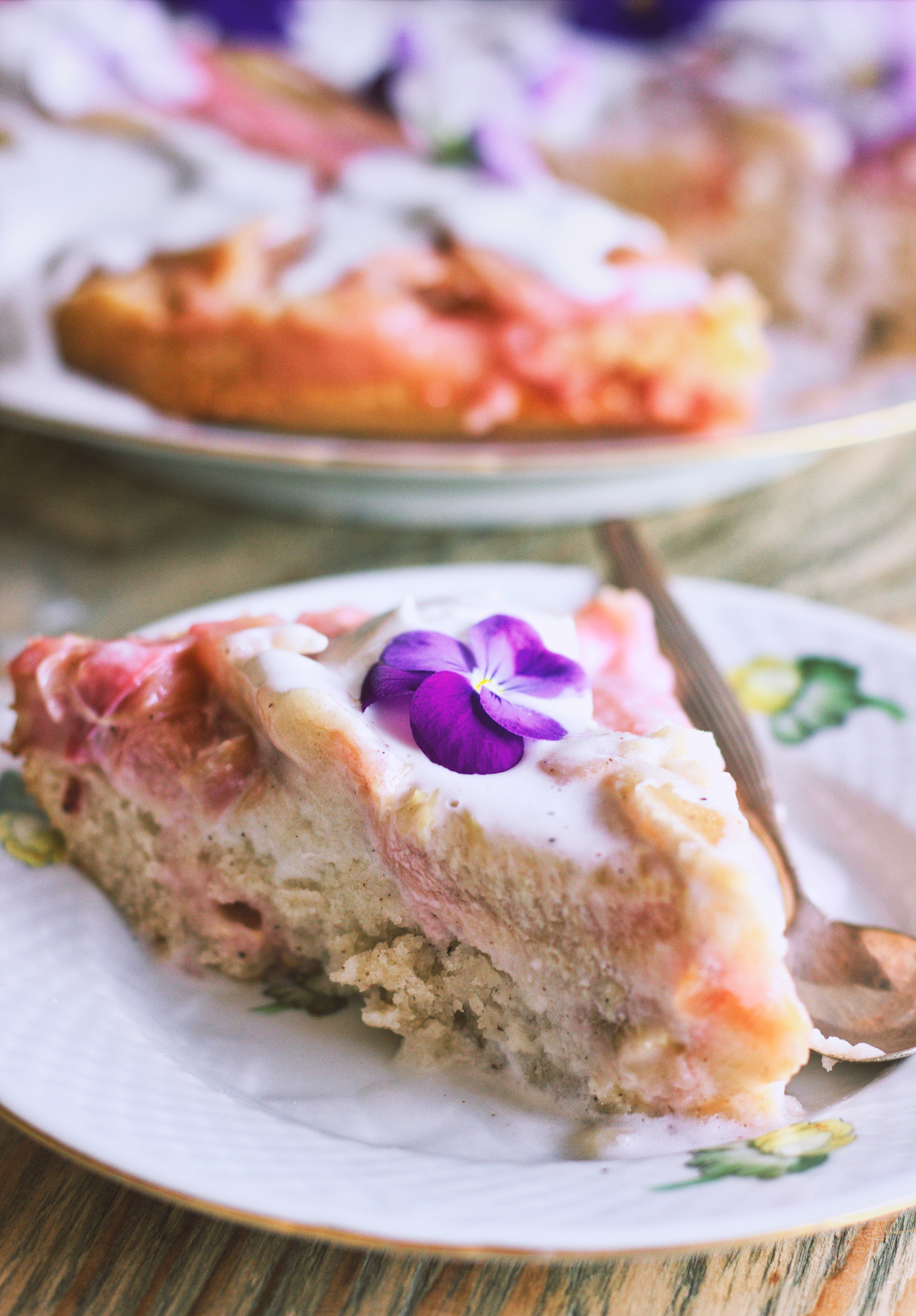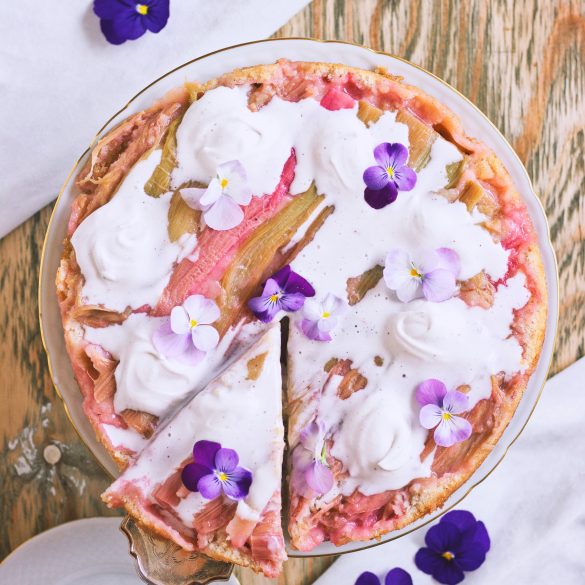 Ingredients
For the Rhubarb:
10-15 stalks rhubarb

2 tbsp granulated sugar

2 tbsp vegan butter, melted
For the Cake:
250 g all-purpose flour, 2 cups

200 g granulated sugar, ~1 cup 

(see notes)

2 tsp baking powder

1/2 tsp vanilla bean powder

1/4 tsp salt

75 ml melted vegan butter or neutral-flavoured oil, 1/3 cup

200 ml non-dairy milk, 4/5 cup
For Serving (Optional):
whipped coconut cream, whipped vegan cream, or vegan vanilla ice cream
Method
Preheat your oven to 175°C (350°F).
Grease a 23 cm/ 9 inch springform with the 2 tbsp butter. Sprinkle evenly with the 2 tbsp sugar. Cut your rhubarb to fit into the bottom of the springform pan and arrange in rows.
Place the flour, sugar, baking powder, vanilla bean powder, and salt in a large bowl and mix well. Add butter and milk and mix until you have a smooth batter. Pour into the springform pan.
Bake in the oven for about 40 minutes or until golden and a toothpick inserted into center comes out clean, then remove from the oven and allow to cool for at least 5 minutes.
To release the cake, run a knife along the edge to make sure it doesn't stick, then open the sides of the springform pan. Place a plate face-down on the bottom (which is currently the top) of the cake, then quickly flip it. Carefully remove the bottom of the springform pan to reveal the rhubarb layer, using a knife to help if needed.
Serve warm or cold and enjoy with optional whipped coconut cream, whipped vegan cream, or vanilla ice cream.
Cover leftovers with cling wrap or aluminum foil and store in the fridge for up to 2-3 days.
Notes
To make this cake refined sugar-free, you can use coconut blossom sugar instead of granulated sugar. If you do, the cake is going to be darker and have a deeper taste, not that that necessarily is a bad thing. I liked that version, too.