1-pot goodful chili made with soya granules instead of carne, the perfect Mexican meal served with vegan sour cream, creamy avocado, and Mexican Cornbread – a family favourite AND crowd-pleaser, ready in only 30 minutes! Super easy, flavourful, and comforting!! Make a big batch and freeze leftovers for easy dinner on a chilly night. Vegan, GF, and oil-free.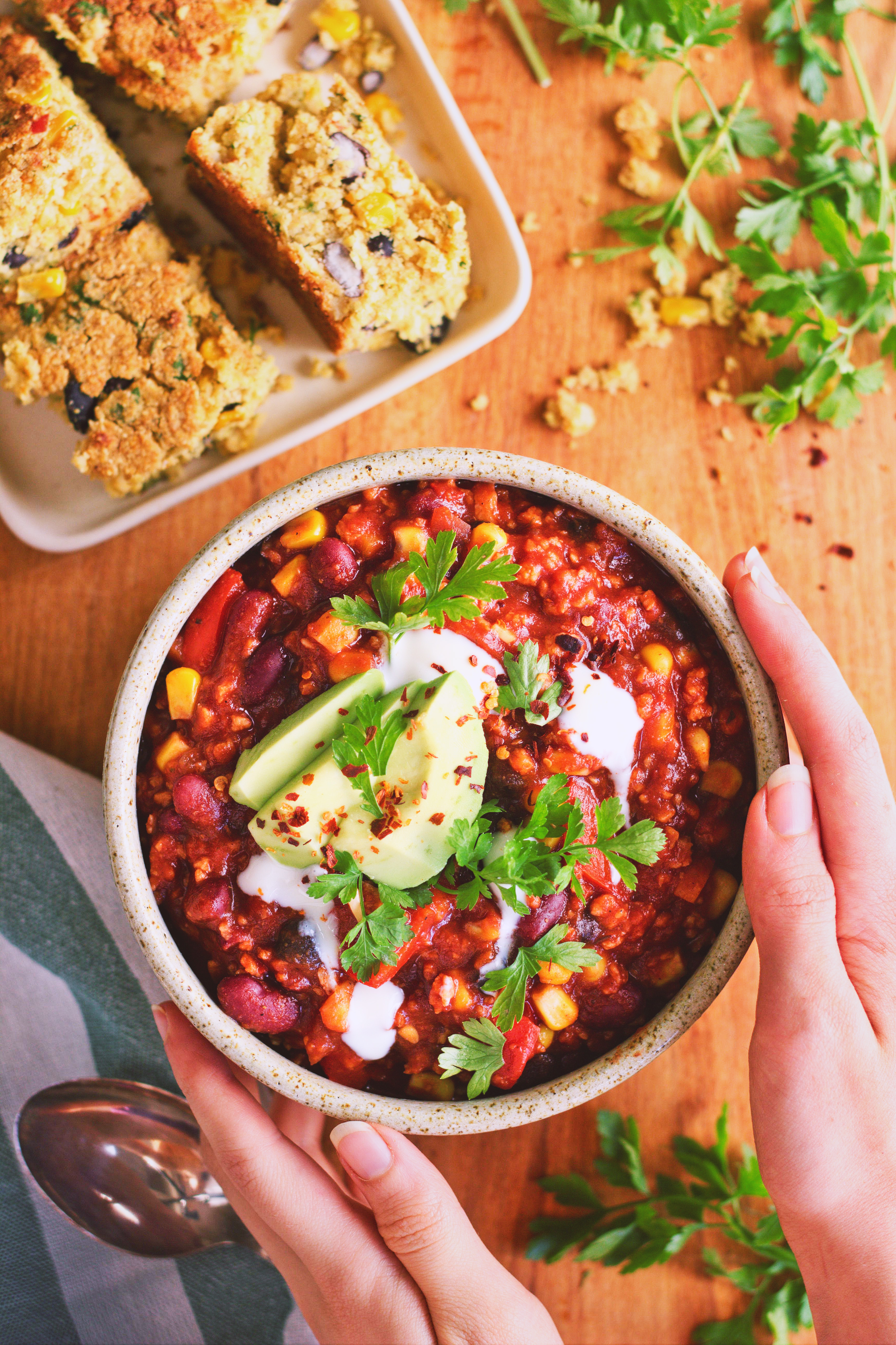 Chili con soy + cornbread is such a comforting meal – it's food for the body, mind, and SOUL. You can be basic and eat it with rice – but these two recipes I've created go hand in hand, so make both and have a great Mexican feast and don't forget to invite your family and friends! I can tell you, everyone will enjoy this one!!
This recipe is adapted from a chili con soy recipe my family has loved for Meatless Monday™ for a long time now. We actually got it before I switched to a plant-based diet and were just happy to realise it didn't contain any animal products because that meant THERE'S STILL CHILI (and hope) FOR US. Lately I've been making it to go with a gluten-free and oil-free cornbread I was experimenting with, and I really wanted to share my version of chili con soy with you.
I don't use soya granules in a lot of my cooking, but my family and I, too, like the texture they add in certain dishes. In this recipe, they help to thicken the chili and resemble mince really well. They soak up all those seasonings from my DIY Mexican mix and bring everything together in one big banging pot of flavours and goodness…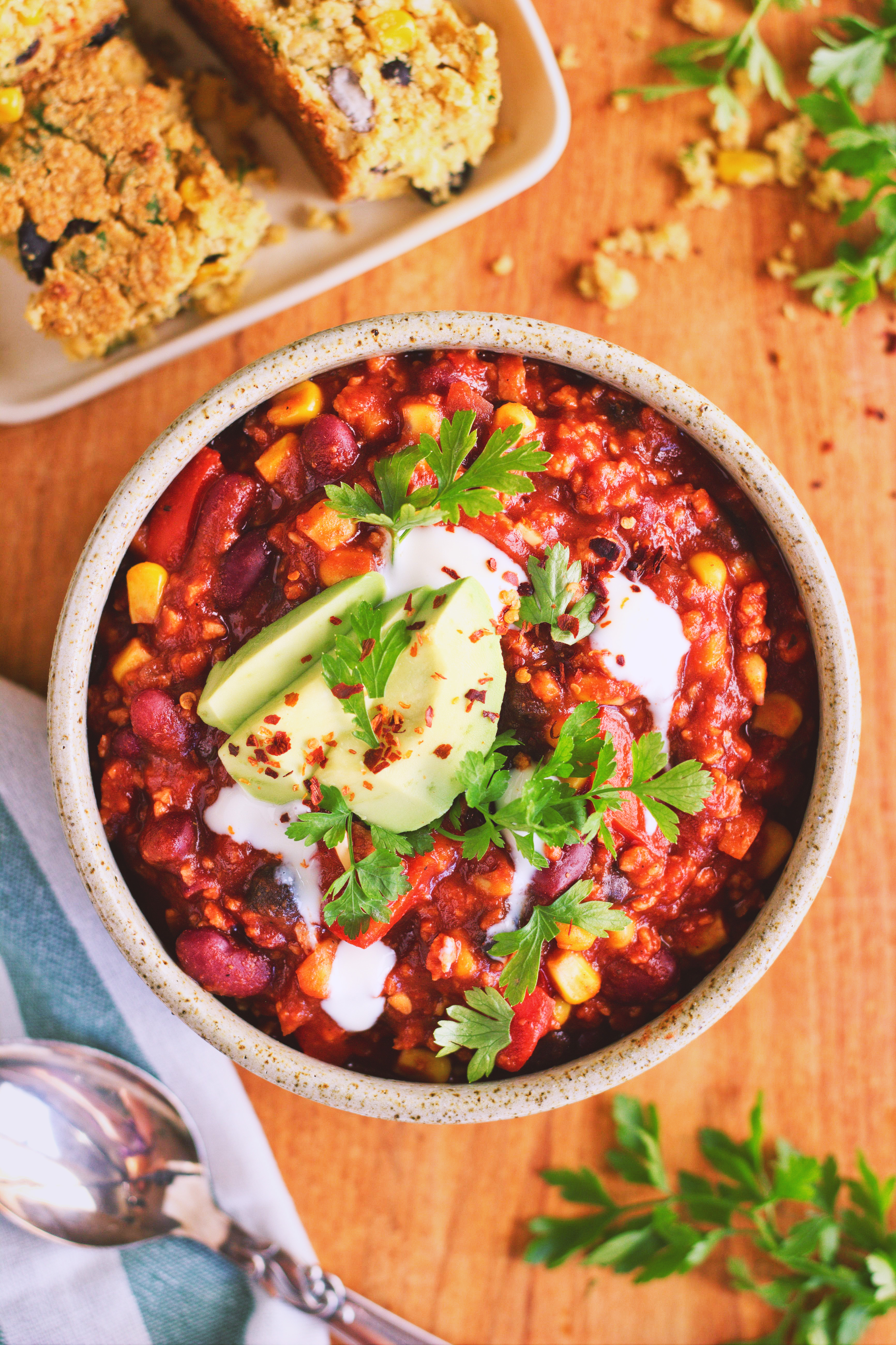 On the day I shot this recipe, I was kinda frantically running around because it was 4 o'clock in the afternoon, I was sweating, crouched over my steaming hot chili right in front one of our big floor-to-ceiling windows, with the sun burning at 27°C, my shirt clinging to my back, knowing I had to go to my piano lesson in less than half an hour. But I managed, and then my parents come home. Oh, something smells good, they said. And you know what?? THEN THEY ATE MY CHILI!!!
Don't worry. We enjoyed it together like it should be. And now your family can, too, as I've written the recipe below. Happy feasting, Sprouts. ♡
And if you're looking for more dinner recipes, check out my 1-pot and equally comforting Coconut Sweet Potato Red Lentil Curry and slightly more time-consuming, but banging Lentil Aubergine Lasagna with Cashew "Cheese"!
But if you try this recipe, let me know what you think about it. Rate it, leave a comment below, and take a picture of your chili and tag me on Instagram. My profile name is @spirendeveganer. I'd love to hear your thoughts and see your creations!!
Love, Lea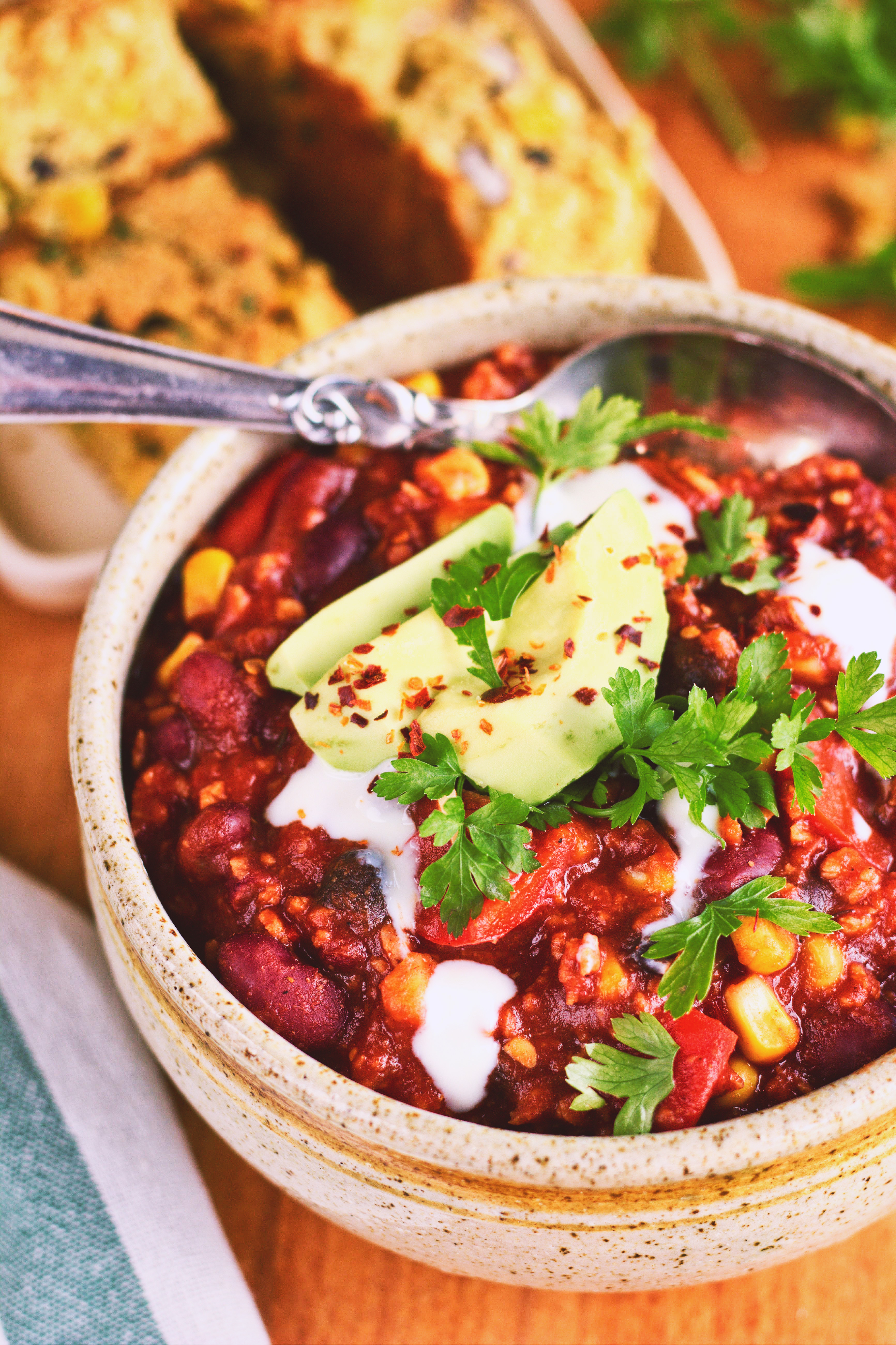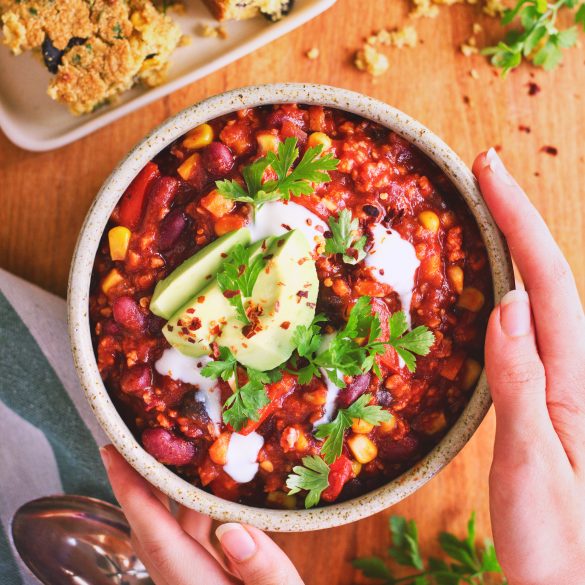 Ingredients
For the Chili:
1 yellow onion, chopped
2-3 cloves garlic, minced
1 red chilli, minced
2 red peppers, chopped
1 stalk celery, finely chopped
1 carrot, finely chopped
2 tsp Mexican seasoning
1 tsp ground cumin
1 tsp chilli powder, for more heat (optional)

680 g/24 oz tomato passata, I use Urtekram Tomatoes Passata

1 400 g/14 oz can chilli beans, with liquid

2 tbsp tomato paste

1 stick cinnamon (optional)

100 g soya granules

250 ml water, 1 cup

1/2 400 g/ 14 oz can black beans, drained and rinsed

1 150 g/5 oz tin sweetcorn, drained and rinsed

1 tbsp unsweetened cocoa powder

2 tsp maple syrup or other sweetener

salt and pepper, to taste
For Serving:
Mexican Cornbread or cooked rice
vegan sour cream or plain unsweetened yoghurt

(optional)

sliced avocado

(optional)

coriander

(optional)
Method
Sauté the onion, garlic, chilli, peppers, celery, and carrot in water or vegetable oil for 4-5 minutes until the onion is translucent and the vegetables have started to soften. Add the Mexican seasoning, cumin, and chilli powder and fry for a minute, stirring continuously to make sure it doesn't burn. If you're sautéing in water, you can add a splash more if it's starting to get dry.
Add the tomato passata, chilli beans, tomato paste, and cinnamon stick and give it a stir. Bring to a gentle simmer. Then reduce the heat to low and let it cook, covered, for about 10 minutes, stirring occasionally.
Add the soya granules and water, give it another stir, and let it cook for another 5 minutes until the soya granules have absorbed the water and softened. Remove the cinnamon stick. Stir in the black beans, sweetcorn, cocoa powder, and maple syrup just to heat through. Taste and adjust any seasonings you'd like and season with salt and pepper.
Serve with cornbread, vegan sour cream, avocado, and coriander.
Store leftovers in an airtight container in the fridge for up to 3-4 days or in the freezer for up to 2-3 months.