A 1-pot curry made with starchy sweet potatoes, red lentils, creamy coconut milk, and fragrant spices – what's not to love? This curry is a great 30-minute weeknight dinner for chilly evenings where you just want something to warm you and your soul. Served with naan bread, it's a super comforting and satiating meal. Vegan, gluten-free, and oil-free.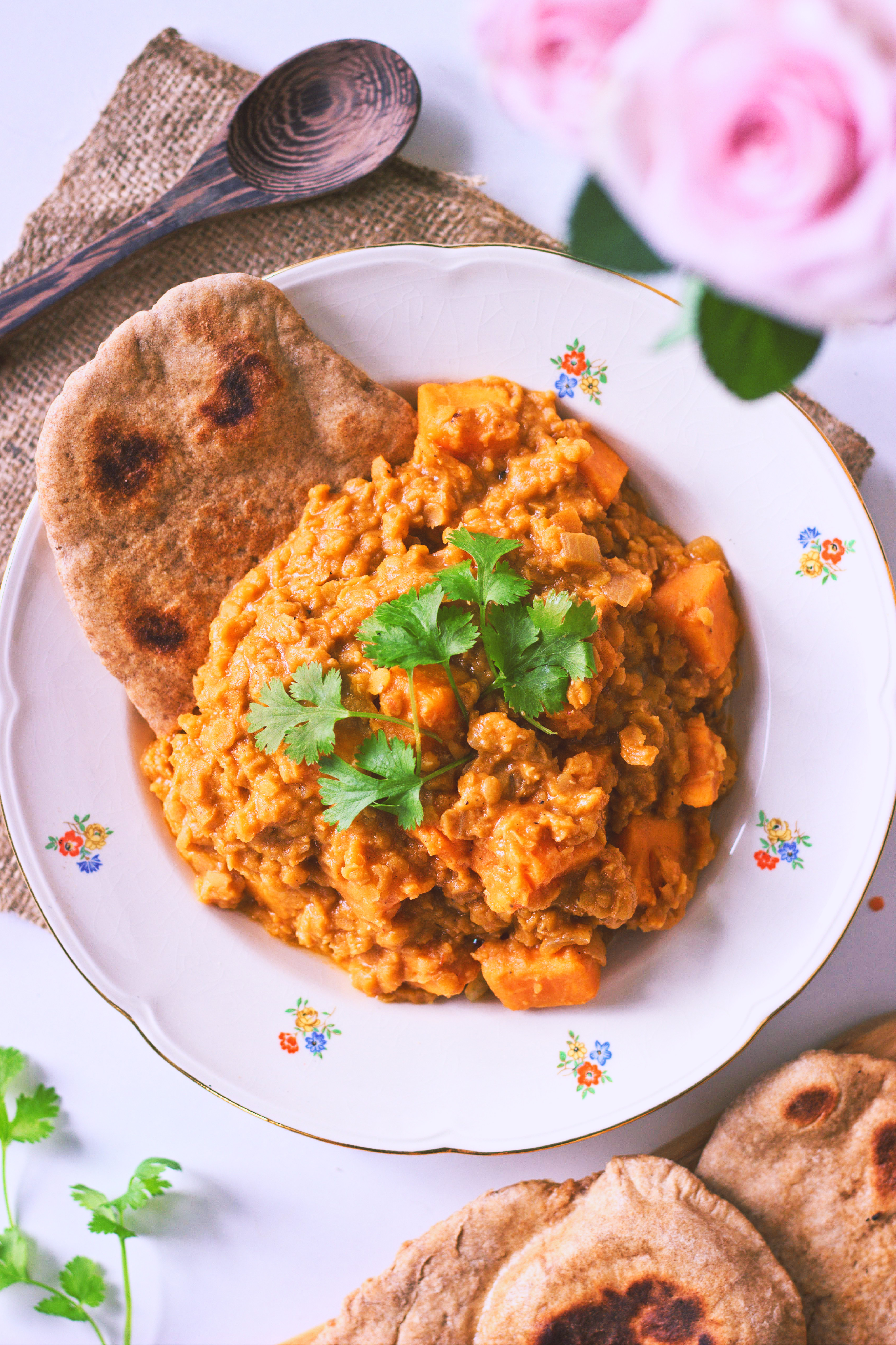 Hi, Sprouts.
Last Friday was the first post I've missed in over half a year, and I'm sorry. I've been feeling unmotivated and uninspired lately. With my summer break ending and a new school year just starting, I had to allow myself to miss that post date and possibly future ones, too. I've started at an all new school (today was actually my second day!), and while I enjoy blogging, I know I need to save some energy for myself, especially in the beginning of this new chapter of my life.
I've shot this recipe twice. I was going to post it last week with the pictures from the first photoshoot, but it felt forced. Instead, I did it again at the start of this week and liked the new pictures much better. This curry has quickly become one of my favourites, and I can see it definitely soon becoming a staple: it's quick and easy, made in 1 pot, filled with goodness, and super comforting.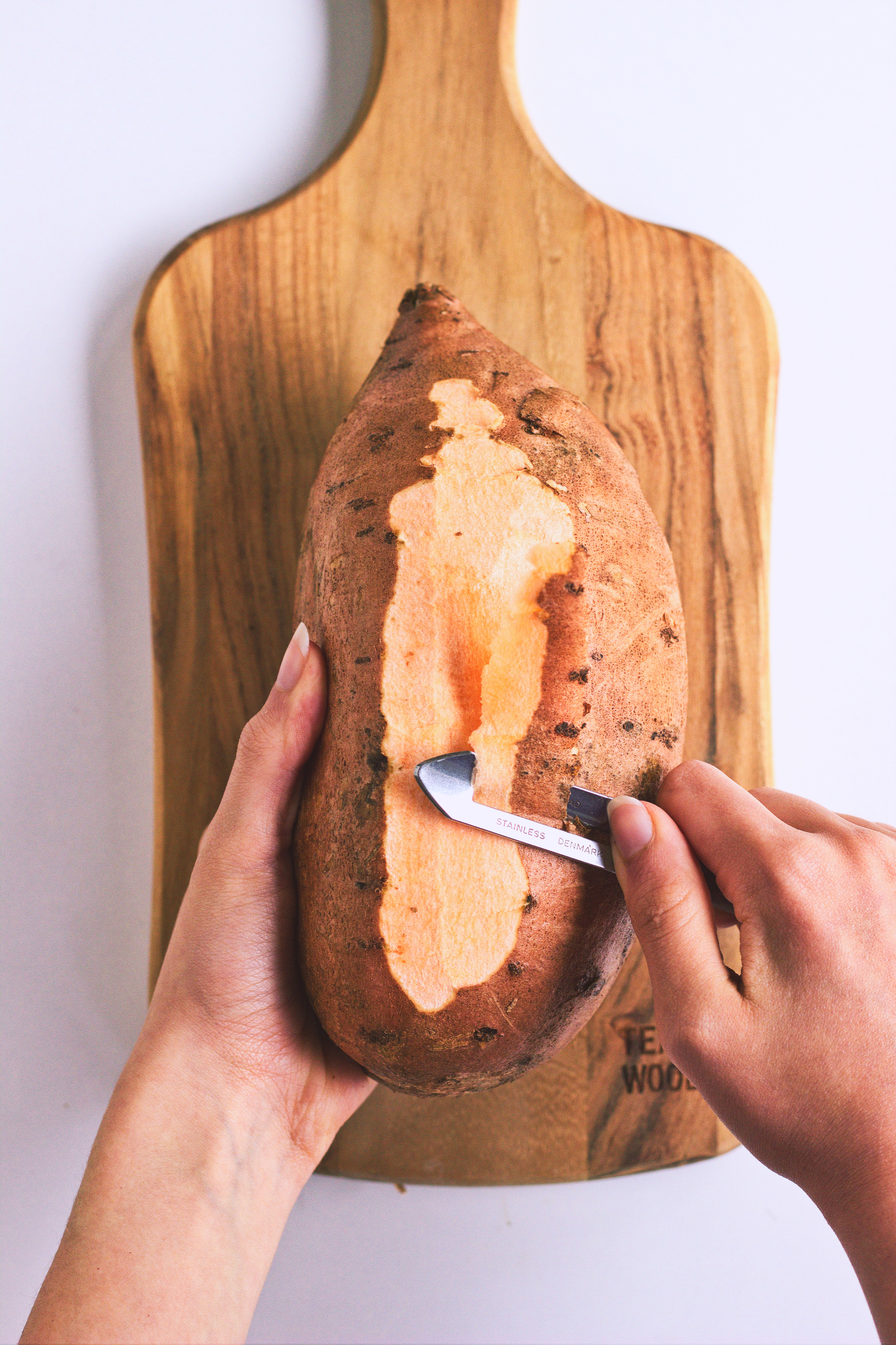 This curry is bulky enough to be eaten as is, but I love serving it with brown basmati rice and, just recently, naan bread. I stumbled upon a recipe for vegan naan bread on Simple Veganista (one of my favourite vegan blogs) the other week and decided to try with whole wheat flour: it's surprisingly simple to make and a lovely addition to any Indian-inspired meal.
This curry would be great on a chilly, rainy day when you need a pick-me-up. There's just something so soothing about creamy, thick curries, especially ones with fatty coconut milk and tender lentils and starchy sweet potatoes. And when I asked you on Instagram if you'd like this recipe, surprisingly many people were excited for it, so I'm excited to now share it with you.
Looking for more comforting dinner recipes? Check out my:
If you try this recipe, let me know what you think about it. Rate it, leave a comment below, and take a picture of your curry and tag me on Instagram. My profile name is @spirendeveganer. I'd love to hear your thoughts and see your creations!
Love, Lea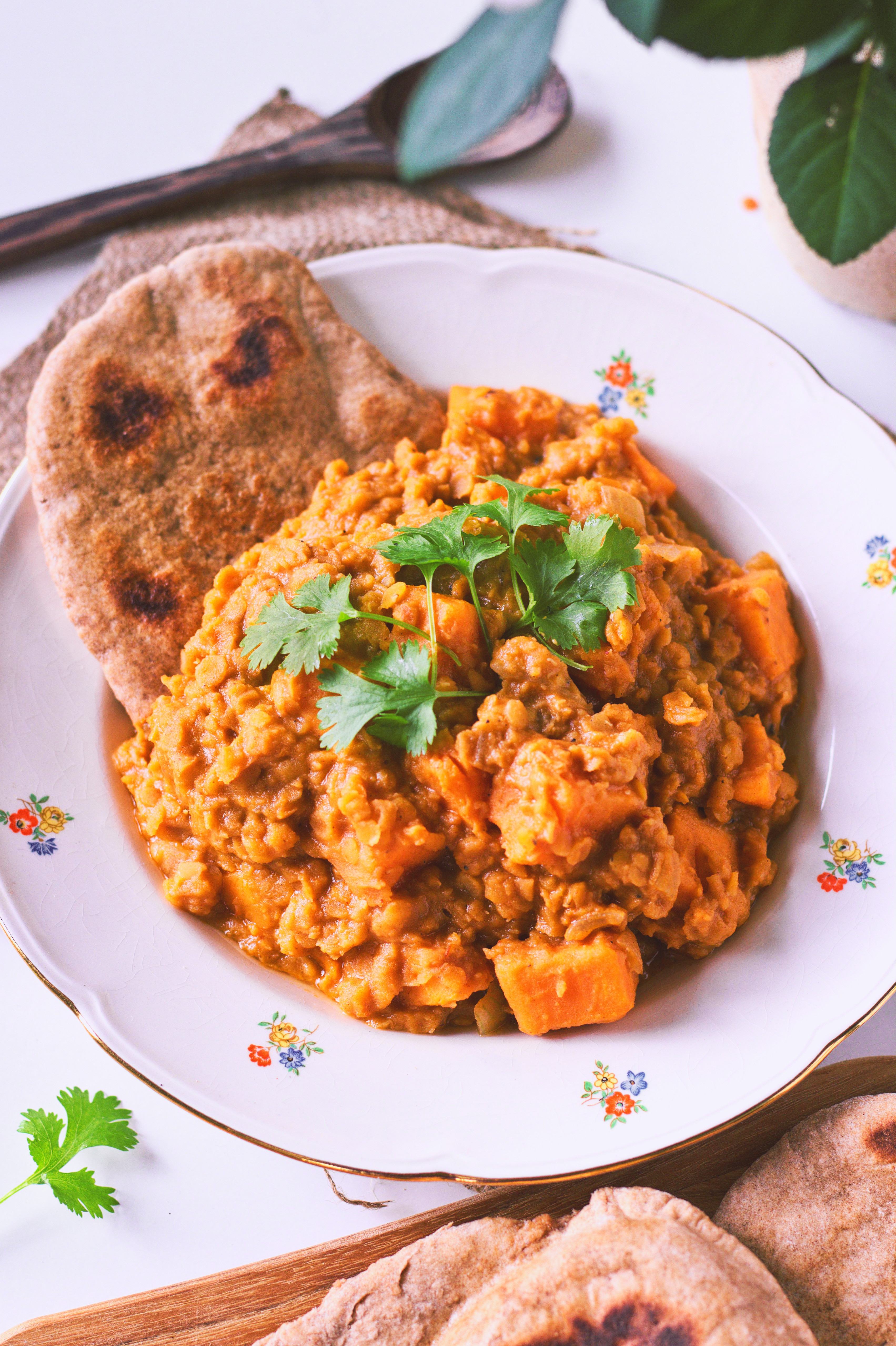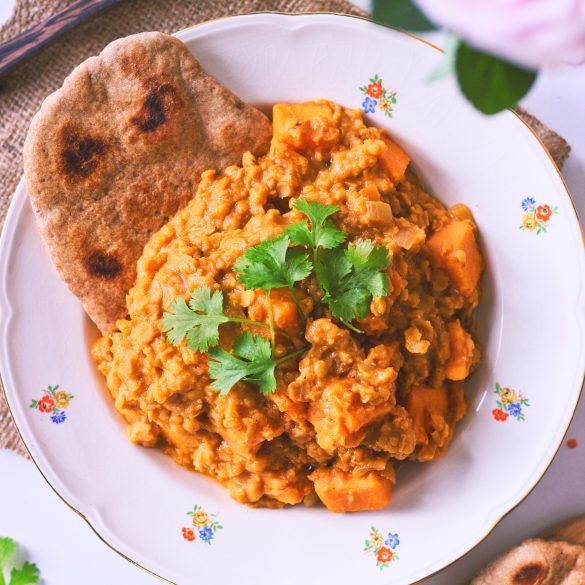 Ingredients
For the Curry:
1 yellow onion, chopped

2 cloves garlic, minced

1 thumb-sized piece ginger, minced, optional

2 tsp ground cumin

1 tsp chilli powder, optional

1/2 tsp ground cardamom

1/4 tsp ground cloves

400 g sweet potatoes, peeled and cut into bite-sized pieces, ~3 cups

200 g uncooked red lentils, 4/5 cup

1 400 g/14 oz can full-fat coconut milk

2 tbsp tomato paste

250 ml water, 1 cup

the juice of 1 lime

2 tsp maple syrup

salt and pepper
For Serving (optional):
vegan naan bread or cooked rice
coriander
Method
Place the onion, garlic, and ginger in a medium-sized pot and sauté in water or vegetable oil for 4-5 minutes until soft and translucent, then add the cumin, chilli powder, if using, cardamom, and cloves and fry for another minute until fragrant.
Add the sweet potato and red lentils and stir to coat in the spices, then add the coconut milk, tomato paste, and water and bring to a gentle simmer. Once simmering, reduce the heat to low and cook for 15-20 minutes until the sweet potato and lentils are tender, stirring occasionally to make sure the lentils don't burn to the bottom.
When the sweet potato and lentils are done, stir in the lime juice, maple syrup, and salt and pepper and taste and adjust the seasonings to your liking.
Serve as is or with naan bread or rice.
Store leftovers in an airtight container in the fridge for up to 3-4 days or in the freezer for up to 2-3 months.