---
Some weekday breakfast inspo: creamy, chocolate-y oatmeal with an orange twist. The best breakfast for busy mornings that is not only satisfying and decadent, but will also keep you full until lunchtime! Oats cooked in orange juice might sound weird, but trust me, it's delicious!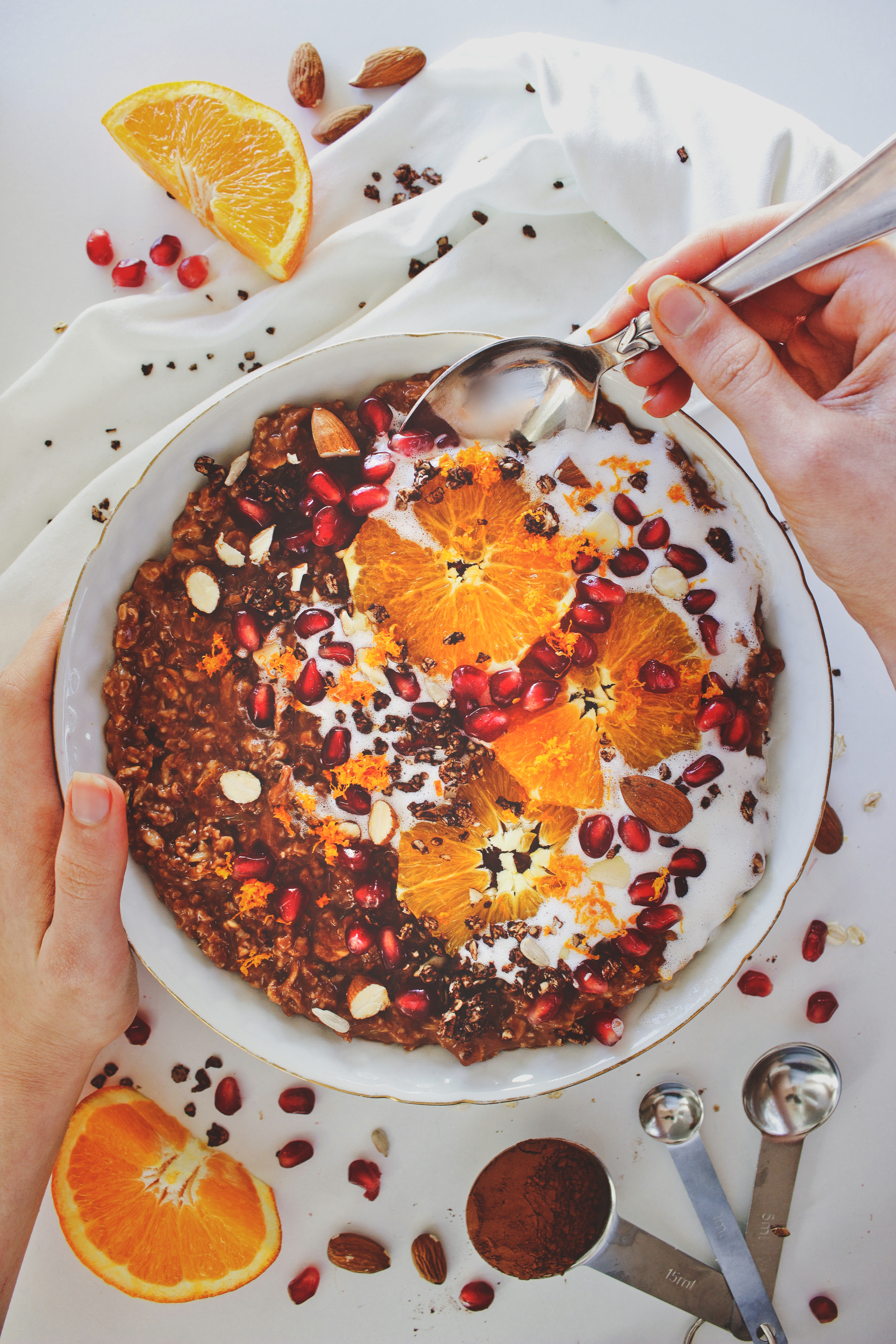 My nickname for oatmeal is "a hot mess", but I love it. Like many other people, I used to eat oatmeal without enjoying it, just gobbing it down because you have to eat something for breakfast, right? What is considered the most important meal is far too often just glanced over or skipped completely. I now look back at when I used to eat plain uncooked oats or microwave oatmeal with milk poured over as one of the darkest times in my life…
No, I'm kidding. I'm being melodramatic. I'll stop now.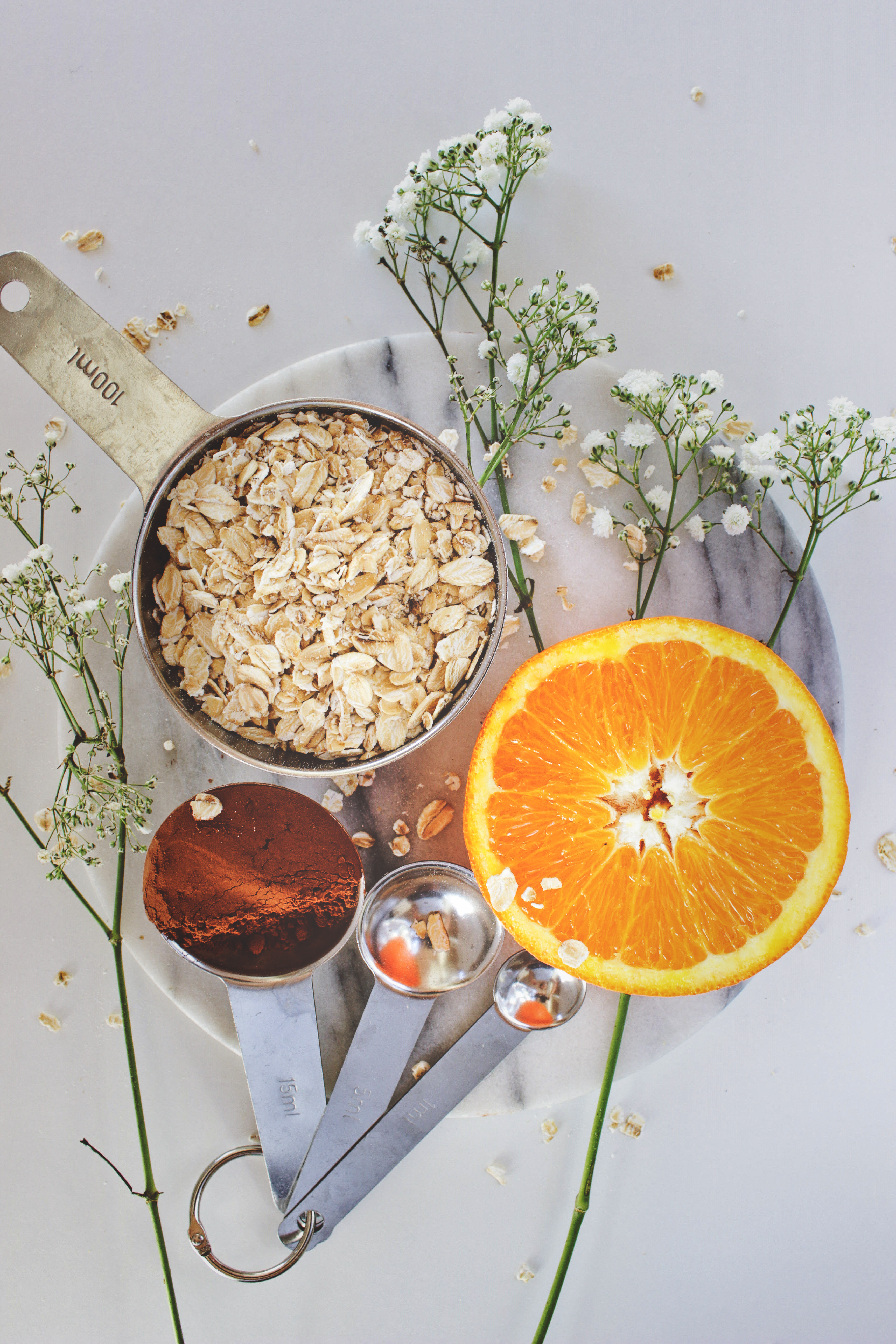 Oatmeal can be delicious and something you actually look forward to eating. Most of the time I just add a bunch of toppings–fruits, nut butters, nuts and seeds, cinnamon, plant milk, et cetera–to my oatmeal, and that keeps it fun and interesting. But something as simple as starting to add salt to my oatmeal was a game-changer. And this orange chocolate flavoured oatmeal is just one out of endless variations of oatmeal!
This oatmeal is:
easy and quick to make
creamy and decadent
chocolate-y
very filling
high in vitamin B1, B2,  and C and manganese
You can top your oatmeal with whatever you'd like, to make it taste completely different every time you eat it, so you'll never grow tired of it (even if you eat oatmeal on a daily basis). I used some more orange, whipped coconut cream, chocolate granola, almonds, and pomegranate seeds. If you want to treat yourself, you can also add a piece of your favourite vegan chocolate!
For more oatmeal variations, you can check out my Chunky Monkey Oatmeal, Green Immunity Oatmeal, or Cold Banana Cinnamon Oatmeal!
I'd love to hear from you!
If you decide to give my orange chocolate oatmeal a try, let me know what you think about it by rating it, leaving a comment below, and taking a picture of your oatmeal, posting it to Instagram, and tagging me at @spirendeveganer. I'd love to hear your thoughts and see your creation!
I'll see you next week!
Love, Lea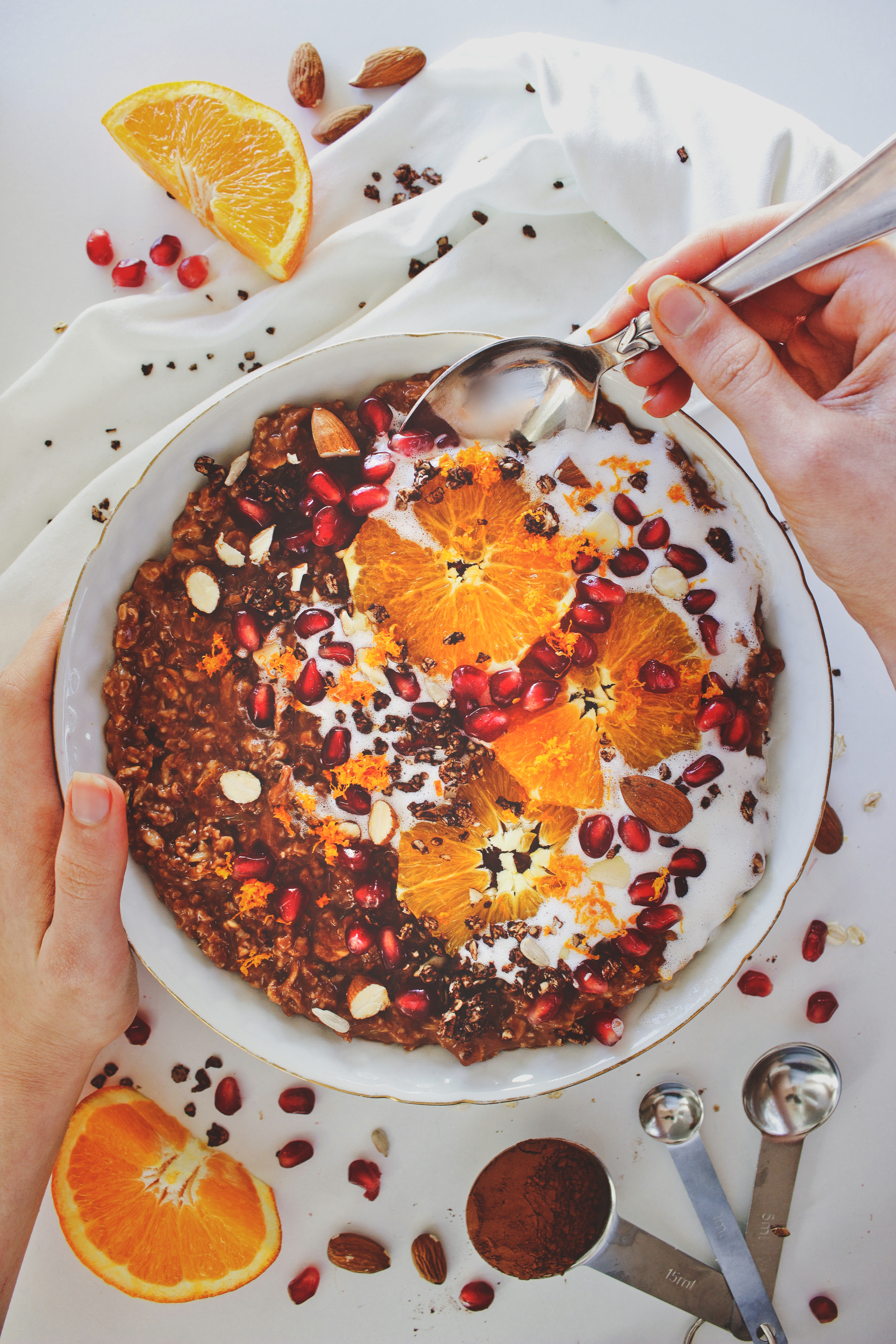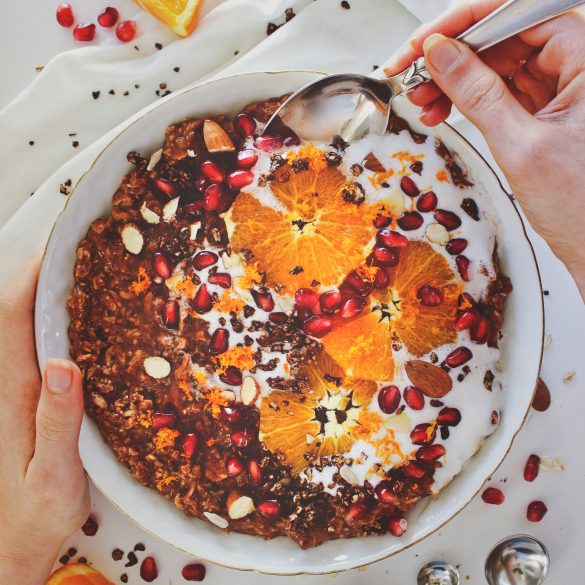 Ingredients
50 g rolled oats, 1/2 cup
1-2 tbsp unsweetened cocoa powder
1 tsp orange zest
1/4 tsp vanilla powder
a pinch of salt
150 ml non-dairy milk or water, 3/5 cup
100 ml orange juice, 2/5 cup 

(see notes)

sweetener of your choice, to taste, optional
Method
Add all the ingredients to a small pot and bring it to a simmer. Once simmering, reduce the heat to medium and cook the oatmeal for about 5 minutes or until thick and creamy, stirring frequently.
Pour the oatmeal into a bowl, top it with, for example, sliced orange, whipped coconut cream, chocolate granola, chopped almonds, and pomegranate seeds, and enjoy!
Notes
I recommend squeezing your own orange juice. 1 medium orange yields approximately 100 ml juice. You can also add the leftover orange pulp to your oatmeal to keep the extra fibre!
Nutrition per serving
Calories: 257   Total Fat: 5.9 g   Saturated Fat: 1.2 g   
Carbohydrates: 43.5 g   Fibre: 8.0 g   Sugars: 9.4 g   
Protein: 11.8 g   Sodium: 210.6 mg
*Nutrition information is a rough estimate calculated with unsweetened plain soya milk and without optional ingredients or toppings.