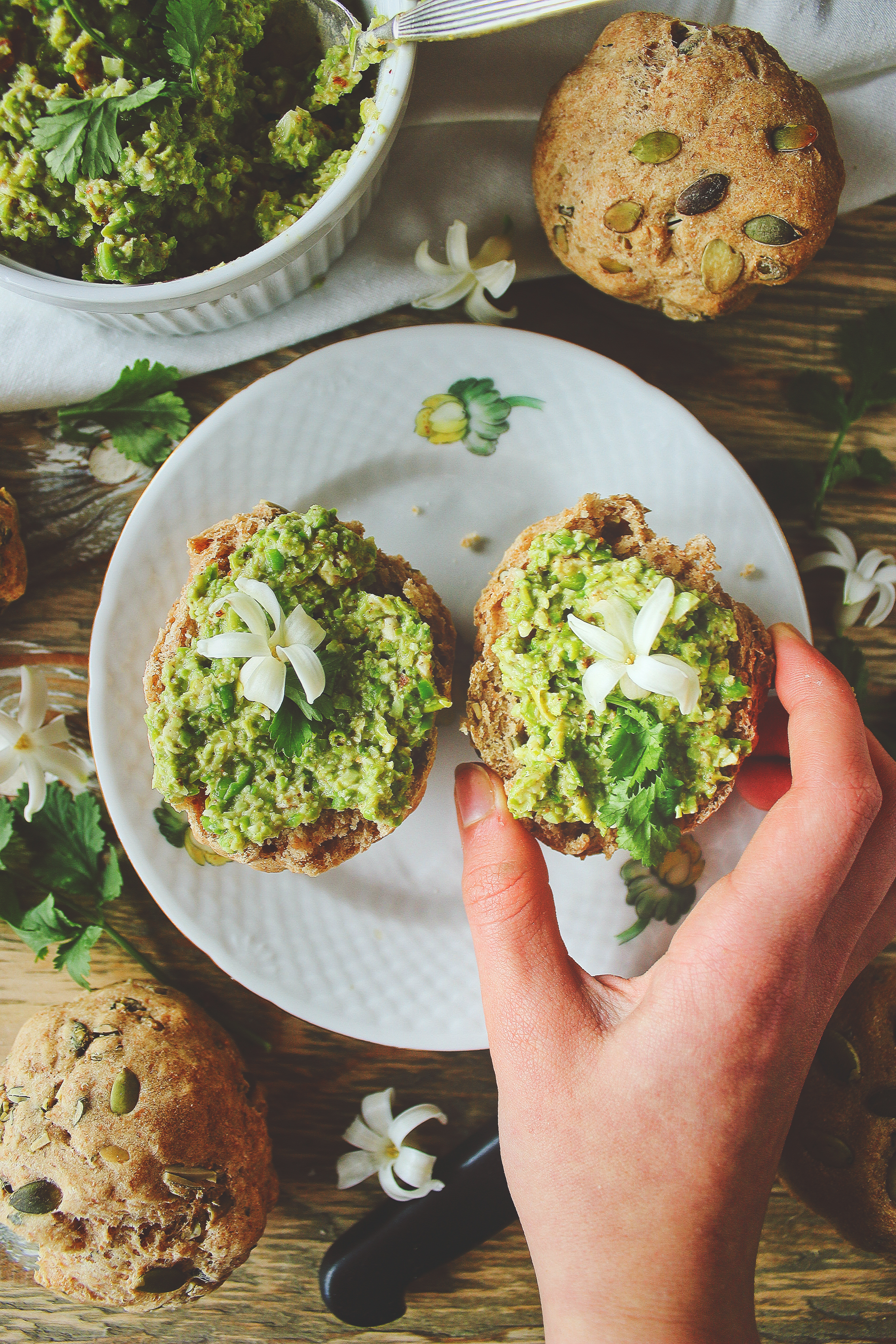 These buns are not only wholesome and soft, they also don't require much work at all. You just throw the dough together, let it sit in the fridge overnight, bake the buns the next day, and that's it. They're easy, quick, and perfect for breakfast, lunch, or a snack with both savoury or sweet toppings.
I hope you had a good week and are up for some weekend baking because I really recommend to treat yourself to these cold-raised pumpkin seed spelt buns. I prefer homemade baked goods over store-bought all the way, though I have always felt intimidated by baking. It just seems like so many things can go wrong. This recipe, though, works very well, and it's not intimidating in any way.
Before we dive into the recipe, I want to take a moment to talk about something very exciting. A few posts back, I announced that I have been nominated for an award by the Danish Vegan Society… and tomorrow I'm attending the awards ceremony. I'm really nervous, but also excited since I have never tried anything like this before, and I feel so honored. I will, of course, let you know if I actually win, I will write about in my next post, so stay tuned.
Skip to recipe »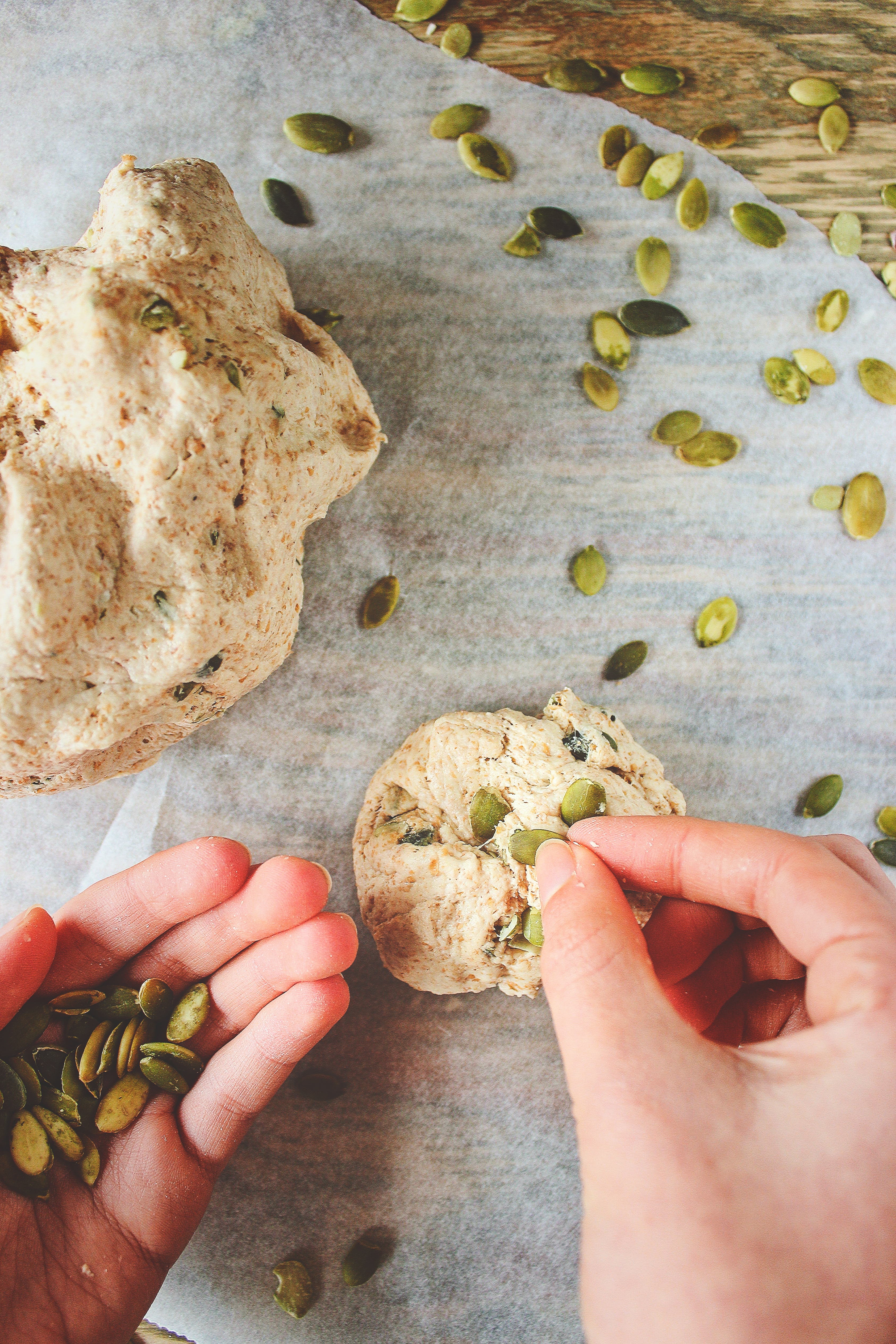 Back to the reason you came here… To make these buns, you simply mix the all the ingredients together to form a dough and let it sit in the fridge overnight. In the morning, the dough will have risen and be very soft. Then you can form the buns and bake them to enjoy for an easy, but special breakfast or bake them just before having guests over, so they can enjoy the smell of fresh homemade buns.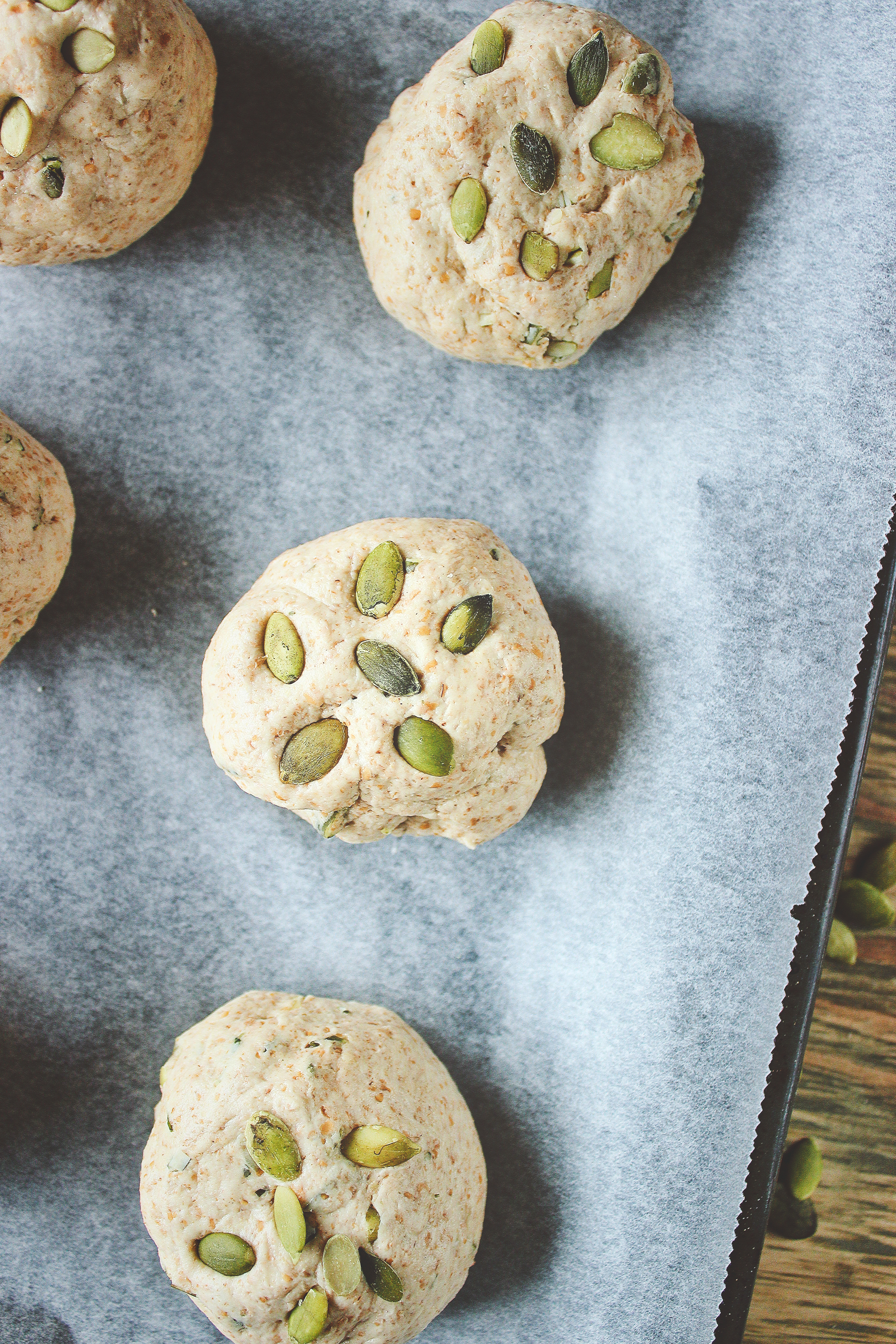 There's really not much else to them. I love serving them with my edamame bean and pea spread with crushed almonds which I'm sharing with you next week, so I'm just teasing you with the pictures for now which is out now! It's very flavourful, and you can make it while the buns are baking to save time.
I really hope you make these, they are:
a good, stable bun recipe
easy and quick to make – no kneading or multiple rises are needed
soft and fluffy
perfect with either savoury or sweet spreads
wholesome and filling
And, as you can see below, since I got my new tripod, I can finally have both of my hands in my pictures! I don't know why, but I just love food pictures with hands in them… I like the feeling of action it gives a picture. Plus I think my hands might be the best part of my body, haha, although they're so tiny. Like the rest of me.
Tips for variation
You can replace a few of the ingredients for something else if you don't have them at home, though I like these buns the way they are.
Yeast: I use fresh yeast when I bake, but I know most Americans use dry yeast.  You can substitute fresh yeast for dry be dividing the grams of fresh yeast by three – which means you will need eight grams of dry yeast.
Coconut palm sugar: You can always use regular white sugar instead of coconut palm sugar if you don't have it.
Spelt flour: I love spelt flour and the earthy flavour it gives baked goods, but I'm pretty sure you can substitute it for all-purpose flour, maybe a mix of that and whole-wheat flour. I use half light, half whole-wheat spelt flour, and the buns always come out soft.
Pumpkin seeds: You can substitute pumpkin seeds for any other seed of your choice or maybe even chopped nuts… whatever floats your boat! Dried fruits are also an option if you like that.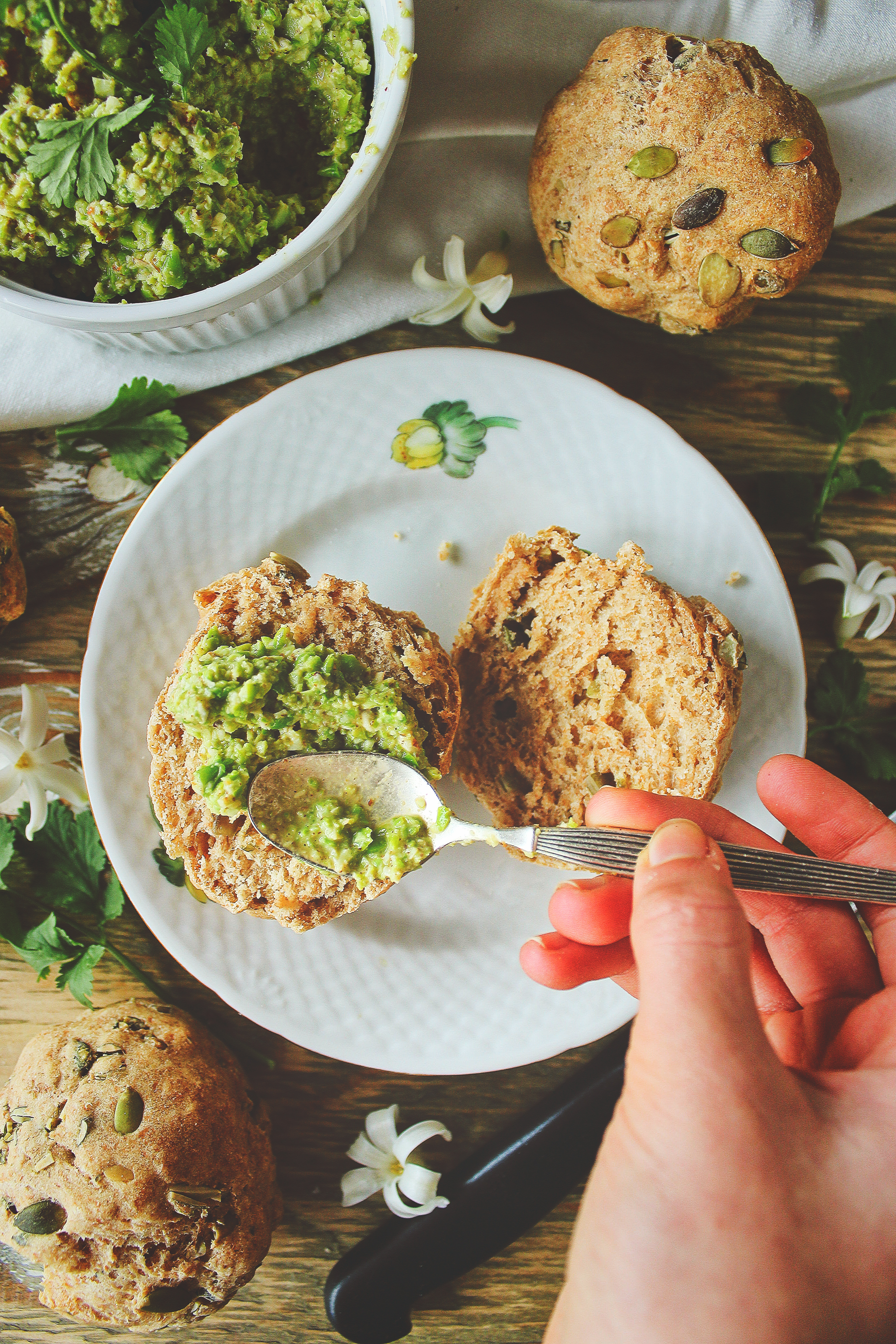 I would love to hear from you!
If you're still reading, you are amazing! I hope you decide to try these buns and, if you do, enjoy them. I would also love if you would leave me a comment below or take a picture of your creation and tag me on Instagram at @spirendeveganer. Otherwise, I wish you a lovely weekend!
Love, Lea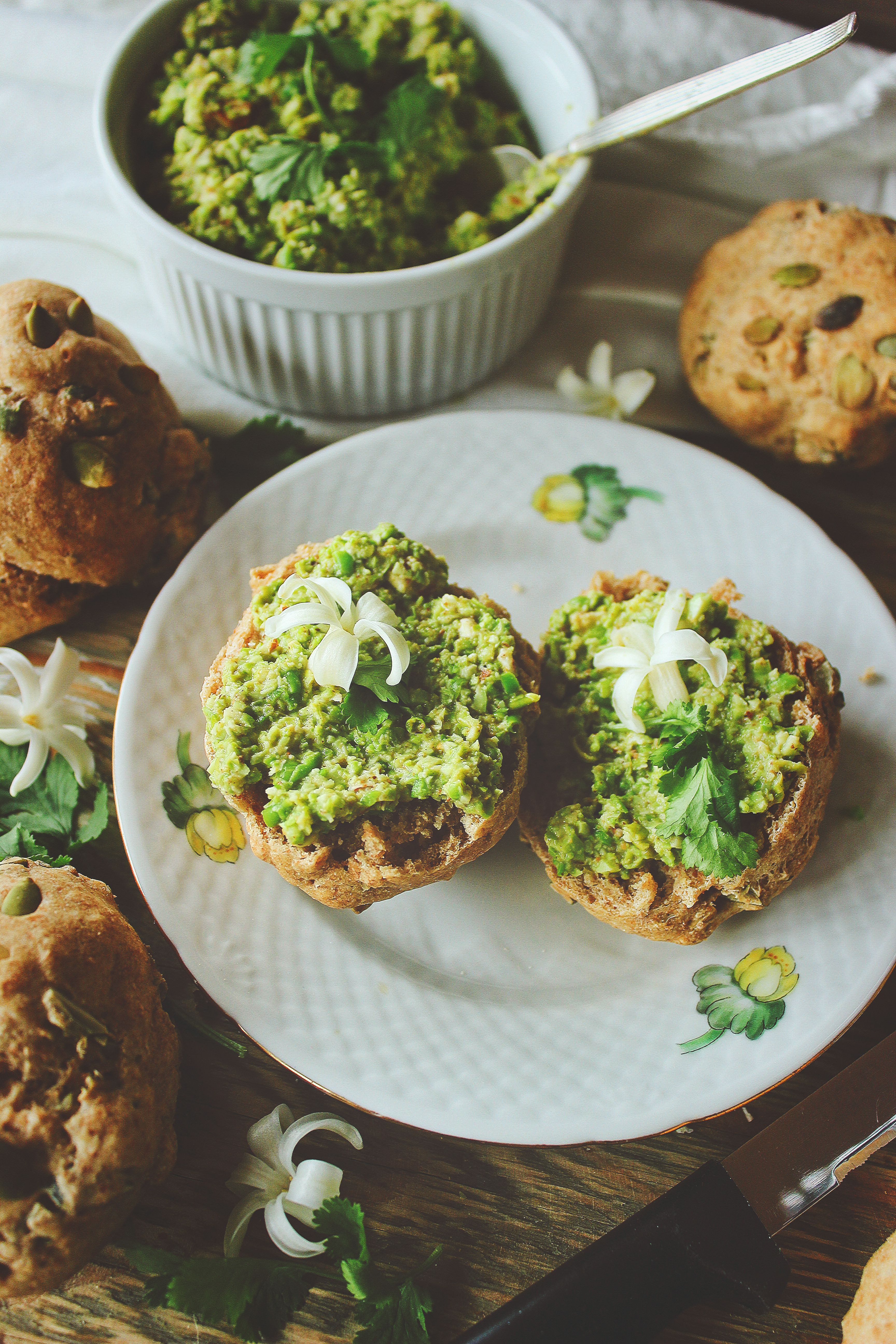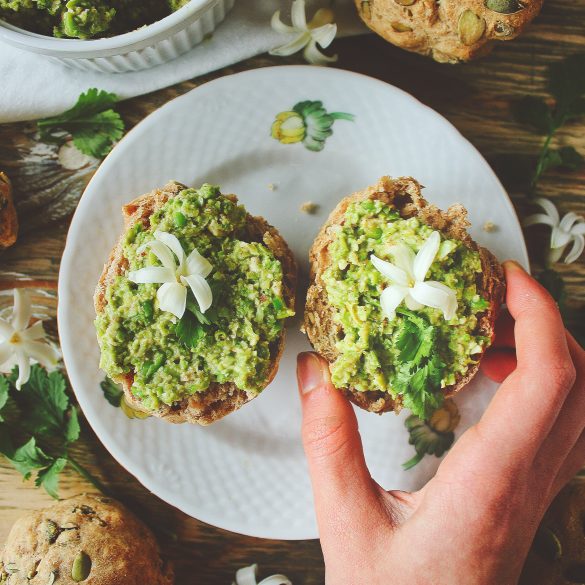 Ingredients
25 g fresh yeast or 8 g dry yeast
100 ml water, lukewarm
1 tbsp coconut palm sugar
250 g spelt flour, I use a 1:1 ratio of light and whole-grain spelt flour
0.25 tsp salt
100 ml unsweetened plain soya yoghurt

(see notes)

25 g pumpkin seeds or other seeds or nuts, whole or chopped
Method
Crumble the yeast into a medium bowl with your hands. Add the water and mix until the yeast has dissolved. Stir the coconut palm sugar into the mixture.
Add the spelt flour, salt, and soya yoghurt and mix until a dough has formed. Then mix the pumpkin seeds into it. The dough should be soft and a little sticky, but not too much.
Cover the bowl and let it sit in the fridge overnight.
When you want to bake the buns the next day, start by preheating the oven to 180°C.
In the meantime, divide the dough into six portions and form them into buns with your hands. Place the buns on a baking tray lined with parchment paper and optional decorate the tops with additional pumpkin seeds. Bake the buns in the oven for about 20 minutes or until golden and firm to the touch. You can also flip the buns and tap them on the bottom - if they are firm, they should be done.
Let the buns cool for a few minutes until slicing in half and serving with edamame bean and pea spread with crushed almonds or whatever you'd like.
Once the buns have cooled completely, you can store them in a bag or airtight container in a cool, dry place at room temperature for up to 4 days, although they are best when eaten within a few days.
Notes
If you don't have unsweetened soya yoghurt, you can just add 50 ml more water.