This twist on the classic shepherd's pie was inspired by all the root vegetables. A rich lentil sauce with carrots, parsnip, and celeriac root is topped with mashed sweet potatoes and baked to make a hearty entrée, perfect for when you have some time on your hands and want something special. It's the perfect healthy comfort food!
Confession: I have never tried a traditional shepherd's pie. You know, the whole meat sauce topped with mashed not-sweet potato. That thing? Yeah, never. So I don't know if this recipe is some kind of insult to that… but either way, it's pretty damn delicious. It doesn't really matter what you call it. You can call it orange lentil mush for all I care.
My deep love for root vegetables inspired this recipe. Sweet potatoes. There's just no words in this world that could ever describe what I feel for them. Carrots. The classic. Parsnips. Which actually remind me of sweet potatoes with their hint of sweetness. And of course celeriac root which is an outrageously underrated vegetable in my opinion.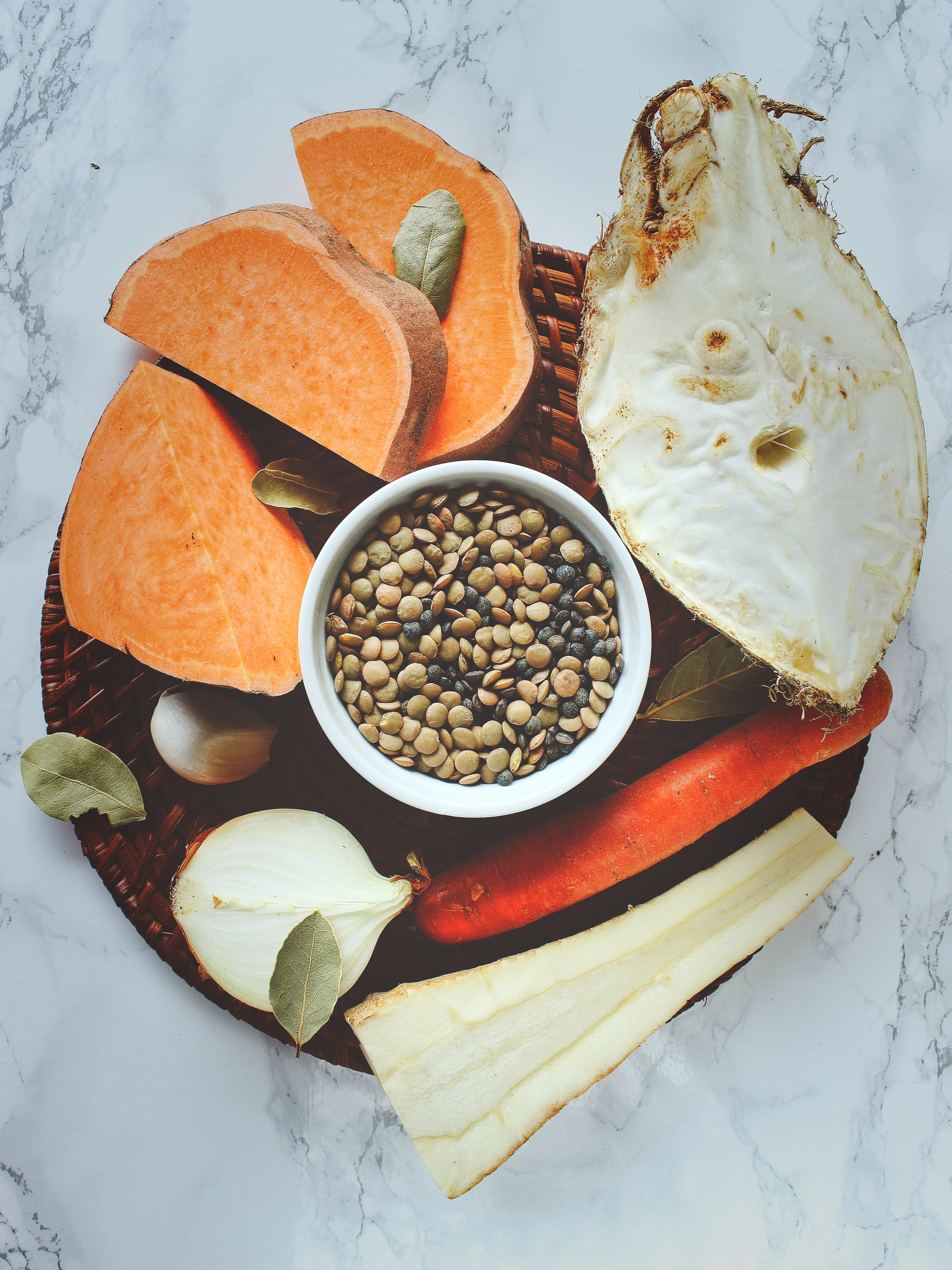 This recipe is actually really easy to make, although it takes some time to cook and bake. It's worth it. All you really need to do is cut the vegetables, boil the sweet potato, simmer the lentil sauce, mash the sweet potatoes, put them together in a baking dish, bake, and BAM – you got yourself a hearty shepherd's pie. I love freezing my leftovers and enjoying them on a chilly evening when I'm too lazy to make dinner.
Reasons to make this shepherd's pie
I really hope you give this recipe a try. What could go wrong when it's:
freezer-friendly (who doesn't love comforting freezer meals?)
satiating and nourishing
but so hearty
made with sweet potato – need I say more?
rich in flavour
vegan and gluten-free!
Ingredient variations
Root vegetables: You can definitely mix and match with which root vegetables you have on hand. If you don't have celeriac root, use more carrots and parsnips, and if you don't have a parsnip, use another carrot instead. All I hope is that you love root vegetables as much as I do, because this recipe calls for plenty!
Lentils: I use a mix of green and puy lentils which both take about 30 minutes to cook. These add such a nice texture to the sauce. You can definitely use all green lentils, but do not use red lentils since these are too mushy when cooked.
Miso: Miso adds a great depth of flavour and colour, but you can also use soya sauce or tamari (if gluten-free) to reach the same kind of effect. I use hatcho miso.
Other comforting meal ideas
I love myself some good comfort food, but comfort food can definitely be vegan and healthy. Even though spring is slowly but surely approaching, it's still pretty cold outside, so here's some comforting recipes for other chilly nights:
I'd love to hear from you!
I hope you try this shepherd's pie and love it just as much as I do. As always, you're welcome to leave a comment below or take a picture of your shepherd's pie and tag me on Instagram: @spirendeveganer. I'd love to hear your thoughts and see your recreation. Take care until next week's recipe, my golden sweet potato butternut squash soup!
Love, Lea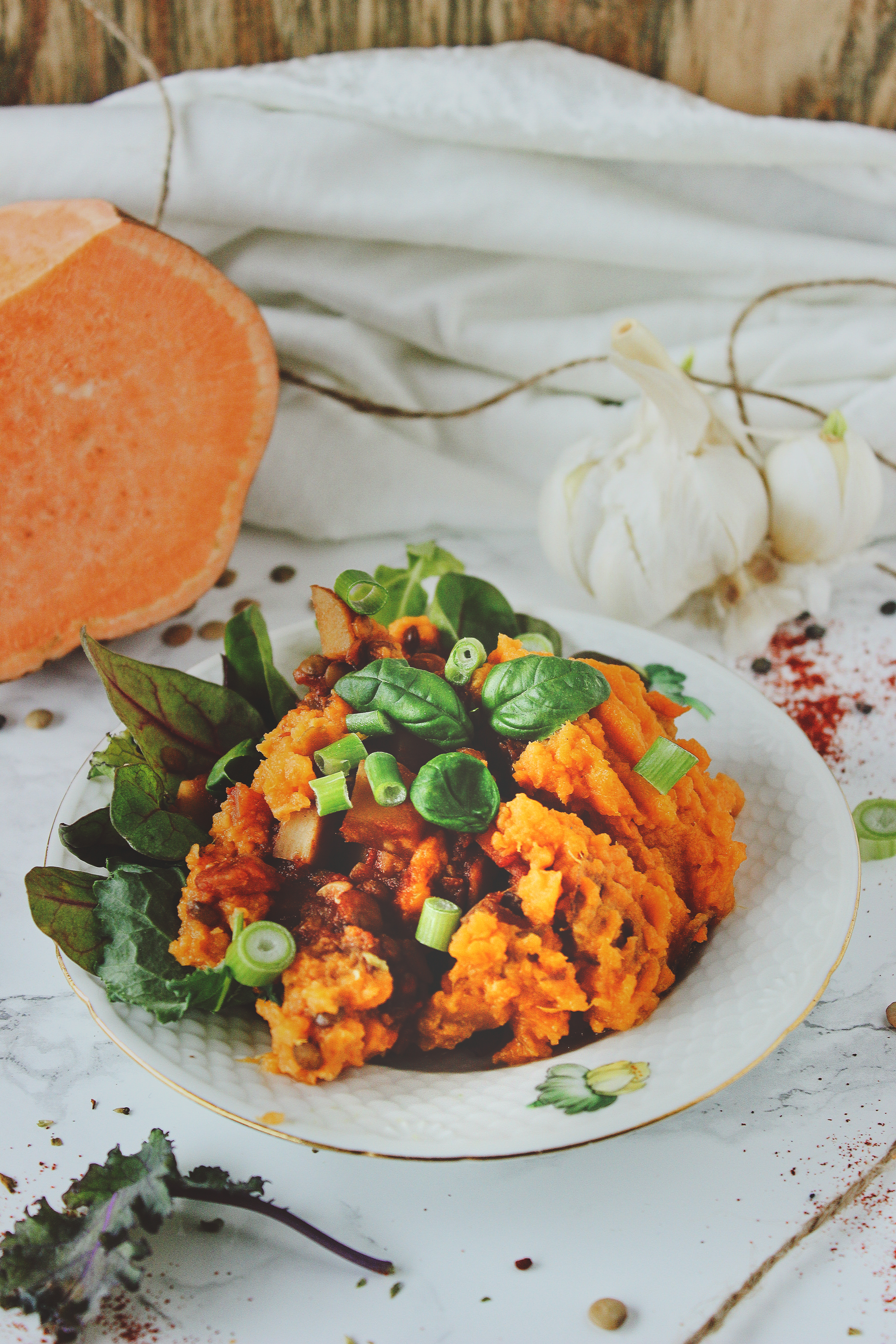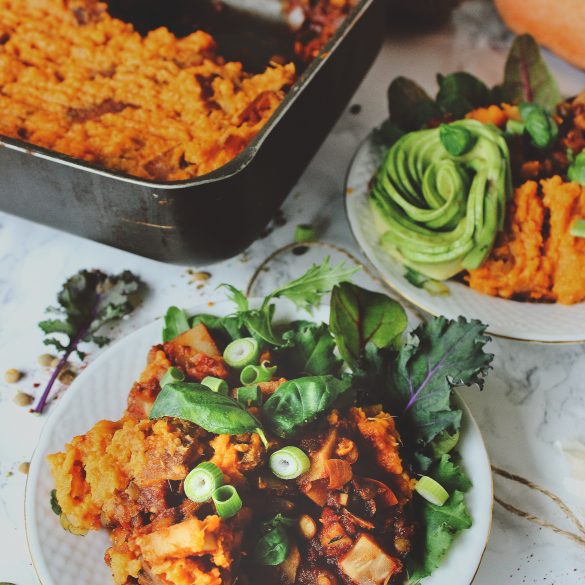 Ingredients
For the Filling:
1 yellow onion, finely chopped

1 clove garlic, minced
1 medium carrot, finely chopped
1 large parsnip (175 g), finely chopped (1 1/4 cups)
1/4 celeriac root (225 g), peeled and finely chopped (1 2/3 cup)
120 g dry green or puy lentils or a mix of both (3/5 cup)
3 dried bay leaves
1 tsp dried basil
1 tsp dried oregano
1 tsp dried thyme
1 tsp smoked paprika
1 tbsp coconut palm sugar
1.5 tbsp tomato paste
1 400 g/14 oz can diced tomatoes
350 ml water (1 1/2 cups)
1/2 tbsp brown miso
cracked black pepper, to taste
For the Mashed Sweet Potato:
1 large sweet potato (500 g/1.1 lbs), peeled if prefered and chopped (4 cups)

non-dairy milk, for mashing
fine salt and cracked black pepper, to taste
Serving Suggestions:
mixed leafy greens

avocado, sliced
Method
Place the sweet potato in a small pot, cover with water, and bring to a boil. Once boiling, reduce the heat to low and let simmer for 17-20 minutes until cooked.
Add the onion and garlic to a large pot and sautée in water or oil for a 5-7 minutes until translucent. Add the root vegetables and sautée 2-3 minutes further before adding the lentils and seasonings and sautéing for another minute. Then add the diced tomatoes, water, coconut palm sugar, and tomato paste and bring to a boil. Once boiling, reduce the heat to low and let simmer covered for about 30 minutes or until the lentils and vegetables are tender, stirring occasionally.
In the meantime, drain the cooked sweet potato and mash it with non-dairy milk, salt, and pepper. Preheat your oven to 200°C, grill setting.
Once the filling is done, pour into a oven-safe baking dish, spread it evenly, top it with the mashed sweet potato, and spread that evenly as well. I use a 26 cm by 19 cm/ 10" by 7.5" dish. Then grill the shepherd's pie in the oven for 23-25 minutes.
Let the shepherd's pie set for a couple of minutes before serving. Serve with mixed leafy greens and avocado or as it is.
Store leftovers in an airtight container in the fridge for up to 5 days or in the freezer for up to 2 months. Reheat in the oven or microwave. Let frozen shepherd's pie thaw overnight and reheat the next day.