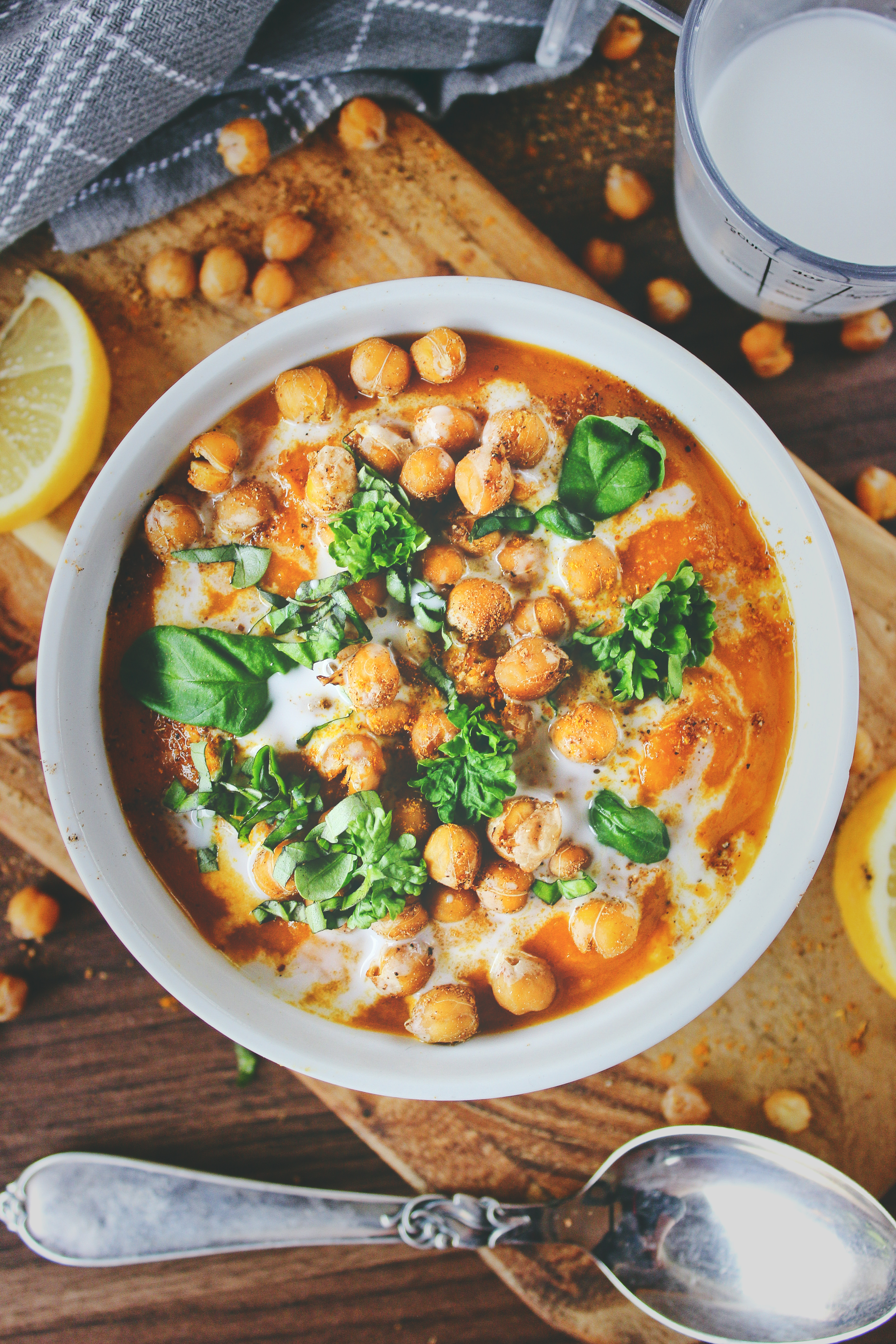 This comforting, golden goodness is made in just one pot with sweet and white potato, butternut squash, creamy coconut milk, red chili, and curry spices. It has the most beautiful, deep orange colour, plus it's creamy, delicious, and nourishing with anti-inflammatory properties!
I love myself a nice soup. Usually I prefer them chunky because I like to actually chew my food, but this one is so good, especially when served with roasted chickpeas. They're a nice alternative to croutons since they add a nice crunch plus some protein.
I'm always cold, so I love having comforting, warming foods. Curries, stews, and soups are some of my favourite dishes. But let's be honest, I love almost anything made of plants.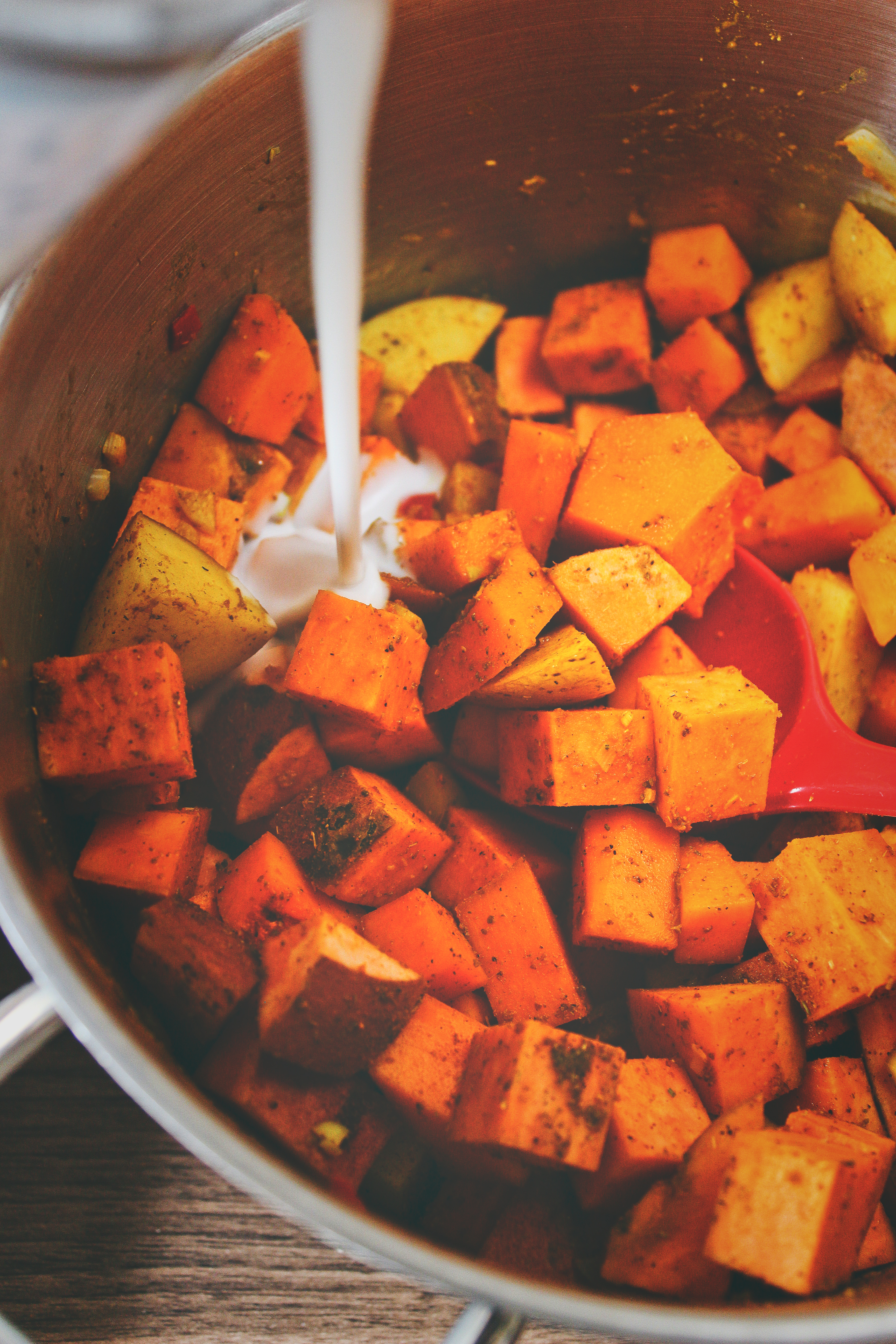 So… I just realised that I've posted three sweet potato recipes in a row… I wasn't kidding when I said I have an obsession. But I guess it's okay since they're all wildly different?
Sweet potatos are so good for you. They're rich in vitamin A, C, and several B vitamins, as well as potassium and other nutrients. And, hey, they taste freakin' amazing. There's just so many reasons to enjoy this wholesome, orange starchy vegetable…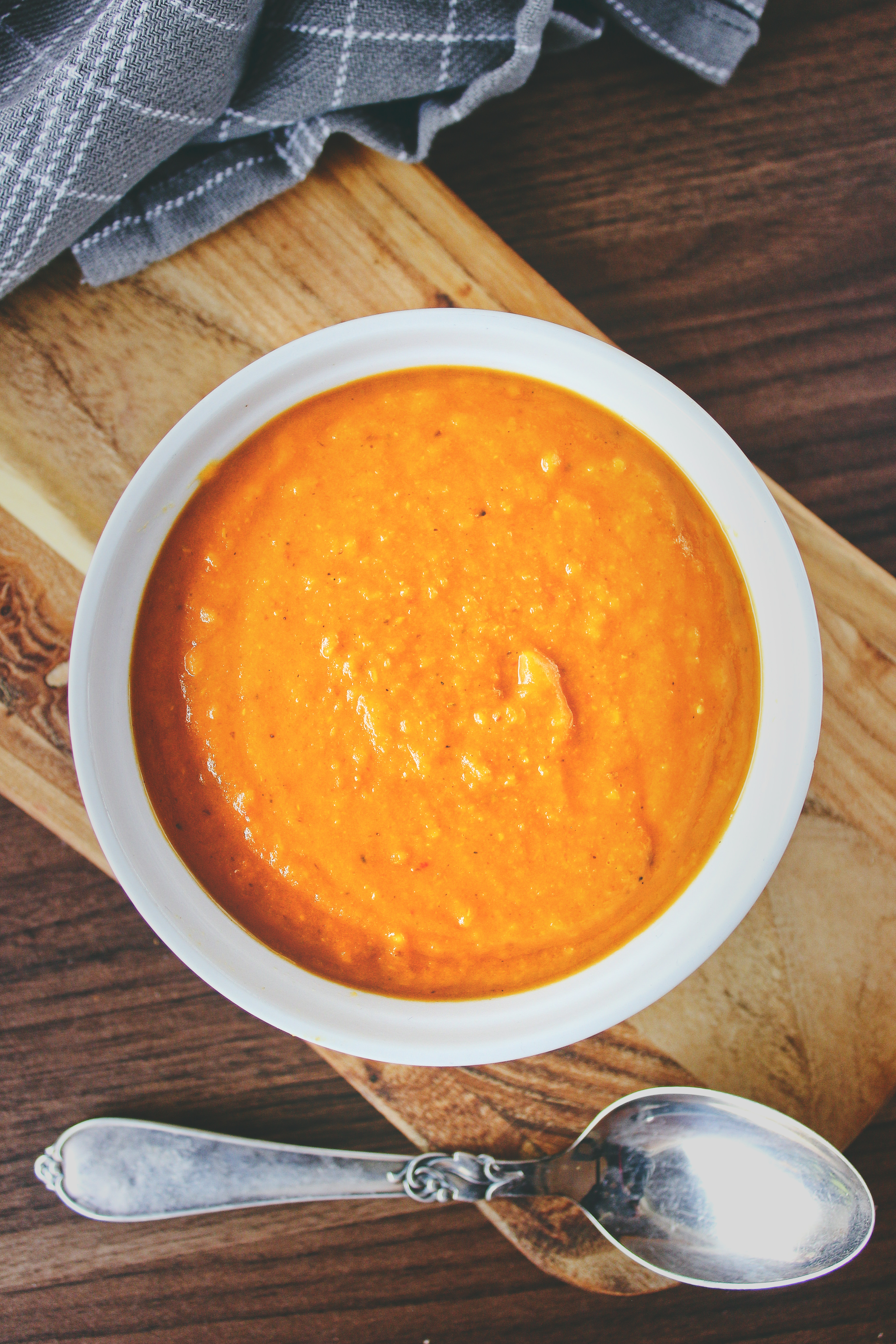 Optional add-ins
If you want to change the soup up a little, here's some ingredients you can add in:
Ginger: For extra spice (and health benefits!), add some fresh ginger to your soup.
Nutritional yeast: If you want to make this soup a little cheesy, nutritional yeast will do the job.
Kale and/or spinach: I have made this soup before where I added kale and spinach. Both fresh and frozen works!
What to serve curried butternut squash potato soup with
I like to think of soups as smoothie bowls, the toppings are everything for aesthetics and extra flavour and texture. Here's some ideas of what to serve your soup with:
Coconut milk: Add some extra creaminess and makes even the blandest soup look Instagram-worthy!
Roasted chickpeas: I love serving this soup with garam masala-roasted chickpeas. I have written how I make them in the notes!
Seeds: Go nuts! Or should I say "go seeds"…? Pumpkin, sunflower, flax, sesame, whichever you have.
Fresh herbs: basil, parsley, and coriander all work great with this one.
Regular or rye bread croutons: You can also use regular croutons instead of roasted chickpeas or make your own rye bread croutons by cutting a slice of rye bread into squares and frying or baking it.
Bread or baguette: The classic.
Roasted butternut squash: For some chunks to chew on, you can also simply just add some roasted butternut squash.
I'd love to hear from you!
If you decide to give this recipe a try, please, let me know what you think about it by leaving a comment below and taking a picture of your soup and tagging me on Instagram with @spirendeveganer. I'd love to hear your thoughts and see your recreations. Take care until we meet again!
Love, Lea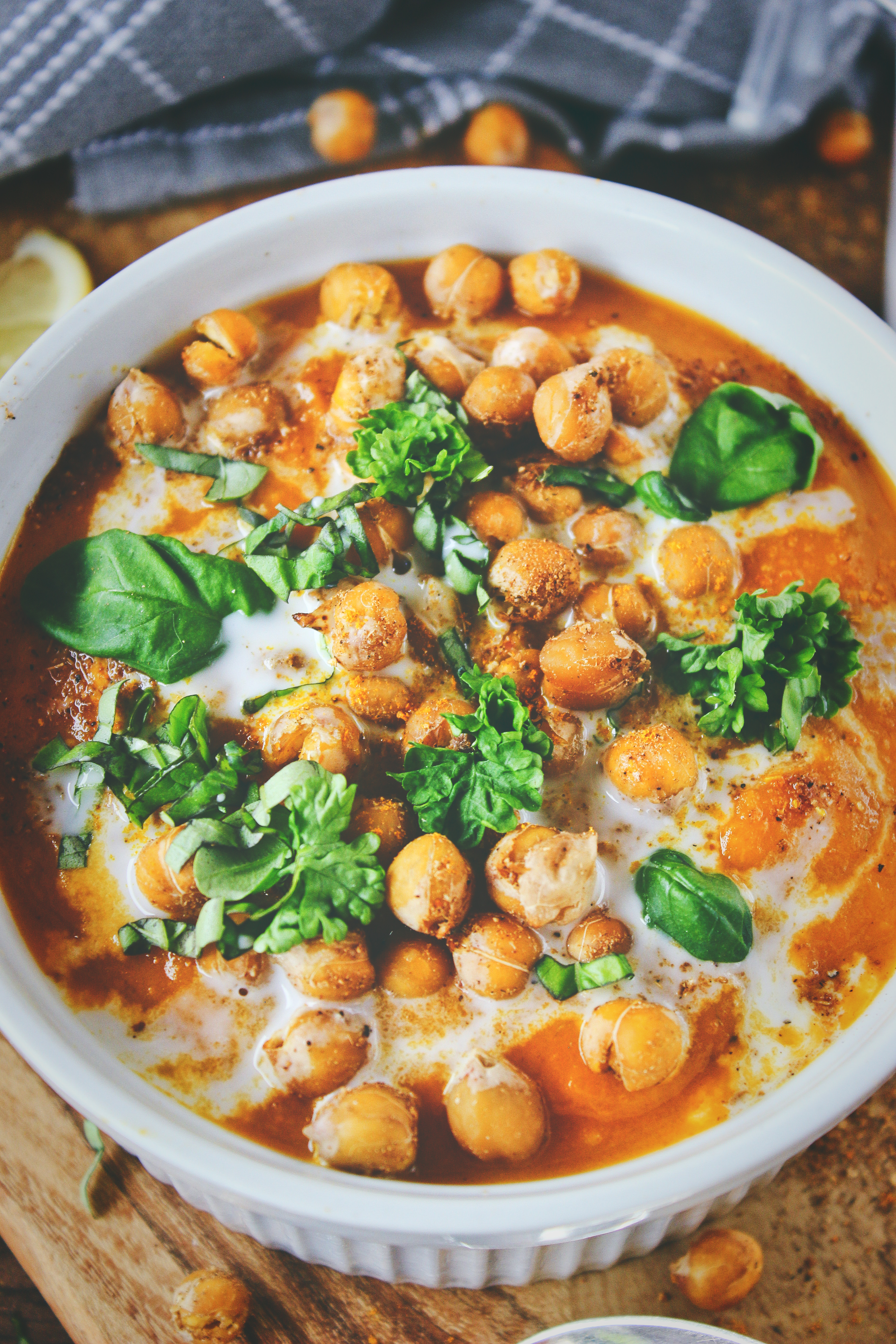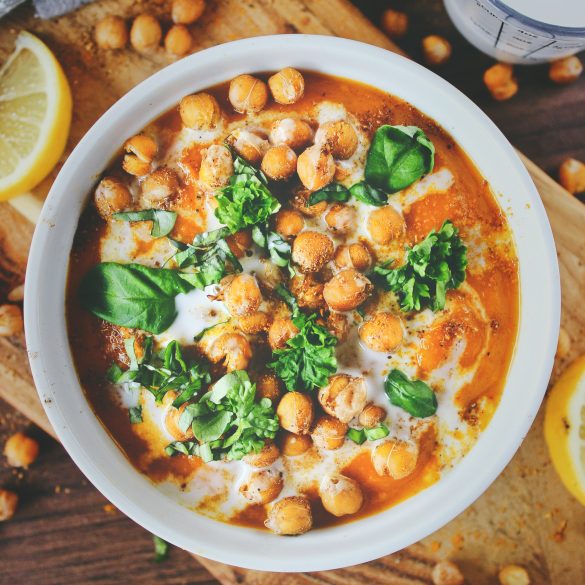 Ingredients
1 yellow onion, chopped
2 cloves garlic, minced
1 red chilli, deseeded and minced
1 tbsp yellow curry powder
1 tsp garam masala
1 tsp ground cumin
1 tsp ground turmeric
1 large sweet potato (500 g/1.1 lbs), chopped (4 cups)
1/2 butternut squash (~500 g/1.1 lbs), peeled and chopped (~4 cups)
1 large white potato (100 g), chopped (~2/3 cup)
1 tbsp tomato paste
1 400 g/14 oz can light coconut milk
250-350 ml vegetable stock (1-1 1/2 cups)

(see notes)

1/2 lemon, juiced
fine salt and cracked black pepper, to taste
Method
Sauté the onion, garlic, and chili in water or oil in a medium-sized pot over medium heat for 2-3 minutes or until translucent and soft. Add the curry powder, garam masala, cumin, and turmeric, stir, and fry them off for a minute. Then add the sweet potato, butternut squash, and white potato and stir to coat them in the onion and spices.
Add the tomato paste coconut milk, vegetable stock, and bring it to a boil. Once boiling, reduce the heat to low and let it simmer for 15-17 minutes until the potatoes and butternut squash are tender. Then turn off the heat and blend the mixture with an immersion blender on in a regular blender until smooth. Season the soup with salt and pepper.
Serve the soup in bowls with, for example, coconut milk, roasted chickpeas, pumpkin seeds, and fresh herbs. It makes enough for 4 entrées or 8 appetisers.
Store leftover soup in the pot or an airtight container in the fridge for up to 5 days or in the freezer for up to 3 months.
Notes
Add more or less vegetable stock depending on the size of your potatoes and butternut squash and how thick/thin you'd like your soup. Start with less and add more vegetable stock later if needed. To make roasted chickpeas, start by preheating your oven to 200°C. Drain and rinse your chickpeas, spread them on a baking tray lined with parchment paper, and season them with anything you'd like. When roasting them to use as a topping for this soup, I like to add garam masala, salt, and pepper. Bake the chickpeas in the oven for about 20 minutes or until golden and crispy!