Autumn has come, and what's better than snuggling up in a blanket with a nice bowl of hokkaido soup? It's so creamy you won't believe there's no dairy involved!
I've never been a big fan of the season autumn, and I've never been one of those hipsters who eat pumpkin spice with everything. In fact, I almost never eat pumpkin.
I did today, though, because I made this super delicious and comforting pumpkin soup. It was my first try, and I think I nailed it. My non-vegan parents approved of it immediately. So I guess I'll be making another batch pretty soon for them to enjoy as well.
It's so creamy you won't believe it's completely dairy free! Like all of my other recipes, this soup is completely plant based, packed with nutrients and healthy fats.
I ate mine simply on it's own, but it would go amazing with bread, I'm sure! I could see those two as close friends.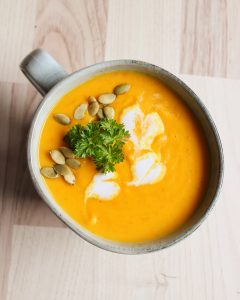 I added nutmeg to my soup as well, because apparently that's some kind of autumn-y spice, too. I'm a newbie. The soup is very rich, but oh so good.
For presentation I added some pumpkin seeds, parsley and dollops of coconut milk I tried to shape into hearts with a toothpick. It was kind of hard, but I think it looks pretty cute! Especially served in this giant mug I got a few weeks ago. Fun fact: I've eaten more food than I've actually drunk anything out of it.
But I hope you'll love this soup. It's:
» super creamy
» perfect for autumn and a chilly evening
» delicious and coconut-ty
» rich in phosphorus and magnesium
» a good source of vitamin a
» high in fiber (your gut is going to love you)
» really healthy
Yeah, I guess there's not really much more to say. I'm still extremely busy with school, and I apologise for that. It sucks that I don't have enough time to do what I really enjoy, but that's life, right? Anyways, I'm really happy to be sharing this recipe with you.
And I'm actually on instagram now, my name is @spirendeveganer just like my blog, so if you ever try one of my recipes be sure to tag me! But now let's get into what you came for: FOOD!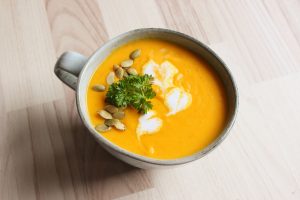 Hearty Hokkaido Soup
Yield: 2-3 servings
This soup will be sure to warm you up! Once you've made this creamy goddess, get your hands on a good book and a cozy blanket to enjoy the whole experience of this meal.
Prep time: 20 minutes
Cook time: 25 minutes
Total time: 45 minutes
Ingredients:
» 1 hokkaido pumpkin (900 g ~ 7-8 cups), cut into cubes WITH skin
» 2 medium carrots (120 g), chopped
» 1 white onion (50 g), diced
» 2 garlic cloves, minced
» 1 tbsp fresh ginger, minced
» 1 (400 ml ~ 14 oz) can full-fat coconut milk
» 100 ml (2/5 cup) vegetable stock
» 4 tsp apple cider vinegar (20 ml)
» 1-2 tsp chili powder (optional)
» 1/2 tsp garlic powder
» 1/4 tsp nutmeg
» 1/4 tsp cardamom
» salt and pepper to taste
For serving (optional):
» whole wheat bread or brown rice
» vegan sour cream
» pumpkin seeds
» fresh parsley
Directions:
1. Sauté the carrots, onion, garlic and ginger in a pot with some water on medium heat for a few minutes.
2. Add the spices, except for salt and pepper, and sauté for another minute.
3. Add the hokkaido pumpkin, vegetable stock and apple cider vinegar, put the lid on the pot and let it simmer for 5 minutes.
4. Now add the coconut milk, bring it to a boil, and let the soup cook for 15-20 minutes with the lid on.
5. Once the pumpkin is soft, take it off the heat and use a hand blender to blend the soup until completely smooth.
6. Add salt and pepper to taste and enjoy any way you'd like!