Easy 1-pot stew with hearty pumpkin and parsnip, thickened with pearl spelt and infused with rosemary. This stew is just the way I like it: flavourful and chunky, but super simple and easy to make. Chug everything in a pot and let it cook, and before too long you've got yourself a healthy and tasty dinner. Vegan, soya-free, and oil-free option.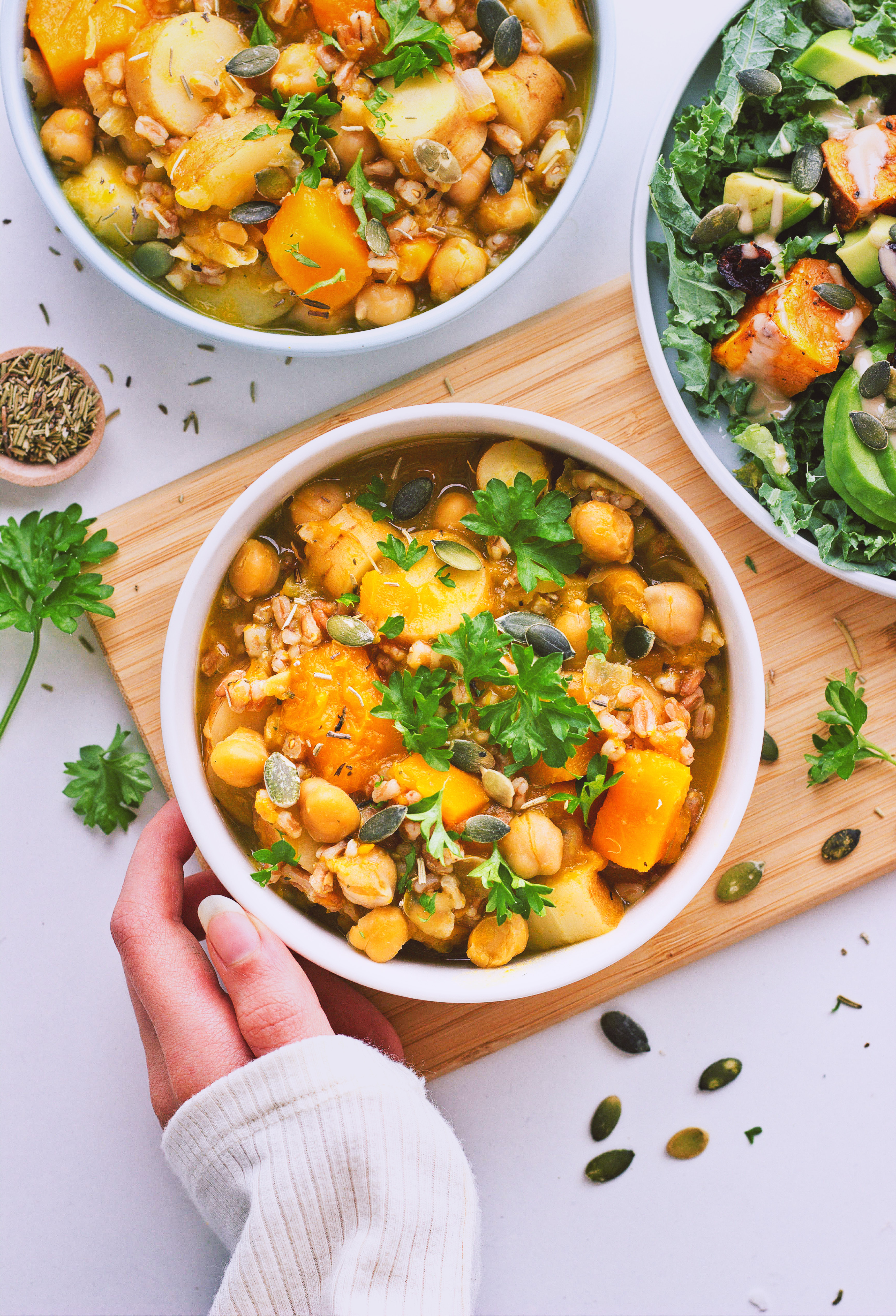 We added a member to our family last Sunday when my mum, grandma, and I took a little trip from Zealand to Jutland and picked up a 6-week-old Abyssinian guinea pig called Penelope from a woman who lives there and keeps guinea pigs. Although, to be completely honest, she's not really a part of our family since she technically still belongs to the woman.
We're only borrowing her to keep my lonesome guinea pig company after her friend passed. Why drive all that way to then just BORROW a guinea pig, you ask? What can I say, I'm in love with Mrs. Jutland's guinea pigs (unfortunately for my mum who has to drive the 3 hours both ways). I know she cares for her guinea pigs deeply and looks after them properly, and it shows on the piggies. Both Chloé (my guinea pig) and Penelope are the sweetest little creatures.
I've been getting to know Penelope over the past few days, and I keep finding myself feeling so in awe of her. How can someone so small be so truly incredible (and freakin' ADORABLE)? People ask, "Dog or cat person?" and I answer, "Guinea pig person. FOREVER!"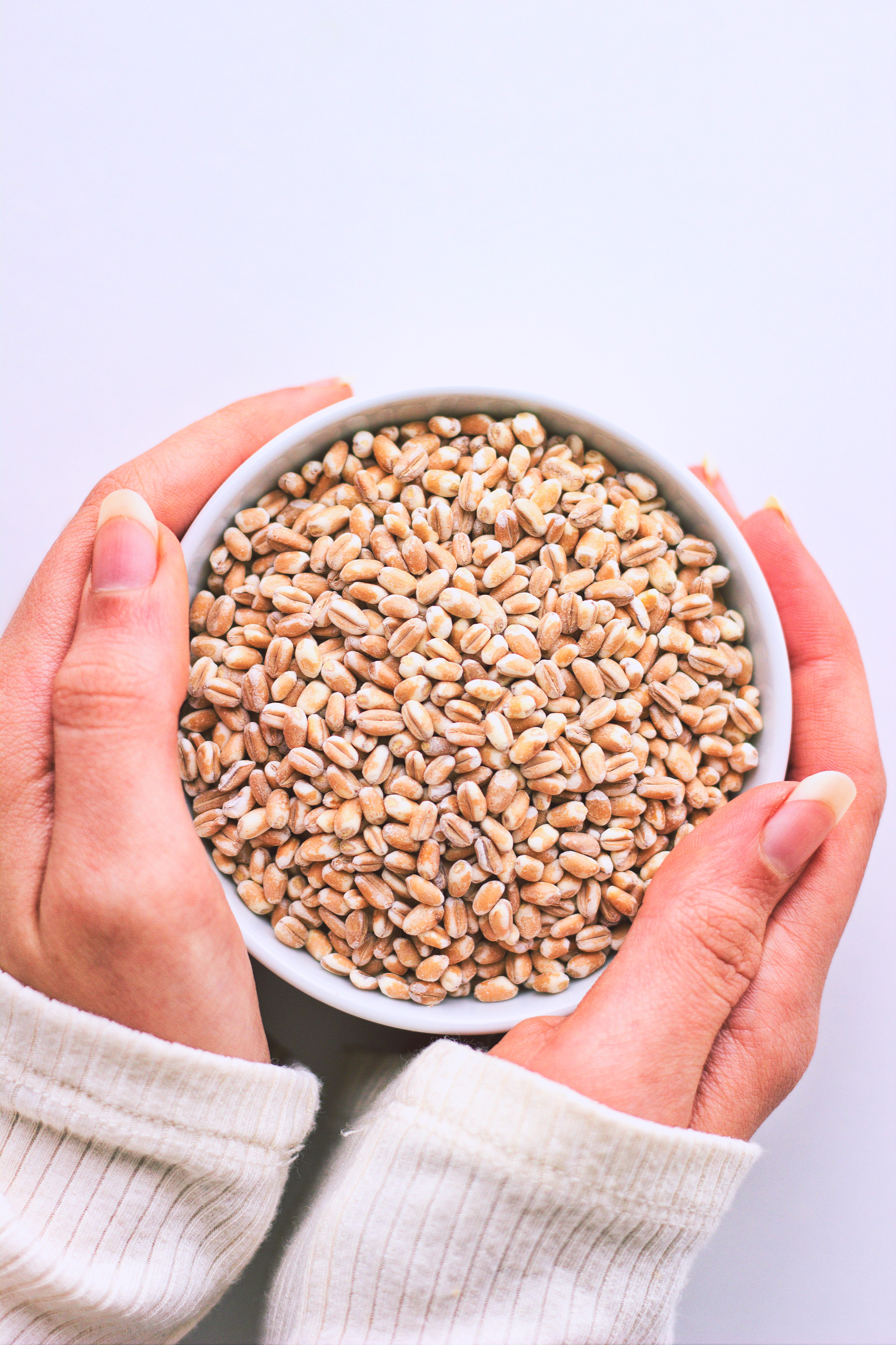 To talk just a little about the food, today I'm sharing a warm hug-like, nourishing, and tasty 1-pot pumpkin and parsnip stew with pearl spelt (perlespelt på dansk).
I like both pumpkin, parsnip, and pearl spelt, but I never seem to know what to make with them. So I chugged them all in a pot and let it cook for a while, and, maybe quite predictably, I liked the result. I love having warming stews with lots of stuff to chew on, so big pumpkin and parsnip chunks and pearl spelt with chickpeas and rosemary infusion it is. You can also add some greens to the stew if you'd like, I usually do, just for the extra health, you know, and think that both kale and spinach works well.
If you've never heard of pearl spelt before, it's a lovely little grain which takes about 25 minutes to cook, and is slightly bigger and chewier than brown rice once cooked. You can use it in just as many ways as any other grain, it's just about getting creative. I'm definitely going to experiment more with it in the future.
You can enjoy this stew as it is, or serve it with some crusty bread… or go the even healthier route and have it with a salad. I've been loving this sweet potato kale salad with avocado, dried cranberries, and tahini lately, so I decided to snap a shot of that, too, for an extra dash of inspiration today.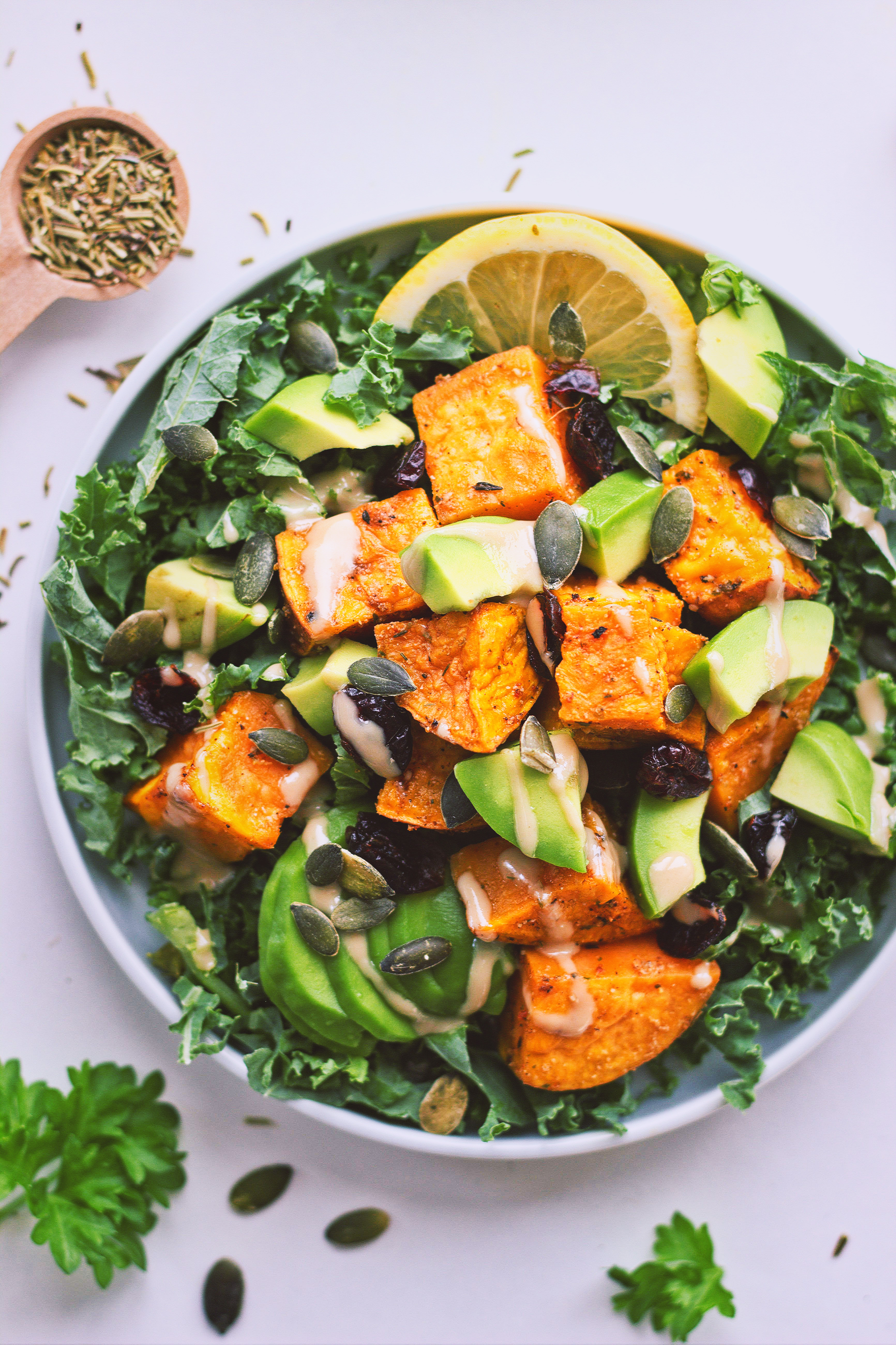 This stew is so simple to make and perfect for the chillier evenings to come. This morning, when I went outside for my daily raspberry-picking, it was just 6°C outside! It's becoming more and more obvious that autumn is all around us. I can see it in the first falling leaves, that the days are getting shorter, and the autumn produce stocking up on the supermarket shelves.
Looking for more comforting autumn-appropriate meals? Check out my creamy, dreamy Coconut Sweet Potato & Red Lentil Curry, 30-minute Curry Butternut Squash & Potato Soup, and slightly more time consuming, but just as delicious Root Vegetable & Sweet Potato Shepherd's Pie!
If you try this recipe, let me know what you think about it. Rate it, leave a comment below, and take a picture of your stew and tag me on Instagram. My profile name is @spirendeveganer. I'd love to hear your thoughts and see your creations!
Love, Lea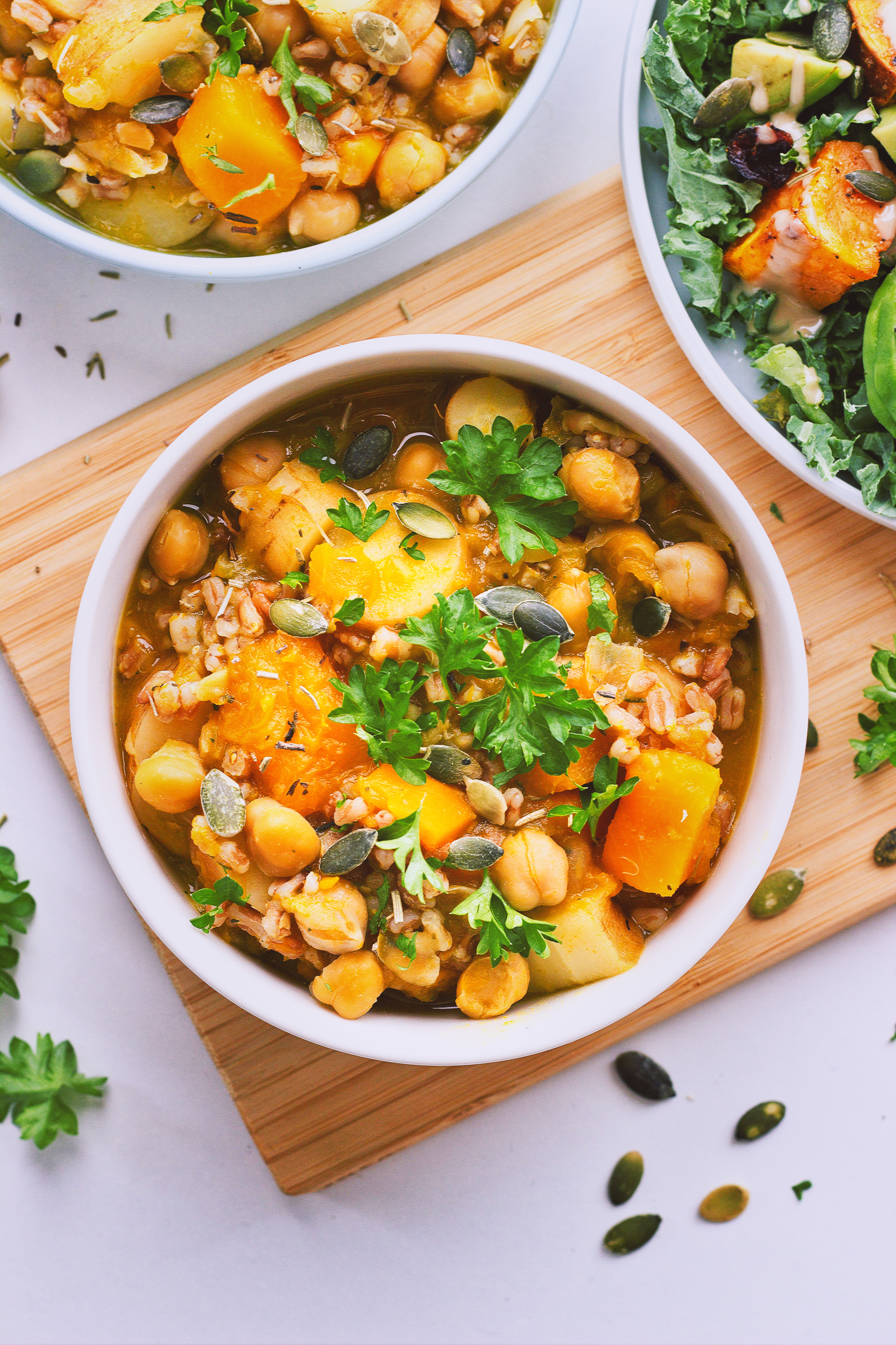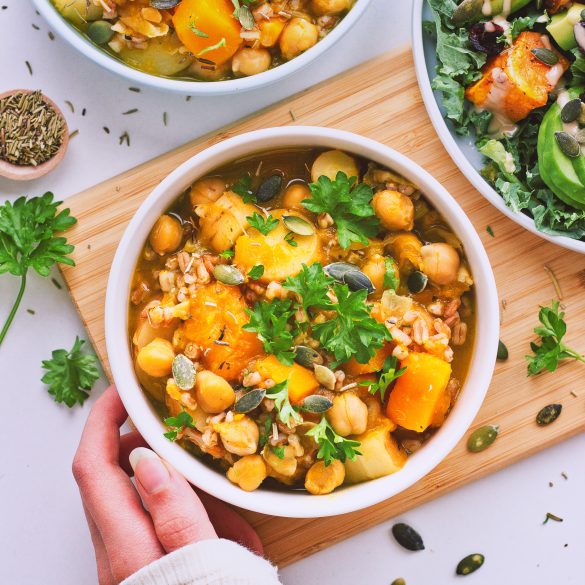 Ingredients
oil or water, for frying
1 yellow onion, chopped
3 cloves garlic, minced
1 thumb-sized piece ginger, minced
1 tsp dried rosemary
1 tsp dried thyme
1/2 Hokkaido pumpkin, peeled and cut into bite-sized pieces, ~400 g/ 3 + 1/3 cup
2-3 parsnips, cut into bite-sized pieces, ~225 g/ 1 + 2/3 cup
100 g uncooked pearl spelt, 1/2 cup
1 400 g/14 oz can chickpeas, drained and rinsed
1-2 sprigs fresh rosemary (optional)
400 ml vegetable stock
salt and black pepper, to taste
Method
Heat the oil or water in a medium-sized pot over medium heat. Add the onion, garlic, and ginger, and fry for 2-3 minutes until the onion is starting to become soft and translucent. Then add the dried rosemary, thyme, pumpkin, parsnips, and enough water to cover the bottom of the pot, and cook for 4-5 minutes to soften the vegetables.
Add the pearl spelt, chickpeas, fresh rosemary, and vegetable stock, give it a stir, and bring to a boil. Reduce the heat to low, and let it simmer, covered, for 25-30 minutes until the vegetables and pearl spelt are cooked, stirring occasionally.
Serve with, for example, fresh parsley, pumpkin seeds, and crusty bread or a fresh salad on the side.
Store leftovers in the fridge for up to 3-4 days or in the freezer for up to 2-3 months.