~Festive~ Mexican cornbread loaded with sweetcorn, black beans, chilli, and coriander, perfect for soaking up the flavours of any saucy chili. This is NOT your typical cornbread – it's extra loaded and healthy with lots of flavours and textures. Spice up your Mexican feast with this AMAZING sweetcorn bread. Vegan, GF, and oil-free.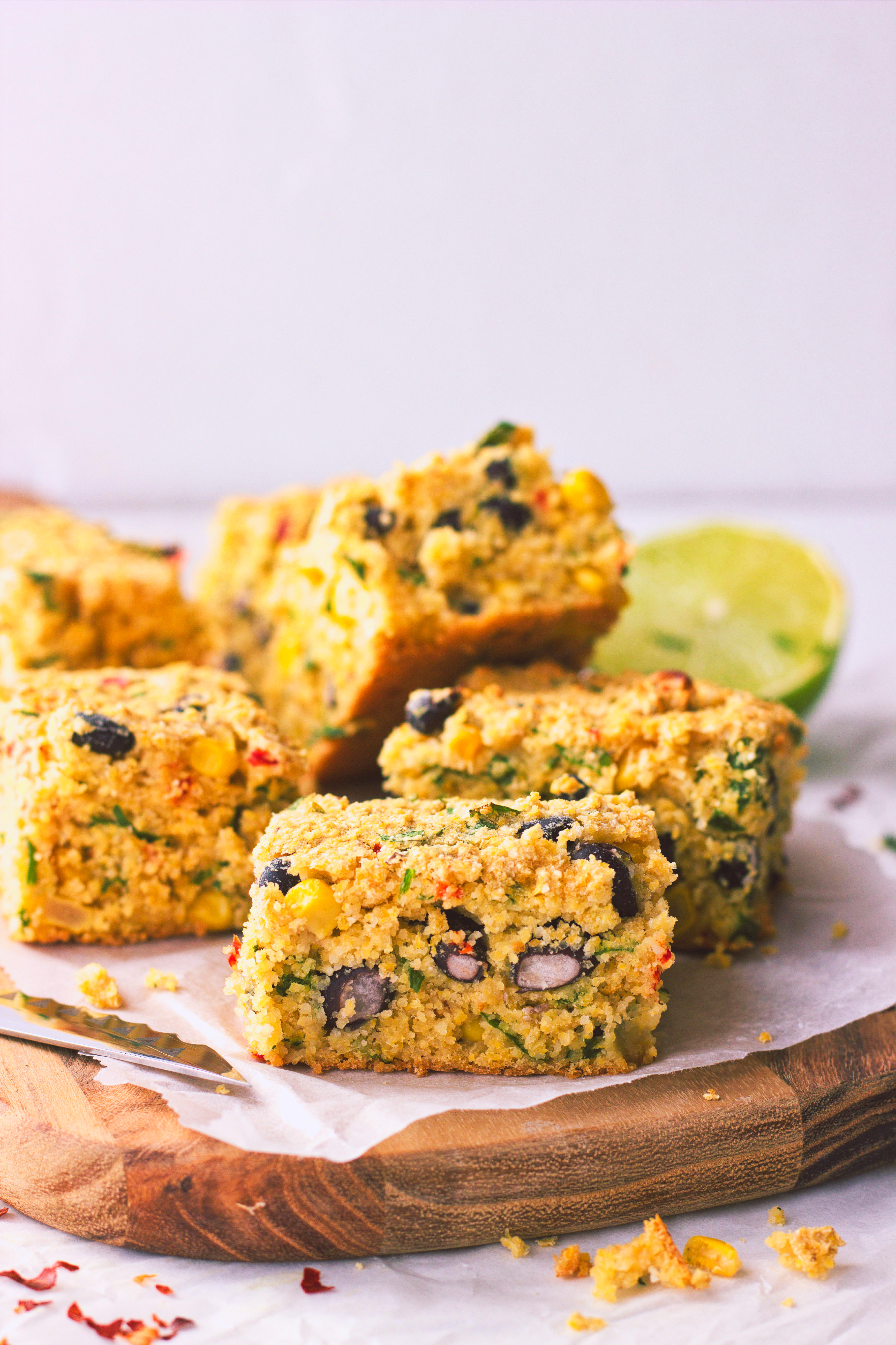 I got Deliciously Ella: The Plant-Based Cookbook for my 16th birthday, and I was so excited to finally be able to hold it in my hands. That same night, I swore I'd try all the recipes in it. Ella's infamous Five-Bean Chilli with Corn Bread were the first recipes I tried from it, and it instantly got me hooked on cornbread which, can you BELIEVE it, I'd never tried before that.
I liked them both, but the cornbread was rapidly falling apart and turning into crumbles at the slightest touch. Don't know what was up with that, maybe I was just a shit cornbread chef (as I admitted to before, I had never tried it before then). The next time I made it, I steered away from the recipe and decided to make it oil-free by using applesauce.
I know you're already feeling sceptical, but this honestly tastes SO GOOD and not like applesauce AT ALL. Every time my parents smell it they get an apparently uncontrollable, intense urge to steal my food. So it's good this makes enough to serve a crowd – enough for you and all your guests who promptly invited themselves. RUDE.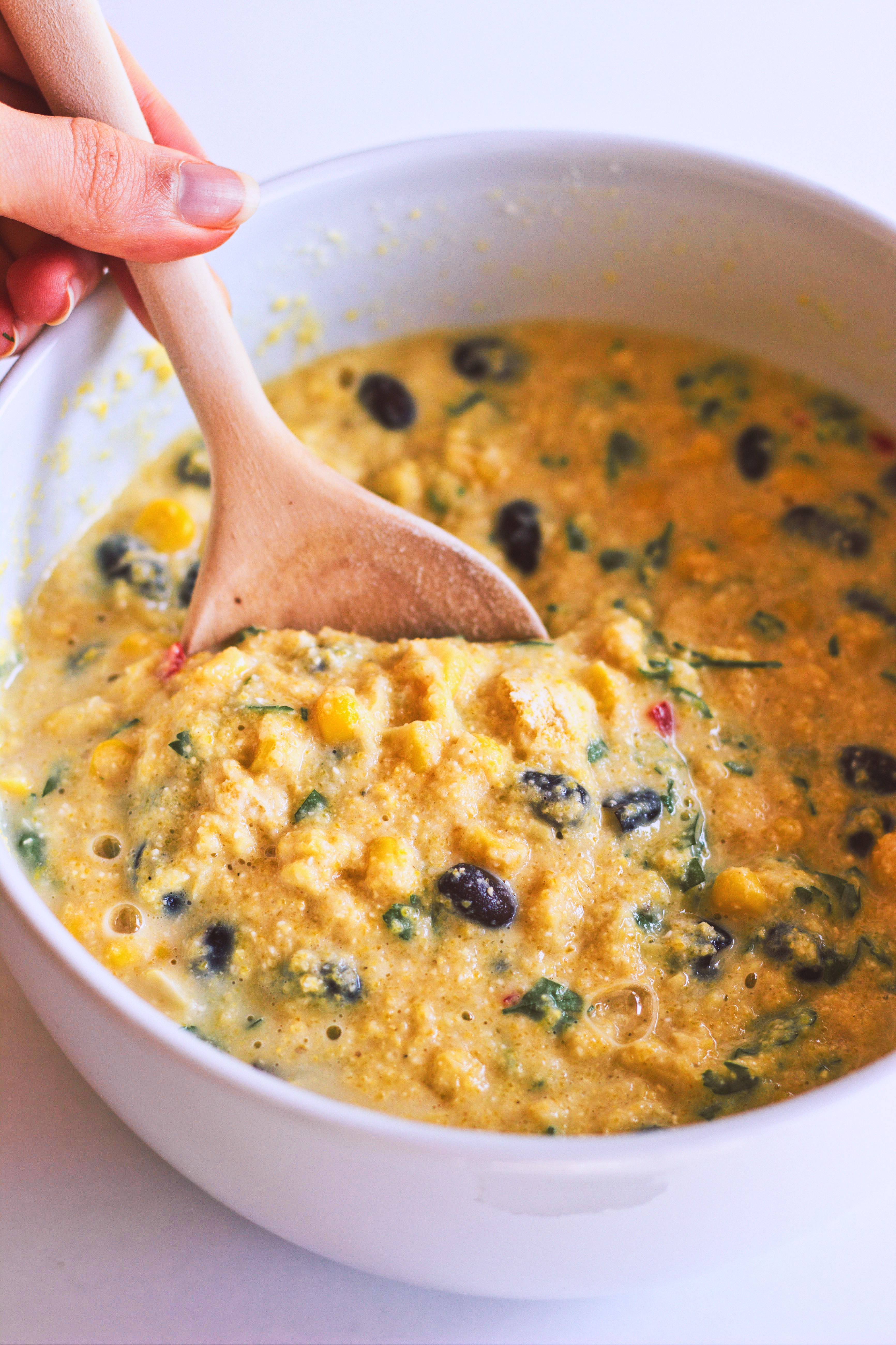 I made this cornbread to go with my Chili Con Soy which I shared last week. If you make them both, it might take some time and effort, but the final meal is so worth it, so amazing, and great if you have sceptical non-vegans you want/need to win over [to the dark side, muhahaha]. But I will also scoff down several slices of this with literally nothing else as a snack because it tastes lovely on its own, too. And sometimes I add some sliced avocado and a sprinkle of lime juice, a Mexican-inspired advanced version of avocado "toast", if you will!
I hope you love this cornbread as much as we do in my home. If you try it, let me know what you think about it. Rate the recipe, leave a comment below, and take a picture of your cornbread and tag me on Instagram. My profile name is @spirendeveganer. I'd love to hear your thoughts and see your creations!
Love, Lea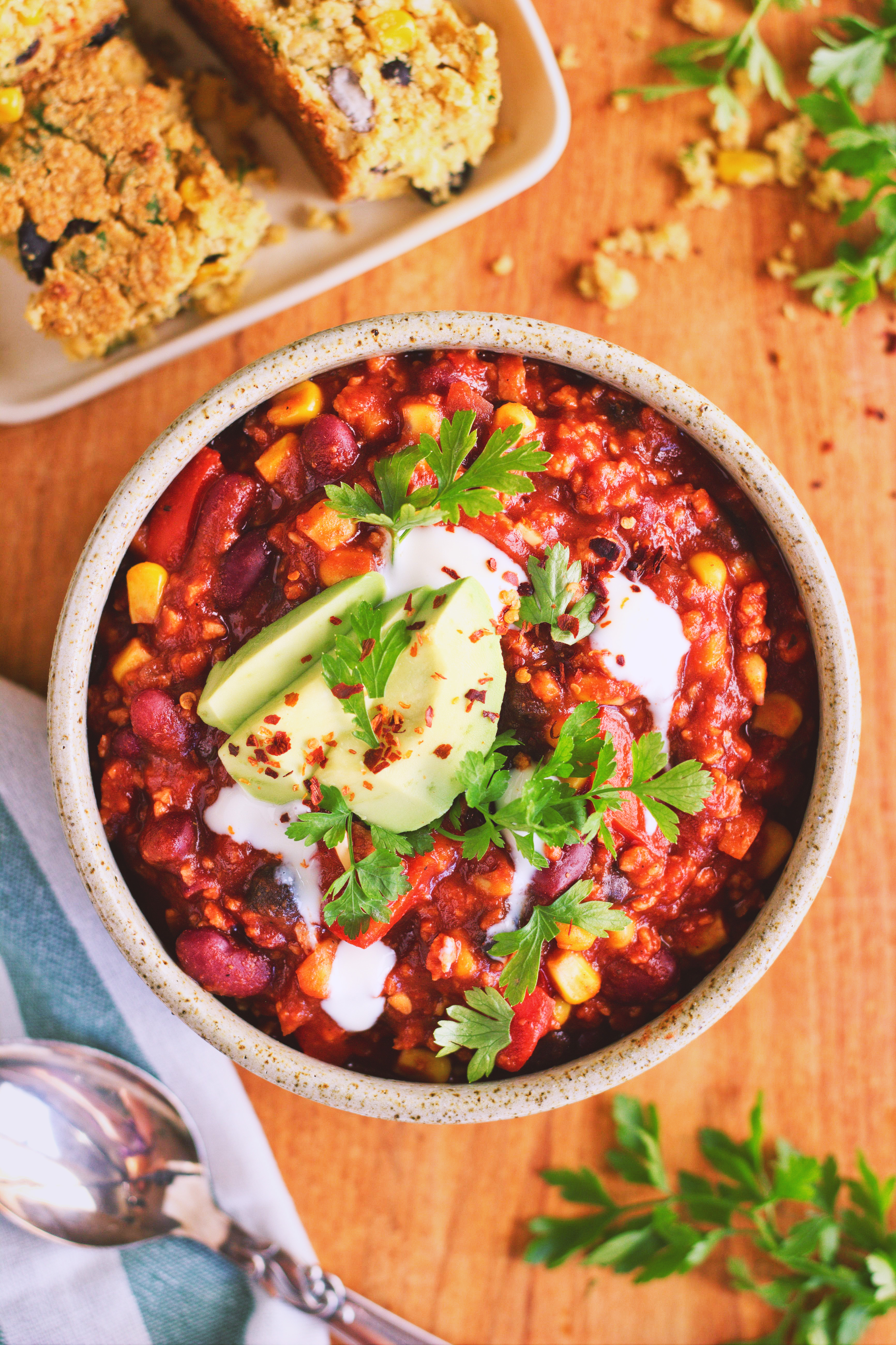 This recipe was inspired by the Corn Bread (page 162) in Deliciously Ella: The Plant-Based Cookbook.
Ingredients
2 150 g/5 oz cans sweetcorn, drained and rinsed

100 g unsweetened applesauce, 1/2 cup

200 g polenta, ~1 cup

50 g brown rice flour, ~1/3 cup

50 g corn flour, ~1/3 cup

1 tsp baking powder

1 tsp baking soda

1 tsp fine salt

1/2 400/14 oz can black beans, drained and rinsed

5 g coriander, chopped, 1/2 cup packed

1 red chilli, seeds removed and minced

1 tbsp lime or lemon juice

250 ml unsweetened non-dairy milk, 1 cup
Method
Preheat your oven to 175°C (350°F) and line a baking dish with baking paper. Mine measures 25 cm/10 inches x 19 cm/7.5 inches.
Place 1 of the cans of sweetcorn and applesauce in a blender and blend until smooth.
In a large bowl, mix the polenta, brown rice flour, corn flour, baking powder, baking soda, and salt well. Add the sweetcorn and applesauce mixture, black beans, remaining 1 can of whole sweetcorn, coriander, chilli, and lime juice and mix until all the flour is incorporated. Then gradually add the non-dairy milk and mix until you have a smooth batter.
Pour into the lined baking dish and bake in the oven for about 30 minutes or until golden and a toothpick inserted into center comes out almost clean. It doesn't have to be completely clean because the cornbread will dry out a little as it cools down, so it's better to undercook it slightly to get the best texture. Let it cool for at least 5 minutes before cutting into slices.
Serve with my Chili Con Soy, any Mexican-inspired meal, or enjoy as is.
Store leftovers in the fridge for up to 3-4 days or in the freezer for up to 2-3 months.