I think vegetables are delicious as they are, but sometimes it can be fun to prepare them in a new way. If you think cauliflower or vegetables in general are boring, here's my spicy take on baked cauliflower! You get all the good nutrients in a different and flavourful way.
I've seen cauliflower wings and other sorts of baked cauliflower recipes circling around on the internet for a while. I wanted to try it myself, but I was unsure of how to do it. One day I told myself, this is enough. I bought a head of cauliflower and experimented with it. This was my lovely result—on first try!
I bought sriracha recently because I was making a recipe which called for it. Many of the YouTubers I follow are obsessed with it, and they put it on everything! I think it's nice, but, really, it's just a chili sauce. I don't think it's anything extraordinary (if you're a sriracha fan, please, don't attack me).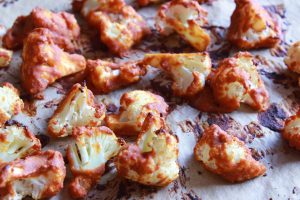 It look like this after baking. Sometimes the batter sticks to to the parchment paper … and I'm not going to lie, I eat it (because it's freakin' good). The cauliflower florets are crunchy right when they come out of the oven. The next day? Not at all, but the flavour is still there.
Benefits of this recipe:
» it's low in fat
» it offers about 7 g of protein per serving
» it's a good source of vitamin B6, A, C, K and folate
» 1 serving contains 20% of your daily requirement of manganese
» it's easy to make and fun to eat
If you try this recipe, please, leave me a comment. You can also tag me at Instagram—my name is @spirendeveganer. I'd love to hear your opinion. Now, let's get spicy!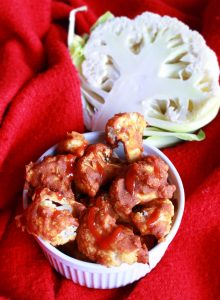 Baked Sriracha Cauliflower
Yield: 2 servings
Time: 25 minutes
Type: Side dish
Good old cauliflower—spiced up!
Ingredients:
» 1/2 cauliflower head
» sriracha batter
Sriracha batter:
» 3 tbsp sriracha*
» 3 tbsp water
» 1 tbsp soy sauce
» 1 tsp rice vinegar
» 3 tbsp chickpea flour
» 1 tbsp coconut sugar
» 1/2 tsp smoked paprika
» 1/2 tsp garlic powder
Method:
1. Preheat the oven to 200 C (400 F).
2. Wash the cauliflower head and cut it into florets. Set them aside in a mixing bowl.
3. In a small bowl, add the chickpea flour, coconut sugar, smoked paprika and garlic powder. Mix well.
4. Add the rest of the sriracha batter ingredients to the bowl. Stir the mixture together until a runny paste forms, and no lumps remain.
5. Add the sriracha batter to the cauliflower florets in the mixing bowl, and mix well until all the cauliflower florets are coated.
6. Put the cauliflower florets on a baking sheet lined with parchment paper, and bake them in the oven for 15-20 minutes.
7. Enjoy them as a side dish to a vegan meatloaf, a component to a buddha bowl, a friend to a veggie burger or simply as a spicy snack.
Author's note:
*If you don't have sriracha, you can use any other chili sauce.