Dining Week is a food festival that started in Copenhagen back in 2011. My family and I went to try out simpleRAW's 3 course vegan menu. You can read what I thought about the food and experience here!
Yes, I'm back so soon. It feels good to be active on my blog. Dining Week is a selection of restaurants that all offer a 3 course menu for the same price, this year from the 11th to the 18th of February. I'd been wanting to try the almost completely vegan (apart from honey and milk for coffee) and partly raw restaurant, simpleRAW, so when my dad saw that they had been selected for Dining Week, of course he got tickets for me and the rest of my family. (Thanks, dad!)
Let's just get straight into my review. simpleRAW is a cute, little restaurant located at Gråbrødretorv 9 in Copenhagen. When we got there, a table waiting for us with our name on it. The restaurant was quiet and not overcrowded, which was nice, but maybe that was just because we came in the afternoon.
We got a really nice waiter.  I think he owns the place. He seemed very caring and excited. The restaurant was clean and nice. Nothing to complain about there.
Appetiser(s):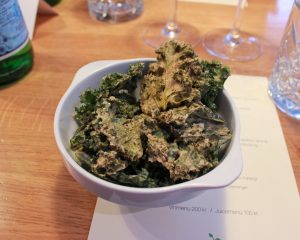 Kale Chips
The first thing we got was dehydrated kale chips tossed in sour cream and onion. I've bought kale chips from my local grocery store before, but these were even better. God, so heavenly…
They were extremely crispy and dehydrated with lots of that delicious coating. Everyone liked it (except my brother). I could eat them all day, to be honest. I need to get a dehydrator just so I can make kale chips.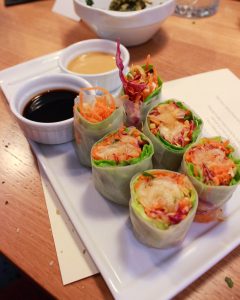 Rice Paper Rolls
Then we got rice paper rolls… yum. These were made with kimchi (first time trying that—liked it!), leafy greens, cabbage and carrot. For dipping sauces, we got tamari and chili-ginger-sauce.
This was really fresh and nice, the tamari was good (when isn't it?), and the chili-ginger-sauce was also very tasty. It was slightly sweet with a hint of chili and ginger.
Main meal: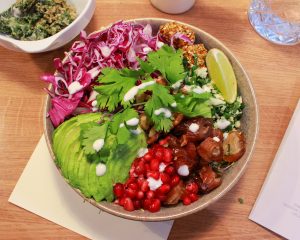 Middle Eastern Bowl
The main meal was completely raw vegan, and it was so good and fresh. All those vegetables reminded me how much I miss summer, exotic fruits and salad. I've been eating lots of comforting vegan soups, stews and curries this winter, but I'm ready (really ready) to see the sun again and start eating more raw foods. Not than I'm planning to become a raw vegan… but it's nice eating salad outside when it's warm.
Anyways, this bowl had raw falafels, cauliflower rice, tabbouleh, red cabbage, avocado, pomegranate seeds, dates and sprouts (and a cute coriander leaf on top!). It came with a sesame dressing. And yes, it was really good, but also incredibly filling. It was a very big portion… so I didn't finish it completely. I mean, you've got to make room for dessert.
Dessert:
Lime Cheesecake
Holy cow (no cow in this cheesecake, though)… This was amazing. I ate way too much, but it was all worth it. This cheesecake had 3 layers: a lime layer, a cashew layer and a base layer of dates and almonds.
The texture was amazing. Just like "real" cheesecake. It had a nice taste of lime, but it wasn't overpowering. I didn't like the chocolate crunch (neither did my dad), but I don't really like chocolate in general.
Final thoughts:
Great experience. As you can read, I'm in love with this restaurant, and I'm definitely coming back! You can follow simpleRAW on Instagram (@simpleRAW). I you're raw vegan, or just vegan, I definitely recommend simpleRAW if you ever find yourself in Copenhagen.
Now… I don't want anyone to expect this kind of treatment. But right before we we left the restaurant, I went to the bathroom. While I was there, the waiter asked my mom why we had picked simpleRAW's menu. My mom said that we went there because I'm vegan and they [my family] support me.
I think she got him even more excited than he was before… (I don't know how that was possible.) He gave us 4 organic bags with simpleRAW's logo, and me a free cup of dehydrated sweet potato chips (the restaurant sells a few things). We also asked if we could get the leftovers to-go with us home, and he gladly agreed. He added new dressings to the boxes and everything. So yeah… It was lovely!
That's it for now. This was my review on simpleRAW and their 3 course vegan menu. I'll see you soon for new recipes, health articles and restaurant reviews!
Thank you for reading.