Sometimes it can be hard to figure out what to bring to school or work for lunch. Today I'm bringing you 3 different, delicious, easy lunch ideas to help you out. I took pictures of 3 of my lunches to show and inspire you. Remember it's always important to eat good and nutritious foods, also at lunch time!
It's that time of the year. Back to school (or work). Maybe you're already back, maybe you're going back soon.
No matter what, it's time to start packing lunch again! We all know that feeling of loss of motivation and inspiration when it comes to lunch. It has to be quick and easy to make, but you struggle to find time to plan a tasty and nutritious lunch.
I'm here to help! It's actually been 2 weeks now since I started school, and the first week I took a few photographs of my packed lunch to show you!
I hope that it will give you some ideas and inspiration for what to bring with you to lunch next time you go to work or school!
I got a monbento lunch box recently, but you can use whatever boxes you have at home. I really love this box because of how pretty it is, and it's very practical, too. It's the perfect size, and I like that I can separate my food and it isn't floating all around my lunch box.
But without further ado – let's get into the lunch ideas!
Lunch idea #1: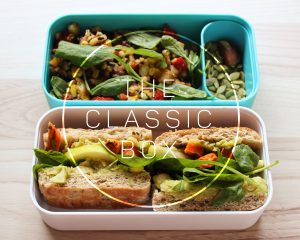 I'm calling the first idea 'The Classic Box', because that's what it is. A sandwich and a salad. Simple. Easy. Delicious. And it's a meal that's easily customisable.
You can make a sandwich with anything you'd like: Fresh or sautéed vegetables, tofu, seitan, tempeh (or vegan meat), you can make your own plant based pattie, you can even put potatoes in your sandwich (and fruit, like I did!) and use different spreads, like pesto, hummus or vegan mayonnaise to make your sandwich really awesome.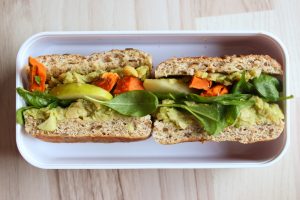 The sandwich I used for the first box in this lunch came from my newest recipe Sweet 'N' Sour Chickpea Sandwich. Check the link out if you're looking for a new, interesting sandwich recipe. This one is made with an avocado-chickpea mash, lots of fresh spinach, topped with sour apple slices and sweet potato fries.
Sounds good, right?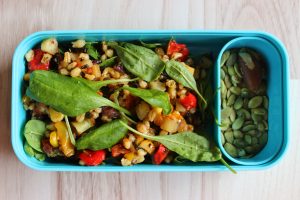 In the second box I just put together a random salad. My mom brought home a salad with roasted vegetables and bulgur from work, and I just paired that with  spinach. Easy and simple.
I also took pumpkin seeds and a brazil nut with me to make sure I stayed full and energised during the whole school day.
Today's tip!
Stick to the classics. As I said before, it's easy to make a sandwich for lunch. If you have some bread lying around, you can put literally anything in it. The same thing goes for a salad.
Lunch idea #2: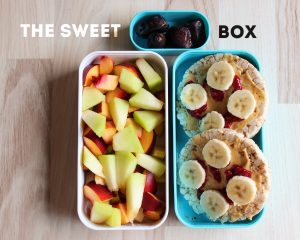 This lunch is definitely perfect if you have a sweet tooth! It's more like a fun snack box than an actual lunch, but who cares?
It's really simple, and, again, easily customisable. You can make other sweet varieties of the rice cakes, or even make savoury ones, if you prefer. You can cut up any fruits you'd like for the fruit salad. If you have something you need to use before it goes bad, just toss it in there!
The rice cakes doesn't really fit into the monbento box, but I still put them in it for the aesthetics.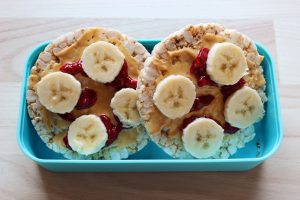 In the first box I made some rice cakes with peanut butter, raw chia jam and banana slices. You can use store bought jam, if you want. I'm probably going to make a recipe for the chia jam soon, though. And if you've never tried this rice cake combination before, do it! It's so good.
For savoury versions I really like guacamole with cucumber and tomato or hummus with roasted red bell pepper.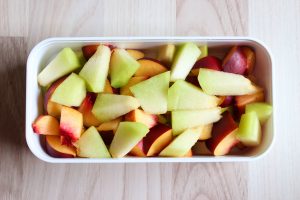 In the second box I cut up some galia melon, apple and nectarine, then I just filled the box up! I love having fresh fruit anytime of the day, it's really hydrating and refreshing.
Other fruits you could use: Water melon, honeydew melon, oranges, grapes, raspberries, apricots, strawberries, figs, guava, papaya, cherries, blueberries, plums, mango, banana, pears, pineapple, peaches, passion fruit, dragon fruit, kiwis, or even dried fruit or nuts. There are no limits!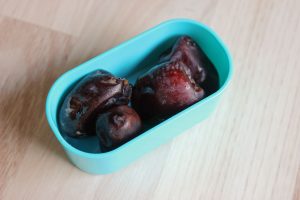 In the small container I put some dates just to make this lunch even sweeter, and because I love dates!
Today's tip!
If you're planning to have rice cakes for lunch, it could be a good idea to bring some small containers, with the toppings you want to use, on the side. Then assemble the rice cakes once you're ready to eat. This will keep your rice cakes from becoming soft.
Lunch idea #3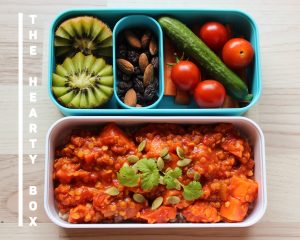 The last idea I have for you is this hearty box with a lovely stew on brown rice and some nice veggies. I absolutely love stews and curries, it's one of my favourite meals! This stew is from my favourite YouTuber and blogger, Caitlyn Shoemaker. And I also really like to have snack boxes with just raw vegetables and some fresh and dried fruit.
There's lots of different vegan curry and stew recipes out on the internet, which are totally delicious. I have one, too: Butternut Squash Curry. The monbento box is great for lunches like this because it can be microwaved.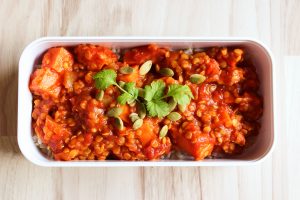 The stew I brought for lunch is a Sweet Potato And Red Lentil Peanut Stew.You can make that, too, or a completely different one! I served mine with brown rice.
This recipe is one of my go-to's. I'm obsessed with it, and I could eat it every week!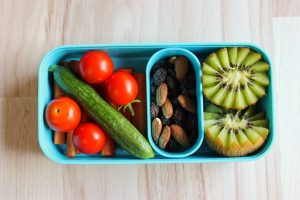 I kept the second box really simple. I cut up a carrot and put it in there with a cucumber and some tomatoes, then I brought a handful of raisins and almonds as well as 2 kiwi stars.
Really tasty and fresh. I make this snack box most days.
Today's tip!
Use leftovers. I always do this. I make a big batch of the dinner I'm having the night before, and then I put it in my lunch box in the morning, and I'm ready to go! There's no less complicated way to do lunch.
And that was my post for you today. I hope I gave you some good ideas, or just a good look at what a typical lunch looks like to me.
Maybe I'll post some more ideas soon. Oooh, I could make some christmas themed lunch boxes when that time of the year comes around. That's a little bit more fun than back-to-school season.
Anyways, I'll see you soon!