Stunning jar of goodness with a nutritious green smoothie and a sweet coconut chia pudding. You don't have to make it look all fancy if you're feeling lazy, but this jar is definitely instagram worthy if you take the time to layer it properly!
I'm so deeply sorry I haven't uploaded anything for so long. I've been incredibly busy since school started, practising badminton and piano in my free time, and just in general a bit stressed. I haven't had the time or energy to do anything.
I've been planning to write an article about the effects animal agriculture has on the environment, but it might take a while before I get it done.
Anyways, today I'm coming out with a sort of spontaneous recipe I made this morning. It's always nice when you have an idea in your head, and it comes out just the way you'd like.
Even though I've only made this breakfast once so far, I'm sharing it already because it was so good in my first try. That happens so rarely.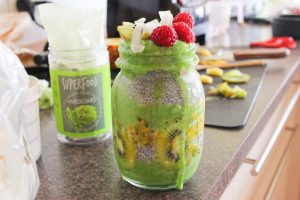 I just love all the colours in this jar! It was my first time trying wheat grass out, too, and I couldn't taste it with all the other things in this recipe. Whoever said that vegans eat grass are right, but it's so freaking delicious, so why not?
Wheat grass contains a large amount of chlorophyll, which has been said to help fight cancer and lots of other great things. It also helps to cleanse your liver.
I got the wheat grass powder a couple of days ago because it was on sale at the grocery store. In this recipe I used it in a smoothie, but I'm looking forward to experimenting with it in other things, too!
I paired the smoothie with a sweet coconut chia pudding. Actually I didn't use a sweetener for it because I found it was sweet enough on its own. I also used some other delicious fruits to complete this breakfast of a champion.
This jar is:
» full of colour
» super sweet
» really refreshing
» rich in omega-3
» a good source of manganese and clacium
» just amazing
I hope you'll try this recipe out. You can easily make the chia pudding overnight and throw everything in a bowl for a lazy and quick breakfast, or you can treat yourself to this deliciousness on the weekend, and make it look super fancy, like I did.
And can I just tell you how hard it is to take pictures of a jar like this when it's melting all over the place?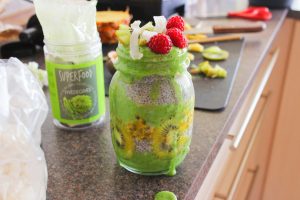 Epic Green Coconut Breakfast Jar
Yield: 1 serving (an overflowing 500 ml jar)
Vibrant green breakfast jar with the sweet taste of coconut and other delicious tropical fruits. Super refreshing and nutritious way to start your day.
Prep time: 30 minutes
Cook time: 0 minutes
Total time: 30 minutes
Ingredients:
Green smoothie:
» 1 frozen banana
» 1/2 fresh banana
» 1 cm thick pineapple slice
» 50 g frozen spinach
» 1 tsp wheat grass powder (or more) (optional)
» water
Coconut chia pudding:
» 3 tbsp chia seeds
» 200 ml coconut milk (I used coconut-rice milk)
» 1/4 tsp vanilla powder
For serving:
» 1 kiwi, thinly sliced
» 1 passion fruit
» fresh raspberries
» coconut flakes
Directions:
1. Start by preparing the chia pudding. Mix together all the ingredients together and let the mixture sit on the counter for 5 minutes, stirring occasionally, before leaving the chia pudding in the fridge to set for at least 20 minutes.
2. To make the green smoothie, simply blend all the ingredients until smooth.
3. Find a 500 ml jar when ready to assemble your breakfast (if you don't want to make it look all fancy, simply skip to step 9).
4. Attach the kiwi slices to the side of the jar.
5. Pour in about half of the smoothie and place some raspberries on top.
6. Then add half of the chia pudding and squeeze the passion fruit in.
7. Next, add more smoothie on top, leaving a small amount behind.
8. Add the rest of the chia pudding to the jar, then the last bit of the smoothie, and top the jar off with some coconut flakes.
9. Enjoy your beautiful meal!