A perfect meal for both lunch or dinner. This sandwich balances the bold flavours of sweet and sour perfectly, with the twist of an apple. And the avocado-chickpea mash, that truly makes this sandwich great, can be used for many other things as well!
I'm back with another recipe. This time I'm coming at you with a sandwich.
I'm not someone who eats a lot of bread. But I will eat it from time to time. It's not that I necessarily think bread is bad, I'm just not a fan of all the weird ingredients commercial bread brands put into it. And I'm too lazy to make my own, I'm only 14, I have school and stuff, okay? I don't have time to cook all the time.
When I do get bread, I will always choose whole wheat, the same thing goes for pasta. I also get brown rice, because #fiber, you know.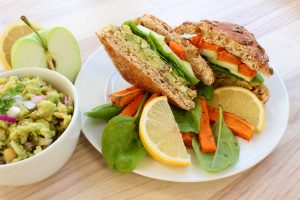 On Wednesday this week I cooked my own chickpeas for the first time. They turned out pretty good, I didn't add anything to them, so they were just all natural. But after cooking them I had to use them (obviously). And that's how I came up with this sandwich.
I had some sweet potato in the fridge I needed to use, and then I got the idea that apple and sweet potato could work amazing together in a recipe. And they do. The sourness of the apple really complements the sweetness of the sweet potato. Paired with avocado-chickpea mash, this sandwich is a winner.
Super simple, yet full of flavour.
The avocado-chickpea mash has a really fresh taste from the lemon, and mashing it with avocado creates a really creamy consistency. What's really great about it, however, is that you don't have to use it for sandwiches only!
I have used it as a salad "dressing" as well, which was super good, and I think it could work well in other recipes, too.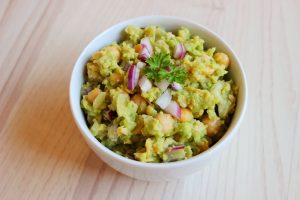 And I hope you like this picture, because I literally scraped the mixture into this bowl to take a picture, and then afterwards I put it back in the first bowl again. Food photographer struggles, guys.
And of course I hope you'll like this recipe, too.
It has:
» a good balance of flavours
» healthy fats
» lots of vitamin A from the sweet potato
» fiber to keep you full
» nutritious ingredients
So yeah, let's just get into it. I have school tomorrow, and I shouldn't stay up too late to make this recipe.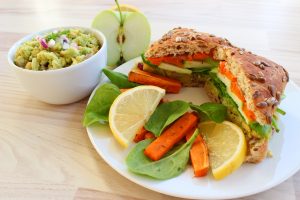 Sweet 'N' Sour Chickpea Sandwich
Yield: 2 servings
Healthy, tasty sandwich, that balances the flavours of sweet and sour perfectly. Great option to take with you to school or work, and really easy and simple to make.
Prep time: 5 minutes
Cook time: 30 minutes
Total time: 35 minutes
Ingredients:
» bread of your choice
» 1 sweet potato
» 1/2 sour apple (I used Granny Smith), thinly sliced
» 2 large handfuls of spinach
Avocado-Chickpea mash:
» 220-240 g cooked chickpeas (1 1/2 cup ~ 1 400 g can)
» 1/2 avocado
» 1 garlic clove, pressed
» 1/2 small red onion, finely chopped
» 1 tbsp lemon juice
» 1/2 tsp thyme
» 1/2 tsp garlic powder
» salt to taste
Directions:
1. Start by preheating your oven to 200 degrees Celcius (~ 400 degrees Fahrenheit)
2. Cut your sweet potato into fries. You can bake them however you'd like, adding any seasonings you want. I just tossed mine in some salt and thyme (my favourite combination!), then I baked them in the oven for around 25-30 minutes.
3. While the sweet potato fries are in the oven, make the avocado-chickpea mash by adding all the ingredients to a bowl and mashing it roughly. This can take a few minutes. It's okay if you still have some chickpea chunks, it just helps to create a nice texture.
4. Once the fries are done, it's time to assemble the sandwich. Start by spreading a thick layer of the avocado-chickpea mash on your, toasted if preferred, bread. Then add the spinach, some thin apple slices and sweet potato fries. Your sandwich is ready to be enjoyed!