Incredibly dreamy and creamy (hey, that rhymes!) pasta sauce made with butternut squash and carrot which gives it its authentic, bright, orange colour. Super comforting for a cold winter evening!
I'm getting hooked on pumpkins. Or squashes. It's the same thing, so oh well…
When it comes to pasta sauces, my mind goes completely blank. I can only think of tomato-based sauces. And while I love my tomatoes, sometimes change is good.
One day I had half a butternut squash leftover. So, I thought to myself, why not make a butternut squash pasta sauce? I got this yummy result which is very different from a regular marinara sauce.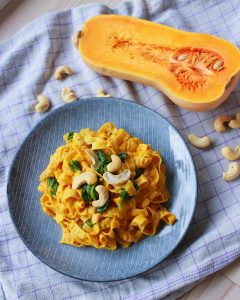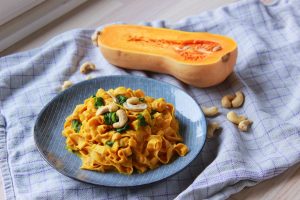 I'm seriously in love with that orange colour. Plants are beautiful. My new plate is, too. I went shopping with my mom yesterday, and I got a set of a plate, a bowl and a teacup.
For my pasta, I used soybean fettuccine which I found at my grocery store today. It was actually quite nice and a good boost of protein.
And let's have the usual talk about my food-photography. I'm happy about these photos. But, if you plan on making this recipe, remember to use a bigger pot! Mine was great for taking photographs of, but it was very messy to mix the pasta and sauce in (like I don't always make a mess in the kitchen).
This pasta dish is:
» packed with vitamin A (in abundance!), C and K
» high in copper, iron and manganese
» a great source of fibre (and just veggies in general)
» really creamy and tasty
I guess that's all for now. I'm in the process of coming up with new, exciting recipes, so I'll get back to you once I've made something good.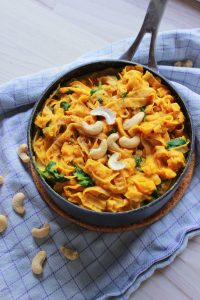 Butternut Squash Fettuccine
Yield: 2-3 servings
Prep time: 10-15 minutes
Cook time: 20-25 minutes
Total time: 30-40 minutes
Easy and simple to make pasta sauce that's packed with nutrients and looks (let's be honest) amazing.
Ingredients:
» 200 g (7 oz) fettuccine (I used soybean fettuccine) or some other kind of pasta
» 1/2 butternut squash, peeled and cubed (275 g ~ 2 cups)
» 2 large carrots, sliced (160 g ~ 1 + 1/3 cups)
» 2 garlic cloves, minced
» 50 g (1 cup, packed tightly) spinach
» 30 g (1/4 cup) cashew nuts
» 3 tbsp (5 g) nutritional yeast
» 250 ml (1 cup) vegetable stock
» 1 tbsp (15 ml) lemon juice
» 1 tsp ground turmeric
» 1/2 tsp cayenne pepper
» salt and black pepper
Method:
1. Add a splash of water to a pot and sauté the garlic for a few minutes.
2. Add the turmeric and cayenne pepper and sauté for another minute.
3. Add the butternut squash, carrots, cashew nuts and vegetable stock (enough to almost cover the vegetables—I used 250 ml) to the pot. Bring the mixture to a boil. Once simmering, turn to low heat, and let it cook for about 15 minutes.
4. In the meantime, cook the fettuccine according to package instructions and drain it of water afterwards.
5. When the butternut squash and carrots are soft, take the pot of the heat. Add the lemon juice and nutritional yeast, then blend the sauce with an immersion blender (the easiest option) or a regular blender until completely smooth. Add salt and black pepper to taste.
6. Mix the fettuccine and spinach into the sauce, and enjoy!