A fresh and healthy vegan alternative to the classic egg-salad. Tofu replaces eggs, and avocado and dairy-free yoghurt replaces mayonnaise. Perfect for sandwiches you can take with you on-the-go, and the green colour suits spring spot on!
Hello, sprouts! (What do you think about my new name for anyone who reads my blog? I know I'm not a famous blogger, but it suits my blog perfectly since it's called "Spirende Veganer" which means sprouting vegan in English.)
I'm sorry for my inactivity lately. I know! My last blog post is over a month old! Life got in the way. Can I make up for it with this amazing Egg-Free-Salad recipe?
I loved regular egg-salad as a child. My mom often made me egg-salad-sandwiches when we went on day-trips somewhere, so this recipe really brings back childhood memories.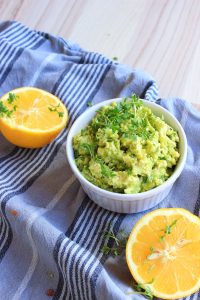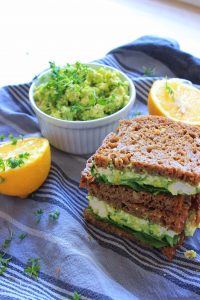 I veganised this recipe by swapping eggs for tofu and mayonnaise for avocado and dairy-free yoghurt. It's much healthier, and it makes the Egg-Free-Salad perfect for spring because it's green, fresh and light.
You can use it as a filling for sandwiches, baked sweet potatoes, salads… or just go wild, your imagination is the limit.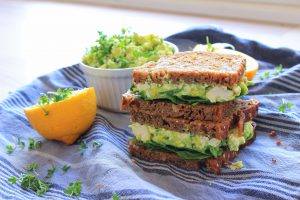 I experienced a few struggles when I was photographing this recipe. Even though I set a timer on my camera, it was still hard to take pictures without any hands, and I made a mess, too. (When do I not?)
This recipe is:
» rich in fiber
» high in vitamin k
» high in potassium 
» really fresh and creamy
» perfect for spring
Give it a try and let me know what you think! You can tag me on my Instagram account @spirendeveganer. Let's make this Egg-Free-Salad!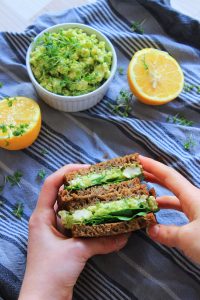 Egg-Free-Salad
Yield: 4 servings
Preparation time: 15 minutes
A healthy vegan alternative to the classic egg-salad that can be used in many ways to make quick lunches or dinners.
Ingredients
» 1 block of firm tofu | 250 g or 9 oz
» 2 avocados
» 3 tbsp unsweetened dairy-free yoghurt*
» ½ – 1 lemon
» the secret ingredient–fresh cress!
» sea salt and black pepper
Method
 In a bowl, mash the avocados with dairy-free yoghurt, lemon juice, sea salt and black pepper to taste.

 Press as much liquid out of the block of tofu as possible, then crumble it into the bowl.

 Cut the cress with a pair of scissors–as much as you'd like–and add it to the bowl.

 Fold the crumbled tofu and cress gently into the avocado mixture.
Author's note
*I use Alpro's unsweetened soya yoghurt.