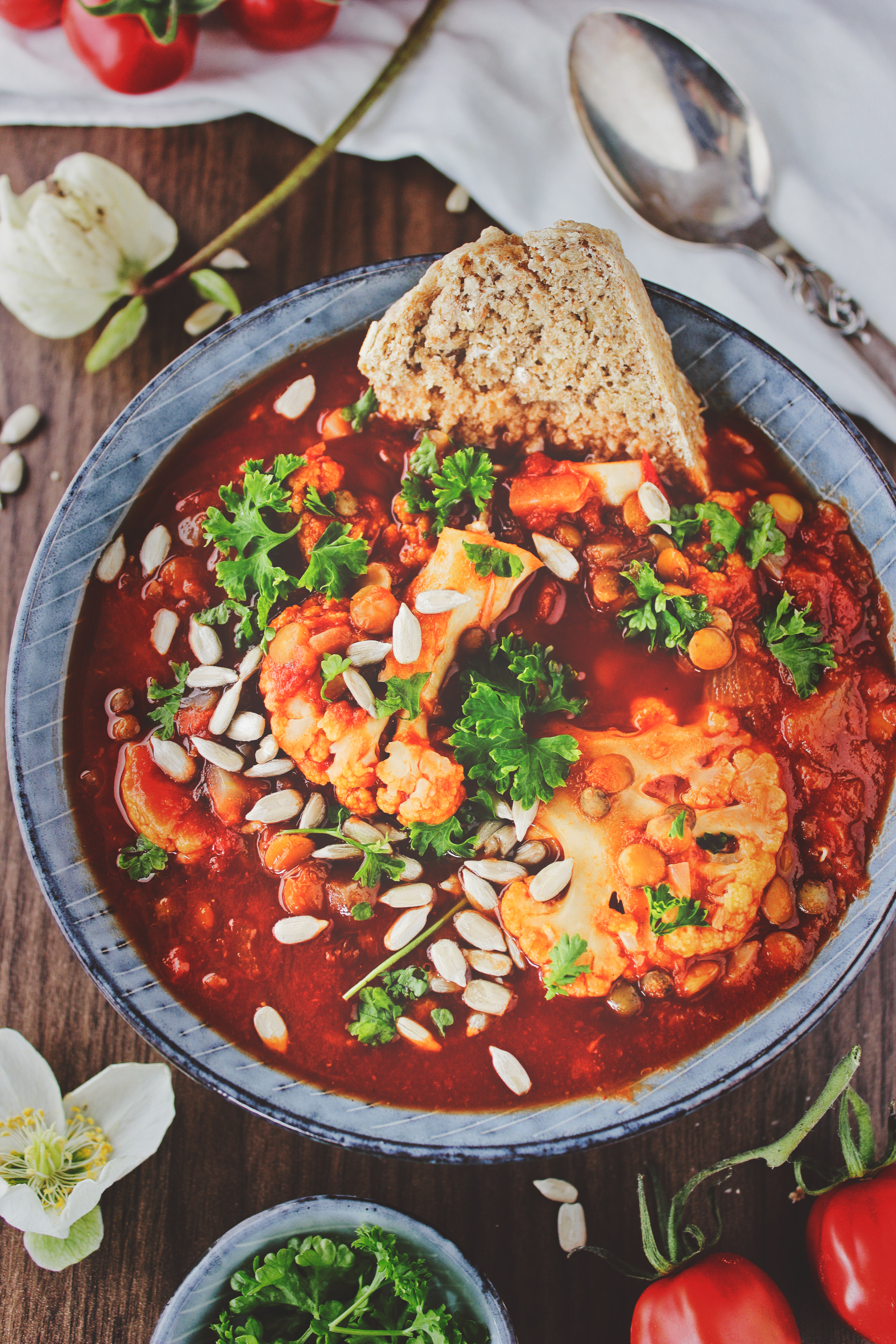 Soup season is definitely on the very edge of over, but I'm squeezing this easy 8-ingredient red curry cauliflower chunk lentil soup, which takes just over 30 minutes to make, in last minute. This soup is the exact opposite of my Curried Butternut Squash Potato Soup, it's so chunky and chewy, but they're both delicious in their own ways!
The idea with the "cauliflower chunk" part of this recipe is that the big cauliflower florets absorbs all those flavours as they cook in the soup, so when you bite into them, they're tender, rich, and juicy and so tasty. And they taste even better the next day!
On the day I shot this recipe, I'd baked an oat spelt loaf as an experiment, so I had a slice of it with my soup, and it was sort of like the cauliflower, the way it soaked up the flavours. I really liked it, and it also made the soup more filling, so if you have some good bread, homemade or store-bought, I highly recommend you dunk it it and munch away!
This soup is definitely a new favourite of mine. It's:
gluten-free, grain-free, and oil-free
made with only 8 ingredients in 1 pot in 30 minutes
simple, cheap, and quick
full of flavourful cauliflower chunks
chewy and satisfying
warming and a little spicy
really healthy
If you like soups, don't forget to check out my Curried Butternut Squash Potato Soup and Hearty Hokkaido Soup!
I'd love to hear from you!
If you decide to try my Red Curry Cauliflower Chunk Lentil Soup, don't forget to rate it, leave a comment, and take a picture and tag me on Instagram–my profile name is @spirendeveganer. I'd love to hear your thoughts and see your creation. I'll see you next week for my Very Green Smoothie Bowl!
Love, Lea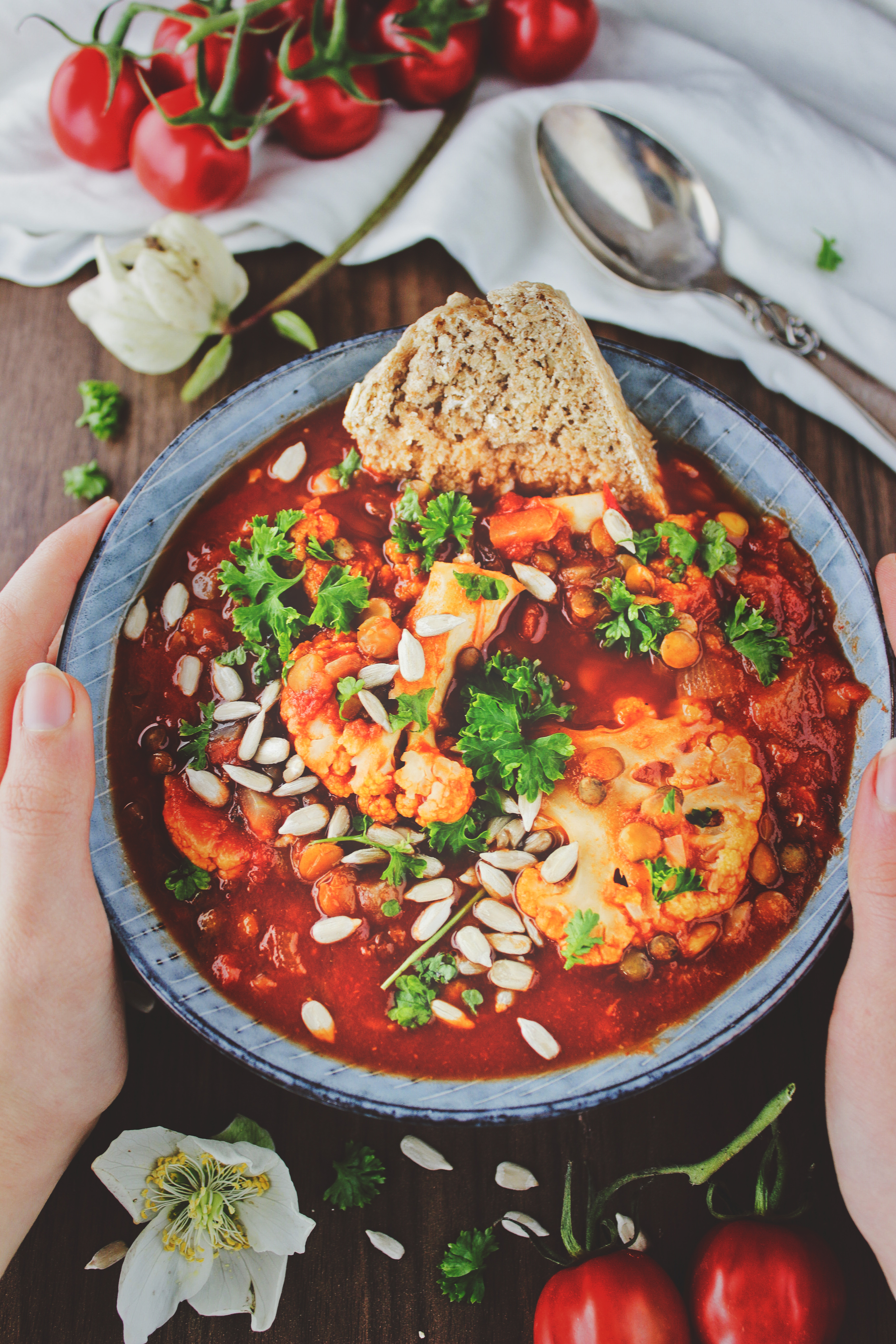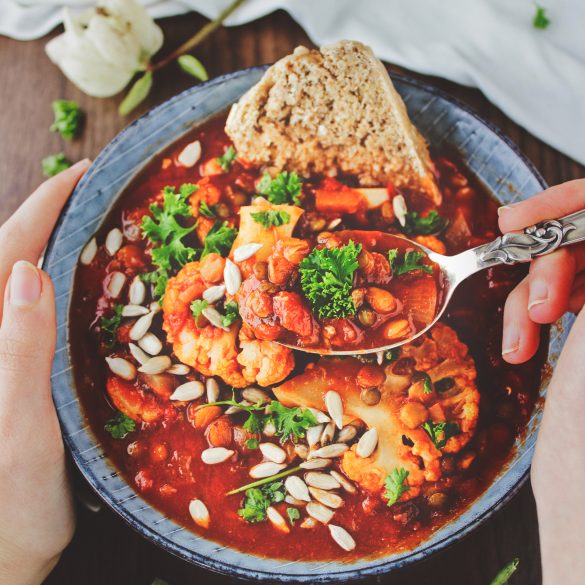 Ingredients
1 yellow onion, finely chopped
2 cloves garlic, minced
1 red chili, deseeded and minced
1 tbsp red curry paste
100 ml dry green lentils, 2/5 cup
1/2 large head cauliflower, cut into large florets
1 400 g/14 oz can diced tomatoes
250 ml vegetable stock, 1 cup
salt and pepper, to taste
Method
Sauté the onion, garlic, and chili in water or vegetable oil in a small pot over medium heat for 2-3 minutes until they're starting to become soft and translucent. Then add the curry paste, lentils, and cauliflower, stir, add the diced tomatoes and vegetable stock, and bring it to a boil. Once boiling, reduce the heat to low and let the soup simmer for about 25 minutes or until the lentils and cauliflower are tender, stirring occasionally.
Once the soup is done, taste and season it with salt and pepper, serve it in bowls with, for example, herbs, seeds, and bread on the side, and enjoy!
Store leftover soup in the fridge for 4-5 days or in the freezer for 2-3 months. Reheat it on the stovetop or in a microwave until warm.
Notes
The soup serves 2 on its own, but could serve 3 with bread.