Hearty, flavourful curry filled with fresh vegetables. Perfect for a chilly evening, or comfort food. Lentils make this curry extremely creamy (and delicious, of course), and lemon juice adds a nice sourness.
Butternut squash was something I hadn't even tried a few months ago. But their weird shape, and bright orange colour hade made me very interested in them. Unfortunately, they are not sold on every corner where I live. It was only when I stopped by a small, oriental market in my town, that I found one.
So it was standing in the kitchen, and I had to come up with something to do with it. I had looked up different recipes, but I had a vision myself about what I wanted to do with it. The day came where I tried to make a good curry with it, and I was beyond excited.
But that recipe turned out to be a complete fail. It had no flavour, wasn't creamy at all, and the vegetables weren't even fully cooked.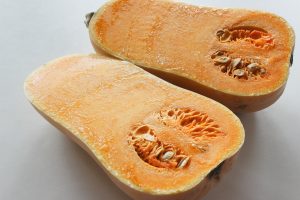 At least I got to try the butternut squash. And I liked it. It kind of reminded me of a potato crossed with a sweet potato.
But after that horror you must think I was terrified to cook with one of those big orange devils again. Unfortunately, I had only used half of my butternut squash for the recipe, so I had to do something with the rest of it, right?! #zerowaste
So I tried to make a new curry. I changed some of the ingredients, and measured out the lentils to make sure the curry would get creamy, because in my last attempt I just poured some in (I know – disaster).
And that curry came out so delicious, hearty and flavourful. I was pleased, as this was actually my first time creating a completely original recipe. Now, that was maybe a little over a month ago. And back then I hadn't completely gotten into blogging, plus I only had some ugly photos of the dish on my phone. So I made it again 2 days ago, and took out my good camera (or actually my dad's).
So now I'm bringing the recipe to you.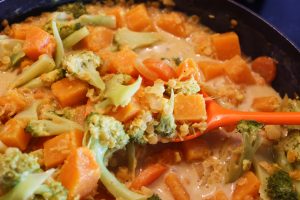 It's so good, I hope you'll try it.
I'm a big fan of veggies, so of course I tried to sneak as many into the recipe as possible. But I only focused on 3 kinds: Butternut squash, carrots and broccoli. I think they work well together. Broccoli is definitely my favourite vegetable by far.
But I'm kind of extreme, and I need to have my leafy greens as well, so I like to serve this on a bed of kale. You don't have to do that, if you feel there's already enough vegetables… But if you'd like, you could serve it with some kind of whole grain, brown rice or quinoa would compliment it well, to make the curry more filling. Or you could eat it on it's own. No matter what, it tastes amazing.
This curry is also:
» high in iron and zink
» a good source of plant protein and fiber
» rich in folate and vitamin B1 and 6
» hearty and flavourful
» ridiculously creamy
And before I let you dive into this deliciousness, I quickly want to point out the fact, that food photography can be a real struggle. I'm trying to improve my camera skills, and make my photos more interesting, and pouring lentils on the floor is a great way to do that, but what's not so great is having to clean up the mess afterwards.
Anyways, I complain too much, so let's just get into it!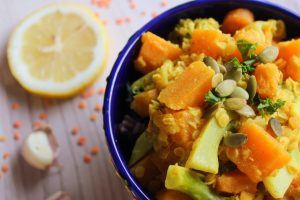 Butternut Squash Curry
Yield: 2-3 servings
Comforting, creamy, warm curry with a bright orange colour and lots of flavour! Perfect for a day where you just want to wrap yourself up in a blanket, or anytime really!
Prep time: 35 minutes
Cook time: 15 minutes
Total time: 50 minutes
Ingredients:
» 1/2 butternut squash (~ 390 g), cut into small bite-sized pieces
» 1 broccoli head (4 cups ~ 350 g), cut into small florets
» 2 medium carrots, sliced
» 2 garlic cloves, minced
» 1 white onion, sliced
» 1 piece of ginger (1″ ~ 10 g), minced
» 1/2 lemon's juice (1-2 tbs)
» 1 can (400 ml) coconut milk (I used light)
» 150 ml red lentils (5/8 cup ~ 120 g)
» 200 ml water (7/8 cup) + more for frying
» 2 tbsp curry powder
» 1 tbsp ground turmeric
» 1 tsp smoked paprika
» 1/2 tsp cinnamon
» 1/2 tsp ground cardamom
» salt to taste
For serving (optional)
» brown rice or quinoa
» kale
» pumpkin seeds
Directions:
1. Sauté the white onion, garlic and ginger in a pan with some water until they become soft and fragrant.
2. Add the spices and sauté for another minute (if the pan becomes too dry, add more water).
3. Add the butternut squash, broccoli and carrots to the pan, along with the water, cover with a lid, and cook for about 5 minutes.
4. Add the coconut milk, lemon juice and lentils to the vegetables, and let the mixture come to a boil.
5. Once boiling, turn to low heat, cover with the lid again, and let it simmer while stirring occasionally for 15-20 minutes, or until the lentils have cooked and the vegetables are soft.
6. Add more spices to taste, and then the curry is ready to enjoy!