Warm roasted butternut squash served with a fresh and crunchy kale salad. Rich in many nutrients, and perfect for fall even though it's not a soup or stew.
My grandmother inspired me for this recipe. She served me something similiar when I was visiting her on her birthday.
We always hear about stuffed potatoes, but what about stuffed butternut squash (or any squash)? Just as delicious, and butternut squashes are very rich in various vitamins and minerals plus they're in season right now. Does it get any better?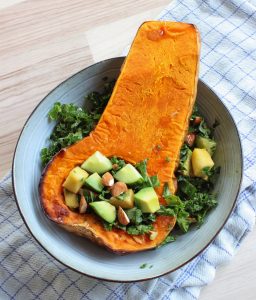 This meal is so warming and comforting, but still crunchy and fresh. I used a simply dressing for the salad, and I think the flavours work really great together. Of course you can serve the butternut squash with any salad you'd like, it tastes good no matter what.
I made another recipe featuring butternut squash a while back which is also a good choice for the season right now, if you're interested. It has become really important for me to eat fruits and vegetables that are in season, not only because they're cheaper, but also because they taste better, contain more nutrients when they're grown in the right climate, and it's better for the environment, too.
This recipe is:
» rich in all the B-vitamins
» an incredible source of vitamin A
» high in calcium, iron and copper
» in season
» crunchy and fresh
» delicious
I don't really have anything else to say. I'm working on a new post about maca powder, and at the moment I'm experimenting a bit with some lunch recipes and a raw granola recipe.
If you try this recipe, please leave a comment and tell me if you liked it!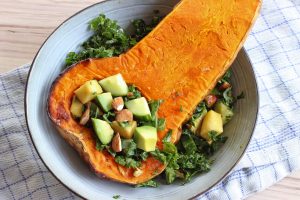 Roasted Butternut Squash With Kale Salad Filling
Yield: 2 servings
Fresh salad served with half a warm butternut squash for a light autumn meal!
Prep time: 5 minutes
Cook time: 35 minutes
Total time: 40 minutes
Ingredients:
» 1 butternut squash (900 g)
» 50 g chopped kale (3/4 cup)
» 100 g cucumber (1/2 medium)
» 1 apple of your choice (I used Royal Gala, but I prefer sour apples)
» 1 avocado
» 1 large handful almonds (30 g)
» 1 tbsp balsamic vinegar (15 ml – or more)
» 1 tbsp maple syrup (15 ml – or more)
Directions:
1. Preheat your oven to 200 C (400 F). Cut the top stem off of your butternut squash, and slice it in half. Remove the seeds, and place both halves of the butternut squash in the oven to roast for 30-40 minutes.
2. In the meantime, prepare the salad. Dice the cucumber, apple and avocado, and chop the almonds. Add them to a large mixing bowl along with the kale*, and mix well. Then add the balsamic vinegar and maple syrup and mix again.
3. Once the butternut squash is soft, remove it from the oven. Serve one half with half of the salad and enjoy!
—
Author's note:
*You can massage the kale with the balsamic vinegar and maple syrup, before adding the other ingredients to the salad, if you prefer the kale to be softer.