Super creamy and tangy overnight oats that are perfect to take with you for a quick breakfast on a school or work day. The orange juice adds a nice and fresh flavour while the almonds give these overnight oats a delicious crunch!
I love oats. All kinds—oats cooked into porridge, oats just poured into a bowl with various topping and non-dairy milk and oats soaked overnight of course. I'm not kidding when I say I could eat oats all day long.
I hope you had a merry Christmas and a happy new year! I certainly enjoyed the Christmas holidays. I came up with the idea of using fresh orange juice in my overnight oats a while ago, actually. My dad likes to juice oranges for breakfast for my family, so we usually have a few laying around. I thought to myself, why not make orange overnight oats?
And that's how I came up with this recipe!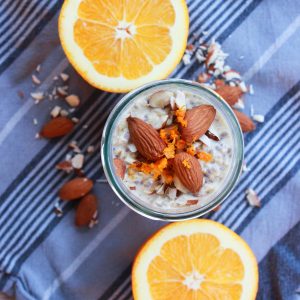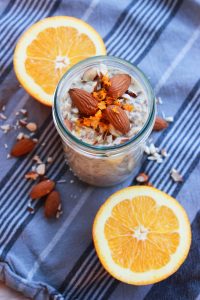 I made date-sweetened cashew milk yesterday which I used for soaking my oats. I've really wanted to start experimenting with making my own nut milks for a long time now, but I hadn't gotten around to it before yesterday. It actually came out really good and creamy!
I let my oats soak in an old peanut butter jar. I love jars, just as much as I love oats, and you can save the ones you buy and use them to store things like nuts, grains or dried fruits. Don't throw the jars out!
And finally, before I reveal my recipe to you, I feel like I need to tell you about something behind the scenes. I totally didn't use a book and a package of napkins to balance the tripod on, and while I was taking these photos, I was totally not freaking out about the fact that my camera was about to die. I'm still on my journey to become a better food photographer, but despite today's challenges I'm really proud of how the photos turned out!
I'm done talking now. Quick summary of this recipe:
» it's high in omega-3 fatty acids
» it almost covers your daily requirement of vitamin C and K
» it's rich in manganese
» it's really fresh
» it's extremely creamy
» it's easy to take with you to school or work if you're in a rush
I hope you'll like this recipe. I you try it out, I'll be very happy if you decide to leave a comment with your opinion as well!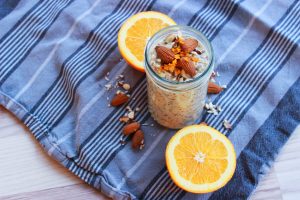 Orange Almond Overnight Oats
Yield: 1 serving
Active time: 10 minutes
Nutritious and fresh overnight oats recipe that will keep you full, and is easy to take with you on the go in the morning.
Ingredients:
» 1/2 cup oats (45 g)
» 1 orange
» 1 handful of almonds (15 g), chopped
» 1 tbsp chia seeds
» 1 tsp orange peel, grated
» 1/4 tsp vanilla powder
» 100-200 ml non-dairy milk  (2/5-4/5 cup) (I used homemade cashew milk—recipe coming soon!)
Method:
1. Mix oats, chia seeds, grated orange peel and vanilla powder together in a jar.
2. Press all the liquid out of the orange. I find that one orange makes about 50-100 ml juice. Mix non-dairy milk with the orange juice* and add the liquid to the oats mixture.
3. Give it a good stir before you leave the oats to set in the fridge overnight.
4. In the morning, take out the overnight oats and top it with chopped almonds. You can either eat it with a spoon straight out of the jar, take it with you to-go OR pour the overnight oats into a bowl and enjoy!
Author's note:
*It depends on personal preference how much non-dairy milk you'll want to use. I soak my oats in 200 ml (4/5 cup) liquid. If you like a lot of liquid, you can add up to 1 cup liquid (orange juice and non-dairy milk mixed). You will need to add more or less non-dairy milk depending on how big your orange is.