Flavourful buddha bowl with a base of quinoa and chopped kale topped with mashed sweet potato, kidney beans, avocado, caramelised red onions, sweet lemon mushrooms and an incredible Spicy Almond Vinegar Dressing.
Have you joined the buddha bowl trend yet? If not, now is the time. Buddha bowls, macro bowls, hippie bowls… They are known under many names, but are essentially the same: a bowl filled with whole grains, leafy greens, vegetables, a source of protein (hello, legumes!) and healthy fats. Or should I say all the goodies.
I made mine with black quinoa, kale, sweet potato, kidney beans, avocado, red onions, mushrooms and a spicy almond vinegar dressing, but you can use any ingredients you have at hand. Buddha bowls are so versatile, delicious and, not to forget, beautiful, and that's why I love them as much as I do!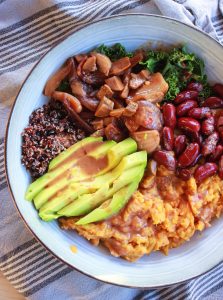 The story apparently goes like this: Buddha woke up before dawn every morning and walked along the roads and paths with his bowl. People would donate whatever food they could afford to share, and when Buddha's bowl was full, he would eat it. And that's the origin of the buddha bowl! I think it's a nice story, don't you?
I used my own home-grown kale for my bowl. I got a kale plant (or tree? I have no idea, it kind of looks like a palm) not too long ago, and it's great! I can get super fresh and crunchy kale anytime I'd like. It's definitely a tough plant considering the fact that it can survive the Danish winter.
But anyways, this bowl is filled with lots of wholesome foods, not just kale. I made sure to include different flavours, so it's a heavenly tasting joy to eat. Buddha bowls are especially great for taking with you to school or work for lunch. They can keep you full and nourished throughout the day!
This bowl is:
» rich in vitamin B5 and 6
» high in vitamin A
» a great source of copper, manganese and fiber
» an explosion of flavours
» very colourful
I hope you'll like this recipe. Let me know if you try it out!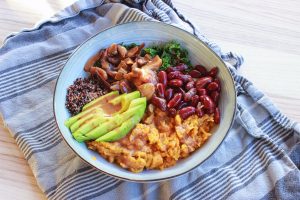 Buddha Bowl with Quinoa, Sweet Potato & Spicy Almond Vinegar Dressing
Yield: 2-3 servings
Prep time: 15 minutes
Cook time: 15 minutes
Total time: 30 minutes
Tasty and nourishing bowl made with a good balance of healthy carbs, protein and fats that'll satisfy your tastebuds and keep you full for hours.
Ingredients
The base:
» cooked quinoa (I used black)
» cooked kidney beans (I used 1 (400 g ~ 15 oz) can for 3 bowls)
» avocado, sliced
» chopped kale
Mashed curry sweet potato:
» 1 large sweet potato, cubed and peeled, if prefered (1 kg ~ 2,2 lbs ~ 7 + 1/2 cup)
» 1 tsp curry powder
» 1 tsp cinnamon
» 1/tsp salt
Sweet lemon mushrooms:
» 150 g mushrooms, diced or sliced (2 cups)
» 1/2 lemon's juice (1-2 tbsp)
» 1 tbsp pure maple syrup (15 ml)
Salty caramelised red onions:
» 2 red onions, sliced
» 1 tbsp soy sauce (15 ml)
Spicy Almond Vinegar Dressing:
» 1 tbsp natural almond butter (16 g ~ 15 ml)
» 1 tbsp water (15 ml)
» 2 tsp maple syrup (10 ml)
» 1 tsp apple cider vinegar (5 ml)
» 1 tsp rice vinegar (5 ml)
» 1/2 tsp red chili flakes
Method:
1. Start by cooking the sweet potato. Add the sweet potato cubes to a medium sized pot, cover them with water and bring it to a boil. Let the sweet potato simmer on low heat until soft, about 10-15 minutes (meanwhile, cook the quinoa and prepare the other ingredients).
2. Add the red onions to a pan with soy sauce. Sauté them on medium heat until soft and caramelised, this can take 5-10 minutes. Add water to the pan if the onions begin to stick.
3. Once the onions are done, discard them from the pan, and add the mushrooms along with lemon juice and maple syrup. Let them cook for 5 minutes until they're soft.
4. When the sweet potatoes are done cooking, drain the water from the pot and add the spices. Then mash the sweet potato to your liking (I like to leave some chunks behind).
5. To make the dressing, simply whisk all the ingredients together in a bowl.
6. Add all the ingredients to a bowl and enjoy!