Comforting soup for the cold winter months that's packed with vegetables. Minestrone is usually made with pasta, but I decided to go all in with the potatoes.
Welcome back to my blog. I've been gone for what? A month now? Something like that.
Anyways, I hope you're ready for a new recipe. I'm bringing you another soup because it is getting colder and colder here in Denmark. We might even have snow by Monday. Yay.
So I woke up this morning, and it was freezing outside, and as the intelligent individual I am, I decided to have a smoothie for breakfast. I made up for it with this soup at dinner, though.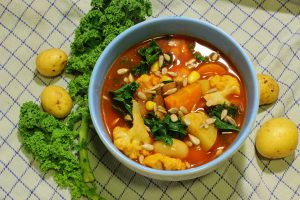 I was craving something hot with a lot of vegetables, but I wasn't feeling pasta. So I decided to make a minestrone soup, and just skip the pasta for potatoes. Brilliant!
I love minestrone because it's so versatile – it's the perfect use-anything-you-have-in-the-fridge kind of meal. Really, you could use any type of vegetable for this soup, but I just used what I wanted to eat and had in my fridge.
Cauliflower could also definitely be swapped for broccoli. I love both. Cauliflower in particular is believed to be extremely healthy because of its special combination of antioxidants, and it is believed to be able to prevent cardiovascular diseases, diabetes and some forms of cancer. Amazing, isn't it?
This soup is:
» perfect if you're feeling under the weather
» sure to make you warm
» packed with vegetables (meaning lots of good vitamins and minerals!)
» high in vitamin c
» very versatile
And on a final note I just wanna say that I am aware that these are not my best photos to date, but I can't do much better at the moment. I'm practising with the tripod for my camera, yet somehow I still manage to make my photos look blurry. I miss the sun like crazy. Natural lighting is, and will always be, the key to good photography. And sadly I don't have that.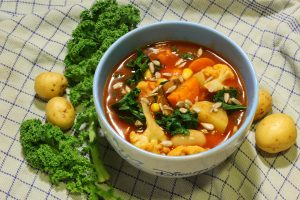 Potato Minestrone
Yield: 3 servings (as a main meal without bread)
Feeling sick? Heal yourself with this powerhouse of a soup. Minestrone made with all the good vegetables plus the always amazing potatoes.
Prep time: 10 minutes
Cook time: 25 minutes
Total time: 35 minutes
Ingredients:
» 1/2 head of cauliflower, cut into small florets (300 g ~ 2 + 3/4 cups)
» 400 g white potatoes, cut into small bite-sized pieces (1 + 3/4 cup)
» 1 large carrot, sliced (75 g ~ 1/2 cup)
» 1 medium white onion, diced (100 g ~ 2/3 cup)
» 1/2 medium courgette, cut in half lengthwise and sliced (75 g ~ 1/2 cup)
» 1/2 red bell pepper, diced (50 g ~ 1/4 cup)
» 75 g frozen sweet corn (1/2 cup)
» 1 large handful of kale, chopped
» 2 garlic cloves, minced
» 1 (400 g ~ 14 oz) can of lima beans, drained and rinsed
» 750 ml vegetable stock (3 cups)
» 500 g (17.5 oz) chopped tomatoes
» 70 g tomato paste (4 tbsp)
» 1 bay leaf
» 1 tsp dried oregano
» 1 tsp dried thyme
» 1/2 tsp dried basil
» 1/2 garlic powder
» 1/2 tsp cinnamon
» soy sauce and black pepper to taste
For serving (optional):
» whole wheat bread
» sunflower seeds
Directions:
1. Sautée the onion and garlic in some water in a medium pot for about 5 minutes until soft.
2. Add the bay leaf along with all the other spices (except for soy sauce and black pepper), and let it cook for another minute before adding in the potatoes and sautéeing again for 3-5 minutes.
3. Now add the cauliflower, carrot, chopped tomatoes, vegetable stock and tomato paste, put the lid on and bring the mixture to a boil.
4. Once simmering, turn to low heat and leave it for 15 minutes.
5.  Add the courgette and red bell pepper to the pot, and let it simmer for another 5 minutes.
6. Add in the kale, lima beans and sweet corn last, and heat them just until they're warm and soft. If you wish, you can add in some soy sauce and black pepper to taste as well. Remove the bay leaf.
7. Serve the soup in a bowl and enjoy as it is, or topped with sunflower seeds and some bread on the side!